NA Standing Committee's 7th session to open on January 18
The National Assembly (NA) Standing Committee will hold its 7th session in Hanoi on January 18 and 19, according to the NA Office.
NA Chairman Vuong Dinh Hue is expected to deliver an opening speech and take turn together with his deputies to chair the event.
At the function, the committee will consider and give opinions regarding proposals related to the draft revised Law on Emulation and Commendation; as well as the NA's draft resolution on piloting the model of labour organisation, career counseling, and vocational training for prisoners outside prisons as part of the 2022 law and ordinance building programme. It will also decide on the implementation of the jury's trial attire.
Meanwhile, lawmakers are expected to comment on additions to the foreign capital investment plan from the unallocated capital; and adjustments to the medium-term public investment plan for 2021-2025.
The committee will discuss a report on the NA's hearing of people's feedback in December last year and comment on the outcomes of the NA's first extraordinary sitting, among other matters.
Director of Nam Phong Company arrested for raising test kit prices
The Ho Chi Minh City People's Procuracy on January 15 decided to arrest and launch criminal proceedings against Director of Nam Phong Company Pham Vu Phong for "violating bidding regulations, causing serious consequences" and "giving bribe" in accordance with Articles 222 and 364 of the Penal Code 2015.
Truong Thi Bao Tran, officer of the Thu Duc Hospital's Material Office, was also investigated for "receiving bribe" in line with Article 354 of the Penal Code.
According to the preliminary investigation, the Thu Duc Hospital bought all test kits manufactured by Viet A Company from Nam Phong Company at a total cost of nearly 39 billion VND (1.69 million USD) from February – September 2021, via a competitive bidding package and 37 others in designated procurement form. The purchase was requested by Viet A Company with the purpose of raising prices and Nam Phong Company was given a 30-40 percent commission, or nearly 11 billion VND.
During the process of validating the bidding package, Phong gave a bribe to Tran.
Ministry works to ensure warm Tet for social policy beneficiaries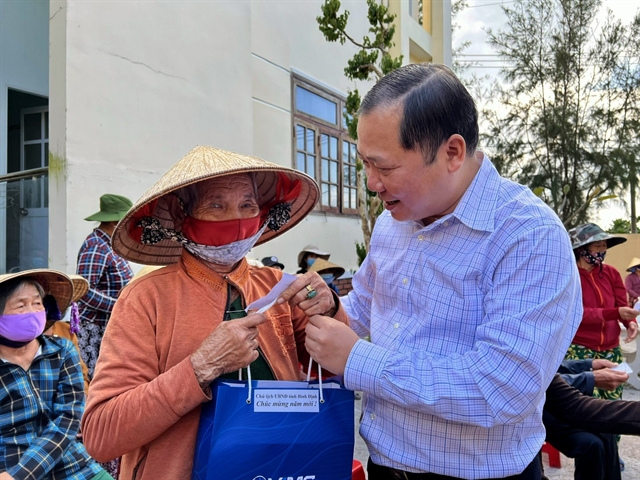 Chairman of the People's Committee of central Bình Dinh Province Nguyen Phi Long presents Tết gifts to a resident in Nhơn Châu Island on Saturday.
The Ministry of Labour, Invalids and Social Affairs (MoLISA) has devised specific solutions to ensure a warm Tết (Lunar New Year) festival for social policy beneficiaries, and support those affected by the COVID-19 pandemic.
The solutions form part of a recently-issued action plan, under which the ministry also prepared resources to support labourers in case of risks amid the pandemic.
The MoLISA will continue with the policy on poverty reduction, and effectively implement the national target programme on sustainable poverty reduction, with priorities given to poor households in ethnic minority-inhabited areas.
Vulnerable groups will receive both regular and unscheduled assistance, according to the plan.
The ministry said operating the labour market effectively in line with the country's economic recovery and development is one of the major tasks, with attention paid to the application of information technology and digital transformation to enhance the labour supply-demand connectivity.
Best literature and art works honoured
Nine works of literature and art were honoured by the Việt Nam Union of Literature and Art Associations on January 15 in Hà Nội.
According to the organisation board, art and literature associations of 55 provinces and cities submitted nearly 380 works to the annual awards of the union.
As a result, the organising board handed out 72 awards to the works including nine excellent works and 63 others in different categories by authors who are members of provincial or municipal literature and art associations.
Writer Lưu Vĩ Lân's novel Nghiệp Chướng (Karma) claimed one of the three top prizes. It is considered the first novel series with a different perspective on the bourgeoisie and Sài Gòn (now Hồ Chí Minh City) in the 1970s, written by a true insider.
Two other top prizes were for photographic works entitled Vụ Xuân Trên Núi (Spring Crop on the Mountain) by Phạm Pa Ri from Yên Bái Province, and ceramic work Tuổi Thơ 1 (Childhood 1) by Phạm Văn Hoà of Hà Nam Province.
First female footballers arrive in India for 2022 AFC Asian Cup
First 10 members of the Vietnam women's football team, including six players, arrived at Hyatt hotel of Pune city (India) on January 16 for the coming 2022 AFC Women's Asian Cup after a long flight from Spain.
Other members of the team are staying in Spain for COVID-19 treatment following their training and friendlies there. Some of them have tested negative and are waiting for additional tests to confirm they are completely healthy for the competition.
Earlier, the women's football team had training and played some friendlies in Spain, where several players and two doctors were infected with the SARS-CoV-2 virus.
The Asian tournament is set to take place between January 20 and February 6 in India. Vietnam have been drawn in Group C and they will play the Republic of Korea on January 21, Japan on January 24, and Myanmar on January 27.
HCM City's labour market remains active in flexible adaptation to COVID-19
The COVID-19 pandemic has negatively impacted all aspects of social life, causing a range of difficulties for both local businesses and employees, thereby forcing them to flexibly adapt to and move into the "new normal".
According to the Ho Chi Minh City Centre for Human Resources Forecasting and Labor Market Information (FALMI), this year will see the city's labour market develop towards gradually increasing the proportion of workers in the industrial-construction and service sectors. This effort will be done alongside reducing those engaged in agriculture, forestry, and fishery.
The city will have more than 4.9 million workers, mainly in the trade-service and industry-construction sectors. Of these, the number of labourers at enterprises is estimated to be at 3.1 million.
Trung wins Việt Nam Motorkhana Championship title
Nguyen Ngoc Trung won the first Việt Nam Motorkhana Championship which was held on Saturday in Hà Nội.
Driving against 13 other rivals at the Hà Nội Circuit around the Mỹ Đình Stadium, Trung topped the podium with a time of 2min 23.36 sec. He walked away with a prize of VNĐ50 million (US$2,200).
Phạm Quốc Huy came second with 2:30.75 while title favourite Trương Nam finished third, on 2:75.85.
After the first successful edition, the championship which follows FIA standards is expected to be organised annually. The best drivers will represent Việt Nam at the FIA World Motorsport Games in Europe in October.
Vietnamese Embassy in Cambodia holds Lunar New Year gathering
The Vietnamese Embassy in Cambodia organised a Lunar New Year gathering on January 16 with the participation of Vietnamese diplomats, businesses, expatriates and students in the country.
The event featured musical performances and Vietnamese traditional dishes.
On the occasion, the diplomat presented gifts to honour five Cambodian families with Vietnamese origin for their outstanding contributions to the activities of the Vietnamese community in Cambodia and to Vietnam's revolutionary cause.
The embassy's community support fund in collaboration with a number of Vietnamese firms investing in Cambodia, Vietnamese localities and philanthropists, meanwhile, committed to implementing a programme that assists more than 3,500 needy Vietnamese-origin Cambodian households across 16 Cambodian provinces and cities as the Lunar New Year is just around the corner.
COVID-19: Hanoi launches first online medical station
Truc Bach ward in Hanoi's Ba Dinh district has launched an online medical station, making it the first of its kind in the capital city – Vietnam's current largest COVID-19 hotspot.
This model uses Facebook social network to transmit medical information related to pandemic prevention and control to locals, guiding them on physical and mental exercises, and providing instructions on patient care as well as pandemic prevention measures.
The official address of the Facebook fanpage is Online Medical Station – Truc Bach Ward, with the hotline of 039.885.6892. This fanpage is also connected to Zalo social network accounts of the People's Committee of the ward and its residential groups. Members of the online medical station include staffs of the ward and its health station, and volunteer doctors and nurses.
Delectable delicacies in Lai Chau popular during Tet
As Tet draws near, many households in the northern province of Lai Chau are busy making jerky, including dried buffalo and pork. These delectable delicacies are favoured by many consumers both at home and abroad.
Deo Thi Sop's family in Doan Ket ward in Lai Chau city, Lai Chau province, provides about 200 kg of Ninh Sop" jerky to the market every day, with the most popular being pork and buffalo.
Dried buffalo meat is a typical dish of the Thai ethnic minority people. After being carefully pre-processed, cut into long chunks, and marinated with spices such as guava seeds, chilli, garlic, and forest plants, the meat is dried for many hours. The special technique brings a unique flavour, unlike anything else.
The trade has helped generate incomes for many households in the locality.
Gathering promotes Vietnam-Italy trade cooperation
The Vietnamese Embassy in Italy has organised a virtual New Year gathering with representatives from the Association of Vietnamese Entrepreneurs in Italy (ASSOEVI) to collect suggestions in a bid to strengthen the nations' trade relations.
Participants suggested ASSOEVI work more to connect Vietnamese and Italian firms via communications activities, legal procedure support, and the organisation of market surveys, among others.
Founded in June 2011, ASSOEVI groups most of Vietnamese enterprises in Italy, aiming to boost the capacity of its members, facilitate their information exchanges and cooperation, assist their investment and business activities, and promote Vietnam-Italy collaboration in trade and economy.
National-level championship of Vietnamese martial art held in Algeria
The first national-level Vo Viet Nam (previously called Son Long Quyen) championship took place in Algeria on January 14 and 15 to pay tribute to master Aitabdelmalek Larbi, who brought the Vietnamese martial art to the country in 1973.
The diplomat affirmed that the embassy always accompanies the Vo Viet Nam Federation in Algeria to expand the practice of the martial art here in contribution to enhancing cultural exchanges between the two countries.
According to President of the Vo Viet Nam Federation Ait Medjber, it was the first tournament organised by the federation after the interruption of activities due to the COVID-19 epidemic.
The event gathered 500 martial artists from clubs across Algeria as well as some foreign students studying and living in the country. It featured individual and team performances.
Warning given to Party Delegation to Vietnam Red Cross Society
Party General Secretary Nguyen Phu Trong chaired a meeting of the Party Central Committee's Secretariat in Hanoi on January 15 to consider disciplinary measures against the Party Delegation to the Vietnam Red Cross Society (VRCS) for 2017-2022 tenure and several officials.
Accordingly, the Party Delegation to the VRSC was given warning as a disciplinary measure for violating the Party working regulations, showing the lack of responsibility and loosening leadership and direction that led to violations and shortcomings in organisation and personnel work, financial management, as well as planning, arrangement and management of press agencies under the VRSC Central Committee.
Member of the standing board of the Ha Giang provincial Party Committee and head of its Commission for Internal Affairs for the 2015-2020 and 2020-2025 tenures Sung Minh Sinh was removed from his positions for violations of Party principles and rules, and legal regulations related to financial use and management; lack of responsibility and loosened leadership and management resulting in the internal disunity and several officials and Party members facing disciplinary measures.
Col. Pham Van Phong, former member of the Ba Ria – Vung Tau provincial Party Committee, former Vice Secretary of the Party Committee and former Commander of the provincial Border Guard (from 2015 to February 2002), was removed from all positions in the Party for violating Party regulations, State laws and the Defence Ministry's regulations on smuggling and trade fraud prevention and control, leading to shortcomings and violations in use and management of finances, assets and land, and in infrastructure construction; and several Party organisations and members being disciplined.
Former Secretary of the Party Committee and Director of the Health Department of Can Tho city Bui Thi Le Phi, former Deputy Director of the Can Tho city Health Department and head of the department's management board of medical works Cao Minh Chu, and former member of the Nghe An provincial Party Committee, former Secretary of the Party Committee and former head of the provincial Party Committee's Ethnic Affairs Commission Luong Thanh Hai were dispelled from the Party.
HCM City records 18 new Omicron cases
Ho Chi Minh City's health department on January 26 announced a total of 18 new Omicron cases, all imported cases that were quarantined on arrival.
They included a fully vaccinated 82-year-old woman returning from the US, who, given her advanced age and multiple underlying health issues, is currently under treatment at the HCM City Hospital for Tropical Diseases. The remaining 17 cases are all asymptomatic and being quarantined at the Covid-19 treatment hospital No. 12 in Thu Duc city.
The latest new Omicron patients have brought the national tally to 68 in nine provinces and cities, including one in Hanoi, 27 in Quang Nam, 30 in HCM City, one in Hai Duong, one in Hai Phong, two in Thanh Hoa, three in Da Nang, two in Khanh Hoa and one in Long An – all foreign arrivals that were put under quarantine upon entry.
National fund for Vietnamese children active in 2021
The National Fund for Vietnamese Children (NFVA) offered support to nearly 15,500 children hit by COVID-19 last year at a total cost of over 20.8 billion VND (904,000 USD), 2,930 of them were orphans and 520 had their mothers infected with the virus, said NFVA Director Hoang Van Tien.
Tien said each orphan caused by the pandemic received 5 million VND. The homeless orphans obtained additional 20 million VND each to open a saving book, which could be withdrawn when they reach the age of maturity.
Children who are F0s and F1s of parents under treatment in hospitals will be given 1 million VND each and additional 1 million VND to buy necessities in case they are put under concentrated quarantine.
HCM City halts operations of four temporary COVID-19 treatment hospitals
Ho Chi Minh City's Department of Health has decided to stop the operations of four temporary COVID-19 treatment hospitals No. 3, No. 5, No. 10 and Cu Chi from January 19.
Currently, the number of patients being treated at temporary COVID-19 treatment facilities in the city accounts for 10-30 percent of their capacity. However, the new Omicron variant of coronavirus SARS-CoV-2 has the potential to cause an outbreak again.
To create conditions for medical staff participating in the fight against the pandemic to have time to recover their health, and be ready to respond when the pandemic situation becomes complicated, the department decided to halt the operations of these treatment facilities until further notice.
HCM City plans to reopen kindergartens, primary schools after Tet
As Ho Chi Minh City has been a "green zone" for two straight weeks, local students will attend more in-person lessons while children from the preschool level to the 6th grade are expected to return to school after the Lunar New Year (Tet) holiday.
According to the Department of Education and Training, students of the 7th, 8th, 10th, and 11th grades have resumed face-to-face learning since January 4, while the 9th and 12th graders earlier, since December 13, 2021. About 92 – 96 percent of them are attending school in person.
Besides, the rate of parents supporting school reopening has also increased by over 16 percent to under 80 percent.
All districts and towns in Hanoi set to yellow, orange coronavirus risk status; Hoàn Kiếm's in-person dining resumes
As of Saturday, 23 districts and towns in Hà Nội have been classed as yellow COVID risk areas (medium risk), while seven have been labelled orange (high risk).
Hà Nội now has no districts or towns that are green zones where daily activities can go on as normal, and no red zones where the risk of COVID-19 infection is very high.
The seven districts of Cầu Giấy, Nam Từ Liêm, Thanh Xuân, Ba Đình, Gia Lâm, Hoàng Mai and Long Biên are labelled orange.
Hoàn Kiếm District from Sunday has been downgraded to yellow as COVID development in the area was assessed as less serious.
At the commune and ward level, Hà Nội now has 54 green zones, 367 communes and wards in the yellow zone and 158 communes and wards in the orange zone.
1.5 million blood units to be mobilised in 2022
The entire nation is striving to mobilise 1.5 per cent of the population to donate 1.5 million blood units this year, according to a conference held by the national steering committee for blood donation on Friday.
At the event to review blood donation campaigns in 2021 and deploy tasks for 2022, President of the Vietnam Red Cross Society (VRCS) Bùi Thị Hòa made a series of recommendations toward achieving the target.
Air-conditioning fitter who rescued girl from house fire awarded for act of bravery
Trung Văn Nam, an air-conditioning fitter from central Thanh Hóa Province, has been given multiple awards for his act of bravery in rescuing a girl from a house fire in Hà Nội's Tương Mai Ward.
On the afternoon of January 13, Hà Nội's People's Committee Chairman Chu Ngọc Anh awarded certificates of merit to two individuals who managed to save the 15-year-old girl from the fire in Hoàng Mai District on January 12.
They were Trung Văn Nam, 34, who has been hailed a hero for pulling the girl from the burning house, and Dương Ngọc Vũ, who supported Nam in the rescue. They both live in Lương Khánh Thiện Street in Hoàng Mai District's Tương Mai Ward. They were also given VNĐ4.5 million (US$198).
On the same day, President Nguyễn Xuân Phúc sent a letter to praise Nam for his courageous.
On January 14, Deputy Prime Minister Phạm Bình Minh signed the decision to award a certificate of merit from the Prime Minister to Nam.
Father to face prosecution for fatally abusing six-year-old daughter
Hà Nội Police will start legal proceedings against Lê Thành Công relating to his six-year-old daughter's death.
According to an investigation, around noon on September 16, Công was tutoring his daughter at home and felt frustrated for her inadequate attention to the lesson, and beat the girl with a wooden chopstick on her hands and legs. He then continued with a 50cm bamboo stick to beat the girl.
While his wife was talking about their child's recent behaviour – she tended to watch television instead of studying – Công lost his temper and used a wooden broomstick to beat her.
At 3pm on the same day, the child woke up to eat and had a stomach ache and fever, alongside a bout of vomiting. The child was rushed to Việt Nam National Children's Hospital, but the doctors concluded she had died before she got to the hospital.
The hospital found the bruises and injuries on her body suspicious and had reported to the authorities.
The police said that the injuries were caused by the impact of an object, and the child suffocated while regurgitating food.
Công confessed his actions to the police.
The father will be prosecuted for "intentionally causing injury" to a child.
Bắc Từ Liêm District police said the father was once handed 15-year imprisonment sentence for kidnapping for extortion.
The incident came just a few weeks after the national outrage over the death of a eight-year-old girl in HCM City following repeated violent abuse by the fiance of her father.
Mui Ne plans to welcome foreign arrivals from February
The southcentral province of Binh Thuan is set to launch a pilot scheme welcoming foreign arrivals under package tourism programmes from Tan Son Nhat International Airport or Cam Ranh airport to resorts in the Ham Tien – Mui Ne area of Phan Thiet City from February.
The move comes following Binh Thuan provincial People's Committee submitting a request to the Ministry of Culture, Sports and Tourism to add Binh Thuan to the list of localities which are permitted to welcome international tourists.
During the initial phase, the locality will pilot receiving foreign arrivals from February under package tours and through both charter and commercial flights.
Nearly 1,000 international tourists visit Phu Quoc in pilot month
Phu Quoc Island District in the Mekong Delta province of Kien Giang has received nearly 1,000 international tourists after a month carrying out a plan to welcome foreign visitors.
According to a report from Kien Giang Provincial Department of Tourism, the resort island has welcomed nearly 1,000 tourists from Thailand, South Korea, Uzbekistan, Laos, and Kazakhstan since reopening from November 20, 2021.
Phu Quoc is expected to welcome between 3,000 to 5,000 international tourists per month via charter flights until March 20, 2022.
HCMC receives over 300,000 Spikevax/Moderna doses
The HCMC Center for Disease Control (HCDC) received 300,720 doses of the Spikevax/Moderna Covid-19 vaccine to serve its booster shot campaign, said the HCMC health authority.
The batch was among over two million doses of the vaccine that the COVAX Facility donated to centers for disease control across Vietnam through the Health Ministry.
The ministry asked the provinces and cities to use the vaccine effectively before January 31 this year, as the vaccine had been thawed since January 1.
Le Hong Nga, deputy head of HCDC, said yesterday, January 13, that HCDC allocated all 300,720 doses to medical centers across districts and Thu Duc City.
Source: VOV/VNA/VNS/ND/SGGP/SGT
Hanoi to restore tourism when pandemic under control