Vietnamese spring rolls become French's favourite food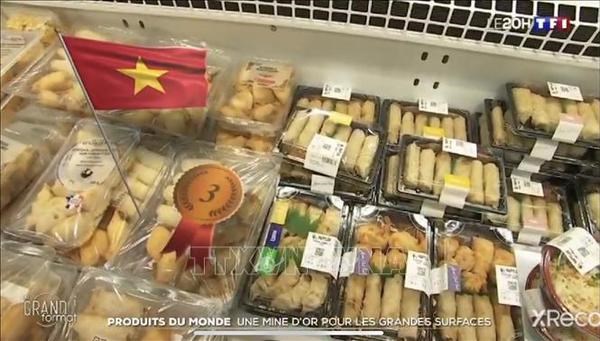 Vietnamese spring rolls on sale at a supermarket in France.
Vietnamese spring rolls are considered as one of the most favourite dishes of French people, along with Japanese sushi and American popcorn.
French television channel TF1 on February 7 aired a report on the trend of French people who are becoming more interested in foreign cuisine. According to the report, this is not a new phenomenon, but it has become more obvious over the past 10 years.
Food and related items from Mexico, Vietnam or India are increasingly attracting customers. Previously, foreign food only occupied a small area in the Carrefour supermarkets, but now the shelves are always filled with food and goods from many countries around the world.
Carrefour supermarkets currently sell about 3,000 products imported from 24 countries. They do not only include products from such neighbouring countries as Italy, Portugal and Spain, but also those from Asian nations like Vietnam, Thailand, Japan or Mexico and Brazil of Latin America. Revenue from these imported culinary and agricultural products increased by 20 percent last year and are now considered as potential "gold mines" for the supermarket chain to exploit.
Statistics of the Carrefour supermarket chain in France showed that among the most popular foreign culinary products, Japanese sushi topped the list, accounting for 45 percent of sales, followed by American popcorn and Macaroni. Vietnam's traditional spring rolls ranked third, accounting for 19 percent of sales of foreign goods last year.
President Nguyen Xuan Phuc receives coach Park Hang-seo
President Nguyen Xuan Phuc on February 8 hosted a reception for head coach of the Vietnamese men's football team Park Hang-seo, and leaders of the Vietnam Football Federation (VFF) and the Ministry of Culture, Sports and Tourism (MCST).
The meeting took place after the men's football team and the women's team won two consecutive victories on the 1st and 2nd days of the Lunar New Year.
President Phuc once again praised and highly appreciated Park and members of the national men's football team for a 3-1 victory over China in the final round of the 2022 FIFA World Cup qualifiers.
He also sent congratulations to coach Mai Duc Chung and the national women's football team for their excellent performance in defeating Chinese Taipei 2-1, which helped them advance to the finals of the 2023 Women's World Cup for the first time. The President emphasised that each sport victory represents the country's common aspiration in development.
HCM City universities tell students to return on Feb 14
Many universities and colleges in HCM City plan to resume in-person classes next Monday (February 14) with strict compliance with COVID-19 pandemic safety measures.
They are also preparing to combine online and direct classes to ensure a safe and healthy return of students.
The rest will begin on February 28.
Measures sought to ensure safety for students when schools reopen
Deputy Prime Minister Vu Duc Dam had a working session with leaders of the Ministry of Health and the People's Committee of Hanoi to discuss responses in the situation when COVID-19 infections are detected in schools in the context of Hanoi beginning to re-open schools.
Experts underlined the significance of preventive measures to prevent high number of infections among students at the same time, such as vaccination, detailed response plans, and sharing of experience in COVID-19 treatment for children.
Vice Chairman of the Hanoi People's Committee Chu Xuan Dung said that the city has directed medical centres and stations to support medical staff at schools and give training to teachers and school staff on pandemic prevention and control measures.
Nguyen Trong Khoa, Vice Director of the Department for Medical Examination and Treatment under the Ministry of Health said that the ministry is updating medical stations from central to local levels on treatment regimens for students diagnosed with COVID-19, while giving training to schools on COVID-19 safety and response.
HCM City to turn Thu Duc into knowledge-based economy
HCM City is drafting plans to develop the new Thu Duc City into a knowledge-based economy with a highly skilled workforce by 2030.
HCM City targets attracting 50,000 people to live and work in Thủ Đức by 2025, including 20,000 engineers and other experts.
HCM City established Thủ Đức City in early 2021 by merging districts 2, 9 and Thủ Đức, the first city to be under the jurisdiction of a centrally run city in the country.
It spreads over some 211.5 square kilometres and is home to more than a million people.
It is expected to account for a third of HCM City's economy, and thus 7 per cent of the country's economy.
National biodiversity strategy to 2030 approved
Deputy Prime Minister Le Van Thanh has signed a decision approving the national biodiversity strategy to 2030 with a vision towards 2050.
Under the strategy, the Government targets increasing the area of protected ecosystems to 9 percent of the country's land area, and protected marine and coastal areas to 3-5 percent of the total sea area.
Meanwhile, forest coverage is expected to sustain at 43 percent and at least 20 percent of the degraded ecosystem area will be restored.
The Government will give priority to conservation of wildlife species, particularly endangered, rare and precious species of plants and animals.
With a vision towards 2050, major natural ecosystems, endangered species, and precious and rare genetic resources will be restored and effectively preserved.
New Year calligraphy – fine custom of Vietnamese culture
For a long time, the tradition of collecting letters has become part of Vietnamese culture on the first days of the Lunar New Year. The agile strokes of the brush contain therein good aspirations for a new year full of prosperity, luck and peace.
On each occasion of the Lunar New Year, people flock to the Youth Cultural House in Ho Chi Minh City asking for good words from scholars.
The annual cultural event aims to honour Vietnamese tradition and respect for knowledge, along with preserving and promoting the value of Vietnamese calligraphy.
According to tradition, people often ask for good words to hang in their home in the hope of a new year with good health, peace, happiness and luck. Depending on the purpose and age of the recipients, the calligraphers will advise them with appropriate words.
Folk music and rap combined in music video
Artist Thanh Huyền has released a music video combining chèo (traditional opera) with rap to modernise this Vietnamese classical form of music.
The Yếm Đào Chào Xuân video was launched to welcome the Lunar New Year with hope and love.
Throughout the video, viewers can enjoy the atmosphere of a spring market and many Vietnamese folk games.
According to Thanh Huyền, she came up with the ideas from lyrics to music and staged the scene in the video to release her best work to the public.
Right after its release, the video has attracted the attention of not only traditional artists but also young people with this unique combination.
The young chèo artist also said that she decided to try a bold direction that no one has tried in the hope of renewing this folk music genre.
Street food tour by motorbike in HCM City among world's best Tripadvisor
A private street food tour by motorbike with students in Ho Chi Minh City has been named among the world's 25 best travel experiences by Tripadvisor readers.
According to TripAdvisor's 2021 Travelers' Choice of the Best Things to Do, the private street food tour by motorbike in HCM City came in 14th on the list.
The food tour by motorbike would take visitors around four hours to delve into the street food scene in Vietnam's southern metropolis.
Documentary about Vietnamese music wins at Los Angeles Film Awards
A documentary about Vietnamese music by French filmmaker François Bibonne has been announced as one of the winners at the Los Angeles Film Awards (LAFA).
The 30-minute film, entitled Once Upon a Bridge in Vietnam, won the Best Documentary Short in January.
The concept of the documentary is to help the French director discover his roots as his grandmother is Vietnamese.
According to the young director, the documentary is the start of a long-term project including other documentaries about traditional music in different regions of Vietnam. The next film, which he hopes to produce this year, will be about music in the Central Highlands, Hue, and HCM City.
Also in the list of LAFA winners in January is the music video Dead of The Night by Vietnamese-Australian artist Minh Huynh, aka Minhy. The video won the Best Music Video award.
LAFA is a monthly competition for filmmakers and screenwriters from all over the world. The awards aim to promote films and be another step up in filmmakers' careers. Each month, the jury will name the best films through private screenings.
Da Nang welcomes nearly 36,000 visitors during Tet holiday
According to the Da Nang Department of Culture, Sports and Tourism, the total number of visitors to the city during the Lunar New Year, or Tet, holiday reached around 36,000, up nearly 17% compared to last year.
Some 400 flights on eight domestic routes brought visitors to Da Nang during Tet. The total number of guests staying overnight stood at 25,500, primarily Vietnamese travellers. Leading local attractions included Marble Mountains, the Mikazuki Water Park, and Son Tra Peninsula.
Many accommodation establishments have provided additional conference and banquet services and also cut room tariffs by 30-50%. Most visitors to Da Nang are independent travellers and book their accommodation close to the day of their arrival, which peaked from the 2nd to the 5th day of the Lunar New Year, mostly at 4 or 5-star hotels along the coast.
250 more flights to meet surging post-Tet travel demand
Domestic airlines plan to add 251 flights on popular routes between February 7 and 10 to keep up with an unexpected surge in travel demand after Tet, Vietnam's longest New Year holiday, according to the Office of the Ministry of Transport.
The Civil Aviation Authority of Vietnam (CAAV) has requested carriers to mobilise all resources to increase flights from northern and central localities to Ho Chi Minh City, it said.
All the additional flights serve passengers flying between HCM City and Hanoi (48 flights), Da Nang (43), Hai Phong (26), Hue (25), Chu Lai (Quang Ngai) (27), Thanh Hoa and Vinh (23).
A total of 3,180 flights will be operated within the four days, offering more than 667,000 seats.
Ha Tinh looks to introduce UNESCO Documentary Heritage to the world
The central province of Ha Tinh is striving to popularise its two Documentary Heritage in Asia and the Pacific under UNESCO's Memory of the World Programme – 'Hoang Hoa su trinh do' (The Envoy's Journey to China) and Phuc Giang School woodblocks.
The two belong to Truong Luu village in Kim Song Truong commune of the province's Can Loc district.
"Hoang Hoa su trinh do" (literally translated as maps and itinerary of the envoy's journey to China) belongs to the Nguyen Huy family.
With writings, drawings and maps, the book records the diplomatic relationship between Vietnam and China in the 18th century through journeys of Vietnamese envoys. It was compiled and edited by Nguyen Huy Oanh (1713-1789) based on documents of previous envoys and historical records as well as notes from his own journey in 1766-1767, during which he worked as the chief envoy of the Vietnamese delegation.
Meanwhile, Phuc Giang school woodblocks were used to print materials in Chinese and Nom (a classical vernacular script of the Vietnamese language) for learning and teaching at Phuc Giang school, a private school set up by the Nguyen Huy family in mid-18th century.
Each individual woodblock, 25-30 cm in length, 25-28 cm in width and 1-2 cm in thickness, is a unique work of art, aesthetically carved with beautiful calligraphic styles.
The total set originally had around 3,000 blocks, but many have been damaged or destroyed over time. Presently, the set comprises 383 well-preserved blocks. They are the only ancient woodblocks created by a family for education preserved till today in Vietnam.
Most bus services in Hanoi operate at full capacity from February 8
Most bus services in Hanoi are permitted to operate at full capacity from February 8, following an over-three-month hiatus caused by the COVID-19 pandemic.
Accordingly, 118 out of 121 bus routes operate at full capacity, while routes No. 50, 57 and 116 which have starting and ending points in three out of nine communes, wards and townships with the pandemic risk at level 3, still run at 50 percent of their capacity and carry no more than 20 passengers at a time.
This option aims to ensure safe and flexible adaptation and effective control of the COVID-19 pandemic.
The number of passengers travelling by bus has increased again, especially after the Lunar New Year (Tet) festival and school re-opening.
From October 14, 2021, bus routes throughout the capital were only allowed to carry half their designed capacity and no more than 20 passengers at a time in order to ensure safety against the pandemic.
Da Nang set to resume all international flights in March
The central city of Da Nang will resume all flight routes and tourism activities next month as it strives to boost its economic recovery process, Le Trung Chinh, head of the municipal administration, said on February 8.
Local authorities will continue to create favourable conditions for the Da Nang International Terminal Investment and Operation Joint Stock Company (AHT) to overcome difficulties, to help it fulfil tasks and contribute to the city's socio-economic development, said Chinh during a fact-finding trip to the terminal.
There are now a total of eight domestic air routes which run at a frequency of 218 flights per week connecting Da Nang with Ho Chi Minh City, Hanoi, Da Lat, Nha Trang, Phu Quoc, Buon Me Thuot, Hai Phong, and Can Tho.
3 bridges planned to improve transportation in HCM City
Three new bridges in HCM City are expected to make travel more convenient, improve regional connectivity and reduce traffic jams.
To cost an estimated VNĐ10 trillion (US$433 million), Cần Giờ Bridge over the Soài Rạp River will link Nhà Bè and Cần Giờ districts.
The next bridge, to cost VNĐ7.2 trillion ($312 million), will be over the Đồng Nai River between HCM City's Thủ Đức city and Đồng Nai Province's Nhơn Trạch District.
The Thủ Thiêm 4 Bridge over the Sài Gòn River will be between the intersection of Tân Thuận 2 Bridge and Nguyễn Văn Linh Boulevard in District 7 and the R4 Route in Thủ Đức. It will be designed like a bamboo tree, a familiar sight in the country.
The 2.16km bridge will have six lanes and cost nearly VNĐ5.3 trillion ($229 million). Construction is expected to start before 2028.
Hanoi among world's 25 best destinations for food lovers
Hanoi has been listed among the 25 best tourist destinations for food enthusiasts, as voted by TripAdvisor readers.
The famous travel site TripAdvisor, has just announced the "Travellers' Choice Best of the Best 2022" list, introducing the "best of the best" destinations, services and experiences, within the travel industry, based on millions of reviews from travellers around the world.
TripAdvisor wrote that Hanoi has largely aged quite well, preserving its famous cultural hub of the Old Quarter, monuments, and colonial architecture, while also making room for modern developments.
Travellers have been recommended to try renowned traditional dishes, such as pho (Vietnamese traditional noodle soup), bun cha (vermicelli with grilled pork and fresh herbs), bun rieu cua (crab noodle soup), banh cuon (steamed rolled pancakes), along with banh mi (Vietnamese bread) and egg coffee.
Rome topped the list, followed by London and Paris.
Vietnam sets target to provide health insurance for 95% senior citizens by 2025
Vietnam has set a target to provide health insurance for 95% of senior citizens by 2025, under a national action plan for the period of 2021-2030. The coverage is expected to reach 100% by 2030.
During the period of 2022-2025, Vietnam aims to have at least 90% of the elderly covered with primary healthcare services and regular medical check-ups.
The country also wishes to ensure proper care for all senior citizens suffering from severe mental illnesses, with the goal that no elderly person has to live in temporary shelters or dilapidated houses.
The State will provide primary health care and regular check-up to the elderly, make health records for senior citizens at the communal level with priority given to those aged 80 and above. Medical services will be provided at home for those who are unable to go to health care facilities.
Besides, during the period of 2026-2030, all senior citizens in Vietnam will have access to necessary health care services when they are sick.
Under the action plan, Vietnam also aims to provide jobs for 50% of senior citizens who are capable of working after retirement and still want to work by 2025 and 70% by 2030.
Source: VNA/SGT/ND/VNS/SGGP/VOV/Hanoitimes
36 flights carry over 2,000 Vietnamese citizens back home