COVID-19: New cases on February 5 total 12,170
Vietnam recorded 12,170 cases of COVID-19 in 58 localities during 24 hours from 4pm February 4 to 4pm February 5, including 10 imported cases, according to the Ministry of Health.
Hanoi continued to record the highest number of infections with 2,778 cases, followed by Da Nang with 783 and Quang Nam with 735.
The national tally reached 2,327,859, including 192 infections of Omicron.
There are 2,827 patients in critical conditions, including 402 requiring invasive ventilation and 14 on ECMO support.
A total 3,457 patients were given the all-clear, taking the total number of recoveries to 2,105,913.
An additional 114 deaths from COVID-19 were recorded in the past 24 hours, taking the total fatalities to 38,261, accounting for 1.6 percent of the total caseload.
By February 4, the country had injected over 182.1 million doses of vaccines to date, with over 74.21 million people now fully inoculated, while more than 28.8 million booster shots and third shots of Abdala vaccine had been administered.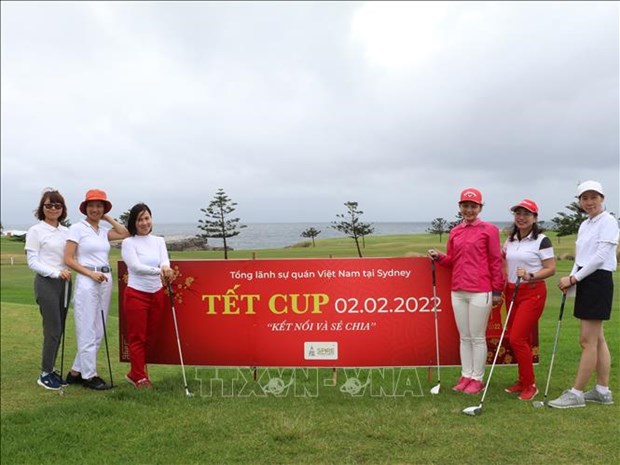 Female golfers pose for a group photo at the tourney.
Vietnamese expats join activities to celebrate Tet
The Consulate General of Vietnam in Sydney, Australia, organised a golf tournament on February 2, on the occasion of the Tet (Lunar New Year) festival, with the participation of nearly 70 golfers.
Addressing the event, Vietnamese Consul General Nguyen Dang Thang wished that the 'Tet Cup' golf tournament, which is hoped to be held annually on the occasion of the biggest and most important traditional festival of Vietnamese, will strengthen solidarity among the Vietnamese community in Australia and raise funds to build schools for children residing in the country's mountainous areas.
This time, the Consulate General together with a charity in Vietnam aimed to raise funds for the building of a semi-boarding house of Chieng Chung primary and secondary school in the northern mountainous province of Son La.
The tournament raised some 30,900 AUD (22,010 USD), which will be transferred to the Vietnamese Foreign Ministry's State Commission for Overseas Vietnamese Affairs, for the prompt construction of the boarding house.
In Sri Lanka, a delegation of the Embassy of Vietnam led by Ambassador Ho Thi Thanh Truc paid a Tet visit to Vietnamese expats in the country on February 2, the second day of the lunar new year.
Truc extended her Tet wishes to Buddhist monks and nuns living and studying in Sri Lanka and thanked nun Giac Hanh Chau for supporting the Vietnamese Embassy and the Vietnamese community in the South Asian nation.
About 50 Vietnamese monks and nuns are studying at Buddhist schools and institutes in Sri Lanka.
Earlier, Vietnamese Counsellor Tran Trong Thanh visited a meditation centre in Kandy city, which is the first Vietnamese temple in Sri Lanka. The temple had helped disadvantaged families when the country applied restriction measures to curb the spread of COVID-19.
Also on February 2, Chu Duc Dung, Vietnamese Consul General in Khon Kaen, Thailand, extended his Tet wishes to overseas Vietnamese in Thailand's north eastern localities.
He welcomed contributions by the Vietnamese community in Udon Thani to the Vietnam-Thailand relations as well as their activities toward the homeland.
He took the occasion to attend a ritual praying for peace and offer incense to altars of Hung Kings, the national founders, at Khanh An, the largest Vietnamese temple in north eastern Thailand; and paid tribute to late President Ho Chi Minh at a memorial site in the Thai province, where he stayed and worked for a while in 1928-29.
Udon Thani is currently home to the largest number of Vietnamese among Thai localities.
Vitality in tourism amid COVID-19
After being "frozen" over the past two years, Cam Ranh International Airport in the south-central coastal province of Khanh Hoa has been vibrant once more over recent days, with many international visitors flying in to spend time at holiday destinations during the festive Lunar New Year (Tet) holiday.
It seems that Russian visitors bring a hope that the local tourism sector will soon recover, as they have chosen Vietnam as the destination of their first holiday since the COVID-19 pandemic broke out.
All visitors to Nha Trang city in Khanh Hoa province have received a warm welcome and safe and professional services.
They are on package tours to fully experience Nha Trang Bay, Hoa Lan Island, Yang Bay Park, and many other fascinating destinations.
Khanh Hoa is certainly a lot more cheerful. The Russian visitors have brought a lot of vitality to local tourism sites.
Spring has now come, bringing new hope for the tourism sector's recovery. The first foreign visitors to the country have been a breath of fresh air for the industry.
Specialties of Tet feast in central region
The long and narrow central part of the country with harsh weather has caused local residents to struggle with droughts and constant floods. Although they led a difficult life, people in the central region still try to arrange a hearty meal to worship their ancestors during Tet (Lunar New Year) festival. It reflects the wish for a family reunion, a prosperous and peaceful life in the new year.
The Tet feast of the central region is cooked very skillfully and meticulously. The food is divided into small plates and usually put on round trays, showing economical spirit. The popular dishes in the central region include boiled chicken, fried eggs, soups, vegetables and rice.
After offering the meal to the ancestors on the altar and the incense has burned out, people eat the food together in a warm atmosphere.
While banh chung – square sticky rice cake – is a must-have item in the new year tray in the north, banh tet – the cylinder-shaped sticky cake – is preferred by people in the central region. They might be different in length but all wrapped in banana leaves, filled with glutinous rice, green beans and pork before boiling them for 8-10 hours. Then, banh tet is cut into even circles.
Banh tet was varied by people in each region. They might add lamb, goat meat or vegetarian ingredients to give them a strange taste and make them more delicious.
The central region's harsh climate is believed to be the reason why local residents pay more attention to the ability to preserve Tet feast.
In addition to banh chung, banh tet which can be preserved for up to a month, dua mon is also a popular dish during the occasion. Dua mon – sliced papaya, kohlrabi, carrot and onion were dried and soaked in fish sauce or Hue's typical shrimp paste, retains its crispy and delicious taste even though it is kept for a long time. Dua mon is often served together with banh tet in order to enjoy a combination of different tastes – sweet, salty, fatty, and spicy.
The foods commonly found in the central region's feast include cool dishes such as beef or pork soaked in fish sauce, Vietnamese beef sausage, nem chua (fermented pork).
The type of alcohol to put on the altar to worship the ancestors during the Tet festival is also considered a specialty of each region such as Hong Dao alcohol of Quang Nam province, Bau Da alcohol of Binh Dinh province or Minh Mang alcohol in the ancient capital of Hue. All create a traditional Tet tray full of flavours and imbued with homeland identity.
Quang Tri: Efforts to promote and preserve ancient tea gardens
The century-old ancient tea gardens in Cam Lo district, the central province of Quang Tri, have significantly contributed to the promotion of tourism and economic development in the locality.
Visiting Cua and getting lost in the ancient, tall and green tea gardens feels like being lost in a fairy land. Sturdy, mossy tea trees have witnessed many of the great historical moments of this land.
Cua is a basalt red land in Cam Lo district. It covers Cam Nghia and Cam Chinh communes. There are still many old tea gardens here, aged between 70 and 100 years old. Many trees were planted more than 150 years ago.
This land is home to tens of hectares of rubber and pepper. However, when industrial crops were not yet developed here, the green tea is the most important crop and creates significant income for local residents.
For a long time, ancient tea gardens have been a pride of locals.
Hoang Thi Thoai's in Mai Trung village is one of the households with many of the oldest tea trees in Cam Chinh commune. Her family's garden now has over 100 ancient tea trees aged more than 100 years and hundreds of decade-old ones. Her family earns about 30 million VND (more than 1,300 USD) from the tea garden per year on average.
With its fragrance and deep taste, this tea is very popular among Quang Tri people.
The ancient tea tree seems to have been born for this land. This variety has been cultivated in many places but it finds it difficult to thrive.
The trees here rarely need to be fertilised or irrigated, but they still grow up to be strong, solid and full of vitality.
In Cam Chinh commune, there are more than 100 households that cultivate ancient tea trees, with many of those owning hundreds of tea trees aged over 100 years.
To harvest leaves from these ancient tea trees, it is necessary to climb a ladder as each tree has a height of up to 10m and a diameter of 30-40cm.
For Cua villagers, ancient tea trees not only bring economic profit but also represent the resilient will of local people. A cup of fresh tea is indispensable to the daily life of local people.
Each kilogramme of fresh tea leaves is sold for 4,000-6,000 VND.
In recent years, local authorities and villagers have intensified efforts to preserve the ancient tea trees in the area.
The 80-year-old Nguyen Thi Tien in Mai Trung village, Cam Chinh commune, said her family's trees are over 120 years old. Many people have offered to buy them at the price of 7-10 million VND per tree but Tien always shakes her head as she considers the trees her family members who have witnessed all their joyful and sorrowful moments.
Today, many new tea areas can be seen alongside ancient orchards.
Secretary of the Party Committee of Cam Chinh commune Nguyen Thanh Lam emphasised the role of the tea trees in tourism and economic development of the locality, saying that the local administration has called on locals to pay special attention to preserving ancient tea gardens as well as maintaining the quality of the trees.
The locality has planned to develop spiritual tourism programmes and the brand "Cua tea", as well as make the most of the strengths of local agricultural products and services, he said.
Lanterns – soul of Hoi An ancient town
Lanterns are a familiar image for anyone who has travelled to Hoi An ancient town in the central province of Quang Nam. In addition to being used for decoration, lanterns also hold a lot of meaning for local people.
Hoi An is renowned for its beautiful ancient town decorated with a colourful array of hanging lanterns. A rich history as a trading port makes Hoi An a mecca for all types of traditional Vietnamese handicrafts and manufacturing. And none more so than lantern making.
The craft of making lanterns in Hoi An probably appeared at the same time as the town was at its most developed, around the 15th century. Usually made from a bamboo frame and Vietnamese silk, lanterns come in many different shapes, sizes, and colours.
Hoi An has about 40 lantern-making workshops, creating jobs for many local people. Its lanterns have also been exported to many countries around the world and become a unique souvenir for tourists.
Nowadays, tourists can visit lantern makers and learn all of the stages of making the unique products which are made with talent and ingenuity of local craftsmen.
Party chief offers incense at Thang Long Royal Citadel
Party General Secretary Nguyen Phu Trong offered incense in tribute to late kings and talented persons who had made contributions to the nation at Kinh Thien Palace in Thang Long Imperial Citadel in Hanoi on February 4, the fourth day of the Lunar New Year.
The Party leader affirmed the resolve to uphold Vietnamese traditional values and strengthen the great national unity bloc to build a nation of wealth, democracy, equality and civilisation.
Talking with the staff of the relic site, he urged them to work harder to preserve and promote values of the UNESCO-recognised citadel to international friends and contribute to educating young generations about national traditions.
The Thang Long Imperial Citadel, which was placed on the UNESCO list in August 2010, was a power centre for over a thousand years of Vietnamese history and unique evidence of Vietnamese civilisation during the development of monarchies in Southeast Asia and East Asia.
Kinh Thien Palace is the main building in the central sector of the citadel, which is located in what is today downtown Hanoi. It sits in the centre of the complex, facing Doan Mon (south gate) and Flag Tower.
The palace was built in 1428 and is believed to be of the highest importance, hosting many royal ceremonies. It was also the place wher eroyals were invited to discuss national issues.
It was almost destroyed at the end of the 19th century by the French colonialists, however, and all that remains today is a 100-cm-high banister to the south of the plot and several large stone steps with dragon carvings.
Vietnamese President wishes Beijing Winter Olympics, Paralympics success
President Nguyen Xuan Phuc has sent a letter to General Secretary of the Communist Party of China Central Committee and President of China Xi Jinping, wishing the Beijing 2022 Winter Olympics and Paralympics a complete success and extending Lunar New Year greetings to the Chinese people.
Noting that the Beijing Winter Olympics and Paralympics are the biggest international sporting event of this year, President Phuc wrote Beijing will be the first city in the world to successfully host both the Summer and Winter Olympics in 2008 and 2022.
He said the Olympic flame lit at the National Stadium in Beijing will be a symbol of the sports spirit transcending national boundaries, which embodies the strong will and unity of mankind and inspires confidence in building a peaceful and prosperous world.
As a friendly neighbour and comprehensive strategic cooperative partner of China, Vietnam and its people fully support and firmly believe that China will successfully hold the Winter Olympics and Paralympics, President Phuc wrote.
PM attends inauguration of Cao Bo-Mai Son expressway section
Prime Minister Pham Minh Chinh on February 4 attended the inauguration ceremony of Cao Bo-Mai Son section, one of the 11 component projects of the eastern North-South expressway project.
The 15.2-kilometer Cao Bo-Mai Son expressway section, with a total investment of over 1.6 trillion VND (70.8 million USD), starts at the end of Cau Gie-Ninh Binh expressway in Y Yen district, Nam Dinh province, and ends at National Highway 1A in Ninh Binh province's Yen Mo district.
The Cao Bo-Mai Son section plays an important role in the North-South expressway as it connects economic and political centres in the northern key economic zone. Construction of the project started in December 2019 and completed on schedule.
Addressing the event, PM Chinh affirmed that the Party and State identified infrastructure development, including transport infrastructure, as one of three strategic breakthroughs. The State mobilises all resources to invest in infrastructure, but there are focal points, including the eastern North-South expressway.
He hailed the efforts by administrations at all levels of Ninh Binh and Nam Dinh provinces as well as relevant agencies in overcoming difficulties to complete the project with high quality.
The PM requested ministries and agencies to continue accomplishing necessary procedures to ensure the project's effectiveness.
Lessons should be drawn from the project's implementation so that other projects would be carried out with better results, fulfilling the target of having 5,000 km of expressways by 2030, he said.
Special art programme marks Party's founding anniversary
A special art performance was held in front of Ho Chi Minh City's theatre, also known as Saigon Opera House, on February 3 to celebrate the 92nd founding anniversary of the Communist Party of Vietnam (CPV) (February 3, 1930-2022).

|

The event, which lasted for 95 minutes, praised the CPV, President Ho Chi Minh and the long and arduous struggle of the army and people to gain independence and freedom for the nation and its reunification.
The Party organisation, administration and people of the city have always promoted the resilient revolutionary tradition, dynamism, creativity and solidarity. Despite facing challenges, HCM City has always been a pioneer and succeeded in carrying out solutions to obtain positive achievements.
During the recent outbreak of the COVID-19 pandemic, the city's people have united and shared with each other, becoming a special characteristic of local residents.
The event also highlighted the affection of people across the country in helping the city ease the difficulties and gradually resume socio-economic development.
Khanh Hoa serves 65,000 tourists during Lunar New Year holiday
About 65,500 tourists visited the south-central province of Khanh Hoa, home to famous beach cities of Nha Trang and Cam Ranh, on the first five days of the Lunar New Year holiday (January 31-February 4).
The provincial Department of Tourism said Khanh Hoa earned some 233 billion VND (10.28 million USD) from tourists during the period.
Apart from cultural and art activities held by local authorities, travel firms have offered various programmes and products to attract holidaymakers.
Competent agencies have regularly asked the businesses to seriously observe COVID-19 prevention and control regulations and limit mass gatherings.
During the period, Cam Ranh International Airport welcomed about 29 domestic flights each day and one international flight.
Khanh Hoa on November 25, 2021 welcomed the first international tourists with vaccine passports after a long hiatus due to the COVID-19 pandemic.
It is among localities selected to roll out the pilot "vaccine passport" programme, which is divided into three phases, starting from last November.
In the first phase, designated places and tourism facilities in the selected localities could receive foreign tourists within package tourism programmes arriving via either charter flights or international commercial flights.
In the second phase that took effect from January 2022, the scale of the pilot plan will be expanded by connecting destinations through regular charter and international commercial flights.
Vietnam's tourism market will fully open to international tourists in the last phase, the starting time of which will be based on the contemporary pandemic situation on the evaluation of the two previous phases.
Tan Son Nhat airport sees record of passengers on Feb. 4
The number of passengers through Tan Son Nhat International Airport in Ho Chi Minh City rose to a record of 97,700 on February 4, according to the Southern Airports Authority.
As many as 704 flights were expected to land at or take off from the airport on February 4 in comparison to 528 with 83,800 passengers recorded on the previous day.
The sudden increase in the number of passengers has caused a serious shortage of taxis since late February 3.
To solve the problem, the Southern Airports Authority has worked with the city's Department of Transport, the Taxi Association and relevant units at the Tan Son Nhat airport to arrange vehicles for them as soon as possible and prevent congestion.
The Southern Airports Authority has advised passengers to travel by their own cars or order a taxi in advance to avoid waiting for a long time.
Thai style pagoda in Vietnam
Located in Long Binh ward, Thu Duc city of Ho Chi Minh City, Bửu Long pagoda shares common architecture with other pagodas of Thailand, making it special among pagodas in Vietnam.
About 20 km from Ho Chi Minh City centre and situated on a hill, Buu Long pagoda is easily recognised from its striking yellow tower.
After its establishment in 1942, Buu Long pagoda undergone several restoration and reconstruction efforts.
By 2007, it has become an outstanding architectural representative for the fusion between the Nguyen Dynasty and Southeast Asian culture, embodying several design elements from both sources.
Standing in the pagoda compound, one would feel perfect serenity as they listen to the gentle tingles of windchimes on top of the tower, the peaceful sounds of water flowing from the lake outside the main hall.
At Buu Long, visitors are impressed by its splendid architecture and can get lost in Buddhism by listening to monks' dhamma talk.
Being situated on a hill and shadowed with green trees makes Buu Long pagoda a cool space for visitors.
Faraway from the bustling urban life, amidst breezy mountains and forests, the monumental temple is always in harmony with nature. Many choose Buu Long pagoda to meditate, leaving their hustling lives aside for a while.
Vietnamese family tradition in Lunar New Year festival
Family reunion is expressed right from the New Year's Eve offering to the ancestral worship ceremony on the first day of the Lunar New Year, a festival of the nation as well as Vietnamese families.
For generations, the Vietnamese nation has treasured family tradition, considering family a home and a cradle to nurture people from childhood to adulthood.
In anytime, the cultural value of Tet is always preserved and upheld via traditional customs such as visiting ancestors' graves, wrapping glutinous rice cake, cleaning the house and the Lunar New Year's Eve offering.
There are popular scenes such as crowds in flower or Tet markets, children wearing new clothes, elderly scholars giving calligraphic words, family relatives meeting together, which bring people closer and deepen family love.
Since ancient times, the Vietnamese people have had the tradition of worshiping their ancestors. No matter how poor they are, every family tries to prepare for a few food trays to offer to them, thus reminding the merit of giving birth and upbringing, and strengthening filial piety in each child.
For the Vietnamese, a meal is a moment of reunion, a place to show respect, love and care for each family member. Children show respect to their grandparents and parents through every gesture of eating and drinking. A Tet reunion meal becomes more and more special because it not only offers quality food but also educates children on a healthy lifestyle. A Tet meal is considered the soul of unity and love, creating a close relationship among generations in the family.
Tet also affords a chance for family members to celebrate the longevity of their grandparents and parents. Depending on local customs, it can start from the age 60, showing their care for and respect to the elderly.
For generations, "Going home for Tet" has been considered a pilgrimage to the place of birth, only once a year. The reunion of a Vietnamese family every traditional Tet is not just the story of a family and carries emotional value, but also is the value of moral and cultural education and the matter of survival and sustainability of a nation. Preserving the beauty of family tradition is contributing to upholding national cultural identity in contemporary life, bringing people closer to the homeland, community and families and making them live more responsibly with the past, present and future.
PM inspects progress of north-south expressway project's eastern section
Prime Minister Pham Minh Chinh chaired a meeting on February 4 reviewing the progress of the eastern section of the north-south expressway project.
Earlier, he made an on-site inspection of the construction of Mai Son – National Highway 45 expressway and Nghi Son – Dien Chau expressway, which pass through the provinces of Ninh Binh, Thanh Hoa and Nghe An.
Minister of Transport Nguyen Van The said there are five projects building roads from Ninh Binh to Ha Tinh as part of the eastern section of the north-south expressway project in the 2017-2020 period, namely Cao Bo – Mai Son, Mai Son – National Highway 45, National Highway 45 – Nghi Son, Nghi Son – Dien Chau and Dien Chau – Bai Vot.
Of them, the Cao Bo – Mai Son expressway was inaugurated as scheduled, the Mai Son – National Highway 45 project has 59 percent completed, the Dien Chau – Bai Vot 1.5 percent and the remainder 10-14 percent.
He attributed the delay of the four projects to slow site clearance, investors' failure to reach credit contracts, limited capacity of several contractors and supply of construction materials.
PM Chinh asked the Transport Ministry to work closely with departments and localities to fix existing shortcomings, speed up site clearance, and seek more qualified consultants.
The Ministry of Natural Resources and Environment was required to review regulations related to the management of construction materials to prevent abnormal price hike that cause State asset wastefulness and unhealthy competition.
The PM also called further attention to ensuring lives of relocated households and stepping up vaccination campaign for workers of the projects to hasten their progress.
Hanoi's Party officials pay tribute to King Quang Trung
A delegation of the Hanoi Party Committee led by its Secretary – Politburo member Dinh Tien Dung – on February 5 offered incense in respect of King Quang Trung at the Dong Da Mound, a special national relic site in the capital, on the occasion of the 233rd anniversary of the Dong Da-Ngoc Hoi victory (1789-2022).
The delegation also planted trees at a temple dedicated to the King at the site. All activities were carried out in line with COVID-19 prevention and control measures.
Dong Da Mound was a relic of the Dong Da-Ngoc Hoi battle between King Quang Trung's troops and Chinese Qing invaders in spring 1789. An annual festival is held at the relic site on the fifth day of the lunar year to mark the victory of the fight that smashed the intention to occupy Vietnam of the Qing dynasty.
King Quang Trung (1753-1792), whose real name is Nguyen Hue, was the second king of the Tay Son dynasty of Vietnam, reigning from 1788 to 1792. He mastered the Tay Son army's speedy march from Phu Xuan (Hue) to the north to defeat 20,000 Qing aggressors and liberate Thang Long citadel in 1789.
Thua Thien-Hue serves around 47,000 visitors during Tet holiday
The central province of Thua Thien-Hue welcomed nearly 47,000 tourists nationwide during the Lunar New Year (Tet) holiday from January 29 – February 3, including 330 foreigners who are experts and relatives of diplomats in Vietnam.
On the first day of the Year of the Tiger (which fell on February 1 this year), local cultural and historical sites served nearly 9,000 visitors. The figure rose to around 16,000 and 17,000 on the second and third days, respectively. Places that attracted large numbers of visitors were the Complex of Hue Monuments, tombs of Kings Gia Long, Minh Mang, Tu Duc, Khai Dinh and Thien Mu, Tu Hieu, Tu Dam pagodas, and Huyen Tran Princess temple.
Guests staying in lodging facilities during the period were estimated at over 9,000, with many hotels reporting high occupancy rates ranging from 70 to 90 percent.
Cultural relic sites under the management of the Hue Monuments Conservation Centre and the provincial Department of Culture and Sports were open to visitors for free from February 1-3.
Lao Ambassador makes Tet visit to Vietnamese Embassy in France
Vietnamese Ambassador to France Dinh Toan Thang and head of the Permanent Delegation of Vietnam to UNESCO Le Thi Hong Van have received a delegation from the Lao Embassy – led by Ambassador Kham-Inh Khitchadeth – who came to deliver their Lunar New Year (Tet) greetings.
Kham-Inh Khichadeth said the visit is his first diplomatic activity since taking office in January.
The two sides expressed their delight at progresses recorded in the Vietnam – Laos special solidarity last year with the organisation of a series of important diplomatic events despite COVID-19.
Thang highlighted that 2022 marks the 60th founding anniversary of diplomatic ties and 45 years of the signing of the Treaty of Amity and Cooperation between the two countries, and suggested the promotion of cooperation and mutual support between the Vietnamese and Lao representative agencies to co-organise activities in celebration of the "Year of Vietnam-Laos, Laos-Vietnam Friendship and Solidarity" this year.
The two ambassadors also agreed to pay attention to their bilateral information sharing and exchanges, particularly between young diplomats, contributing to the implementation of the Vietnamese and Lao foreign ministries' cooperation agreement for 2021 – 2025.
Red River Delta listed among 52 best travel destinations in 2022
New York Times has included Red River Delta, home to long-standing craft villages and a century-old cultural heritage, in its annual list of 52 best places to travel in 2022.
It was also the only representative in Southeast Asia to break into the list compiled by travel editors of the New York Times based on more than 2,000 suggestions. After two years of the Covid-19 crisis, this year's list highlights places that can deal with problems like overcrowding and climate change.
"Once travel begins to normalize, tourists will undoubtedly flock to Vietnam's world-famous beaches and dynamic megacities. But head north to the traditional villages of Red River Delta, and you can immerse yourself in centuries-old cultural practices and a way of life at risk of disappearing," the U.S. newspaper wrote.
It added that Red River Delta is the cradle of quan ho folk singing, recognized by UNESCO as an intangible cultural heritage of humanity in 2010.
Foreign experts praise CPV's sound leadership
The sound leadership of the Communist Party of Vietnam (CPV) is the foundation and the leading factor determining every victory of Vietnam's revolution, international experts and scholars have affirmed.
In an interview granted to the Vietnam News Agency (VNA), General Secretary of the Mexican Labour Party Alberto Ayana Gutiérrez said platforms and guidelines of the CPV have play a part in glorious victories of the Vietnamese revolution over the past more than 90 years.
The Party has selected theory and practice values in the previous process of national democratic revolution and the present cause of socialism building and Doi Moi (Renewal), he added.
Rosario del Pilar Pentón Díaz, a member of the Central Committee of the Communist Party of Cuba and Rector of the Party School Ñico López, stressed the CPV's dialectical vision and will power in choosing the path of socialism building in Vietnam.
The New Delhi-based Vivekananda International Foundation (VIF) said the achievements Vietnam has recorded in 35 years of Doi Moi, particularly in the five-year implementation of the Resolution adopted at the 12th National Party Congress and goals set out during the 13th National Party Congress, have reflected that Vietnam has overcome a range of challenges under the Party leadership.
On the occasion of the 92nd founding anniversary of the CPV (February 3), the Centre for Vietnam and ASEAN Studies under the Russian Academy of Sciences' Institute of Far Eastern Studies has published a book on the Party.
The book features 17 articles presented at the international roundtable workshop on the CPV and the 13th National Congress of the CPV, which took place on May 19-20, 2021.
Written by prestigious researchers of Russia and other countries, these articles highlight the development of the CPV and its role in the modern era as well as the significance of the 13th National Party Congress.
Source: VNA/VOV/VNS/ND/VNN/SGT
Overseas Vietnamese across nations celebrate Lunar New Year