President Nguyen Xuan Phuc leaves Hanoi for State visit to Singapore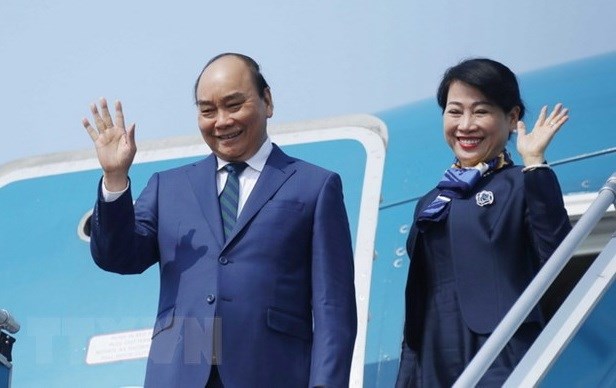 President Nguyen Xuan Phuc and his spouse leave Hanoi on February 24 afternoon for a State visit to Singapore (Photo: VNA)
President Nguyen Xuan Phuc and his wife left Hanoi on February 24 afternoon for a State visit to Singapore from February 24-26 at the invitation of Singaporean President Halimah Yacob.
The President is accompanied by Defence Minister General Phan Van Giang, Chairman of the Presidential Office Le Khanh Hai, Minister of Planning and Investment Nguyen Chi Dung, Minister of Information and Communications Nguyen Manh Hung, and Minister of Industry and Trade Nguyen Hong Dien, among others.
President Phuc's State visit takes place in the context that the bilateral ties are developing significantly in all fields and it has great significance at a time when the two are preparing to celebrate the 50th anniversary of diplomatic ties in 2023.
It is the first foreign trip of President Phuc in 2022, and the first by a head of state to Singapore since the onset of the COVID-19 pandemic.
It aims at affirming Vietnam's determination to boost economic development and create a favourable business environment, thus delivering an important message helping Singaporean investors feel secure to do business in Vietnam.
Ministry of Health publicises prices of Molnupiravir drugs produced in Vietnam
The Drug Administration of Vietnam (DAV) under the Ministry of Health (MoH) has announced the prices of COVID-19 treatment drugs containing active ingredient Molnupiravir produced by three Vietnamese manufacturers.
Accordingly, a pill of Molravir 400mg made by Boston Vietnam Pharma costs 11,550 VND while the prices of Movinavir 200mg manufactured by Mekophar Chemical Pharmaceutical, and Molnupiravir Stella 400mg produced by Stellapharm J.V Co., Ltd. are 8,675 VND and 12,500 VND a tablet, respectively.
These drugs are sold to COVID-19 patients for home treatment provided that they show proof of being infected with coronavirus and prescriptions from doctors.
The Drug Administration of Vietnam officially licensed the three COVID-19 drugs on February 17.
These drugs are used to treat mild to moderate adult COVID-19 patients with at least one risk factor that could enhance the progression of the disease, according to the MoH. The drugs should not be used for pregnant women or those who are planning to become pregnant, nursing women, and children under 18 years old.
Government leader orders faster vaccination rollout
Prime Minister Pham Minh Chinh has requested the completion of administering booster shots to those aged 18 and above within the first quarter of 2022 amid complex and unpredictable developments of the COVID-19 pandemic.
In a February 23 dispatch to ministries, sectors and localities, the Government leader asked for extra efforts to give second doses to children aged from 12 to 17 in February.
The Ministry of Health was assigned to speed up the purchase of vaccine for children from 5 years old, and gain early access to new vaccines, drugs, technologies and test kits in the world.
The leader also stressed that inspection and examination of prices and quality of vaccines, drugs, biological products and test kits must be strengthened.
Localities should focus on encouraging residents to get vaccinated, with special attention to the elderly and those with underlying diseases or unable to walk.
Vietnam, US foster cooperation in crime prevention and combat
Minister of Public Security General To Lam held online talks with Director of the US Federal Bureau of Investigation (FBI) Christopher Asher Wray on February 23.
At the talks, Lam said on the foundation of a memorandum of understanding (MoU) on transnational crime prevention and control, the two sides have taken the initiative in carrying out cooperation activities in criminal justice and reaped fruitful results in the fight against transnational crimes related to the two countries.
In particular, they regularly exchanged information, supported each other during investigation, prosecution and trial, notably cases involving high-tech crimes, drugs and obtaining property by deception.
The FBI was urged to help speed up the signing of agreements on mutual legal assistance in criminal matters, extradition, and the transfer of sentenced persons, as well as enhance information exchange to prevent and fight crimes.
Vietnam ready for citizen protection in Ukraine: spokesperson
The Vietnamese Embassy in Ukraine is working on plans to be ready for citizen protection when necessary, spokesperson of the Ministry of Foreign Affairs Le Thi Thu Hang said on February 23.
The citizen protection hotlines are working round the clock, she said, adding that about 100 Vietnamese citizens are living in Donetsk and Lugansk, and they are in a stable condition.
The Ministry of Foreign Affairs has instructed the embassy to suggest local competent agencies take measures to support and ensure safety of Vietnamese citizens and businesses in Ukraine, as well as their assets.
For assistance, Vietnamese citizens can contact the embassy's hotline at: + 380 (63) 863 8999 or contact the ministry's Consular Department at + 84-981-848-484.
Only close contacts must quarantine if positive cases found in schools
As schools up and down the country return to in-person learning for the first time in months, guidelines are being updated on how to deal with the inevitable situation of positive cases being found in the classroom.
The Ministries of Health, and Education and Training have decided that only close contacts of any positive cases found must self-isolate; the rest of the school can continue as normal, after testing.
Students who have not been in direct contact with the COVID-19 student, and provide a negative rapid test result, will be allowed to continue school as normal.
Those who had direct contact with the positive COVID-19 case will have to self-monitor at home, regardless of if their rapid test result is negative.
Those who have received two doses of vaccine, or have recovered from COVID-19 within the past three months, are required to take a real-time polymerase chain reaction (RT-PCR) test on the fifth day.
If the test result is negative, the student can return to school as normal though the school and students' parents have to continue monitoring the students' health for the next five days.
US willing to assist Vietnam in renewable energy development: US Special Presidential
The US stands ready to support Vietnam in renewable energy development, US Special Presidential Envoy for Climate John Kerry said at a meeting with Politburo member and head of the Party Central Committee's Economic Commission Tran Tuan Anh in Hanoi on February 23.
Vietnam has great potential and advantages in clean and renewable energy development, Kerry said, while speaking highly of the country's policies, orientations and achievements in this sphere.
He affirmed that the US attaches importance to the comprehensive partnership with Vietnam, and expressed his belief that the good relationship will grow further in the time ahead.
For his part, Anh praised Kerry's contributions to the multi-faceted cooperation between Vietnam and the US, thanked the US government and people for their donations of COVID-19 vaccines and medical equipment to Vietnam over the past time.
He called on the US Special Presidential Envoy for Climate to make more contributions to planning and implementing US policies on climate change response globally, and in Vietnam in particular.
AFF U23 Championship: More players to be sent to Vietnam team
Vietnam have sufficient players for the semi-final match against Timor Leste at the ongoing 2022 AFF U23 Championship, head coach Dinh The Nam said at a press conference on February 23.
The game will kick off at 7pm on February 24.
Seven more Vietnamese players tested positive for COVID-19 on February 23 morning. The squad had only 10 players and faced risks of player shortage for the upcoming semifinal match.
Four more players, including one goalkeeper, two defenders and one forward, have been called up and will travel to Cambodia by road on February 24 morning.
The latest call-ups will be the last reinforcements for Vietnam, as each team is allowed to make 10 substitutions for players contracting with COVID-19.
Nearly 1,870 tonnes of rice earmarked for pandemic-hit provinces
Deputy Prime Minister Le Minh Khai has signed a decision assigning the Ministry of Finance to allocate nearly 1,870 tonnes of rice from the national reserve to people affected by the COVID-19 pandemic in three provinces.
Specifically, the north-central province of Nghe An will receive about 701 tonnes of rice while the Central Highland provinces of Dak Lak and Gia Lai will be given close to 1,015 tonnes and 153.3 tonnes, respectively.
Exhibition in Canberra spotlights Vietnamese Tet celebrations
An art exhibition aiming to promote Vietnamese people's tradition of welcoming the Lunar New Year (Tet) Festival is being held in Canberra, Australia, attracting the attention of a large number of local residents.
The exhibition entitled "Happy New Tet" is organised by the Vietnam Centre. It features unique artworks, including Vietnamese ceramic products and woodblock-printed pictures.
This is the second art exhibition organised in Australia by the Vietnam Centre after the first in 2019. It plans to expand its operations to other fields to connect people across Australia who have the desire to learn about Vietnam in general and Vietnamese culture in particular.
The exhibition will run until February 24
Binh Duong to host activities marking 30 years of Vietnam-RoK ties
An array of cultural activities will take place in the southern province of Binh Duong in celebration of the 30th founding anniversary of the Vietnam-Republic of Korea (RoK) diplomatic ties.
According to the provincial People's Committee, the events will be organised at the World Trade Centre in Binh Duong New City of the province.
A festival highlighting the RoK's culture and events on the strategic cooperation agreement between Binh Duong and Gangnam district of the RoK's Seoul capital city will be held starting February 25, with an aim to promoting trade and cultural exchanges.
On the occasion, the Korea Creative Content Agency (KOCCA) and the World Trade Centre will join hands to arrange exhibitions, cultural exchanges workshops, along with a Vietnam-RoK concert and Taekwondo performance, among others.
Government urges issuance of cards for vehicles to use e-toll collection service
Deputy Prime Minister Le Van Thanh has signed a document requesting ministries, sectors and localities to urgently issue identification cards for vehicles to use non-stop electronic toll collection (ETC) service.
According to a report of the Ministry of Transport, the number of vehicles with identification cards to use the ETC service nationwide remains low, reaching only about 50 percent.
The Prime Minister requested ministers, heads of ministerial-level agencies and agencies under the Government, chairpersons of the People's Committees of provinces and centrally-run cities, and heads of socio-political agencies and organisations at all levels to direct the issuance of identification cards for all vehicles under their management scope, in order to satisfy requirements for using the ETC service from June 1, 2022.
Toll collection service providers have been demanded to well organise the work in a quick and convenient manner, and have solutions to immediately deal with technical errors of ETC systems (if any).
Quang Tri: Over 25,000 ha of land cleared from war-left UXOs
The central province of Quang Tri has so far cleared over 25,000 ha of land from war-left landmines and other unexploded ordnance (UXO) and safely handled 765,000 UXO items.
Besides funding from the budget, the locality has mobilised over 110 million USD from donors for the settlement of wartime UXO consequences.
Quang Tri is the most polluted locality in terms of UXOs in Vietnam, with over 82 percent of its land area contaminated. War-left landmines and bombs have killed over 3,430 people and injured 5,100 since the war ended in 1975.
Since 1995, the local authorities have cooperated with international organisations to carry out demining activities.
Number of passengers via airports in February sees 58% rise
The number of passengers travelling through local airports in February grew by 57.8% to reach over 6.1 million passengers against the same period from last year, according to statistics released by the Civil Aviation Authority of Vietnam (CAAV).
Of the figure, 105,000 were international visitors, an increase of 350% compared to February, 2021, while domestic visitors reached over 6 million arrivals, a year-on-year rise of 56.1%.
Cargo being transported through airports soared by 27.6% to 113,000 tonnes compared to February, 2021.
The Vietnam Air Traffic Management Corporation (VATM) operated roughly 60,500 flights in February, marking an increase of 157% compared to last year's corresponding period, of which there were 13,200 transit flights, up 67.4%.
February also saw domestic airlines transport more than three million passengers, an increase of 56.8% compared to February, 2021. Of the total, there were 39,400 international visitors and roughly three million domestic tourists.
Several V.League 1 games to allow spectators for first round of matches
A number of stadiums will permit a limited number of spectators upon the start of the 2022 V.League 1 season when it kicks off on February 25 and February 26.
Hanoi's Culture and Sports Department has granted permission for Hanoi FC to host their home match against Dong A Thanh Hoa FC on February 25 with around 5,000 spectators in attendance, equal to 50% of the Hang Day Stadium's capacity.
The game between Binh Dinh FC and Viettel FC will also see the attendance of 15,000 spectators, equivalent to 70% of Quy Nhon Stadium's capacity on February 25.
When Binh Duong FC take on Song Lam Nghe An at home turf, 4,000 fans will be allowed inside the Go Dau Stadium on February 25.
For Nam Dinh FC, they have been granted permission to distribute a maximum of 10,000 tickets for the game against Hoang Anh Gia Lai FC at the Thien Truong Stadium on February 26.
Nine fishermen rescued off Ly Son Island
Nine fishermen in the central province of Quang Ngai have been rescued off the local island of Ly Son.
At around 2 am on Wednesday, while travelling from the Paracel Islands to the mainland, fishing boat QNg 96237TS with nine crew suddenly sank due to rough waves and strong wind.
Captain Mai Van Chi managed to contact local authorities for help.
The coast guard immediately sent a rescue boat o the trawler which had capsized around five nautical miles from Ly Son Island.
Due to the rough sea, it took the rescue boat two hours to save five of the nine fishermen. With great effort, the rescue team saved the remaining four at around 11 am on the same day. All of the boat fishermen used round coracle boats to survive. The fishermen are being medically monitored.
Nearly 30 labour strikes occur around Tet
As many as 28 industrial disputes happened in Vietnam around the Lunar New Year or Tet holiday, according to the Vietnam General Confederation of Labour.
The strikes which occurred in 11 cities and provinces were mostly related to salary and benefit disagreements.
According to the Vietnam General Confederation of Labour, by January 26, 19 companies in 11 cities and provinces still owed a total salary of VND44.5 billion (USD1.91 million) to their workers. Meanwhile, 59 firms in the localities owed social insurance worth VND82.1 billion to their staff.
The federation said that more than one million workers did not return to their hometown for Tet this year, accounting for 46.69 percent of migrant workers of the country. To date, around 85-95 percent of workers have returned to work after Tet.
Smuggling tycoon Muoi Tuong gets 8-year jail term
Nguyen Thi Kim Hanh, 53, also known as Muoi Tuong, a smuggling tycoon in An Phu District of the Mekong Delta province of An Giang, was sentenced to eight years in prison for illegally transporting US$470,000 from Cambodia to Vietnam on June 24, 2019. She was also fined VND50 million, the local media reported.
The An Giang People's Court also handed down a jail term of four years each to Pham Thanh Sang, Ho Tuan Linh, Nguyen Van Le and Nguyen Van Minh, all residing in An Phu District.
Muoi Tuong has been prosecuted in six cases: helping others go abroad illegally and smuggling refined sugar in 2018, smuggling 51 kilograms of gold in 2020, illegally transporting US$470,000 across the border in 2019, illegally transporting US$200,000 across the border in 2020 and laundering money in 2021.
The case involving the illegal transport of US$470,000 across the border is Muoi Tuong's first case put up for trial.
Ministry requires to shorten North-South expressway progress
The Ministry of Transport yesterday required management boards and contractors to review and re-build the plans to shorten construction progress by three months to 11 component projects under the investment and construction project of North-South expressway's some Eastern sections in the phase from 2017 to 2020 and the My Thuan – Can Tho expressway project.
Accordingly, the Ministry of Transport (MoT) required the relevant units to find solutions to accelerate the progress and ensure the quality and safety of the work. In case of failing to ensure the progress of the works, the contractors will be rejected in the next bidding packages in the period of 2021 – 2025.
According to the MoT, 11 component projects under the North-South expressway to the East in the period 2017 – 2020 had their accumulated works volume value of around VND16,218 billion (US$711 million) out of VND56,709 billion (nearly US$2.5 billion), accounting for 28.6 percent and 1.4 percent behind schedule.
The expressway projects being required to be built this year are Mai Son – National Highway No.45, Vinh Hao – Phan Thiet, Cam Lo – La Son, Phan Thiet – Dau Giay. The rest will be completed in 2023 or 2024.
Vietnam futsal team crowns Fair-Play 2021
The Fair- Play 2021, organized by Ho Chi Minh City Law Newspaper yesterday once again nominated the Vietnam Futsal Team for the second time.
Midfielder Nguyen Trong Hoang (Viettel FC) won the second prize of Fair Play 2021 with 409 points while Tran Minh Vuong (Hoang Anh Gia Lai FC), Coach Vu Hong Viet (Assistant of the national team) and striker Hoang Dinh Tung (Thanh Hoa) received the third, fourth and fifth prizes, respectively.
On the occasion, the organizing board also honored Doan Thi Kim Chi, who is Coach of HCMC Women's Football Team cum Assistant Coach of the National Women Football Team.
The Fair-Play is a title for individuals, teams with their great contributions and influences on Vietnam football.
Miss Universe Vietnam beauty contest 2022 starts
Miss Universe Vietnam beauty contest 2022 has officially been returned after a temporary halt due to the Covid-19 pandemic.
Accordingly, the pageant themed "Vinawoman – Vietnamese women's stuff" will see its qualifying rounds which will take place in Hanoi on March 24-25 and HCMC on March 19-20.
The jury of the contest will select 70 outstanding contestants for the reality TV competition series and narrow down to 40 candidates in the seminfinal round that will take place in provinces and cities of Ben Tre, Long An, Lam Dong, Ba Ria-Vung Tau and HCMC.
The reality TV show will be aired on Vietnam Televison's channels in the middle of April. The climax night is expected to take place on June 1 and broadcast live on VTV3 channels and some others of local TV stations.
Vietnam calls on relevant parties in Ukraine crisis to exercise self-restraint
Viet Nam called on parties concerned in the Ukraine crisis to exercise self-restraint, enhance dialogue efforts and step up diplomatic measures to peacefully settle differences with respect for the United Nations Charter and fundamental principles of international law, thus contributing to ensuring peace, security, and stability in the region and the world.
Foreign Ministry Spokesperson Le Thi Thu Hang made the above statement on Wednesday in response to reporters' query on Viet Nam's reaction to the recent situation in Ukraine.
Le said Vietnamese Embassy in Ukraine has maintained contact with the Vietnamese community in the country and stands ready to take neccessary measures to protect Vietnamese citizens there.
About 100 Vietnamese citizens are living in Donetsk and Lugansk, according to the Embassy.
Citizens who need support can contact the Embassy's hotline: + 380 (63) 863 8999 or the Foreign Ministry's Consular Department + 84-981-848-484.
AFF futsal champs' 'easy' group promises VN Asian tournament slot
VN is in an easy Group B at the AFF Futsal Championship, hoping to secure a slot at the continental tournament after a recent draw in Bangkok, Thailand.
The two-time World Cup participants are to play Australia, Myanmar and East Timor. Group A gathers Malaysia, Indonesia, Cambodia, Brunei and the hosts.
Australia is the most powerful team Group B as they are No 33 in the world while Việt Nam are No 38.
Australia has also competed in the World Cup twice but were eliminated from the group round. The team could not find a berth in the 2021 World Cup where Việt Nam were in the quarter-finals. They have not taken part in the regional competition from 2016 to 2021.
Myanmar has made remarkable progress in futsal as they were in three semi-finals of the last four AFF Championships. Meanwhile, East Timor are too weak to think about the top two teams in the group.
The AFF Championship will be held at the Huamark Indoor Stadium in Bangkok from April 3-12. The four best teams from the group round will advance to the semi-finals.
Vietnam-WEF partnership helps reduce plastic waste, develop circular economy
Minister of Natural Resources and Environment Tran Hong Ha on February 23 had a working session with Joo-Ok Lee, Head of the World Economic Forum (WEF)'s Regional Agenda – Asia Pacific, to discuss cooperation in coping with plastic waste and developing the circular economy.
Lee thanked the Ministry of Natural Resources and Environment (MoNRE) for backing activities of the Vietnam National Plastic Action Partnership (NPAP) implemented by the WEF in recent times, and expressed his hope to continue receiving its support in the coming time. He also shared information related to plans of the NPAP in the future.
The official revealed that, in 2022, the WEF will host major conferences which are expected to attract the participation of political leaders, entrepreneurs and academic researchers around the world, to outline agendas at the regional and global levels. He hoped that Vietnam would attend and share cooperation models and initiatives on reducing plastic waste, and developing the circular economy.
Launched in December 2020, the NPAP has greatly contributed to communication activities on plastic waste in the Southeast Asian nation, helping raise public awareness of the use of plastic bags and other single-use plastic products.
Da Nang adopts incentives to attract more tourists
The central city of Da Nang is rolling out measures to attract more MICE (meeting, incentives, conferences and events) tourists, given the positive signs on the recovery of the tourism sector this year.
According to Nguyen Thi Hoai An, director of the city's Tourism Promotion Centre (TPT), MICE groups with more than 50 guests will be welcomed and supported.
They can enjoy entrance fee discounts, receive gifts or get assistance in the organisation of events, she said, adding that the programme will be carried out from February to the year-end.
The TPT will coordinate with the Da Nang Tourism Association in calling on tourism firms to register for incentives relating to products and services for MICE guests to increase the city's attraction.
Source: VNA/SGGP/VOV/VNS/SGT/VGP/Dtinews
Omicron now the dominant variant in HCM City