Omicron now the dominant variant in HCM City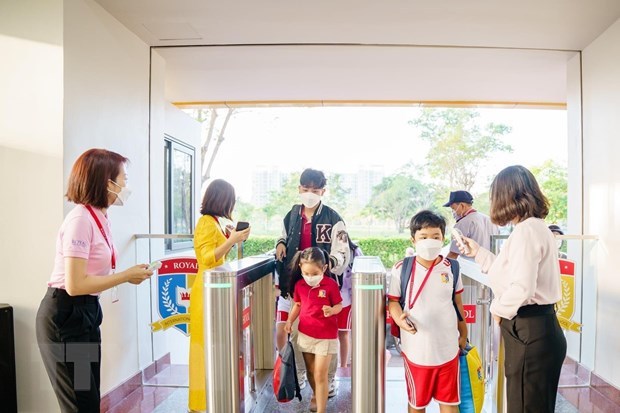 Children receive temperature check when arriving at school in HCM City.
New COVID-19 infections have been on the rise in Ho Chi Minh City in recent days, and Omicron is currently the dominant variant here, according to the city's centre for disease control (HCDC).
The southern hub recorded 1,356 new infections and 334 cases of hospitalisation on February 22, both higher than the previous days, but the numbers of severe cases and deaths are still low.
The HCDC said from February 10 to 17, 70 of the 92 samples sent to the Oxford University Clinical Research Unit (OUCRU) and the Hospital for Tropical Diseases, equivalent to 76 percent, tested positive for Omicron. Gene sequencing results also showed that all the 26 samples randomly selected from those 70 samples were positive to this variant.
Facing the spread of Omicron, HCM City is stepping up anti-pandemic measures, including the second phase of the spring vaccination campaign, scheduled to wrap up at the end of February, during which it has administered the first dose to more than 6,000 people, the second to over 26,000, and additional and booster to over 85,000.
Doctors caution against using coal stoves in enclosed spaces for heat
Doctors have again warned against the use of coal fires in enclosed rooms due to the risk of accidental carbon monoxide poisoning, as the northern region plunged into a deep chill in recent days.
Bạch Mai Hospital in Hanoi on Tuesday said its Poison Control Centre had received several cases of carbon monoxide poisoning due to the practice.
Late on Sunday, three members of the same family were hospitalised. Thanks to prompt intervention, their health has largely stabilized.
Previously, the centre received a 62-year-old female patient, also suffering from carbon monoxide poisoning, but she was not as lucky and remains in serious condition with severe brain complications and neuropsychiatric problems. Her husband died at home from poisoning.
Earlier this month in the central province of Thanh Hoá, local authorities of Quảng Xương District said two people from a family died in their bedroom due to the use of stove for warmth.
Director of Poison Control Centre Nguyen Trung Nguyen said burning coal consumed oxygen and caused a build-up of carbon monoxide, a tasteless, colourless and lethal gas. He said people should only use coal stoves in well-ventilated rooms, and refrain from using them in enclosed spaces even when the temperature becomes bitterly cold.
Vietnam ranks 6th in ASEAN in terms of AI readiness index
Vietnam has climbed 14 places to the 62nd in the 2021 Government Artificial Intelligence Readiness Index, according to an annual index report released by the UK's Oxford Insights in collaboration with Canada's International Development Research Centre.
With an overall score of 51.82 out of 100, Vietnam ranked 6th in ASEAN. This is the first year its score has surpassed the global average of 47.42.
The evaluation and construction of the index are based on many factors such as human resources training, technology, application, and especially the emergence of a national strategy on AI.
Non-communicable diseases, mental health disorders to be further monitored
A national plan for the prevention and control of non-communicable diseases and mental health disorders for 2022–2025 has been approved by Deputy Prime Minister Vu Duc Dam.
The target by 2025 is to reduce the main risk behaviours to prevent non-communicable diseases (NCDs) and mental health disorders.
Specifically, it must reduce the rate of alcohol drinking at dangerous levels in men aged 18 and over and people aged 13 to 17 to less than 35 per cent and 20 per cent respectively.
The smoking rate among male persons aged 15 years and older must be reduced to less than 37 per cent, and the average salt consumption of people aged 18 and over to less than 7 grams per person per day.
According to the plan, at least 70 per cent of people aged 40 and over must complete health screen by risk assessment forms and/or a blood sugar test once a year for early detection of diabetes and 55 per cent of people with diabetes and 30 per cent of people with pre-diabetes will be managed and given treatment according to professional guidelines.
VN aims to have 95 per cent children from 5-11 vaccinated against COVID-19
Health officials and doctors agree that Vietnam is ready to implement a safe vaccination campaign for children aged 5-11, aiming to have a vaccination rate in this age group of 90-95 per cent.
Experts say following a successful vaccination programme for children aged 12-17, it is now vital for younger children to be vaccinated to prevent the further spread of COVID-19. Very few adverse reactions were reported after younger children received the vaccine, meaning that parents should be confident in the safety and efficacy of the jabs.
About 0.5-10 per cent of vaccinated children in 12-18 reported having normal reactions. The rates vary in different localities. This is based on the data from vaccination sites. There are also reported cases with severe reactions but they have been handled and recovered.
Green Screen Short Film Contest opens for entries
The Việt Nam Film Development Association (VFDA) has called on filmmakers, especially young people, to participate in the Green Screen Short Film Contest featuring issues of sustainable development.
Participants are required to tell a story reflecting sustainable environmental issues in the form of a fictional or documentary film.
These could include a simple yet inspirational real-life story, or completely fictitious one, about the impact of people's choices and decisions on the environment, according to the organisers.
The runtime is to be under 10 minutes with an after-credits section under one minute, documenting green acts and measures undertaken during the production process including the use of recycled water bottles, non-Styrofoam props and packaging, and eco-friendly equipment.
Participating films must be produced after January 5, 2022, and must not have entered any other competition. Submissions of projects and finished films can be mailed to officevfda@gmail.com, the organisers said.
VFDA-Netflix co-operation
VFDA and Netflix Corporation signed a Memorandum of Understanding (MoU) on January 5 to support the development of the film industry and creative economy in Việt Nam.
The MoU signing took place together with the launch of a campaign themed "Việt Nam Green Screen: Road to Sustainable Development" with the participation of representatives of VFDA, Netflix's Board of Directors, the Ministry of Culture, Sports and Tourism, the Ministry of Natural Resources and Environment, as well as artists and businesses in the film industry.
Deputy culture minister Tạ Quang Đông congratulated the cooperation between Netflix and the VFDA, and welcomed the initiative to launch the campaign in the context that environmental protection and sustainable development are becoming the world's major trends along with the commitment to reduce national net emissions to zero by 2050 of Việt Nam's Prime Minister at the recent COP26 Conference.
Bookfair in HCM City offers thousands of discounted books
Thousands of discounted books are waiting to be found at a book fair in HCM City.
The Trans-Việt Nam Book Fair 2022 is organised by six prestigious publishers: The Trẻ (Youth) Publishing House, Thái Hà Books, Nhã Nam, Minh Long, Đinh Tị and Saigon Books.
The event, held from February 22 to 27, promises to bring readers thousands of new books from famous authors.
All books at the fair will be discounted by 25 per cent, or up to 35 per cent during prime time from 12 noon to 1pm. In addition, there are tens of thousands of books with prices from VNĐ5,000-30,000 per one.
Vandals attack north-south train
A train running from Hanoi to HCM City has its glass windows broken by rocks thrown by vandals.
The incident happened at 5:30 pm on February 21 when the SE7 train service with 1,000 passengers was travelling through Hien Ninh Commune in the central province of Quang Binh's Quang Ninh District.
The exterior glass layer of the train's three windows has been broken, while the interior panes remained unaffected.
The train then had to temporarily stop at My Duc Station to reassure the passengers and report the incident to management agencies.
Quang Binh Railway JS Company are co-operating with local authorities to investigate the incident, said Tran Ngoc Son, the director of the company.
Thousands flock to Mau Son to see frost
Around 8,000 people have rushed to Mount Mau Son in the northern province of Lang Son to see frost over the past few days.
The crowds have caused serious congestion for roads to the mountain, leaving many people having to discontinue their trip.
Mau Son area has been forecasted to continue witnessing the bone-chilling cold weather on February 22-23 with frost.
Exhibition on Vietnamese Tet culture held in Australia
The Vietnam Centre group in collaboration with the Vietnamese Student Association and Youth Union in Canberra organised an exhibition named "Happy New Tet", which took place in Canberra (Australia) from February 21 to 24, offering many experiences relating to the tradition of welcoming Vietnamese Lunar New Year.
This is the second art exhibition conducted in Australia by Vietnam Centre.
The exhibition features many booths introducing traditional Tet cuisine and selected handicraft products, introducing Vietnamese antiques, as well as trying on traditional clothing and taking souvenir photos…
Nearly 79 percent of students return to school
As of February 22 afternoon, 78.86 percent of total students across the country have resumed face-to-face learning, according to the Ministry of Education and Training.
The ministry reported that pre-school children in 50 localities have been attending class in person, while their peers in 13 remaining localities, including Hanoi and Da Nang, are still staying home due to complicated COVID-19 developments.
Meanwhile, 52 cities and provinces have reopened primary schools and 59 have allowed junior high school students to return to school.
At the same time, senior high schools students in 62 cities and provinces nationwide have resumed in-person classes, with the exception of the northern province of Lao Cai.
Vietnam reports nearly 55,880 new COVID-19 cases on February 22
Vietnam recorded 55,879 COVID-19 infections, including 8 imported cases, over the past 24 hours to 4pm on February 22, up more than 9,000 cases from the previous day, the Ministry of Health said.
The capital city of Hanoi continued to record the highest number of infections nationwide with 6,860 cases, followed by northern Bac Ninh province with 2,842 and northern Bac Giang province with 2,500.
The national case tally has reached 2,890,252 since the start of the pandemic, including 205 cases of the Omicron variant.
There are 3,434 patients in critical condition while an additional 77 deaths were recorded on the day, taking the number of COVID-related fatalities to 39,682.
Agency makes efforts to fight proliferation of weapons of mass destruction
The national coordinating agency for the prevention and control of the proliferation of weapons of mass destruction (WMD) convened its first meeting in Hanoi on February 22.
In 2019, the Government issued Decree 81/2019/ND-CP on the prevention and control of WMD proliferation, under which the Ministry of National Defence was assigned as the national coordinating agency in charge of the work.
The chemicals high command under the ministry serves as the standing office of the agency to handle all matters regarding the prevention and control of WMD proliferation (also known as standing office 81), according to the decree.
Over the past two years, the agency worked as an advisor for the Prime Minister to design a plan on the implementation of the decree, and for the defence ministry to roll out relevant documents.
First Vietnamese research institute launched in Australia
The first research institute on Vietnam in Australia, the Australia-Vietnam Policy Institute (AVPI) was launched by Australia's RMIT University, Asia Society Australia, Asialink and the Australia-Vietnam Leadership Dialogue during a virtual ceremony in Melbourne on February 22.
The event was attended by Australian Minister for Trade, Tourism and Investment Dan Tehan, Australian Ambassador to Vietnam Robyn Mudie, Vietnam's Ambassador to Australia Nguyen Tat Thanh and RMIT Vice-Chancellor and President, Professor Alec Cameron, along with officials, businesses, scholars and researchers from Vietnam, Australia and many other countries.
Supported by Australia's Department of Foreign Affairs and Trade (DFAT), the AVPI will act as a dedicated knowledge portal and a collaborative platform to deepen the strategic relationship between Australia and Vietnam.
Black hunchback chung cake – A specialty of Lao Cai ethnics
Despite having the same main ingredients as the "banh chung" cake made by the Kinh people, of glutinous rice, pork, and mung beans, the "banh chung gu den" (or black hunchback chung cake) made by ethnic people in the northern mountainous province of Lao Cai has its own taste and shape.
The black hunchback chung cake of the Giay, Tay, Nung, and Dao ethnic people in Lao Cai province is made to pay tribute to the ancestors and to Heaven and to pray for bumper crops and favourable weather in the new year.
For the local ethnic minority people, the cake is billed as "the soul of the northwestern region's cuisine".
The cake is in the shape of an ethnic woman carrying a basket on her back, bending down to work the field, and honours the hard work and diligence of local people.
Foundation launched to support researchers in applied mathematics
A foundation has been launched in Ho Chi Minh City to promote training of people in applied mathematics.
Established by the Young Businesspeople Association of HCM City, the Vietnam Foundation for the promotion of Applied Mathematics seeks to create conditions to foster outstanding Ph.D. and graduate students who can pursue research in applied and industrial mathematics in Vietnam.
The foundation will also help training institutions and promote academic exchanges and cooperation between local and foreign universities.
The beneficiaries of its financial assistance will be master's and doctoral students at post-graduate training institutions.
Minimising COVID-19 related deaths now top priority
In an official dispatch sent to the chairpersons of the provincial-level People's Committees, the Ministry of Health (MoH) pointed out that the numbers of new infections and patients in critical condition have been on the rise recently.
It forecast the virus transmission in the community is likely to continue in the time ahead given the gradual reopening of socio-economic activities, which will cause great pressure on the healthcare system.
Facing that fact, the ministry requested measures against COVID-19 be ramped up, including seriously implementing the Government's Resolution No. 128/NQ-CP issued last October, on the safe and flexible adaptation to and effective control of the pandemic.
Healthcare establishments need to conduct comprehensive treatment, establish treatment levels for COVID-19 patients, and give the top priority to minimising deaths, the MoH said, asking for sufficient medical supplies and increased home treatment and telemedicine.
Social, health insurance books given to needy people
More than 3,000 social insurance books and nearly 8,900 health insurance cards worth 17.2 billion VND (755,282 USD) will be granted to disadvantaged people across 18 provinces and cities in the first quarter of this year as part of the Vietnam Social Security (VSS)'s programme.
The funding for the programme comes from contributions of staff of the Joint Stock Commercial Bank for Foreign Trade of Vietnam (Vietcombank).
It targets ethnic minority people or those who have escaped poverty residing in a number of provinces and cities including An Giang, Ba Ria-Vung Tau, Bac Lieu, Ben Tre, Da Nang, Dak Nong, Hai Duong and Hai Phong.
"Camellia Sisters" to premiere at Osaka Asian Film Festival 2022
Vietnamese film "Camellia Sisters", known in Vietnamese as "Gái già lắm chiêu V", will be released in Japan for the first time as a part of the Osaka Asian Film Festival 2022.
The film, directed by duo Nam Cito and Bao Nhan, will be introduced at a special programme running with the theme of "New Action! Southeast Asia" which aims to highlight new cinema trends in Southeast Asia and features a wide variety of films.
The Vietnamese film will premiere at Cine Libre Umeda cinema in Osaka, Japan, at 6:30 p.m. on March 12 and again at 1:45 p.m. on March 17.
This year the Osaka Asian Film Festival slated for March 10 – 20 will feature a total of 76 films from 31 countries and territories across the world, including 24 films which will have their global debut.
The festival has been held annually since 2005, providing opportunities for international audiences to learn more about the Asian cinema industry.
Border guards seize 1.7 tons of illicit drugs in 2021
Border guards busted over 1,000 drug trafficking rings and confiscated 1.7 tons of illicit drugs of all kinds in 2021.
Besides, more than 1,400 traffickers were arrested last year, the Vietnam Border Guard told a press briefing in HCMC today, February 22.
Speaking at the press conference, Major General Nguyen Hoai Phuong, Deputy Commander of the Vietnam Border Guard, said that the prices of illegal drugs would soar by 100-200-fold after they were transported to a third country. As such, drugs are transported to Vietnam to be shipped to South Korea and Australia and then to the United States.
Several filling stations fined for suspension without permits
Tens of gas stations have been fined for hoarding fuel or suspending operations without permits, while several are facing a revocation of business licenses, the Vietnam Directorate of Market Surveillance announced today, February 22.

From January 28 to February 21, the directorate's inspection teams conducted nearly 16,000 checks and inspections into filling stations nationwide.
In Ha Tinh Province, after an inspection into the Son Tra gas station, the inspection team discovered the station without the distributor's name on its signboard that had suspended operations, although it has yet to ask the competent agencies for approval. As such, the station was fined VND30 million.
The Son Linh gas station got a fine of VND15 million as it suspended operations while awaiting the nod from the competent agencies.
In Quang Binh Province, the competent forces levied a fine of VND15 million on a gas station for its unannounced suspension.
Facing the same fate, a gas station in Thai Nguyen Province got a fine of VND10 million.
The inspection forces also discovered three gas stations in Hanoi that had suspended business for different reasons, including dispute resolution, Covid infections and shortage of fuel.
Apart from the directorate's inspection teams, the Ministry of Industry and Trade has established several inspection teams to check the fuel supply of petrol and oil wholesale distributors.
Ministry guides how to treat Covid-19 students
Yesterday, the Ministry of Health issued its instruction of how to treat students infected with coronavirus when organizing face-to-face teaching and learning.
In its instruction, the Ministry of Health emphasized that parents should keep their children at home and immediately notify schools and local healthcare station if their children are infected with coronavirus. Schools and the local medical center will trace back direct contacts of infected students to treat them suitably.
Especially, schools shouldn't force all students to undergo Covid-19 test but only students who have these symptoms such as fever, cough, short of breath and so on or used to directly contact to Covid-19 patients.
Ministry requires to shorten North-South expressway progress
The Ministry of Transport yesterday required management boards and contractors to review and re-build the plans to shorten construction progress by three months to 11 component projects under the investment and construction project of North-South expressway's some Eastern sections in the phase from 2017 to 2020 and the My Thuan – Can Tho expressway project.
Accordingly, the Ministry of Transport (MoT) required the relevant units to find solutions to accelerate the progress and ensure the quality and safety of the work. In case of failing to ensure the progress of the works, the contractors will be rejected in the next bidding packages in the period of 2021 – 2025.
According to the MoT, 11 component projects under the North-South expressway to the East in the period 2017 – 2020 had their accumulated works volume value of around VND16,218 billion (US$711 million) out of VND56,709 billion (nearly US$2.5 billion), accounting for 28.6 percent and 1.4 percent behind schedule.
The expressway projects being required to be built this year are Mai Son – National Highway No.45, Vinh Hao – Phan Thiet, Cam Lo – La Son, Phan Thiet – Dau Giay. The rest will be completed in 2023 or 2024.
Ministry to issue citizens with e-identification accounts from end of February
The Police Department for Administrative Management of Social Order (C06) under the Ministry of Public Security (MPS) yesterday announced that it is going to provide electronic identification accounts for all citizens when requested from the end of this February.
According to C06, an electronic identification account is a collection of a username and a password or another equivalent authentication form created by MPS' electronic identification and authentication system. This account, managed and authenticated on the e-identification app of MPS, is supposed to offer many benefits to owners.
For instance, whenever citizens perform any public services integrated in the national e-identification app, they will not need to fill in their personal information on application forms, which greatly save both time and cost.
They can also choose to share their personal data with a third party via a QR code or other technical solutions when this third party can provide a suitable system to connect to the electronic identification and authentication system.
Singaporean media highlights President Phuc's visit
Vietnamese President Nguyen Xuan Phuc will make a state visit to Singapore this week at the invitation of President Halimah Yacob, Singapore's Ministry of Foreign Affairs (MFA) said in a statement on February 22.
The trip, from February 24 to 26, is the first state visit Singapore will receive since the start of the Covid-19 pandemic in early 2020, news website channelnewsasia.com quoted the statement as saying.
It said that the Vietnamese leader will meet with President Halimah, Prime Minister Lee Hsien Loong, Emeritus Senior Minister Goh Chok Tong, Speaker of Parliament Tan Chuan-Jin and Singapore parliamentarians during his visit.
He will receive a ceremonial welcome at the Istana on February 25, followed by a call on Mdm Halimah, who will host a state banquet in his honour that evening.
Phuc and Lee will also jointly witness the signing of bilateral agreements that will further strengthen the multifaceted cooperation between Singapore and Vietnam, the MFA said.
President Phuc will also deliver the keynote address at the Singapore-Vietnam Business Dialogue, to be organised by the Singapore Business Federation and the Vietnamese embassy.
He will meet Emeritus Senior Minister Goh Chok Tong and visit the Sembcorp Tengeh Floating Solar Farm the following day before departing Singapore, the ministry said.
HCMC holds mass wedding of 20 frontline medical staff couples
An art show named "Alive pulse" to honor doctors and medical staff involved in the fight against the Covid-19 pandemic was taken place at the Military Medical Hospital 175 under the Ministry of National Defense last night.
At the program, the organizers held a mass wedding ceremony of 20 couples who were medical staff of the Military Medical Hospital 175. Those couples had to put off wedding ceremony for many months due to the Covid-19 pandemic.
The art show highlighted the difficult journey of the medical staff nationwide in general and the Military Medical Hospital 175 in particular at the toughest places with high risk at field hospitals who had performed first aid by helicopters or seaplanes to the Spratly Islands and hold a peacekeeping mission in South Sudan.
Along with theatrical performances, there were the performance of dances and songs about love, faith and optimism in the victory over the Covid-19 pandemic, a peaceful new and developed life.
New Zealand committed to supporting Vietnam in COVID-19 fight, economic recovery
New Zealand's Governor-general Dame Cindy Kiro has pledged to continue to support Vietnam in COVID-19 prevention and control and economic recovery through vaccine and medical equipment aid.
Welcoming Vietnamese Ambassador to New Zealand Nguyen Van Trung, who came to present his letter of credentials on February 22, Dame Cindy expressed her good feeling for the country and people of Vietnam and shared the difficulties that the Vietnamese people are experiencing during the COVID-19 pandemic.
According to Dame Cindy, New Zealand is determined to implement the important contents of the strategic partnership that the two countries have set forth, including the target of 2 billion USD in two-way trade turnover by 2024.
New Zealand wishes to increase exchanges between businesses and people of the two countries, and at the same time promote investment and tourism development when the border reopens, she said.
Source: VNA/VOV/SGGP/VNS/SGT/VGP
The Mekong Delta province of Ca Mau plans to convert this year nearly 2,000ha of unproductive rice paddies into fields where rice and aquatic species are rotated or perennial crops are grown.