Vietnam misses nomination for Nobel Prize in Literature
Nguyen Quang Thieu, president of the Vietnam Writers' Association, has announced that he received a letter sent by the Nobel Committee asking him to select a Vietnamese nominee for the 2022 Nobel Prize in Literature.
This marks the first time that the Vietnam Writers' Association (VWA) has received such an invitation from the Committee.
According to schedule, the nominee must be submitted to the Nobel committee before January 31.
Unfortunately, due to some technical issues, the VWA didn't received the letter until February 17, meaning the deadline had passed.
Quang Thieu said he will still send a thank-you letter to the Nobel Committee and expressed hope that they send a further invitation next year.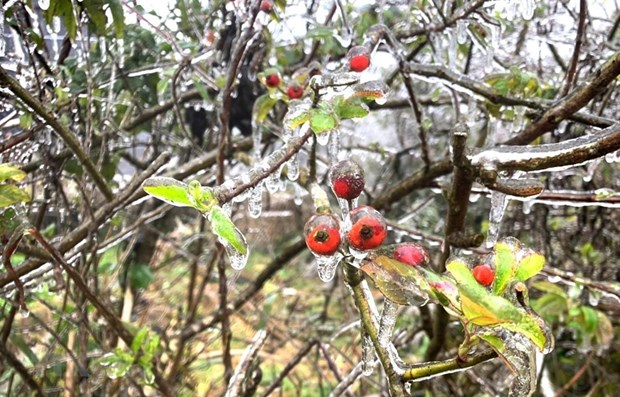 Ice seen on plants in the Dong Van Karst Plateau in Ha Giang (Photo: VNA)
Bitter cold in northern region to linger until February 22
The northern region and north-central Thanh Hoa province are forecast to see rain and experience biting cold until February 22, according to the National Centre for Hydro-Meteorological Forecasting.
The mercury will drop to 7 – 10 degrees Celsius at the lowest, even 2-5 or lower in mountainous areas where snow rains may appear.
In the central region, areas from Nghe An to Thua Thien-Hue provinces are recording the lowest temperatures of 14 – 17 degrees Celcius.
Due to impacts of the cold spell and high-altitude wind convergence, ice and frost appeared in mountainous areas in Lao Cai and Yen Bai provinces on February 20.
The temperature dropped to the freezing degree in Y Ty commune of Lao Cai's Bat Xat district from February 19 night, causing frost and ice on Mount Lao Than.
They are normal phenomena in winter on the mountain that stands nearly 3,000m above sea level. Frost and ice were also seen on Mount Trong Pao Sang in Mu Cang Chai district of Yen Bai.
Ministry directs not to carry out unnecessary Covid-19 tests on students
The Ministry of Education and Training directed not to carry out unnecessary Covid-19 tests on students especially preschoolers because some localities require all students to undergo Covid-19 tests paid by parents before going to schools directly, causing parents' negative reactions.
The Ministry issued direction at an online meeting on school opening in localities at the Government headquarters chaired by Deputy Prime Minister Vu Duc Dam.
At the meeting, the Ministry of Education and Training reported that all students in provinces and cities have plans for preschool children and students to return to schools directly in February 2022. From February 7 to 16, the total number of students studying directly reached 93.71 percent.
The Ministry of Education and Training also requested the Ministry of Health to make statistics of the number of Covid-19 children since the Lunar New Year holiday until now, the number of cases in the community and the number of cases infected at schools, the number of severe cases and the number of deaths to relieve parent's anxiety.
Hanoi-Vinh trains temporarily halted operations due to low travel demand
Hanoi Railway Transport Joint Stock Company has just decided to suspend the pair of trains running in the Hanoi – Vinh section due to a decrease in travel demand by train of passengers after the Lunar New Year.
Accordingly, the NA2 train departing from Vinh will temporarily stop operation from February 21, and the NA1 train departing from Hanoi will halt from February 22.
Passengers with NA1/2 train tickets during the suspension days can return their tickets directly at the train stations without charges or change tickets for Thong Nhat trains. Currently, on the North-South railway, there are four pairs of Thong Nhat trains that stop to pick up and drop off passengers in Vinh, namely SE3/4, SE5/6, SE7/8, and SE11/12.
To encourage passengers to use trains, from February 21 to March 31, Hanoi Railway Transport JSC will launch a promotional program to reduce ticket prices by 50% for passengers traveling on Thong Nhat trains of SE5/SE6 and SE11/SE12 between Hanoi and Ho Chi Minh City, tickets with a transport distance of 500 kilometers or more; pairs of trains of LP3/LP8, LP5/LP6, and LP7/HP2 between Hanoi and Hai Phong, tickets with the departure station being Hanoi or Long Bien Train Station, and the arrival station being Hai Phong Train Station and vice versa.
Drug trafficker arrested at Bo Y border gate in Kon Tum
Customs officers and border guards at the Bo Y International Border Gate Customs Sub-Department in the Central Highlands province of Kon Tum on February 19 coordinated with local police to arrest a Lao suspect who was illegally transporting about 1kg of drug through the border.
Nang Xi Sup La, a 37-year-old woman residing in Attapeu province of Laos was caught carrying a plastic bag containing white substance that is suspected to be meths.
The authorities have handed over the suspect to the Bo Y Border Post for further investigation.
In 2021, the Bo Y International Border Gate Customs Sub-Department joined relevant forces to raid two drug trafficking cases involving two kilos of meths.
Vietnamese players to compete at Junior Davis Cup/Junior Billie Jean King Cup
The young Vietnamese men's and women's tennis teams on February 19 departed for Colombo, Sri Lanka to attend the qualifiers of the 2022 Junior Davis Cup and Junior Billie Jean King Cup for the Asia-Pacific region.
According to the Vietnam Tennis Federation (VTF), the male squad consists of Nguyen Minh Phat, Nguyen Dai Khanh and La Hoang Anh, while the female players are Sophia Huynh Tran Ngoc Nhi, Ngo Hong Hanh, and Dao Uyen My.
Coach Nguyen Phi Anh Vu of the men's team said a difficulty facing the young Vietnamese tennis players is that they have not attended international tournaments for nearly two years.
However, they are in good mood with high determination, he added, highlighting their goal for advancement ahead.
The qualifier matches are slated for February 21-26. If winning this round, the young Vietnamese players will continue to participate in the qualifying finals in Malaysia from March 28 to April 2 for the Junior Billie Jean King Cup and from April 4-9 for the Junior Davis Cup.
15th "Red Spring" festival collects 8,600 blood units
More than 8,600 units of blood have been collected nationwide during the 15th Xuan Hong (Red Spring) festival , 7,000 units higher than the set plan.
The Xuan Hong festival is one of the year's largest annual blood donation events. It was jointly launched by the National Institute of Haematology and Blood Transfusion (NIHBT) and the Hanoi Youth Association for Blood Donation in 2008, and conducted nationwide in 2010.
It aims to help address the shortage of blood for treatment during the Lunar New Year (Tet) holiday.
Over the past 15 years, about 100,000 units of blood have been collected.
AstraZeneca says working with Health Ministry for approval of COVID-19 antibody cocktail
AstraZeneca is working with the Ministry of Health of Việt Nam to accelerate regulatory approval for its Evusheld long-acting COVID-19 antibody combination, Nitin Kapoor, the company's chairman and general director for Việt Nam and Asia Area Frontier Markets, said.
Evusheld is a combination of two LAABs, tixagevimab and cilgavimab, derived from B-cells donated by convalescent patients who contracted the coronavirus.
Evusheld got emergency use authorisation in the US in December 2021 for people aged 12 and above and weighing at least 40kg with moderately to severely compromised immunity who may not mount an adequate immune response to vaccination, and for those for whom COVID vaccination is not recommended.
Vietnamese supermodel to transform cruise ship into ocean catwalk
The world's latest liquefied natural gas (LNG)-powered cruise ship, Costa Toscana, will be transformed into a sky-high ocean catwalk for J Spring Fashion Show 2022, on February 28.
According to its producer, Vietnamese supermodel Jessica Minh Anh, the iconic production is against the cinematic backdrop of the Italian Riviera and will deliver a message of sustainability and style, while marking a historic milestone in both the fashion world and the cruise industry.
The high-profile event will welcome global media and exclusive VIPs on board Costa Toscana, a new age "smart city at sea", before its inaugural cruise in Portofino, Italy.
A combination of haute couture, ready-to-wear, and swimwear collections from North America, South America, Europe, Australia, and Asia will be premiered.
The red-carpet experience will feature the best in Italian art, architecture, culture, luxury and delicacies alongside the impressive catwalk.
First beauty contest of 2022 restarts after delay due to COVID-19
The Vietnam Peace Bella will begin in the central city of Da Nang on March 12 after it was temporarily postponed due to the impact of the pandemic.
The contest aims to search for true beauty to affirm the position of Vietnamese beauty on the global map. It is also a cultural activity to orient aesthetic education for the youth across the country.
The jury members include prestigious figures and influencers like musician Huy Tuan, ao dai (traditional dress) designer Si Hoang, journalist Ngo Ba Luc, and Miss Vietnam 2018 Tran Tieu Vy.
The final night of Vietnam Peace Bella is expected to be held on October 9 in Da Nang city.
Vietnamese students' association in New South Wales maps out plans for 2022
The United Associations of Vietnamese Students in New South Wales, Australia (UAVS-NSW) held a conference to review its operation in 2021 and sketch out its plans for 2022.
At the conference, participants selected a new executive committee of the UAVS for the 2022-2024 tenure.
Dang Minh Hung, the newly-elected President of the committee, delivered the association's plans for 2022 and thanked the Vietnamese Consulate General in Sydney and the Vietnamese Embassy for supporting the association.
President of the Vietnamese Students' Association in Australia Nguyen Phuc Binh pledged to continue to work hard to foster connections among Vietnamese students in the host country, thus contributing to developing the Vietnam-Australia relationship.
Flight from Japan was not denied entry: CAAV
The information that a flight from Japan to Vietnam had to return on February 17 night as it was denied entry was not correct, according to the Civil Aviation Authority of Vietnam (CAAV).
A representative of the CAAV said that many flights to northern airports on February 17 night could not land due to thick fog.
A passenger flight operated by Japan's All Nippon Airways (ANA) departing from Narita airport was planned to land at Da Nang airport in central Da Nang city or Tan Son Nhat airport in Ho Chi Minh City if it could not land at Noi Bai airport in Hanoi as scheduled.
The selection of the alternate airport would be decided by the flight crew after consulting the air traffic controller.
Many flights had to be diverted and landed at the Da Nang airport on February 17 night, preventing it from receiving no more flights. The fight from Japan, therefore, should be diverted to the Tan Son Nhat airport.
However, public security officers at the Tan Son Nhat airport told the CAAV that they had not received any suggestion for entry from airlines for their diverted flights although the airport still could handle them.
The CAAV has been contacting the ANA representative at the Tan Son Nhat airport to verify the information, but yet to receive its response.
Australia completes commitment to share 7.8 million doses of COVID-19 vaccines with Vietnam
Australia has delivered 3.6 million Pfizer COVID-19 vaccine doses to Vietnam over recent weeks through a procurement agreement with UNICEF and in partnership with Vietnam's Ministry of Health, according to a press release from the Australian Embassy on February 19.
The last batch of 2.2 million doses arrived at Tan Son Nhat International Airport in Ho Chi Minh City on February 19.
This delivery completes Australia's commitment to share 7.8 million COVID-19 vaccine doses with Vietnam. In addition to the Pfizer doses procured through UNICEF, Australia has shared 4.2 million AstraZeneca doses from its own supply since August last year.
Australia is also partnering with UNICEF to ensure vaccine distribution is safe, effective and equitable. The Australia-UNICEF partnership has bolstered the national COVID-19 vaccination campaign, supporting the delivery of 1,910 refrigerators to hard-to-reach communes, healthcare worker training, and communications campaigns.
Australia's vaccine dose deliveries and the package of support make it one of Vietnam's top partners supporting the national COVID-19 vaccination campaign.
Kien Giang installs monitoring devices in all fishing boats
Nearly all fishing boats in Kiên Giang Province with a length of at least 15 metres have black boxes installed to monitor fishing activities, according to its Department of Agriculture and Rural Development.
Of the Cửu Long (Mekong) Delta province's 3,666 such boats, 3,664 have the device and the other two boats are in the process of installation.
Authorities are strengthening oversight of fishing activities, registration of boats and supply of catches to processors for export.
They have also taken measures to prevent illegal, unreported and unregulated (IUU) fishing.
Requirements set for the reopening of karaoke and disco venues
The Ministry of Culture, Sports and Tourism has sent a document to local authorities about the reopening of karaoke and disco venues, which have been shut for long periods since COVID-19 broke out.
According to the document, localities need to follow five requirements for the reopening of such venues, based on the pandemic risk levels in the area.
The ministry requires business owners to strictly follow local guidelines on hygiene to prevent and control the spread of COVID-19 in karaoke and disco venues through disinfection and adequate ventilation. For customers, it is necessary to strictly implement the 5K message and be fully vaccinated. The services are not to be provided to those showing symptoms of COVID-19.
Localities are also asked to deploy measures on examining and inspecting the implementation of anti-pandemic measures and build plans for possible scenarios so the virus does not spread widely in the community.
Deputy PM signs decision on new official residence regulations
Deputy Prime Minister Le Van Thanh on February 18 signed Decision No. 3/2022/QD-TTg on new regulations on the official residence for local to central government-level officials.
Accordingly, the official residence for Politburo members or Party Central Committee secretaries will be a villa covering 450-500 square meters.
The official residence for Chairperson of the Central Committee of the Vietnam Fatherland Front, Vice State President, Vice Chairperson of the National Assembly, Deputy Prime Minister and officials holding equivalent or higher positions will be a villa covering 350-400 square meters.
Official residence for Party Central Committee member, chairperson of committees of the Party Central Committee or the National Assembly, Minister, head of governmental agencies and officials holding equivalent or higher positions will be a semi-detached house covering 200-250 square meters or a condo apartment of 145-160 square meters.
Vice chairperson of the Party Central Committee, vice chairperson of the Central Committee of the Vietnam Fatherland Front, vice chairperson of committees of the National Assembly, Deputy Minister, scientists leading scientific and technological projects of national importance in accordance with the Science and Technology Law and officials holding equivalent or higher positions are entitled to a condo apartment of 100-145 square meters.
VEAM's former head prosecuted for mismanagement of State assets
The Ministry of Public Security has filed charges against Lam Chi Quang, former chairman of the Vietnam Engine and Agricultural Machinery Corporation (VEAM), for violating regulations on the management and use of State assets.
Nguyen Thanh Giang, former general director of VEAM, and Dao Huan Ngu, former director of Duc So 1 Company, have also been prosecuted on the same charge in accordance with Clause 219 of the 2015 Penal Code.
According to the Police Department for Corruption, Smuggling and Economic Crimes, they committed violations in managing and using a land lot covering nearly 9,000 square meters at No. 220, Binh Thoi Street, Ward 14, District 11, HCMC, causing huge losses for the State's assets.
VEAM was established on May 12, 1990 under the jurisdiction of the Ministry of Industry and Trade. It is the country's biggest engine and machinery manufacturer, holding 30% of Honda Vietnam, 20% of Toyota Vietnam and 25% of Ford Vietnam.
Since 2017, the competent agencies have detected a number of violations related to the management and use of State assets at VEAM and prosecuted some former leaders of the corporation such as Tran Ngoc Ha, former board chairman of VEAM, Vu Quang Tam and Vu Tu Cong, former deputy general directors of VEAM, and Pham Vu Hai, former director of VEAM Auto Plant.
Besides, Nguyen Duc Toan, former deputy director of VEAM Auto Plant, and Tran Thi Thanh Tam, a senior executive of the plant, have been prosecuted on charge of embezzlement.
Hue CDC leader detained for alleged bidding irregularities of test kits
The Police Investigation Agency of Thua Thien-Hue Province has detained Hoang Van Duc, director of the provincial Center for Disease Control (CDC), and launched criminal proceedings against him for allegedly violating bidding regulations and gouging prices of Covid test kits.
The agency also charged Ha Thuc Nhat, chief accountant at the Thua Thien-Hue CDC, with his involvement in the case, the local media reported.
After searching their houses and workplaces at the headquarters of the CDC, the police found multiple relevant documents, exhibits and cash.
The Thua Thien-Hue CDC is one of the agencies listed as involved in the Viet A case by the Ministry of Public Security.
However, Duc affirmed that he received no money from the Viet A Company
Trans-Vietnam Book Fair to kick off
Six book publishers, including Tre (Young) Publishing House, Thai Ha Books, Nha Nam, Minh Long, Dinh Ti and Saigon Books, will collaborate to organise a Trans-Vietnamese Book Fair.
The book fair will take place from February 22 to 27 (8:00 AM to 9:00 PM), at Ho Chi Minh City Book Street, providing an opportunity for book lovers with great discounts at the same time, from all six book publishers. This is also an event to introduce a series of latest works, good and valuable titles to the public.
Specifically, all books at the book fair will be discounted by 25%, or up to 35% during the golden hour from 12:00 PM to 1:00 PM, every day of the event. In addition, there are tens of thousands of books and stories with prices from 5 to 30,000 VND per book.
The six participating units of this year's Trans-Vietnam Book Fair, will also introduce readers to good publications and books, suitable for all ages, with a plethora of incentive programmes, gratitude to readers through promotions, as well as thousands of attractive gifts, such as keychains, bookmarks, and exclusive notebooks for readers who shop at the book fair.
HCMC holds mass wedding of 20 frontline medical staff couples
An art show named "Alive pulse" to honor doctors and medical staff involved in the fight against the Covid-19 pandemic was taken place at the Military Medical Hospital 175 under the Ministry of National Defense last night.
Former Standing Deputy Prime Minister Truong Hoa Binh, Former Vice President Truong My Hoa, Member of the Party Central Committee, Chairwoman of the Vietnam Women's Union Ha Thi Nga, Deputy Chairwoman of the Municipal People's Committee Phan Thi Thang attended the special event.
At the program, the organizers held a mass wedding ceremony of 20 couples who were medical staff of the Military Medical Hospital 175. Those couples had to put off wedding ceremony for many months due to the Covid-19 pandemic.
In the past two years, the medical staff of the Military Medical Hospital 175 have to put away their personal works and forgotten about their own happiness, even suspension of their wedding ceremony to engage in the fight against the Covid-19 pandemic. These contributions have touched the hearts of millions of people.
They have returned to normal life and enjoyed truly happy moments along with their relatives including new companions.
Taxi drivers with illegal activities at TSN Int'l Airport strictly punished
The Transport Ministry has just asked that the Civil Aviation Authority of Vietnam, the Ho Chi Minh City Transport Department direct relevant agencies to quickly rectify the state of unreasonable taxi fare, violent competitions for passengers of certain taxi drivers at Tan Son Nhat International Airport.
Accordingly, the Transport Ministry requested that Tan Son Nhat International Airport rearrange pick-up and drop-off areas more logically and allocate more lanes for these tasks when there are crowds at the airport in order to ensure security.
In addition, the airport must increase the parking area for vehicles waiting to pick up people, along with a rational solution to connect traffic between the domestic and international stations.
More importantly, the Southern Airports Authority must cooperate with the HCMC Transport Department and functional agencies to handle law violations such as unreasonable taxi fare, violent competitions for passengers of certain taxi drivers.
The HCMC Transport Department have to collaborate with Tan Son Nhat Airport to organize suitable bus routes from the site to other locations throughout the city; with the HCMC Taxi Association to correspondingly increase the quantity of taxis to satisfy the temporarily high demands of passengers here.
Source: VNA/VNS/SGT/VOV/VNN/ND
Railway linking HCMC, Dong Nai to open to traffic before 2030