HCM City accelerates metro line projects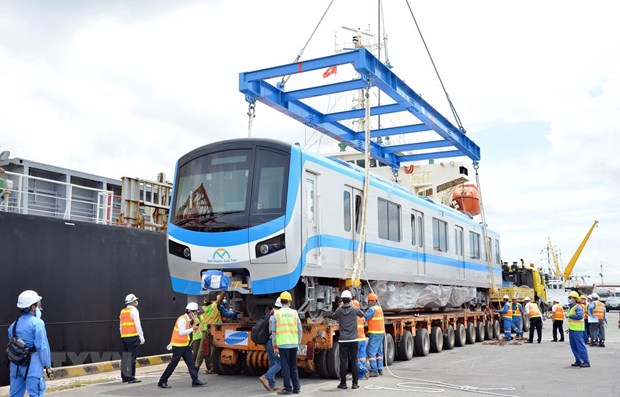 A train carriage of Metro Line No. 1.
Ho Chi Minh City is applying itself to speed up construction of the first metro line, Ben Thanh – Suoi Tien, and preparing for starting work on the second one, Ben Thanh – Tham Luong, this year.
So far, nearly 89 percent of the workload on Metro Line No. 1 has been completed, deputy head of the HCM City Management Authority for Urban Railways.
Relevant parties will strive to restore the ground and traffic in the city's centre by April 30 and then conduct trial run on several sections. The entire route is expected to operate on a trial basis by December 31, according to Dau tu (Vietnam Investment Review).
Metro Line No. 1, nearly 20km long, has total investment of over 43.7 trillion VND (1.9 billion USD) and consists of three underground stations and 11 elevated ones. It was initially scheduled for completion in late 2021 and run commercially in 2022, but then delayed due to the pandemic's impact and procedure-related problems.
Meanwhile, site clearance for the Metro Line No. 2 project is also being accelerated.
Construction of this route will begin in the second quarter of 2022, Binh went on, saying that land-related issues and the COVID-19 pandemic hampered the site clearance progress last year. Metro Line No. 2 needs more than 251,000 square metres of land to be cleared. Over 83 percent of the ground necessary for the project has been handed over so far.
Exhibition in France highlights Vietnamese cultural heritages
An exhibition has been held at Arcueil City Hall, aiming to introduce the cultural heritages and traditional musical instruments of Vietnam to the French and the Vietnamese community who are living, studying and working here.
The event, which is jointly organised by the Vietnamese Cultural Centre in France in collaboration with the Aurore Association and Arcueil city.
Photos of Ha Long Bay, Phong Nha Ke Bang Park, Kon Ha Nung Biosphere Reserve, nha nhac (royal ceremonial music) of Hue and ca tru (ceremonial singing) recognised as by United Nations Educational, Scientific and Cultural Organisation (UNESCO) have been displayed at the event.
Colourful traditional costumes and typical Vietnamese musical instruments are also showcased.
The exhibition does not only take visitors through the heritage regions, but also allows them to admire the traditional costumes and musical instruments of the ethnic groups. In addition, they can enjoy performances by Vietnamese and French artists.
Prime Minister honours national futsal team
The national men's futsal team has been honoured with the Prime Minister's certificate of merit for its excellent performance at international tournaments, notably the 2021 FIFA Futsal World Cup in Lithuania.
The award ceremony was hosted by the Vietnam Football Federation in Ho Chi Minh City on February 16.
Head coach Pham Minh Giang, team captain Tran Van Vu and goalkeeper Ho Van Y were also honoured for their outstanding achievements.
Spiritual tourism in Quang Ninh luring visitors
Many people visited spiritual and tourism sites in Quang Ninh province during the early days of Spring, which is a positive sign for the quick recovery of the local tourism sector and sets the scene for it to reach its target of welcoming 10 million visitors in 2022.
The Complex of Yen Tu Monuments and Landscape has welcomed visitors since January 27. In particular, nearly 1,500 visitors came on the first day of the Lunar New Year, or Tet, holiday, which doubled in the days following and stood at more than 36,000 on the fourth and fifth days of the year.
Other spiritual tourism sites, such as Cua Ong Temple, Ba Vang Pagoda, Cai Bau Pagoda, and Tran Hung Dao Temple, welcomed hundreds of thousands of visitors during the holiday.
Quang Ninh has more than 600 cultural heritages, including communal houses, pagodas, temples, shrines, scenic spots, heritage sites, and natural wonders of the world. Revenue from tourism reaches some 1,500 billion VND annually.
Hoi An ranks among top 10 most welcoming places on earth for 2022
Located in the central province of Quang Nam, Hoi An ancient city has been named among the top 10 most welcoming places on earth for 2022, according to the Booking.com Traveller Review Awards 2022.
This assessment was released based on the results of more than 232 million verified reviews given by travelers.
Hoi An was able to win the hearts of tourists from around the world thanks to its charming ancient town that has been recognised by UNESCO as a World Cultural Heritage, authentic idyllic pace of life, boasting an array of romantic beaches and a diverse local cuisine.
Apart from the ancient town of Hoi An, the rest of the list was made up of Matera in Italy, Bled in Slovenia, Taitung in Taiwan (China), Nafplio in Greece, and Toledo in Spain. This is in addition to the city of Monte Verde in Brazil, Bruges in Belgium, Nusa Lembongan in Indonesia, and the city of Ponta Delgada in the Azores of Portugal.
Quang Nam restarts "Hoi An at night" programme
The central province Quang Nam officially kicked off the "Hoi An at night" programme on February 14 with the aim of recreating the ancient town at night as it was at the beginning of the 20th century.
A wide range of cultural activities took place during the event, including folk songs, calligraphy, poetry night, and music concerts, serving to attract a large number of tourists to Hoi An.
Visitors seemed to be greatly immersed in the space of shimmering lanterns around the romantic Hoai River, while simultaneously having the opportunity to enjoy traditional cuisine and gain greater insights into people of the ancient town.
Illegal road destroys Central Highland national park land
Authorities in the two central highlands provinces of Lam Dong and Dak Lak have asked to stop a road project that is illegally encroaching local national parks.
The Lam Dong Provincial People's Committee said on February 15 that they had asked the investor of the Truong Son Dong Road to stop construction on the forest land that belongs to the Bidoup – Nui Ba National Park.
According to a report from the Lam Dong Provincial Department of Agriculture and Rural Development, the Truong Son Dong Road project has illegally cut a 3.3 kilometre-long and four-metre wide swathe through the national forest. Another 8,300 square metres of forest was also destroyed for building a related bridge.
Earlier, authorities in the neighbouring province of Dak Lak also found that over 15.4 hectares of forest at Chu Yang Sin National Park had been destroyed for the road project.
Dak Lak had also asked the management board of Project 46 to immediately stop their illegal construction.
A representative from Project 46 said that they had halted their construction activities to complete legal procedures with local authorities.
Activities mark 20th Vietnam Poetry Day
The Literature and Art Association of the Central Highland Province of Dak Lak in coordination with the Provincial Department of Culture, Sports and Tourism held a ceremony on February 15 (the 15th day of the first lunar month) to mark the 20th Vietnam Poetry Day.
With the theme "Hay song va hy vong" (Let's Live and Hope), the annual event has been resumed after two years of suspension due to the COVID-19 epidemic.
The poets' works featured topics about country, life, love and Spring.
During the event, the Provincial Literature and Art Association also organised a display of hundreds of paintings and pictures by artists and painters in the province and hundreds of books of all kinds, in order to serve the need to enjoy culture and art as well as encourage and improve the reading culture for people in the province.
A similar event was also held in northern province of Thai Binh on February 15 to celebrate the 20th Vietnam Poetry Day.
Starting out as an initiative of the Vietnam Writers' Association, the Poetry Day has been organised in many provinces and cities to honour poetry, which has been an integral part of Vietnamese culture for thousands of years.
Canadian Ambassador honoured with friendship insignia
Out-going Canadian Ambassador Deborah Paul has been honoured with the "For peace and friendship among nations" insignia for her valuable contributions to consolidating and deepening the mutual understanding, friendship, and co-operation between the nation and Canada.
During a ceremony held in Hanoi on February 16, President of the Vietnam Union of Friendship Organisations (VUFO) Nguyen Phuong Nga highlighted several important events in the relationship between the two countries during the Canadian diplomat's tenure. Notable events include the 45th founding anniversary of diplomatic relations in 2018 which marked the fruitful and sustainable development of bilateral ties.
Ambassador Paul has played an important role in arranging high-level meetings, phone talks, and exchanges of letters between leaders from both sides, whilst she has also called for support to be given to Vietnam at regional and international forums. A prime example of this can be seen when the country performed its role as the ASEAN Chair 2020, a non-permanent member of the UN Security Council, and in supporting the Vietnamese stance in dealing with disputes in the East Sea, she stressed.
HCMC reports over 32,400 Covid cases among children under 16
The Danang Department of Education and Training has decided to allow kindergartens in the city to reopen from February 21.
Under the decision, kindergarteners in areas at low, moderate or high risk of Covid transmission will return to in-person classes on a voluntary basis, the local media reported.
After reopening, kindergartens must comply with anti-Covid measures to ensure the safety of children and teachers.
The municipal department also asked kindergartens to proactively contact parents of children to determine the number of children attending in-person classes and then decide when to reopen.
Due to the Covid pandemic, Danang City allowed students to study online at home from May last year. On February 10, the municipal government decided to bring secondary- and high-school students back to in-person classes from February 14. Primary-school students and kindergarteners will return to school next week.
The country has seen 55 of 63 cities and provinces allow kindergarteners to return to school, while eight other localities – Hau Giang, Tra Vinh, Hung Yen, Vinh Long, Hanoi, Phu Yen, An Giang and Tien Giang – have yet to decide when to reopen kindergartens.
Over the past few days, Danang City has reported 700-900 Covid cases on average each day. Since January 1, the city has confirmed over 34,000 Covid infections.
Elsewhere in Hanoi City, after nine months of staying at home due to the pandemic, over 400,000 students from grades 1 to 6 in the city's 12 urban districts will return to school from February 21.
The decision was made on February 15 following the Hanoi Education and Training Department's proposal.
Only schools in areas at low or moderate risk of Covid spread are allowed to reopen, according to the decision. The city had no areas at high or extremely high risk as of February 11.
Besides, the city has yet to allow some 600,000 kindergarteners to return to school.
HCMC reruns two interprovincial bus lines
From February 17, Ho Chi Minh City resumes two inter-provincial bus lines including bus No.62-6 with its route of Cho Lon Bus Station – Hau Nghia Station in Long An Province and bus No.62-7 with its journey of Cho Lon Bus Station – Duc Hue Station in Long An Province.
The bus line No.62-6 will depart its first trip from 5:20 a.m. at Cho Lon Bus Station and 5:35 a.m. at Hau Nghia Station and the last trips shall be at 4:30 p.m. at the two stations.
Meanwhile, the bus No.62-7 will start running at 5:00 a.m. at Cho Lon Bus Station and 4:30 a.m. at Duc Hue Station and the last buses will operate at 5:00 p.m. in HCMC and 4:30 p.m. in Long An Province.
Ministry issues notification of reopening entertainment venues
In its official document to the Ministry of Culture, Sports and Tourism on the draft on reopening karaoke parlors and discotheques, the Ministry of Health has given some notifications.
Accordingly, in the official document, the Ministry of Health asked the Ministry of Culture, Sports and Tourism to consider supplementing some contents to the draft document No.353.
Specifically, before local administrators allowed the reopening of karaoke parlors and discotheques, they must consider the assessment results of the epidemic alert level in the area where karaoke parlors and bars are located.
Moreover, karaoke parlors and bars are enclosed spaces while Covid-19 contaminated aerosols can spread from an infected person simply breathing and can build up in a confined space with poor ventilation over time. As a result, the Ministry of Health proposed these venues must take heed of hygiene measures and Covid-19 preventive measures when these places are reopened.
HCMC's Nguyen Tieu Festival 2022 opens
Tet Nguyen Tieu (Nguyen Tieu Festival), also known as the Lantern Festival of the Chinese-Vietnamese community was held in HCMC on February 15 by the municipal Organizing Board of Major Holidays.
The festival not only shows the solidarity and cultural exchange between Vietnamese ethnic groups, but also preserves and promotes national cultural characteristics.
The event takes place from the 10 th day (on January 10) to the end the first lunar month in District 5 featuring a series of cultural activities of incense offering ceremony, a parade on the main streets, circus, kylin and dragon dance performance, folk games, an exhibition of calligraphy paintings and a Chinese food fair.
Nguyen Tieu Festival was recognised as a national intangible cultural heritage in 2020. The festival is considered the biggest and most important cultural event of a year of the Chinese-Vietnamese community in Vietnam. Tet Nguyen Tieu is usually celebrated on the fifteenth day of the first lunar month. The festival featuring Chinese specialties, historical relics and cuisine culture is the occasion for them to preserve their cultural identity.
"Swiss Photobook Today" held in HCM City
The "Swiss Photobook Today" exhibition featuring 23 selected works will be held at the Uom Art Hub in HCMC's Binh Thanh District from February 18-March 17.
The "Swiss Photobook Today" exhibition that has traveled around the world, reaching audiences in Myanmar, Russia, India, and more is supported by the Swiss Arts Council Pro Helvetia.
Launched in 2013, Pro Helvetia's support measures aim to promote the production of photobooks in a way that reflects the dynamic contemporary developments in this field in Switzerland. The appeal of the photobook as an object and art form, however, is an international phenomenon.
Health official advises not to relax Covid vigilance despite low child mortality
According to Deputy Minister of Health Nguyen Truong Son, although child mortality is low, people shouldn't relax their vigilance against coronavirus.
Moreover, he added that through follow-up, it was found that children also had prolonged clinical manifestations after recovery from acute Covid-19 infection including sequelae. Several children have been suffering from the pediatric inflammatory multisystem syndrome. This is a serious manifestation because of inflammation of other organs.
On February 16, the Ministry of Health hosted a nationwide online training session on guidance, care, and treatment for children with Covid-19.
Chairing the conference, Deputy Minister of Health Nguyen Truong Son stated that from the beginning of the Covid-19 epidemic until now, the rate of Covid-19 among people under 18 years of age in Vietnam is 19.2 percent. The rate of children aged from 13 to 17-year-olds infected with Covid-19 accounted for 4.8 percent while the rate of children aged 6-12 years old, aged 3-5 years old and aged from zero to 2 years old was 8 percent, 2.8 percent and 3.6 percent. Some 165 children died from Covid-19 nationwide.
Ha Long Bay Week to honor the World's Natural Heritage in Vietnam
Vietnam Pavilion will be opened to the public in EXPO 2020 Dubai until March 31, 2022.
A vivid cultural week is underway at Vietnam Pavilion in EXPO 2020 Dubai to promote Vietnam tourism as well as the reputation of Ha Long Bay worldwide.
Various activities are being held until February 19 to honor and celebrate Ha Long Bay, Vietnamese UNESCO's Heritage and one of the New 7 Nature Wonders of the World, in the northern coastal province of Quang Ninh.
The two highlights of the Ha Long Bay Week are the "Unveiling Ceremony" to honor Ha Long Bay as one among "New 7 Wonders of Nature" held at the Vietnam Pavilion and the art performance program of six countries on the Jubilee stage of EXPO 2020 Dubai.
Originating from an initiative of Vietnam, six countries have agreed to jointly organize a performance to honor and promote their natural and man-made wonders such as Ha Long Bay (Vietnam), Komodo Island (Indonesia), Havana City (Cuba), Iguazu Falls (Argentina and Brazil), Amazon Rainforest and River in South America (Colombia and 8 Latin American countries) at EXPO 2020 Dubai.
To celebrate the wonders, a number of traditional songs and dance performances are in motion to showcase the culture of the countries whose incredible natural features are on UNESCO's list.
Visitors to Vietnam Pavilion during Ha Long Bay Week will also have a chance to discover the "Wonder Marker". The special marker shows the distance from Dubai to the landmarks of the New 7 Natural Wonders of the World.
Vietnam Pavilion will be opened to the public in EXPO 2020 Dubai until March 31, 2022.
Hanoi, French region sign joint action programme for 2022 – 2025
Hanoi and France's Ile-de-France region have signed a joint action programme for 2022 – 2025 at a virtual meeting of their joint committee for bilateral cooperation.
Hanoi wants to further team up with the region in the fields of urban planning and management, environment protection, air pollution control, heritage conservation, and tourism development, among others.
Regional Councilor for Ile-de-France Anne-Louise Mesadieu said the bilateral relations are effective and set a model for cooperation between localities, with the sides capitalising on each other's strengths for additional benefits in many fields from economy, culture to society.
Per a report at the meeting, of 19 joint projects earmarked for 2018 – 2021, 10 were successfully implemented; six have faced temporary difficulties mostly due to COVID-19; and three could not be launched as a result of changes in the two localities' development strategies.
Also at the function, the sides symbolically exchanged their signed documents of the joint action programme for 2022 – 2025.
Home quarantine for COVID-19 patients shortened to 7 days
The COVID-19 patients under home treatment will no longer be isolated after undergoing quarantine and treatment for seven days, instead of 10 days like in the past, and their rapid antigen test result is negative.
This is part of the Ministry of Health's latest guidance on COVID-19 diagnosis and treatment.
Accordingly, the patients with no or mild symptoms eligible for home treatment will be no longer subject to quarantine or treatment after seven days if the result of their rapid antigen test, conducted by a health worker or by themselves under a health worker's supervision, turns out negative.
If the test result remains positive for the coronavirus SARS-CoV-2 after seven days, the quarantine period will be extended to 10 days for the fully vaccinated ones and 14 days for those not.
ASEAN senior officials meet face to face in Phnom Penh
Senior officials of ASEAN convened both in person and via video conference on Wednesday in Cambodia, Chair of the bloc in 2022, to review preparations and the agenda for the ASEAN Foreign Ministers' Meeting Retreat.
The ASEAN Senior Officials' Meeting (SOM) was attended by ASEAN SOM leaders of the member states and the ASEAN Deputy Secretary-General for the Political – Security Community. The Vietnamese delegation is led by Ambassador Vũ Hồ, acting ASEAN SOM leader of Việt Nam.
This is the first face-to-face SOM after an over-one-year hiatus caused by the COVID-19 pandemic.
Participants reviewed the preparations for and agenda of the ASEAN Foreign Ministers' Meeting Retreat (AMMR), slated for February 16 – 17 in Phnom Penh.
Foreign ministers of seven countries have confirmed their in-person participation in this event, while two others will attend via videoconference.
The senior officials also discussed new developments relevant to the implementation of the Five-Point Consensus, adopted by ASEAN leaders in April 2021. Many countries held that the successful implementation of this consensus is important to ASEAN's support for Myanmar to stabilise the domestic situation and effectively take part in the ASEAN cooperation and Community building.
Localities asked to speed up vaccinations for children
The Ministry of Health has sent an official request to a number of health departments nationwide calling on them to speed up the vaccination drive for children aged 12 to 17.
The request has been made to authorities in Bắc Kạn, Sơn La, Điện Biên, Quảng Trị, Bình Thuận, Đắk Lắk, Đồng Nai, Đồng Tháp and Bình Dương provinces.
As of February 13, more than 16.4 million vaccine doses were injected to children over 12, of which the vaccination rate of the first dose was 94.5 per cent and the second dose was 89.7 per cent.
A total of 42 out of 63 provinces and cities nationwide completing more than 90 per cent of full vaccinations for children in that age range.
The localities reaching up to 90 per cent of injecting two doses include Hải Phòng, Bắc Giang, Phú Thọ, Bắc Kạn, Lai Châu, Hà Giang, Lào Cai, Quảng Bình, Ninh Thuận, Gia Lai, HCM City, Tây Ninh and Cần Thơ.
Hung Kings Temple Festival to be scaled down amid COVID-19 fears
The northern midland province of Phu Tho will only hold religious rituals the Hung Kings Temple Festival this year to commemorate the founders of the Vietnamese nation, due to the complex nature of the prolonged COVID-19 outbreak.
The Hung Kings are commemorated in a national festival in the third lunar month each year, presenting an opportunity for Vietnamese people to express gratitude to their ancestors. This year the festival is due to take place from April 6 to April 10.
Traditional rituals to commemorate the death of the Great Father Lac Long Quan and Great Mother Au Co of the Vietnamese nation, as well as an incense offering ceremony for the Hung Kings are slated to take place on April 6 and April 10.
Alongside the usual ritual ceremonies, a few folk cultural activities, including a bonze drum beating event, Xoan singing, water puppetry performance, and a swimming contest, will be held during the festival.
A volleyball tournament, a street festival, and other festive activities will be cancelled due to the country's ongoing COVID-19 fight.
Phu Tho has planned to limit large gatherings as part of efforts to prevent the virus spreading within the community.
UNESCO placed the "Worship of Hung Kings in Phu Tho" on the Representative List of the Intangible Cultural Heritage of Humanity on December 6, 2012.
Source: VNA/SGT/VNS/VOV/SGGP/VGP
Hanoi manages to raise tree coverage in urban areas