Vietnam issues love-themed postage stamps for Valentine's Day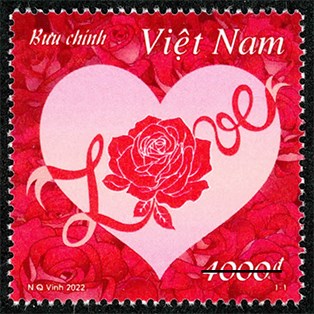 A love stamp (Photo: vnpost)
The Ministry of Information and Communications and the Vietnam Post Corporation (VNPOST) have issued a postage stamp collection aimed at marking the upcoming Valentine's Day, which falls on February 14 annually.
The 37 x 37 mm stamps have been designed by local painter Nguyen Quang Vinh of the VNPOST, reported the Voice of Vietnam (VOV).
A special feature of the "Love Stamps" released this year is the Vernish-printed stamp which places the rose in the centre of the stamp template, incorporating a sweet rose scent.
More than 522,800 stamps are set to be officially circulated on the public postal network from February 14 to December 31, 2023.
The set of "Love Stamps" issued in 2022 is the second set in a series of love-themed stamps that have been issued by the Ministry of Information and Communications between 2020 and 2024.
Tamers helping protect "King of the jungle"
Tigers symbolise bravery and have also been dubbed the "King of the jungle" in their natural habitat. At zoos housing tigers in captivity, however, they become quite docile in the hands of skilled tamers.
Huynh The Hung is a zookeeper at the Saigon Zoo and Botanical Gardens and has tamed its only white tiger couple for nearly 3 years.
Starting at 6.30 every morning, he checks on their health and cleans their lair.
White tigers are rare, and are alert and active and loved by visitors. It took two years for Hung to become used to them and tame them.
Every single day is a new challenge, requiring patience, perseverance, and meticulousness, from preparing meals to caring and understanding about the tigers' behaviour and habits. And there are always risks and dangers.
Taking care of and raising wild animals, especially the "King of the jungle", is no easy task. Tiger tamers like Hung become friends of wild animals, and contribute to the protection and conservation of rare and endangered species.
Hanoi among world's 25 best food destinations
/>The famous travel site TripAdvisor has announced the "Travelers' Choice Best of the Best 2022" list, introducing the "best of the best" destinations, services and experiences for tourists, based on millions of reviews from travellers around the world.
Hanoi's foods are so delicious that visitors have to come back many times, TripAdvisor said.
It wrote that Hanoi has largely aged quite well, preserving its famous cultural hub of the Old Quarter, monuments, and colonial architecture, while also making room for modern developments.
Hanoi boasts a series of attractive destinations such as Ho Chi Minh Mausoleum, Hoa Lo prison, lakes, shady parks, temples and pagodas, which help the Vietnamese capital city become more attractive to visitors./.
Karaoke parlours reopened in more localities
Karaoke parlours have been reopened in more localities after a long suspension due to the Covid-19 pandemic.
Ha Long City in the northern province of Quang Ninh will resume the operation of many services, including karaoke parlours, bars, massage and gaming cafes from February 16.
The central province of Thua Thien-Hue has allowed the reopening of karaoke parlours and some other services, including massage and spa, from today, February 11. However, the facilities are requested to operate at half capacity and only serve customers aged above 12 who are fully vaccinated against Covid-19.
The province has continued suspending bars.
The southern province of Vinh Long has become an area of low-risk Covid-19 infection from today. So, all indoor and outdoor mass gatherings are permitted to be held. However, all participants must be fully-vaccinated against Covid-19.
Lots of services in Vinh Long have also been reopened, including karaoke, restaurants, cinemas, tourist sites and bars. The facilities are asked to conform to Covid-19 prevention regulations.
New cold spell causes rains in northern region
A new cold snap hit several northern mountainous areas in the early morning of February 13, and will spread to other places in the north and then some areas of the central region.
Due to the impact of the cold spell and high-altitude wind convergence, the National Centre for Hydro-Meteorological Forecasting predicted showers of 20-50 mm, even over 70 mm, across the northern region on February 13.
The region is experiencing the lowest temperatures of 11 – 14 degrees Celsius, even 8 – 11 degrees or lower in mountainous areas where rains with snow may appear.
In the central region, areas from Thanh Hoa to Thua Thien-Hue provinces are likely to record heavy showers, lightning, and hail. The mercury will also drop to 14 – 17 degrees from February 13 night.
MoH required to issue guidance on COVID-19 treatment protocols for children
Deputy Prime Minister Vũ Đức Đam has asked the Ministry of Health (MoH) to urgently complete and issue guidelines on COVID-19 treatment protocols for people under 18 years old, especially children under 12.
He asked the ministry to immediately organise training for hospitals across the country in order to minimise the possibility of SARS-CoV-2 infection in the paediatric wards or cause an overload of patients.
The ministry was also required to guide localities to have plans for volunteers to support medical facilities if needed.
The MoH, Ministry of Information and Communications, agencies and localities must also strengthen communication to get the cooperation of families, parents and teachers in ensuring safety for children.
Kien Giang moves to sustainably manage forests on Phu Quoc island
The southern province of Kien Giang has basically finalised a plan on sustainable protection and management of forests in Phu Quoc National Park by 2030 and another to promote eco-tourism in local forests.
At present, Phu Quoc National Park is managing 37,000 hectares of forests, including over 29,00 hectares of special-use forests, and nearly 8,000 hectares of protection ones.
This is one of the national parks in the southern region whose primeval forests are still kept intact.
In 2022, Phu Quoc National Park will continue focusing on forest protection, support tree planting with a goal of planting additional 20,000 scattered trees, and taking proactive measures to prevent forest fires.
Vietnam's largest blood donation festival opens in Hanoi
The Red Spring Festival, the largest blood donation event in Vietnam that turns 15 this year, kicked off in Hanoi on February 12.
First held in the spring of 2008, the festival has attracted hundreds of thousands of participants and received nearly 92,000 units so far. Most of localities nationwide and many agencies, businesses, and organisations have also organised annual blood donation activities on this occasion.
This year's festival in Hanoi will last for nine days, until February 20, expected to attract 10,000 donors and receive about 7,000 blood units.
People can donate at the NIHBT headquarters on Pham Van Bach street of Cau Giay district, the three fixed blood donation locations (No. 26 on Luong Ngoc Quyen street, No. 132 on Quan Nhan street, and No. 10 of Alley 122 on Lang street), as well as the cultural centre of Gia Lam district.
They can register to make donation via https://hienmau.vn/events/lehoixuanhong/ or the app "Hien mau".
Ngọc Linh Ginseng to sponsor national V.League 1
The national premier league will be named Night Wolf V.League 1 following a deal signed on February 10 in Hà Nội.
The Việt Nam Professional Football Company (VPF) inked a three-year sponsorship deal with Ngọc Linh Kon Tum Ginseng JSC, which owns the Night Wolf energy drink.
The contract will last from 2022 to 2025.
Vietnamese films released for Valentine's Day
Movie fans are rejoicing as cinemas have been slowly reopening across the country. For this Valentine's Day, these Vietnamese movies will surely bring unforgettable moments to cinema goers.
Bay Ngot Ngao (Naked Truth) tells the story of a group of four friends who reunite after a long time, on the wedding anniversary of Camy, a member of the group. While Quynh Lam, Linh Dan and Ken are all single, Camy has a dream life with her talented husband Dang Minh. At the reunion, the group's private secrets are gradually revealed.
Chuyen ma gan nha (Nearby Ghost Stories) is based on creepy Vietnamese urban legends. After Bac Kim Thang and Rung The Mang (Lost in the Jungle), Chuyen ma gan nha is the third film by the duo of director Tran Hu Tan and producer Hoang Quan.
Kyiv art exhibition marks 30th anniversary of Vietnam-Ukraine diplomatic ties
About 120 paintings by 90 Ukrainian painters depicting the beauty of Vietnam's nature and people are now on display at an art exhibition in Kyiv to celebrate the 30th anniversary of the Vietnam-Ukraine diplomatic ties (January 23, 1992 – 2022).
Launched on February 10 (local time), the exhibition is organised by the Embassy of Vietnam to Ukraine in collaboration with the association of Ukrainian painters.
The event will run through February 27 and be held in other major cities in Ukraine throughout 2022.
Vietnam reports over 240 cyber-attacks during Tet
Vietnam recorded more than 240 cyber-attacks between January 29 and February 5 when the nation was celebrating Tet, Vietnam's traditional New Year holiday, according the Ministry of Information and Communications' Authority of Information Security (AIS).
The most common type of attacks was phishing, making up 74 percent of the total or nearly 180 attacks. It was followed by malware with 60 attacks and defacement (one).
The AIS also received over 500 reports about spam messages and requested mobile network operators to block close to 9.68 million spams.
HCM City seeks to keep post-COVID-19 treatment costs under check
The HCM City Department of Health has called on health facilities not to increase the cost of treating people who require extended treatment for COVID-19 or have post-COVID conditions.
Health facilities are required to check and treat people with post-COVID conditions having government health insurance cards, the department said.
The cost of medical services must be widely publicised.
The department also instructed hospitals and clinics not to prescribe too many tests and procedures and extended care.
Doctors said many people seek diagnosis and treatment for post-COVID conditions though they have no symptoms.
They said people who have COVID should not worry too much since not all develop post-COVID conditions after being cured.
Mekong Delta expressway closed for construction, to reopen next month
The Trung Lương-Mỹ Thuận Expressway will be closed from February 11 for completion and official inauguration next month after being temporarily used to handle the Tết (Lunar New Year) holiday crowds, according to the BOT Trung Lương-Mỹ Thuận Joint Stock Company.
Some remaining works would be completed, probably by the end of March, before it opens for good, the main contractor building the expressway said.
Between January 25 and February 9 an average of about 28,100 vehicles used the expressway daily, and this partially resolved the overcrowding on the Highway No.1 section in Tiền Giang Province.
The four-lane expressway runs between Tiền Giang Province and Cần Thơ City in the Cửu Long (Mekong) Delta and cost more than VNĐ12 trillion (US$519 million) to build.
It is an extension of the existing HCM City-Trung Lương Expressway and part of the eastern section of the North-South Expressway, and has a length of 51.5km.
It will reduce travel time between HCM City and Cần Thơ to two hours from the current three to four hours.
University of Đà Nẵng to upgrade to national university
Prime Minister Phạm Minh Chính has approved the proposal to upgrade the University of Đà Nẵng to National Đà Nẵng University, placing it in the triangle strategic development system including Hà Nội and HCM City.
The Đà Nẵng-based university will be one of three high-quality human resource education centres in the country after Hà Nội and HCM City.
The PM also agreed to build up a start-up innovation support centre at Đà Nẵng University with the Government's preferential policies on the development of the centre.
The Ministry of Planning and Investment will collaborate with Đà Nẵng City in the project to build the city as a regional finance centre and a free-duty zone in Đà Nẵng.
Film screening in France calls for support for Vietnam's AO/dioxin victims
A documentary was screened in Choisy-le-Roi, a city in the suburbs of France's Paris, on February 10 to call for support for the victims of Agent Orange (AO)/dioxin in Vietnam.
The film, titled "Chat doc da cam – Qua bom no cham" (Agent Orange – A delayed-action bomb), was produced in 2013 under the direction of Ho Thuy Tien and Laurent Lindebrings. Screened at Paul Eluard Theatre, it attracted a large number of local residents.
On this occasion, the France – Vietnam Friendship Association in Choisy-le-Roi called for both material and spiritual support for AO/dioxin victims in Vietnam and for solidarity with Nga in the lawsuit against the chemical companies that produced or supplied herbicides for the US army during wartime.
In 2014, Nga, who used to be a war correspondent in south Vietnam during wartime, sued the multinational companies, including Monsanto – Bayer, that produced or supplied herbicides for the US during the war in Vietnam.
On May 10, 2021, the Crown Court of Evry city in the suburbs of Paris rejected her lawsuit, citing it did not have jurisdiction to hear the case, a ruling that disappointed the Vietnamese and international public.
However, Nga and her lawyers decided to file an appeal, and the struggle for justice for AO/dioxin victims is still underway.
Vietnam keeps 98th spot in FIFA rankings for February
Vietnam obtained 6.1 more points and maintained their 98th place in the latest edition of the FIFA Men's World Rankings.
The team was also ranked first in Southeast Asia, followed by Thailand and the Philippines.
The results were attributed to their 3-1 victory over China on the first day of the Lunar New Year, which helped them become the Southeast Asian team with the best performance in the history of the World Cup qualifiers.
In the world top 10, Belgium managed to retain their top spot with 1,828.45 points, followed by Brazil and France. The UK lost their 4th place to Argentina.
New books released on renowned songwriter Hoàng Vân
Two books about the life and musical career of renowned Vietnamese songwriter Hoàng Vân (1930-2018) have been released to commemorate the fourth anniversary of his death.
The first book, Nhạc và Đời (Music and Life), published by the Institute of Music, includes 15 analytical essays on typical Hoàng Vân songs and instrumental works, written by famous music theorists, musicians and conductors; and selected outstanding articles about his life by many journalists and writers.
The appendix includes a list of his currently available collections of works, as well as a bibliography of newspapers, books, and writings around the songwriter's life and career.
The second book Cho Muôn Đời Sau (For Eternity), published by Kim Đồng Publishing House, is a biography about Hoàng Vân through his lifelong works, written by his daughter Lê Y Linh.
The covers of the two books are based on a self-portrait of Vân and designed by his cousin, the famous painter Lê Thiết Cương.
During more than half a century of composing, Vân wrote more than 700 works in almost all genres and forms of music.
After his death, his family worked hard to compile, store and preserve the musician's legacy. These two books are the result of a phase of conservation work and the study of the vast amount of work left by him.
HCM City to close largest COVID ICU as severe case numbers fall sharply
The HCM City Department of Health has recommended that the People's Committee should close down the 1,000-bed COVID-19 Intensive Care Unit (ICU) in Thu Duc city saying there are few severely ill patients.
The city's largest COVID ICU would be handed back to the newly built branch of the HCM City Oncology Hospital, Nguyen Thi Huynh Mai, chief of the department office, told a meeting on February 10.
Patients at the facility would be transferred to the COVID-19 treatment hospitals Nos. 14 and 16 for treatment, she said.
The treatment hospitals Nos. 6, 8 and 12 would also be closed, she said.
The department has told the People's Committee it wants to keep field hospitals Nos. 13, 14 and 16 open along with quarantine and treatment facilities set up at some hospitals, industrial parks and export processing zones, she said.
After the closures, 1,000 ICU beds would be available at Cho Ray Hosptial, the Hospital for Tropical Disease and treatment hospitals Nos. 14 and 16, she said.
Scholarships offered to Nguyen Du bilingual school students in Laos
The Vietnamese Embassy in Laos in coordination with the Overseas Vietnamese Association in Vientiane on February 11 presented scholarships of Ton Duc Thang University in Vietnam's Ho Chi Minh City to 10 students of Nguyen Du Lao-Vietnamese Bilingual School.
This is the second time Ton Duc Thang University has awarded scholarships to Lao and Vietnamese students at the school to enable them to study at the university.
The recipients are students who made good academic performance in 2020-2021 school year. With the scholarships, the students are scheduled to start learning at Ton Duc Thang university in May.
Established in 2007, Nguyen Du Lao-Vietnamese Bilingual School currently has more than 1,000 students from kindergarten to the 12th grade.
According to the Vietnam-Laos joint committee, there are around 14,000 Lao students in Vietnam, with 20 now studying at Ton Duc Thang University.
Actor Tien Hoi sets record for playing late President
Meritorious Artist Tien Hoi, who passed away in Hanoi at the age of 63 on February 10, is a record holder for playing President Ho Chi Minh on screen and stage, for more than 40 times.
As young as 28 years old, he for the first time played the leader in "Dem trang" (stay up all night) – the first play about the leader with anti-corruption efforts.
His success in the play drew attention from many directors who, whenever they needed to find an actor to play the role for their works, often chose him.
Deciding to make the feature film "Hen gap lai Sai Gon" (See you again in Saigon), Director Long Van had no hesitation in choosing Hoi to play Nguyen Tat Thanh – a young man that showed his desire to find a way to save the country and later became known far and wide as Ho Chi Minh.
In 1997, Director Dang Nhat Minh offered Hoi a role in the film "Ha Noi, mua dong nam 46" (Hanoi in the Winter of 1946).
Later, in many other films and plays, directors also chose Hoi to play President Ho Chi Minh.
In 1992, Hoi was awarded a gold medal at the national theater festival for his role as the late leader. He also won a silver medal at the national theater festival in 2018.
In 2013, the Vietnam Guinness Book of Records (Vietbooks) recognised him as the artist who successfully performed the role of President Ho Chi Minh in the most diverse genres.
Women's football team showered with bonuses
The national women's football team has received more bonuses after making history by winning a ticket to the FIFA Women's World Cup for the first time.
The prizes were presented to the team during a celebration held in Hanoi on February 11.
At the ceremony, the Hanoi People's Committee presented 1 billion VND (44,085 USD) and the Vietnam Football Federation (VFF), 5.5 billion VND, to the team while Honda Vietnam presented vehicles to head coach Mai Duc Chung and the players.
Acecook Vietnam handed 500 million VND in cash and its products to the team, and the Vietnam Dairy Products Joint Stock Company (Vinamilk), another 500 million VND.
The team is awarded a holiday trip by Bamboo Airways.
During a reception hosted for the team on February 10, Prime Minister Pham Minh Chinh handed over the Labour Orders, First Class, to the coach and the team.
The PM also presented certificates of merit to 29 team members with preeminent performance at the recent 2022 AFC Asian Cup.
Vietnam Railway offers up to 50 percent discount to students after Tet
The Vietnam Railways Corporation (VNR) will reduce train ticket price for university students returning to school after a long period of online learning due to the impact of the COVID-19 pandemic and Tet (Lunar New Year) holiday.
In addition to the promotional programme applied to all passengers from February 9, students will receive an additional 20 percent discount on fares. Thus, the train ticket price for students will be cut by between 30 and 50 percent.
The programme, which aims at facilitating the students' traveling, will last until February 28.
After reducing, tickets for the Vinh-Hanoi route cost only from 144,000 VND (6.4 USD) one way, Hai Phong-Hanoi from 63,000 VND (2.7 USD), Phan Thiet-Sai Gon and Quang Ngai-Sai Gon 172,000 VND (7.6 USD) and 532,000 VND (23.5 USD) one way, respectively.
Lexus Challenge golf tournament returns
The Vietnam Golf Association (VGA) has announced that the Lexus Challenge 2022 professional golf tournament will officially take place on March 7-11 at Tràng An Golf & Country Club, Ninh Bình Province, after two years of postponement due to the COVID-19 pandemic.
With a total prize value of up to VNĐ1.6 billion, the Lexus Challenge 2022 holds the record for the highest purse among professional golf tournaments in the country.
Aiming for international golf scoring standards, the performance of VGA Tour members at the Lexus Challenge 2022 will be accumulated to their annual ranking, determining their rights to participate in the Tour Championship and future events.
"Rise Above" is the theme of this year's tournament, inspired by transcending the limits of Vietnamese Golf.
Source: VNA/VOV/VNS/VNN/SGT
Bitter cold to linger on in northern region for another week