President decides to present Labour Order to national women's football team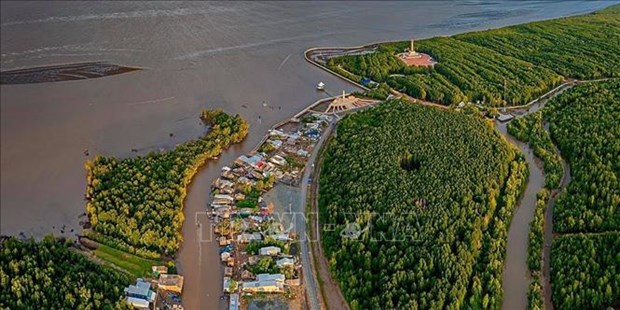 An aerial view of Ca Mau Cape in the Mekong Delta province of Ca Mau, which is also located in the southermost of Vietnam (Photo: VNA)
President Nguyen Xuan Phuc has signed a decision to present first-class Labour Orders to the national women's football team and head coach Mai Duc Chung in recognition of their outstanding performance in the 2022 AFC Women's Asian Cup, helping Vietnam win a ticket to the FIFA Women's World Cup 2023 for the first time.
The second-class Labour Orders were also awarded to members of the team, namely Chuong Thi Kieu, Huynh Nhu and Nguyen Thi Tuyet Dung, while other players – Thai Thi Thao, Nguyen Thi Bich Thuy, Tran Thi Kim Thanh and Pham Hai Yen received third-class Labour Orders.
The Vietnamese national women's football team beat Chinese Taipei 2-1 on February 6 in a play-off match of the 2022 AFC Women's Asian Cup, securing a berth in the FIFA Women's World Cup 2023 for the first time.
Vietnamese movie competes in 72nd Berline International Film Festival
A Vietnamese film named 'Mien ky uc' (Memoryland) by director Bui Kim Quy will vie for a prize in the Forum category at the 72nd Berlin International Film Festival (Berlinale) which is scheduled to take place from February 10 to 16 in the in-person format. The film is an observation of the female director about burial rituals in villages and cities.
Quy is a writer and director who studied screenwriting at the Hanoi Academy of Theater and Cinema. She writes scripts for films as well as television. Quy is the director of some short films including Mattress (2002), Why Is There No Moon While The Daytime (2006), and The New Year's Eve (2006).
Founded in 1951, Berlinale is one of the three oldest and most prestigious international film festivals in the world, along with France's Cannes Film Festival and Italy's Venice Film Festival. With over 300,000 tickets sold, Berlinale becomes the world's largest film festival attracting the largest audience every year.
Hanoi among world's 25 best food destinations
Hanoi has been listed among 25 best tourist destinations for food lovers in the world as voted by Tripadvisor readers.
The famous travel site TripAdvisor has announced the "Travelers' Choice Best of the Best 2022" list, introducing the "best of the best" destinations, services and experiences for tourists, based on millions of reviews from travellers around the world.
Hanoi's foods are so delicious that visitors have to come back many times, TripAdvisor said.
It wrote that Hanoi has largely aged quite well, preserving its famous cultural hub of the Old Quarter, monuments, and colonial architecture, while also making room for modern developments.
Hanoi boasts a series of attractive destinations such as Ho Chi Minh Mausoleum, Hoa Lo prison, lakes, shady parks, temples and pagodas, which help the Vietnamese capital city become more attractive to visitors.
Can Tho to pilot specific development mechanisms
The People's Committee of Can Tho held a conference on February 9 discussing the implementation of the 15th National Assembly's Resolution No.45 on piloting several specific mechanisms and policies for the development of the Mekong Delta city, and some key socio-economic development tasks for 2022.
Chairman of the municipal People's Committee Tran Viet Truong said that the resolution is a new opportunity to promote the rapid development of Can Tho – one of the five centrally-run cities of Vietnam.
It aims to concretise the Politburo's Resolution No.59 on building and developing Can Tho city by 2030, with a vision to 2045.
In order to well organise the implementation of Resolution No.45, the city leader requested departments and sectors to exert every effort to carry out it drastically with the highest determination.
Winners of logo design contest marking 30 years of Vietnam-RoK ties announced
Winners of a contest to design a commemorative logo for the 30th founding anniversary of the Vietnam-Republic of Korea (RoK) diplomatic ties have been announced.
Up to 775 entries by Vietnamese and Korean were submitted to the contest, launched by the Embassy of Vietnam in the RoK and the Embassy of the RoK in Vietnam last October and November.
Ngo Quang Trung, a university student in Ho Chi Minh City clinched the special prize and Sen. Lieut. Col Nguyen Manh Tien, who is an illustrator working at the Quan doi Nhan dan (People's Army) newspaper, was awarded the first prize. There were 10 consolation prizes.
The announcement of the official logo marks the start of an array of activities this year to celebrate the 30th founding anniversary of the bilateral ties (December 22, 1992 – 2022).
Vietnam sees record of 23,953 COVID infections on February 9
With 23,953 COVID-19 cases logged in the past 24 hours, February 9 saw the highest number of daily infections in the country since the beginning of the pandemic, breaking the previous day's record.
This brings the total caseload in Vietnam to 2,404,651 infections.
Hanoi with 2,949 new transmissions continued to be the worst-affected area in the country, followed by the central province of Nghe An with 1,900, and the northern city of Hai Phong (1,295), and northern provinces of Bac Ninh (1,246) and Hai Duong (1,120).
Vietnam's seven-day average of new infections is currently at 15,584 cases, up significantly compared to a week ago (13,099 on February 2).
The country has 2,771 serious COVID-19 cases, with 335 requiring mechanical ventilation and 18 on life support.
New deaths continued to stay below 100, with 93 deaths recorded nationwide, bringing the total fatalities to 38,614, accounting for 1.6 percent of the total infections.
Official emphasises importance of protecting Party's ideological foundation
Secretary of the Communist Party of Vietnam (CPV) Central Committee and head of the committee's Commission for Information and Education Nguyen Trong Nghia on February 9 asked the Su That (Truth) National Political Publishing House to compile more books on protecting the CPV's ideological foundation.
Earlier, the publishing house released a collection of more than 160 book titles on the Party's ideological foundation, and another featuring late President Ho Chi Minh's teachings.
Protecting the Party's ideological foundation goes in tandem with safeguarding the nation and the people, Nghia stressed during a visit to the publishing house.
The 160 book titles include works by President Ho Chi Minh and those on the late leader, the Party and political system building, socialism and Vietnam's path towards socialism. They were introduced to the public on the occasion of the 92nd anniversary of the CPV (February 3, 1930-2022).
Meanwhile, the book series on President Ho Chi Minh's teachings was released on January 17 to meet the youth's need of studying and following the late leader's example.
"Red Spring" festival to kick off on February 12
The 15th edition of the annual Xuan Hong (Red Spring) blood donation festival will take place from February 12 – 20, the National Institute of Haematology and Blood Transfusion (NIHBT) has announced.
This year's event is expected to draw the participation of 10,000 people and collect 7,000 units of blood from donors at five locations across the capital city of Hanoi.
Blood donors should make a pre-registration via the site https://hienmau.vn/events/lehoixuanhong/ or the app "Hien mau" for receiving the best support from the organisers.
The Xuan Hong festival is one of the year's largest annual blood donation events. It was jointly launched by the Hanoi Youth Association for Blood Donation and the NIHBT in 2008, and conducted nationwide in 2010. It aims to help address the shortage of blood for treatment during the Lunar New Year (Tet) holiday.
Over the past 15 years, as many as 91,765 units of blood have been collected.
Australia ready to promote comprehensive relations with Vietnam
The new Speaker for the House of Representatives of Australia, Andrew Wallace, expressed his nation's desire to strengthen comprehensive relations with Vietnam while receiving Vietnamese Ambassador to Australia Nguyen Tat Thanh who paid a courtesy visit on February 9.
The two officials agreed to foster the bilateral relationship, especially their legislative ties, towards the 50th founding anniversary of diplomatic relations (1973-2023).
They discussed the establishment of parliamentarians' groups to enhance the relationship, and shared the hope for the further exchange of visits by the two countries' leaders in efforts to take their strategic partnership to new heights.
Vietnam looks toward comprehensive strategic cooperative partnership with RoK
Foreign Minister Bui Thanh Son made the statement during a meeting held on February 9 with RoK President Moon Jae-in as part of his official visit to the RoK.
President Moon affirmed that the RoK always regards the nation as a key partner in carrying out the New Southern Policy, whilst also voicing his hope that the two sides will soon upgrade their relationship to a comprehensive strategic partnership.
He therefore suggested continuing to create favourable conditions for Korean businesses to operate in Vietnam, especially investing in infrastructure and finance, as well as large-scale projects, whilst simultaneously strengthening co-ordination between the two countries regarding regional and international issues of shared concern.
In response, Minister Son expressed his hopes that both nations would maintain regular high-level exchanges and meetings, thereby creating a favourable political environment, effectively deploying mechanisms aimed at expanding co-operation. This will be seen in the fields of economy, trade, investment, and post-pandemic recovery towards raising the two countries' trade turnover to US$100 billion by 2023.
Minister Son affirmed that the nation will fulfill its co-ordinating role in ASEAN – RoK relations during the 2021 to 2024 period in order to develop the relationship between ASEAN and the RoK in a more substantive and effective manner.
The Vietnamese diplomat hopes that the two sides will provide continued support for the building of a practical and effective Code of Conduct in the East Sea (COC) in accordance with international law and UNCLOS 1982.
COVID-19 support packages benefit over 5.57 million people in Hanoi
Since the beginning of July 2021, Hanoi has provided assistance using COVID-19 support packages for over 5.57 million people, with the total amount topping 7 trillion VND (308.5 million USD).
Of the total, over 2.46 trillion VND was sourced from budgets supporting employers and employees affected by the pandemic, 4.09 trillion VND came from the Unemployment Insurance Fund, and 438 billion VND from socialised sources.
Among the beneficiaries, there are over 608,000 freelancers receiving 1.5 million VND each, with a combined amount of over 900 billion VND.
Hoi An ancient town – An appealing destination for a Tet trip
Hoi An is an attractive destination for local people and tourists during Tet, offering an opportunity to return to Vietnam's cultural values and the traditions they have created.
Days in Hoi An ancient town during Tet are not too crowded, but a spring atmosphere still fills the air. For international visitors, a trip to Hoi An during Tet is also an opportunity to experience and learn about Vietnamese culture.
In addition to visiting the ancient town, heading to pagodas at the beginning of the year is also a popular cultural event.
The Hoi An Cultural Heritage Management and Preservation Centre has organised many traditional folk arts and cultural programmes for tourists. Preventive measures against the pandemic are still in place.
Travelling to the old town during Tet is also an opportunity to experience the cultural values that have provided the foundation for many of Vietnam's traditions.
Thua Thien – Hue festival commemorates ancestors' merits
A festival to remember ancestors' merits was held by the Department of Culture and Sports of the central province of Thua Thien – Hue in Hue city on February 9.
The festival opened with an art programme to commemorate the merits of Princess Huyen Tran – a daughter of King Tran Nhan Tong who made a significant contribution to establishing the Thuan Hoa – Phu Xuan – Thua Thien – Hue area.
Princess Huyen Tran (1287 – 1340) was married to Champa King Jaya Sinhavarman III as part of a promise made by her father, King Tran Nhan Tong.
A vast area of land, known today as Quang Tri and Thua Thien Thua Thien – Hue provinces, was gifted for the wedding.
The Huyen Tran Festival is held annually on the ninth day of the first lunar month in commemoration of her great sacrifice for the development of Dai Viet, the name of Vietnam under the Tran Dynasty. It is one of the first large-scale festivals in the chain of events of the four-season Hue Festival in Thua Thien – Hue in 2022.
Hope School welcomes first students orphaned due to COVID-19
The Hy Vong (Hope) Boarding School for children orphaned due to the COVID-19 pandemic, established by FPT Corporation in the central city of Da Nang, has recently welcomed its first students.
The school is expected to receive 300 students in the first academic year and has a plan to accommodate 1,000 children in the future.
FPT Chairman Truong Gia Binh affirmed that Hy Vong school is the school of love. "That is the love of teachers, the love of students in the school who are in the same situation, of members of Hy Vong Foundation, all FPT staff, and of donors in the community," he said.
Previously, on September 16, 2021, Binh put forward an idea of building a school for children who lost their parents due to COVID-19, with a desire to create a caring and loving environment where they can grow up, study and contribute to the nation.
Tigers might disappear in Laos: WWF
Without recorded evidence of tigers in Laos' forests for almost a decade, a new report from the World Wide Fund for Nature (WWF) has said the animal could be extinct.
WWF's new Impact on Tiger Recovery 2010-2022 Report emphasised the need for urgent action in tiger recovery, particularly in Laos where tigers could well have disappeared.
Laos is one of the 13 countries in the world where endangered tigers remain in the wild. However, despite extensive searches and the use of wildlife cameras, none of them have been spotted anywhere in Laos for almost 10 years.
Deputy minister urges accelerating construction work at venues serving SEA Games 31
Deputy Minister of Culture, Sports and Tourism Hoang Dao Cuong and Vice Chairman of Hanoi People's Committee Chu Xuan Dung on February 8 inspected upgrading work at some sports facilities in Hanoi selected to be venues serving the 31st Southeast Asian Games (SEA Games), which is scheduled to be held from May 12 to 23 this year.
The facilities are gymnasiums in Thanh Tri, Gia Lam, Long Bien and Tay Ho districts where competitions of basketball, wrestling, dance sport and taekwondo, respectively, will take place.
Most of the main items at Thanh Tri District Gymnasium and Long Bien District Gymnasium have been completed and other auxiliary works are expected to be finished on schedule.
Although the COVID-19 pandemic has affected the upgrade of Gia Lam District Gymnasium, it is expected to be done in early April.
Meanwhile, Tay Ho District Gymnasium is currently still serving as a mobile medical station where COVID-19 patients with no or mild symptoms are being treated. However, its function rooms have fully met the requirements. The construction unit will renovate the competition area and decorate the surrounding landscape. The project is anticipated to be completed by March 8.
Local image wins prize at Sony World Photography Awards 2022
An image snapped by Vietnamese photographer Nguyen Phuc Thanh finished first in the national competition at the Sony World Photography Awards 2022.
The photograph features a street vendor as they carry flowers on a famous ceramic road located in Hanoi.
The contest organised by the World Photography Organisation has been held annually since 2007.
This year the event attracted over 170,000 entries from 211 countries and territories over the world competing across a range of categories, including professional, open, student, youth, and the national competition.
Vietnamese representative Thanh surpassed other 60 photographers to become the winner of the national competition.
He had previously been honoured in the Sony World Photography Awards 2019 for his photo of Long Coc tea hills in Phu Tho province.
Quang Ninh welcomes over 300,000 tourists throughout Tet
The northern province of Quang Ninh received over 300,000 visitors, including 4,500 foreign arrivals, throughout the Lunar New Year (Tet) , earning a total revenue of approximately VND400 billion, according to the provincial department of tourism.
Most notably, the occupancy room rate ranged between 80% and 90% at major accommodation establishments such as FLC, Vinpearl, and M-galecy Yen Tu.
Furthermore, several spiritual tourist attractions such as Yen Tu Scenic Landscape Complex, Cua Ong Temple, Tran Dynasty National Special Monument in Dong Trieu, Cai Bau Pagoda, and Ba Vang Pagoda welcomed thousands of tourists each day.
The locality welcomed its first group of tourists on the third day of the Lunar New Year under organised package tours after two years of hiatus due to the COVID-19 pandemic.
Kim Thanh named among most active goalkeepers at AFC Women's Asian Cup
Tran Thi Kim Thanh of the Vietnamese women's national team has been listed among the top three goalkeepers with the most saves at the AFC Women's Asian Cup, as selected by the Asian Football Confederation (AFC).
The rankings sees Thanh top the list after she made a competition-high 27 saves in six matches played at the tournament held in India.
On its official website, the AFC note that Thanh only conceded one goal in the two playoff matches which were key to the Vietnamese team's success.
In the group stage, the goalkeeper also made a string of impressive saves in the matches against both the Republic of Korea and Japan.
Second place in the list went to New May Zin of Myanmar who made 21 saves, while the third position was given to Cheng Ssu-Yu of Taipei (China) who made a total of 19 saves.
Many localities face post-Tet Covid-19 outbreak
Many localities in Vietnam are experiencing Covid-19 outbreaks after the Lunar New Year Tet holiday.
Hanoi, which is the country's biggest epicentre, reported 2,903 new Covid-19 cases on Tuesday in all of 30 local towns and districts. People with Covid-19 suspected symptoms like sore throat and cough need to contact local medical stations for help.
Deputy Prime Minister Vu Duc Dam has asked Hanoi to prepare scenarios for possible Covid-19 infections among students as local schools have reopened for on-site study.
HCM City has also witnessed a rise in new Covid-19 infections after Tet. On Tuesday, the city recorded 116 Covid-19 patients, a sharp increase compared to before Tet.
Tang Chi Thuong, director of the city's Department of Health, said that the figure would considerably grow in the weeks to come.
Many other provinces across the country have also witnessed a surge in Covid-19 infections, including Nghe An, Hai Duong, Nam Dinh, Thanh Hoa, Thai Binh, Quang Binh and those in the southwestern region.
Forty-eight localities turn 'green zone'
Forty-eight out of 63 localities are labelled "green zone" while the rest of 15 others are entitled "yellow zone" or medium-risk areas, according to the latest update on COVID-19 risk levels released the Ministry of Health on February 9.
The green zone comprises An Giang, Binh Duong, Binh Thuan, Bac Giang, Bac Kan, Cao Bang, Ca Mau, Ha Giang, Ha Nam, Hai Duong, HCMC, Kien Giang, Kon Tum, Lai Chau, Long An, Lao Cai, Lang Son, Nghe An, Ninh Thuan, Phu Tho, Phu Yen, Quang Binh, Quang Ninh, Soc Trang, Son La, Tuyen Quang, Thai Binh, Thai Nguyen, Tien Giang, Dien Bien, Yen Bai, Dong Nai, Dong Thap, Ha Noi, Ba Ria-Vung Tau, Binh Dinh, Ben Tre, Can Tho, Khanh Hoa, Ninh Binh, Ninh Thuan, Bac Lieu, Bac Ninh, Gia Lai, Nam Dinh, Quang Ngai Thua Thien-Hue and Tay Ninh.
Meanwhile, the yellow-zone consists of 15 localities, down seven against the previous update. These are Binh Phuoc, Hoa Binh, Ha Tinh, Hung Yen, Hai Phong City, Hau Giang, Lam Dong, Quang Nam, Quang Tri, Thanh Hoa, Vinh Long, Vinh Phuc, Da Nang City, Dak Lak, and Dak Nong.
HCMC spends over US$4 million on general plan adjustment by 2040
The People Committee of Ho Chi Minh City has just issued a decision on approval of mission outline and total cost estimate for the project of general plan adjustment of Ho Chi Minh City by 2040, vision to 2060.
Accordingly, the 2,095- square meter administrative boundary of HCMC and Can Gio beach area are on the adjustment plan.
The set target of the city's general plan adjustment in accordance with the development orientation of the whole city heads toward developing HCMC into an international trading center of the region and country; cultural center and innovative knowledge, scientific study, technology transfer, regional-level high-technology; international-level tourism, finance, trade and logistics services center.
In addition, the city's plan adjustment also aims to meet development requirements, create conditions to solve the problems of population, housing, infrastructure, traffic, environment, climate change and national defense.
The project's procedures will be completed at the end of the third quarter with a total cost of over VND95 billion (US$4.2 million).
Extreme cold wave hits North while South faces scorching days
The National Center for Hydrology Meteorology Forecasting said that one more cold wave has moved to the Northern region, yesterday affecting the Mid-Central region.
From February 10, the extremely cold temperature of below five degrees Celsius returns to the Northern mountainous localities. The lowest temperature in the capital city of Hanoi may drop to 12 degrees Celsius to 14 degrees Celsius.
Meanwhile, the Southern region maintains scorching days with a temperature of up to 35 degrees Celsius. From Thursday to this weekend, the temperature in Ho Chi Minh City is expected to maintain between 30 degrees Celsius and 33 degrees Celsius.
The ultraviolet index in the provinces from Khanh Hoa to Kien Giang including Phu Quoc Island will reach an extreme harmful level.
Source: VNA/SGGP/VOV/VNS/VNN/VGP
Vietnamese spring rolls become French's favourite food