Overseas Vietnamese across nations celebrate Lunar New Year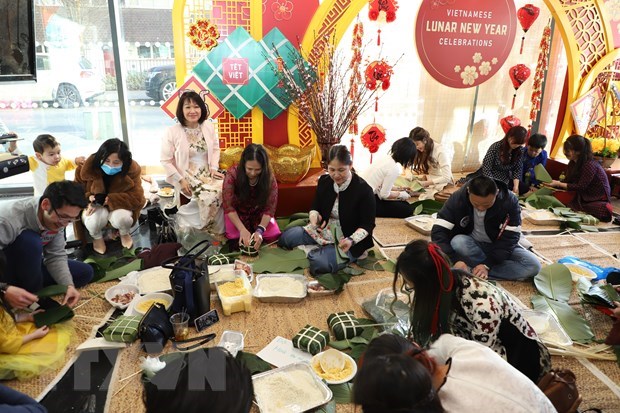 Vietnamese people in the UK participate in a contest of making banh chung (square sticky rice cake) – a traditional Tet food – as part of their Tet celebration. (Photo: VNA)
Vietnamese expatriates in Australia, the UK, China, and Japan have organised gatherings at different scales to mark the Lunar New Year (Tet), the longest and important festival of their home country.
In Australia, many Vietnamese expats, businesspeople, and students met at a Tet celebration held by the Vietnamese Consulate General in New South Wales, Queensland and South Australia on January 30.
In the UK, a similar celebration featuring traditional folk games and food took place on the same day with the participation of more than 1,000 Vietnamese expatriates.
Co-organised by the Vietnamese Family Partnership (VFP) and the Vietnam Business Association in the UK (VBUK) and supported by the Vietnamese Embassy, the event was the biggest of its kind of the community so far.
Also gathering a large number of overseas Vietnamese, a festive event to mark Tet was held in Kunming, China by the Vietnamese Consulate General here.
In Japan, Tet celebrations took place among Vietnamese families who could not come back home on the occasion. They made traditional dishes and decorations to enjoy the festival together.
The Consulate General of Vietnam in Sydney hosted a get-together on January 30 for overseas Vietnamese (OV) to celebrate the traditional Lunar New Year festival (Tet).
On display were various stalls offering rustic and typical dishes of the north, central, and southern regions in Vietnam, including fried spring rolls, Chung (glutinous rice) cake and different types of confectioneries, and Vietnamese noodle soup, more commonly known as Pho.
In the festive atmosphere of the Lunar New Year (Tet), Vietnamese communities in Sri Lanka, Vanuatu, Cuba, the Czech Republic and France have cheerfully celebrated the important traditional festival of their home nation.
In Sri Lanka, the Vietnam Embassy on January 30 organised a programme that gathered more than 100 Vietnamese expats.
Meanwhile, the Vanuatu friendship association held a Tet celebration hosting about 200 Vietnamese people and nearly 100 guests, including Vanuatu Prime Minister Bob Loughman Weibur, Finance Minister Johny Konapo, Minister of Infrastructure and Public Utilities Jay Ngwele, as well as Australian and New Zealand ambassadors to the nation.
The Vietnamese embassies in Cuba and the Czech Republic also organised cozy Tet gatherings for Vietnamese expats and businesses in the nations.
The Vietnamese students' association in Paris, France, mounted an event spotlighting banh chung (square glutinous rice cake) – a traditional dish of the Vietnamese people on Tet. For the Vietnamese, making banh chung is an ideal way to express their gratitude to their ancestors and homeland.
Book Street Festival opens to bookworms during Tet holiday
Ho Chi Minh City's Book Street Festival has opened to residents and tourists in order to mark the traditional Lunar New Year festival, known locally as Tet.
The event is taking place across four streets in the southern city, including Mac Thi Buoi, Nguyen Hue, Ngo Duc Ke, and Nguyen Van Binh.
On display in each street are various publications, documents, and photos which aim to celebrate the 92nd anniversary of the founding of the Communist Party of Vietnam and mirror Ho Chi Minh City in its battle against the COVID-19 pandemic.
Visitors will be able to discover many interesting and useful books, along with photos about late President Ho Chi Minh and the country's sea and islands
The book stalls set up at the event have been decorated to feature yellow apricots and chrysanthemums pots, attracting a large number of people eager to visit and take pictures.
Visitors to the festival are required to abide by pandemic preventive measures, including making health declarations, checking body temperature, and wearing face masks.
The event is scheduled to last through to February 4.
Vietnam among top 10 travel trends for 2022: US magazine
Travel magazine Condé Nast Traveler of the United States has voted Vietnam as one of the top 10 travel trends for 2022.
Though the reopening of international tourism remains challenging, many parts of the world have begun to relax their entry requirements placed on foreign visitors, with the primary goal of reviving their tourism industry and the national economy, according to Condé Nast Traveler.
The magazine outlines that Vietnam has also begun allowing foreign travelers to enter the country through the resumption of flights to the US at the end of last year.
Apart from the numerous destinations that are starting to reopen to tourists, Condé Nast Traveler also introduced its top travel trends for 2022, including long-haul reboots, personal development retreats, extreme expeditions, in-inclusive luxury travel packages, and adventure hiking.
Moreover, Condé Nast Traveler reveals that with the gradual reopening of regular international flights, there are positive signs ahead that the aviation industry can successfully bounce back in the near future.
Daily number of COVID-19 cases drops over 1,000 on last day of lunar year
A total of 12,674 new COVID-19 infections were reported in Vietnam over the last 24 hours to 6pm on January 31, the last day of the lunar year, representing a fall of 1,019 cases compared to the previous day.
This brought the country's total tally to 2,275,727.
Of the new transmissions, 37 were imported and quarantined upon their arrival.
The capital city of Hanoi still recorded the highest number of infections, with 2,728 cases, followed by the central city of Da Nang city with 877, the northern province of Bac Ninh, 781 and the northern port city of Hai Phong, 552.
Vietnam has so far detected 185 COVID-19 infections related to the Omicron variant of coronavirus SARS-CoV-2, mostly in Ho Chi Minh City with 92 cases.
Meanwhile, the death toll rose to 37,777 after 109 fatalities were reported on the day.
PM pays visit to Hanoi hospitals on Lunar New Year's Eve
Prime Minister Pham Minh Chinh visited Hanoi Medical University Hospital and Central Children's Hospital on January 31 to extend his greetings to healthcare workers on the occasion of the Lunar New Year holiday, known locally as Tet.
PM Pham Minh Chinh talks to doctors at Hanoi Medical University Hospital. (Photo: VGP)
The PM inquired into the health of on-duty doctors and nurses and expressed his great appreciation for them volunteering to work during the Tet holiday in order to take care of patients.
He extended his best Tet wishes to healthcare workers of both hospitals and the health sector in general, especially as they are on the frontline of combatting the COVID-19 pandemic to partly support ongoing economic recovery efforts.
Park expects Vietnam's win over China in World Cup qualifier
Coach Park Hang-seo and midfielder Nguyen Quang Hai expected Vietnam would outplay their visitors China in a World Cup qualifying game on February 1.
Vietnam will take on China at My Dinh National Stadium in Hanoi capital at 19:00hrs on February 1, or lunar New Year's Eve in both countries. In their away match, Vietnam lost 2-3 to hosts China, including two goals scored by Wu Lei.
Addressing a press briefing in Hanoi on January 31, Park admitted that he has been under great pressure after the national team suffered all seven losing matches at the third qualifying round of the FIFA World Cup.
"People expect a victory tomorrow. I understand that and the whole team will try their best to bring joy to Vietnamese fans, even though it is very difficult," said the Korean expert.
Chinese players arrived in Vietnam early on January 29 for their clash with hosts Vietnam in Hanoi.
Calligraphy for the New Year – a fine custom of Vietnamese culture
Calligraphy originated from the art of writing. It has long been considered part of Vietnamese culture and has considerable effect on Vietnam's socio-economy.
The art of Vietnamese calligraphy was born at the same time as the introduction of Chinese characters in Vietnam. However, the Vietnamese people developed their own styles of writing.
Vietnam's calligraphy has been passed down from generation to generation. The art reflecting the writer's style, education level, personality and ideology.
Calligraphy can be written on a variety of materials like paper, cloth, wood, stone, pearl, and pottery. It is a combination of handwriting and painting, creating unique artwork.
Apart from Chinese characters, calligraphy is also written in Nom, which is the logographic writing system of the Vietnamese language. The calligraphy written in Vietnamese also shows the creativity of Vietnamese people and normally featured Vietnamese folk verses, proverbs, and poems.
In recent years, calligraphy has flourished. It is written on greeting cards, calendars, and decorations during the Lunar New Year Festival. Many calligraphy clubs have been set up attracting young people.
It has been a Vietnamese tradition to have a calligrapher write special Chinese characters for the Lunar New Year.
State leader offers incense to President Ho Chi Minh
President Nguyen Xuan Phuc on January 31 offered incense to commemorate late President Ho Chi Minh on the occasion of the traditional Lunar New Year and the 92nd founding anniversary of the Communist Party of Vietnam (February 3).
At House 67 inside the Presidential Palace complex where President Ho Chi Minh breathed his last 53 years ago, President Phuc and other officials expressed their boundless gratitude to the nation's beloved leader, who devoted his whole life to the glorious revolutionary cause of the Party and the country.
The President took the occasion to praise the staff at the President Ho Chi Minh relic site for their achievements in performing the assigned task of preserving belongings of the late President and in scientific research activities to serve the introduction of the life and career of the late leader as well as his moral example to visitors.
He suggested them continue to uphold the achievements they obtained and work hard on studying and following President Ho Chi Minh's ideology, morality and lifestyle through organising political activities for Party organisations, Party cells, youth organisations, agencies and schools in the relic site, contributing to promoting the education of politics, ideology, patriotism and revolutionary tradition for people of all strata.
House 67 is where President Ho Chi Minh lived, worked and passed away. It provides a venue for the Political Bureau's meetings during the fiercest years of the war in Vietnam.
Intensified cold wave hits north, north central regions
An enhanced cold air will affect the north and central regions on January 31, causing light rain in the former and showers and thunderstorms in the latter.
According to the National Centre for Hydro-Meteorological Forecasting, the lowest temperatures in the North will range from 10 – 13 degrees Celsius, even dropping to below 3 degrees Celsius in high mountainous areas with a possibility of frost and snow.
Meanwhile, the lowest temperatures for the north central region are expected at 11 – 14 degrees Celsius.
The biting cold conditions in the two regions are forecast to last until February 4.
Vietnamese female team ready for World Cup 2023 qualification
Losing to China 1-3 in the quarterfinals of the Women's Asian Cup, the Vietnamese national women's football team, with their confidence kept, will join Thailand and Chinese Taipei in the play-off round to compete for tickets to the 2023 World Cup.
Coach Mai Duc Chung said after the defeat that he is completely pleased with efforts made by the entire squad.
He noted the team was heavily affected by the COVID-19 epidemic, but they knew how to overcome difficulties and maintain the competitive spirit to get to their current place.
Had Vietnam won the match with China they would have directly qualified for the FIFA Women's World Cup in Australia and New Zealand next year, however, all hope is not lost as they have a second chance of qualification through winning the repechage round.
As scheduled, the team will enter the first play-off match against Thailand on February 2, and join the last against Chinese Taipei on February 6.
Mentioning the February 2 match, Chung said Vietnamese players are ready for obtaining the best results.
Lao students in Khanh Hoa experience Vietnamese Tet festival
A programme to celebrate the Lunar New Year (Tet) festival has been held for Lao students studying at Nha Trang University in the central province of Khanh Hoa, helping them get insight into Vietnam's traditional culture and customs.
A contest to make and cook Chung cake (square sticky rice cake) was held in the framework of the programme, attracting a crowd of Lao students.
According to Vice Rector of Nha Trang University Tran Doan Hung, representatives of the university will pay a Tet visit, extend Tet wishes and give lucky money to international students here on the New Year's Eve.
Through the programme, Lao students are hoped to become a bridge to promote Vietnamese culture to their country, thus contributing to further tightening the friendship between the two countries, Hung said.
PM directs quick repatriation of stranded citizens during Tet
Prime Minister Pham Minh Chinh has ordered quick repatriation of Vietnamese citizens who are stranded overseas due to the hiatus of commercial flights, during the Lunar New Year (Tet) festival.
According to a report of the Ministry of Foreign Affairs, about 600 citizens are being stranded in the Middle East – Africa region, including 200 in Saudi Arabia; 150 in Angola, and 85 in the UAE.
Based on the ministry's proposal, the PM has requested the Ministry of Transport to urgently permit foreign airlines carrying Vietnamese citizens home and issue related guidance, with localities involved asked for close coordination in COVID-19 prevention and control.
Currently, the ministry has directed Vietnamese representative agencies abroad to monitor the situation of the Vietnamese in their host countries to offer timely assistance and create favourable conditions for them to return home on Tet.
Tet, the longest and most important traditional festival in Vietnam, is considered a time for family reunion.
Students work part-time to earn money ahead of Tết
Many students in Việt Nam are taking advantage of Tết festival break to take on part-time jobs to learn soft skills, gain professional experience, and earn extra money.
Mai Phương, a student of Hà Nội College of Pharmacy, said that each year she finds a different job to have more experience.
This year Phương worked as a seasonal cashier at a supermarket.
"My mother usually prepares everything for Tết by herself from shopping to cleaning the house before the festival. So I usually look for a seasonal job before the holidays to earn more money. It's not too high but enough to spend without asking for money from my parents," Phương told Tin Tức (News) online newspaper.
Vũ Quang Thành, deputy director of the Hà Nội Employment Service Centre, said the demand for seasonal workers increased at the end of the year.
Many businesses recruit students to do part-time jobs at supermarkets or trade centres as they are busy for their year-end sale season.
On social networks, it is not difficult for students to find part-time jobs.
The newspaper reported that many employees working in a supermarket in Artemis Trade Centre on Hà Nội's Lê Trọng Tấn Street, are students working part-time jobs. Most of them are second and third-year students.
Lưu Bạch Kim, a student from University of Social Sciences and Humanities, who works as an employee to record customer orders, said: "Every year I go home early with my family as Tết approaches. However, this year, due to difficulties arising from the COVID-19 pandemic, I decided to find a job at the supermarket, rather than returning to my hometown early like other students."
"The nature of my work is not too hard, but I have to help others because the supermarket is crowded during Tết. I feel satisfactory with the extra job even though I am very busy on pre-Tết days."
In addition to having more money, seasonal jobs at supermarkets also help students learn soft skills.
Thu, a student at the University of Industrial Technology and Economics, applied to work as a seasonal saleswoman.
The job has brought many interesting experiences and is an opportunity for her to learn.
"I find a job to have extra money. At the workplace, I am also trained in skills such as customer care and sales. My communication skill has also improved more," said Thu.
Coast guard soldiers take on missions at sea over Tết
Vietnamese coast guard ships have headed out to sea, carrying the love of people on the mainland. Coast guard ship CSB 4031 of the Coast Guard Region No.3 received the task of patrolling the sea during the Tết (Lunar New Year) holiday.
During Tết, naval soldiers are celebrating the holiday in the middle of the ocean with the responsibility of protecting the sea and islands.
In the coming days before Tết, when everyone is preparing to return home to reunite with their families, the coast guard soldiers have boarded the ship to patrol the sea, Voice of Vietnam (VOV) online newspaper reports.
The Coast Guard Region No.3 performs tasks at sea from Cù Lao Xanh, the central coastal province of Bình Định, to the northern shore of Định An estuary, the southern province of Trà Vinh.
The soldiers had a New Year party early prepared by the commanders as they started a long patrolling journey at sea.
HCM City cracks down on unauthorised markets before Tet
HCM City has instructed grassroots officials to immediately remove illegal street markets to ensure food safety and hygiene during Tết (Lunar New Year).
Vice Chairwoman of the city People's Committee, Phan Thị Thắng, held a meeting with the management of the Hóc Môn Wholesale Market in the namesake district on January 27 to dismantle unauthorised markets in its surroundings.
Thắng said even food is sold in the illegal street markets but without clear origins or quality oversight, posing a risk to people's health.
With the Tết holiday close, top priority must be given to safety, quality control and compliance with pandemic prevention requirements, and allowing unauthorised markets to function near wholesale markets without being subject to any control is "unreasonable," she said.
Such markets, where street vendors sell mostly agricultural produce and other common consumer items, usually crop up on pavements to meet people's needs not met by supermarkets and other stores, but are not part of the city's plans, she said.
Vendors set up stalls on pavements and sell items like seafood and vegetables near rubbish, decaying leaves and wastewater, which pose a serious risk.
Their products are often of questionable origin and food safety is a big issue, and, needless to say, authorities frequently crack down on them.
Kiên Giang steps up protection, planting of forests
Kiên Giang Province has earmarked VNĐ12.3 billion (US$530,000) to protect forests from fires during the dry season this year.
Lê Quốc Anh, deputy chairman of its People's Committee, said forest management units have been instructed to proactively take safety measures.
They need to invest in firefighting equipment and vehicles and have adequate human resources to prevent and combat fires in important forests with a high risk.
They will co-operate with relevant agencies and localities to strengthen advocacy to enhance public awareness of forest fire prevention and control and follow safety regulations.
They will instalL warning boards and ban the lighting of fires in forests, and provide weather forecasts and information about fire risks to households to proactively take prevention measures.
Private schools to benefit from tax and credit policies
A new circular issued by the Ministry of Education and Training confirms that private schools will benefit from tax, credits and other preferential policies.
The circular applies to private schools that are leasing or operating on allocated State-owned land, and are financially supported in executing tasks assigned by the Government. The document takes effect starting February 14, 2022.
Circular No. 40/2021/TT-BGDĐT states that private secondary schools are general education institutions in the national education system, which receive funding from private investors and are granted permission to operate by the authorities.
The operational expenses and facility investments of these schools are therefore not sourced from the State budget. These education institutions also have their own legal representatives, bank accounts and seals.
Private schools' organisational structure includes the school council; control board; principal and vice-principal; recognition and reward council; disciplinary council, advisory council; labour union; committees of the Communist Party, Hồ Chí Minh Communist Youth Union and Young Pioneers Organisation; as well as other departments necessary to the school's operations.
Duties and powers are the same for private and public schools, as per Việt Nam's general education regulations.
The curriculum, professional requirements for teachers, standards and benefits for students also follow the law.
It should be noted that at junior and senior levels, private secondary schools can extend academic time at no more than four weeks per year, in comparison to public schools. No extra tuition fee will be charged for this additional period.
Metro Line 1's Bến Thành station close to completion
Bến Thành Station on HCM City's first metro route is 95 per cent complete.
Engineers and workers are scrambling to complete the electrical and mechanical components of the underground station and the HCM City Management Authority for Urban Railways is restoring the landscape above it.
The four-storey station, which will be 32 metres below ground, is one of three underground stations in the 19.7km line from Bến Thành Market in District 1 to Suối Tiên theme park in District 9.
It will also serve as a transfer station linking with lines Nos 2, 3 and 4 when they are built in the future.
It has six entrances, including one at the September 23rd Park in front of Bến Thành Market and Phan Chu Trinh Street next to the market.
Besides restoring the landscape at street level, MAUR will also strive to complete the import of the last six of the 17 trains that will make up the rolling stock.
Viet Nam surpasses 180 million COVID-19 vaccine shots administered
Việt Nam's total administered COVID-19 vaccinations surpassed 180 million doses on Friday, according to the National Portal for COVID-19 Vaccines, ten days after hitting 170 million mark.
In the past ten days, about 10 million doses have been administered, a daily average of one million shots.
So far, 163,453,474 shots have been given to adults (people aged 18 years and above), of which; 70,577,320 were first doses, 67,607,576 were second does, 9,442,342 were additional doses and 15,826,236 were booster doses.
Most provinces and cities in the country (49 out of 63) have more than 90 per cent vaccine coverage among the adult population. The remaining 14 provinces – Thanh Hóa, Phú Thọ, Vĩnh phúc, Hải Dương, Hòa Bình, Cao Bằng, Điện Biên, Bình Định, Phú Yên, Kon Tum, Tây Ninh, Trà Vinh, Bình Dương, and Sơn La – range between 80-90 per cent.
Over 16 million doses have been given to children aged 12-17 years, including 8,410,398 first doses and 7,729,798 second doses.
Ninh Thuan Province to spend $33m to develop animal husbandry
The south central province of Ninh Thuận will spend more than VNĐ743 billion (US$33 million) over the next decade to make animal husbandry safe, efficient and lucrative.
By 2030, it plans to increase the number of sheep to 220,000 and goats to 160,000.
The province has the country's largest number of sheep as its dry weather and soil are suitable for breeding the animal.
It also breeds large numbers of goats, cows, oxen, pigs, and poultry.
Lê Huyền, deputy chairman of its People's Committee, said the focus would be on restructuring agriculture together with building new-style rural areas.
Most farmers sell their animals to traders.
Calligraphers offer works online for the first time
To adapt to the conditions of the COVID-19 pandemic that limit in-person contact, calligraphers for the annual spring calligraphy festival will offer their services virtually for the first time.
Having words drawn by a calligrapher has long been a part of Vietnamese culture for Lunar New Year.
The annual spring calligraphy festival held at Văn (Literature) Lake besides Hà Nội's Văn Miếu (Temple of Literature) has become a destination of many locals arriving to get calligraphy as good luck for the year.
The event normally last until the 15th day of the first lunar month or longer.
Due to the pandemic in the capital city, the organisers have switched to virtual platforms to meet demand.
The highlight of the festival this year is the interaction on Zoom application between the calligraphers and the customers. The virtual calligraphy festival will open at 9am tomorrow at duxuanonline.com.
Spring Book Street opens in Hanoi
This Tết (Lunar New Year) holiday, bookworms can walk along Hà Nội Book Street in Hoàn Kiếm District and enjoy thousands of books of all genres from reputable publishers.
Spring Book Street 2022 with the theme Cánh én chào xuân – Nâng tầm tri thức (Swallow wings to welcome spring – Raising knowledge) will be open from January 29 to February 6, 2022, introducing books of different genres to visitors.
In addition, the organisers also carried out a number of special side events, suitable for the New Year's atmosphere, such as Spring music programme and exchange programme honouring traditional folk music.
New music videos on love and motherhood released for Tet
Love, family values and motherhood are the themes in new music videos by artists Phan Mạnh Quỳnh, Bùi Công Nam and Tăng Nhật Tuệ, released to celebrate Tết (Lunar New Year), which begins on February 1.
Singer and composer Nam's video, Tết Này Con Sẽ Về (Mom, I'll Come Home for Tết), features pop and ballad melodies.
The artist wrote the song to highlight the contributions and sacrifices made by his mother and many other Vietnamese mothers.
Nam's video includes beautiful scenes featuring his mother in daily life.
The artist hopes his fans, who have to earn a living far away during Tết, can imagine their homes and mothers through the images.
Tết Này Con Sẽ Về, released on January 10, has attracted more than 3.6 million views on YouTube.
Motherly love is also featured in Mẹ Ơi! Tết Vạn Dặm Xa (Mom, I Miss You during Tết), a new music video by film actor, singer, and music producer Tuệ.
His song features children whose parents have died of COVID-19 in HCM City.
Source: VNA/VNS/VOV/VNN/SGT
Nguyen Hue Flower Street opens in HCM City