National Steering Committee for implementing commitment on climate change established
Prime Minister Pham Minh Chinh on December 21 signed a decision approving the establishment of a National Steering Committee for implementing Vietnam's commitments at the the 26th UN Climate Change Conference of the Parties (COP26).
PM Chinh is the head of the Steering Committee, while Deputy PM Le Van Thanh is the deputy head of the committee.
The Steering Committee is an inter-sectoral organization, performing the function of helping the Prime Minister to research, direct, coordinate, and handle important interdisciplinary work related to the implementation of Vietnam's commitments at COP26.
The Ministry of Natural Resources and Environment is the standing body of the Steering Committee.
Human rights to be taught in educational institutions nationwide
Deputy Prime Minister Vu Duc Dam has signed Directive No. 34/CT-TTg dated December 21, 2021 of the Prime Minister on strengthening the implementation of the scheme on integrating human rights content in the curricula of the national education system.
The directive states that human rights education plays an important role in raising social awareness, and helps prevent and limit violations against human rights.
The Prime Minister also requested the People's Committee of provinces and cities to speed up the implementation of the scheme, including equipping local teachers and educational managers with knowledge on human rights.
Hanoi modern architecture buildings introduced in Japanese book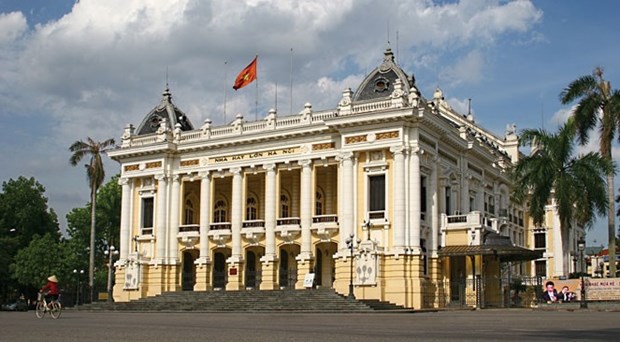 Hanoi Opera House (Photo: hanoimoi.com.vn)
Some 100 architectural works in Hanoi are named in an upcoming Japanese book highlighting modern architecture in Southeast Asia.
The list includes the Mausoleum of President Ho Chi Minh, Hanoi Children's Palace, Dong Xuan market, St. Joseph's Cathedral, the Sofitel Legend Metropole Hanoi, and Hanoi Opera House.
The Chu Van An high school, Hoa Lo prison, the Government guesthouse and the Vietnam National Museum of History also make it onto the list.
The book features images and 200-word introduction of the iconic constructions in each Southeast Asian nation's notable city. It is a project initiated by the Tokyo University and its partners in Southeast Asia.
Experts discuss AI, DS application in industrial production, health care
Vietnamese, Belgian and French experts in the fields of artificial intelligence (AI) and data science (DS) discussed the application of latest research outcomes on AI and DS in industrial production and health care at an conference held by Da Nang-based Dong A University and Vietnamese and foreign partners on December 20.
The conference is an annual forum for AI and DS experts and researchers to share experience and ideas, connecting research outcomes and seeking multilateral partnership in the fields.
Photo contest on homeland sea, islands announces winners
Winners of this year's national fine art photo competition on homeland sea and islands were announced during an award presentation ceremony held in Hanoi on December 20.
Photographer Le Chau Dao won the first prize in the "photo collection" category for his series of photos capturing beautiful landscapes along the coast of Phu Yen, his homeland. Meanwhile, Tu The Duy from Kien Giang championed the "single photo" category for his work on a coastal village in Tuy Phong, Binh Thuan province. Four second and six third prizes alongside ten honourable mentions were also awarded during the event.
Vietnam emphasises international efforts for cyber conflict prevention
It is necessary to strengthen regional, international, and public-private cooperation in sharing information, building trust, preventing the risk of conflicts in cyberspace, building common understanding, and strengthening each nation's IT capacity, affirmed Ambassador Dang Dinh Quy, Permanent Representative of Vietnam to the UN.
Addressing the UN Security Council (UNSC)'s Arria-formula meeting on preventing civilian impact of malicious cyber activities held on December 20, Quy said many essential infrastructure and services are operated on the cyberspace, therefore, cyber attacks can have serious consequences on the economy, society, national defense, security, and people's welfare and well-being.
Quy reaffirmed that Vietnam advocates the building of a safe, stable and transparent cyberspace that meets the national legitimate interests and contributes to maintaining international peace and security.
Vietnam News documentary wins at US film festival
One Year On: The Essex Lorry Tragedy was made for the first anniversary of the deaths of 39 Vietnamese migrants who were found in the back of a lorry container in Essex, UK.
On Saturday, judges at the Erie International Film Festival announced the documentary produced by the multimedia department of Viet Nam News had won first prize in the Documentary Short category.
The 2021 Erie International Film Festival took place over nine days from December 10 in Pennsylvania. It featured around 60 independent movies, documentaries, animation productions and music videos.
This is now the 12th award the documentary, which was screened on VNews TV to mark the anniversary of the tragedy, has won at international festivals in a number of countries including India, Singapore and Bhutan.
Founding anniversary of Vietnamese People's Army marked in Ukraine
The Vietnamese Embassy and Defence Attache Office in Ukraine, in collaboration with the Vietnamese war veterans' association in Ukraine, on December 21 held a ceremony to mark the 77th founding anniversary of the Vietnam People's Army (VPA) and the 30th All People's Defence Festival (December 22).
Guests at the event included President of the Association of Veterans of Ukraine, Major General Vladimir Popovich and Ukrainian war veterans who used to help Vietnam during the war.
Hanoi launches 51st UPU letter-writing contest
The 51st edition of the International Letter-Writing Competition for Young People was launched in Hanoi on December 21.
The contest, organised by the Universal Postal Union (UPU), tasks students to "Write a letter to someone influential explaining why and how they should take action on the climate crisis".
It is open to all Vietnamese children under 15. Each contestant is required to submit a handwritten letter of less than 800 words before March 2, 2022.
Official information can be found on Facebook page of the letter-writing contest in Vietnam, and websites of the Ministry of Information and Communications (www.mic.gov.vn) and Vietnam Post (www.vnpost.vn)./.
Deputy Minister elected as President of Vietnam-Mongolia Friendship Association
Deputy Minister of Agriculture and Rural Development Tran Thanh Nam was elected as President of the Vietnam-Mongolia Friendship Association for the 2021-2026 tenure at a congress on December 21.
Over the past tenure, the association has upheld its role as a bridge for cooperation between Vietnam and Mongolia in economy, trade and culture.
The association aimed to maintain its relations with traditional partners in the new term, while creating conditions for the Mongolian side to get insight into the political, economic and social situation in Vietnam.
NA Standing Committee's sixth session wraps up
The National Assembly Standing Committee wrapped up its sixth session in Hanoi on December 21 after three and a half days of sitting.
The committee adopted its 2022 working programme and foreign affairs programme, and looked into a report on the NA's ombudsman work in November and the monthly settlement of voters' petitions as well as citizens' complaints and denunciations.
They also agreed to add the draft Law on amendments and supplements to several articles of laws into the 2022 law and ordinance building programme, decided to invest in the eastern section of north-south expressway for 2021-2025 using public investment, and offered opinions on the draft Resolution on piloting several special policies and mechanisms for Can Tho city's development, which will be submitted to the legislature at its extraordinary meeting scheduled for January 2022.
Prime Minister offers incense to Gen. Vo Nguyen Giap
Prime Minister Pham Minh Chinh on December 21 led a delegation to offer incense and flowers to Gen. Vo Nguyen Giap in the central province of Quang Binh on the occasion of his 110th birth anniversary.
Paying respect to the eldest brother of the Vietnam People's Army, the legendary General of the Vietnamese nation, and the world famous General, the delegation expressed their gratitude to the late General, who devoted his whole life to the glorious revolutionary cause of the Party and nation.
RoK promotes tourism in Vietnam
The Korea Tourism Organisation in Vietnam (KTO Vietnam) held the Korea MICE Webinar on December 21 to promote outbound tours to the country on December 21, attracting over 500 travel, media agencies and enterprises from Hanoi and other localities.
The KTO Vietnam introduced the latest MICE tours and visa information in the Republic of Korea (RoK), tourism support policies to prepare for the opening of international flights as well as Korean tourism promotion activities in Vietnam.
Apart from souvenirs, Vietnamese visitors to the RoK in large groups on package tours will receive financial assistance amounting to nearly 1 million VND each.
Vietnam sees 16,325 COVID-19 infections on December 21
Vietnam confirmed 16,325 COVID-19 infections on December 21, including nine imported and 16,316 domestic cases across 62 provinces and cities, according to the Ministry of Health.
The capital city of Hanoi posted the highest number of transmissions at 1,704, the sixth time it has hit at least 1,000 cases in eight days, followed by Ca Mau with 1,590, Tay Ninh at 967, and HCM City at 813.
There are currently 7,740 patients nationwide in serious condition with the virus, including 874 requiring invasive ventilation and 19 on life support.
As of December 20, a total of 140,438,803 doses of COVID-19 vaccines had been administered, with nearly 63 million people now fully inoculated, while more than 1.36 million people have received a third shot.
Spring flower festival, markets to be held in HCM City
During the 2022 Lunar New Year (Tet), Ho Chi Minh City will organize a Spring Flower Festival and 6 Tet flower markets to meet the shopping and entertainment needs of local people.
According to Ho Chi Minh City People's Committee, the Spring Flower Festival will take place from January 27 to February 6, 2022 at Tao Dan Park.
At the festival, as many as 3,000 artifacts will be shown, such as ornamental stones, bonsai, plumeria flowers, temperate flowers, and orchids.
Meanwhile, Tet flower market will be held at 6 locations across the city from January 25 – 31, 2022, including Gia Dinh Park, Phu My Hung Flower Street, and Le Van Tam Park.
Two Chinese nationals imprisoned for organising illegal stay for foreigners in Vietnam
The People's Court of Hanoi on December 21 sentenced two Chinese nationals, Guo Long and Chi Jun Hua, to eight years and six months, and seven years in prison, respectively, for organising illegal stay in Vienam for foreigners, under Clause 3 of Article 348 in the 2015 Penal Code.
According to the indictment, on May 2, 46 Chinese nationals were detected living illegally in the Florence apartment building in Nam Tu Liem district (Hanoi).
The investigation agency found that Guo and Chi entered Vietnam unlawfully in March. They then were hired by another Chinese to arrange accommodations for Chinese nationals, who were brought into Vietnam illegally. The agency found that the couple had arranged accommodations in Vietnam for a total of 27 Chinese people.
Activities mark 110th birth anniversary of General Vo Nguyen Giap
Many activities have been held in different localities to commemorate late General Vo Nguyen Giap on the occasion of his 110th birth anniversary (August 25, 1911 – 2021) and the 77th founding anniversary of the Vietnam People's Army (December 22, 1944 – 2021).
The northwestern province of Dien Bien held a ceremony on December 21 to position a bust of the brilliant military strategist, who was also called the "Eldest Brother" of the Vietnam People's Army, at the relic site of the headquarters of the 1954 Dien Bien Phu Campaign. This campaign was commanded by General Giap and put an end to the French colonial rule in Vietnam and Indochina as a whole.
Also on December 21, a poem and photo exhibition opened at the Vietnamese Women's Museum in Hanoi to provide visitors an insight into the historic Dien Bien Phu victory, the daily life of General Giap, and people's sentiment for him.
The same day, the Central Committee of the Ho Chi Minh Communist Youth Union inaugurated a commemorative site dedicated to Youth Volunteer Company C283 in Thanh Trach commune of Bo Trach district, the central province of Quang Binh – the hometown of General Giap.
Photo contest on conservation, sustainable use of wetlands calls for entries
A photo contest highlighting the importance of conserving and sustainably using Vietnamese wetlands was launched on December 21 by the centre for environment and resources communications under the Ministry of Natural Resources and Environment and the Vietnam Association of Photographic Artists (VAPA).
Entries can be sent to the organisers from now until May 31, 2022. The awards ceremony is expected to be held in July 2022. Information on the contest is available at https://tainguyenmoitruong.gov.vn and http://vapa.org.vn/vapa/
Painting exhibition spreads positive energy
Collector Thúy Anh has introduced a collection of paintings at an exhibition held recently in Hanoi. Her collection encourages a spirit of optimism and a love of beauty and creates new hope and aspirations in life.
Most of the 38 paintings on display were collected by Thuy Anh during the COVID-19 pandemic. In this most difficult and challenging period, painters had more time to spend on their art.
Revealing an admiration for artists' creativity, Thuy Anh hopes to spread the positive value of works of art among the public.
Vietnamese Film Week to debut in Middle East
A Vietnamese Film Week will be introduced for the first time at World Expo 2020 Dubai in the United Arab Emirates (UAE) from December 30 to January 5, 2022, according to the Ministry of Culture, Sports and Tourism.
The films to be shown include Bo Gia (Dad, I'm sorry), Hai Phuong (Furie), Cha Cong Con (Father carries son), Mat Biec (Dreamy Eyes), Cuoc Doi Cua Yen (Yen's life), Co Ba Sai Gon (The Tailor), and Hoa Vang Tren Co Xanh (Yellow Flowers on the Green Grass)
Vietnamese Film Week will feature diverse activities such as a parade, an art programme, and the screening of a film about the legend of Lac Long Quan (Dragon King) and Au Co (Phoenix Queen) who were believed to be the ancestors of the Vietnamese nation.
Clip on Vietnamese culinary art introduced in the US
The Vietnamese Embassy in the United States hosted a ceremony on December 20 to launch a video clip on the Art of Vietnamese Cuisine.
Participating delegates watch a video clip on Vietnam's culinary art at the ceremony. (Photo: baoquocte.vn).

The video clip was made by the Vietnamese Embassy in support of major Vietnamese restaurants in Washington, Maryland and Virginia.
Vietnamese, German artists hold exhibition on human-machine relationship in HCMC
A duo exhibition introducing the latest works of Vietnamese artist Nguyen Hoang Giang and his German counterpart Gabriel Hensche is taking place at the Goclab art space in Ho Chi Minh City, inviting the audience to engage in a joint dialogue over the relationship between human beings and machines.
Not just seeking an interaction with the audience, "The Ignorant Schoolmaster" exhibition also shares how an art project has grown and been completed via digital technologies during the pandemic, with artists and organizers all located at different places and countries.
The project is co-organized by GocCreation and RECONNECT, a program initiated by Goethe Institut Vietnam.
"The Ignorant Schoolmaster" exhibition will run until December 25 at the Toong workspace, 188 Vo Thi Sau Street, District 3, HCM City.
VN contestant crowned Miss Eco Teen International 2021
Vietnamese representative Vu Huyen Dieu, alias Bella Vu, beat over 60 global contestants to bring home the Miss Eco Teen International 2021 title at the grand finale of the pageant held in Egypt on December 21.
The first runner-up went to a contestant from the Philippines, while the second, third, and fourth runners-up titles went to contestants from the United States, Belgium, and Egypt, respectively.
Miss Eco Teen International is an international beauty contest that aims to empower youth, create greater self-awareness, and make an impact, through the theme of protecting the environment.
The event brings together teens from all over the world, with a primary goal of selecting the next Teen Queen to represent teenagers worldwide, while also promoting environmental responsibility.
Ninh Thuan Province to welcome domestic tourists
Tourists arriving in Ninh Thuận Province must be fully vaccinated within the last 12 months, or be fully recovered from a COVID-19 infection, or have a negative test certificate for COVID-19.
Hotels and travel services must strictly comply with regulations on the prevention and control of the COVID-19 pandemic.
From now until the end of the first quarter of 2022, the province will allow a small number of tourism business establishments that meet all safety conditions to welcome domestic tourists from provinces and cities that have controlled COVID.
In the second quarter of 2022, the province will welcome all domestic tourists and pilot an international tourist welcoming programme.
From the beginning of the third quarter of 2022, the province will organise tourism activities in the "new normal" state.
Firm fined for controversial Hanoi metro advert
A company has been fined VND137 million (USD5,956) for an advertisement featuring shirtless men on Hanoi's newly-run Cat Linh-Ha Dong metro route.
The models were photoed on a Cat Linh-Ha Dong train. The photo has been widely shared on social networks. The photo has then received strong criticism from the public.
According to a representative from the Hanoi Metro Company, the men got on the train at a station on Belt Road 3 in Santa Claus costumes. But just a short time later, they took off their shirts and carried advertising boards in the photoshoot. The company in Hanoi's Dong Da District specialises in selling mattresses, blankets and pillows.
An electronics store in Hanoi was previously fined VND40 million for using young women in bikinis to welcome visitors and introduce air-conditioning products.
Memorial for young war dead built in Quang Binh
A monument to commemorate young people who died during the American War has just been built in the central province of Quang Binh.
The inauguration ceremony of the monument was held on December 21 in Bo Trach District on the occasion of the 110th birthday of General Vo Nguyen Giap.
The project, which has an investment of VND 27 billion, includes a temple, a monument, a lake, a yard and a garden.
Da Lat tourist numbers rise
Visitors to Da Lat City in the Central Highlands province of Lam Dong has been on a sharp rise after reopening.
Last weekend, Da Lat faced a surge in visitors with the majority from HCM City and southeastern localities. Covid-19 check-points at Chuoi Pass in Da Huoai District witnessed traffic congestion.
Since the beginning of December, most of Da Lat's tourism activities have resumed, except for night markets. Tourism services providers are also offering attractive discounts to lure travellers.
More visitors would come to Da Lat for Christmas and New Year as the city will organise Da Lat Cherry Blossom Festival.
Exhibition displays Hanoi's bamboo and rattan handicraft products
An exhibition opened in Hanoi on December 21, introducing visitors to bamboo and rattan handicraft products as well as products which have qualified for the One Commune One Product (OCOP) programme in the capital city.
The 110 bamboo and rattan handicraft products on display were made by the skilful hands of 16 outstanding artisans in the city's handicraft sector. Visitors to the exhibition can learn about the history and production process of the bamboo and rattan crafts.
Vietnam International Fashion Week 2021 kicks off
Famous local designer Adrian Anh Tuan opened Vietnam International Fashion Week 2021 (VAIFW) by showcasing his latest collection known as 'Cham' (Touching) on December 21.
As a new collection, 'Cham' features 45 designs which make use of materials such as wool, felt, fleece with warm tones such as gray, black, white, and bronze.
The highlight of the designs is the motifs that draw inspiration from image of terraced fields in northern Vietnamese provinces, bringing a warm atmosphere in winter.
The occasion is being held from December 21 to December 23 and involves the participation of 13 domestic and international designers and fashion brands.
HCMC hands over sponsorship to 682 children orphaned by Covid-19
The Ho Chi Minh City Women's Union, Association of Young Vietnamese Entrepreneurs and other units yesterday held a ceremony to sign and hand over the sponsorship with total financial support of VND100 billion (nearly US$4.36 million) to 682 children orphaned by Covid-19 until they reach 18 years of age.
Source: VNA/SGGP/SGT/VOV/VNS/VGP/Dtinews
VN martial artist wins gold medal at 2021 Asian Karate Championships