HCM City proposes changes to planned urban area in its north-west
The project in Củ Chi and Hóc Môn districts was approved in 1998 with a total area of 6,084ha and a proposed population of 300,000 by 2025. The city wants them to be revised to 4,410ha and 600,000 residents.
It wants the area earmarked for university education to be halved to 150ha though with the same training scale as in the approved plan by using technology for the training.
The Northwest Urban Area is on the trans-Asia axis connecting the city and Tây Ninh Province with Cambodia via the planned HCM City- Mộc bài Expressway.
It is situated near ring roads No 3 and 4 that link fast-growing and dynamic localities such as Tây Ninh, Đồng Nai, Bình Dương, and Long An provinces. It is meant to turn into a satellite town on the city's north-western gateway, driving economic growth in neighbouring areas. Slow compensation payment to existing residents has delayed the project for years.
Typhoon Rai changes direction, gradually weakens
Typhoon Rai, the ninth storm to hit Vietnam in the East Sea, was about 200km to the east-northeast of Ly Son island of the central coastal province of Quang Ngai at 4am on December 20, with gust near the eye of the storm reaching 200 km per hour, according to the National Centre for Hydro-meteorological Forecasting.
The typhoon is forecast to change direction to move north-northeast at a speed of 15-20km per hour on early December 21. By 4am December 22, Rai will move east-northeast at 10-15km per hour, and then weaken into a tropical depression and late a low pressure zone.
As the typhoon approached, strong wind and torrential rains were expected in the central region, with high-level warnings issued for flooding.
PM demands stronger anti-pandemic actions in face of Omicron
The Prime Minister has requested all ministries, sectors, and localities to ramp up efforts against COVID-19 in the face of the new variant Omicron.
According to the PM's official dispatch issued on December 19, the COVID-19 pandemic remains highly unpredictable around the world amid the emergence of Omicron, which has been found to spread much faster than the Delta variant.
Though Vietnam hasn't seen any Omicron cases, the numbers of infections, patients in critical condition, and related deaths have still been on the rise, and the healthcare systems in some localities have become overloaded, it said.
All ministries, sectors, and provincial-level People's Committees have to step up the application of COVID-19 prevention and control measures, boost examination, and strictly deal with those who violate anti-pandemic rules.
HCMC: People to get 3-day holiday for New Year 2022
According to the announcement of the People's Committee of HCMC, officials of political and administrative of State agencies, departments and organizations will enjoy a 3-day holiday for New Year's Day, from January 1-3.
Agencies, departments, organizations and enterprises that do not have regular weekend breaks must arrange work based on their plans during the holidays to ensure the fulfillment of their tasks and serve the people.
Healthcare workers and other forces on the frontlines of the fight against Covid-19 are required to to continue to be at work.
Plastic and Health Action Partnership launched
The Institute of Strategy and Policy on Natural Resources and Environment (ISPONRE) co-ordinated with the United States Agency for International Development (USAID) on the launch of the "Plastic and Health Action Partnership" (PHA) in Hanoi on Friday.
The PHA is part of progress of the Local Solution for Plastic Pollution (LSPP) sponsored by the USAID and Center for Supporting Green Development (GreenHub), co-operating with three other partners.
PHA has mobilised 18 organisations in Việt Nam. They are partners from international organisations, Government, NGOs, research institutes and universities.
In the future, PHA will support departments and localities all over the country to carry out policy advocacy activities related to plastic and health; build and contribute to a datacentre; boost communication activities; raise awareness on the relationship between plastic and health; and deploy pilot models to reduce plastic pollution across the country.
Students in Hanoi's orange zones return to online learning from Dec. 20
Students in areas with high pandemic risks, or "orange zones", will suspend direct learning and return to online learning from December 20, according to a proposal of the municipal Department of Education and Training.
The move aims to ensure health safety for teachers and students amid the rising COVID-19 case number in the capital city.
Under Notice 844/TB-UBND dated December 17 of the municipal People's Committee, 2 districts and 25 communes in the city are now facing third-level pandemic risk, corresponding to orange zone. The two districts are Hai Ba Trung and Dong Da.
Earlier, ninth graders in outlying Ba Vi district resumed direct learning from November 8, while ninth graders in 18 districts and towns returned to school from November 22, followed by 12th graders in 30 districts and towns since December 6.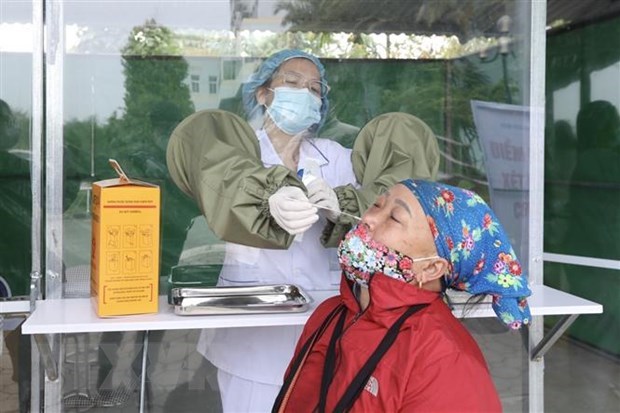 Taking sample for COVID-19 testing.
Vietnamese war martyrs commemorated in Cambodian provinces
Vietnamese Consul General in Cambodia's Preah Sihanouk province Vu Ngoc Ly led a Vietnamese delegation to Kep and Kampot provinces to lay flowers at the Vietnam-Cambodia Friendship Monuments in the two localities to commemorate Vietnamese martyrs who died in battle in the neighbouring country.
The delegation comprised representatives from the Khmer-Vietnam Association in the province and a number of Vietnamese war veterans residing in Kep and Kampot.
On the occasion of the 77th founding anniversary of the Vietnam People's Army (December 22), the Vietnamese Embassy in Phnom Penh, the Vietnamese Consulate General in Battambang and Cambodians of Vietnamese origin in many Cambodian localities also organised activities to pay tribute to Vietnamese heroic martyrs.
President presents Labour Order to int'l Olympiad winners
President Nguyen Xuan Phuc commended and presented the Labour Order to high school students who won international Olympiad competitions and science and technology prizes at a ceremony on in Hanoi on December 18.
At the event, the President awarded six second-class and 11 third-class Labour Orders to 17 high school students for their outstanding achievements in international Olympiads in 2021.
In 2021, all seven teams of Vietnamese students participating in international Olympiad competitions won prizes, bringing home 12 gold medals, 13 silvers, 10 bronzes, and two consolation prizes.
Vietnam continues to be in the top 10 countries with the highest results at international Olympiads.
At the 2021 International Science and Engineering Fair (ISEF), Vietnam participated virtually for the first time with 7 projects, winning three special prizes and one third prize.
Hanoi aims to become creative capital in Southeast Asia
Hanoi has taken its first steps to realize its goal of becoming a creative capital in Southeast Asia since it became an official member of the UNESCO's Network of Creative Cities two years ago.
Although the city is yet to have a mechanism to promote creative activities and the transformation of cultural resources, many organizations, units and individuals have actively invested in and implemented creative activities in the capital.
Van Mieu-Quoc Tu Giam (Temple of Literature Complex), is one of the most popular relics and tourist destinations in Hanoi and the country at large, attracting millions of visitors every year. The management board of the complex has coordinated with other agencies to create many cultural activities and products.
The Ho Van (Literature Lake), a part of the Van Mieu-Quoc Tu Giam, which was previously just a place for people to exercise, has been turned into a space for cultural activities and display of cultural products, such as calligraphy activities.
Additionally, seminars and exhibitions on culture have been organised on the inner area of the complex. Night tours to the complex have been developed with the hope of attracting more visitors.
Conference connects tourism safely between Hanoi and other localities
A conference was held in Hanoi on December 17 to connect tourism between Hanoi and other localities under the theme "Establishing safe tourism corridor in Hanoi and localities".
Within the framework of the conference, a signing ceremony of cooperation in safe tourism development took place between the state management agencies in charge of tourism in the new normal state of 12 provinces and cities: Hanoi, Hai Phong, Quang Ninh, Ninh Binh, Thanh Hoa, Nghe An, Hoa Binh, Son La, Dien Bien, Lai Chau, Lao Cai, and Ha Giang.
Activities mark anniversary of Vietnam People's Army in Cambodia
A delegation led by Vietnamese Ambassador to Cambodia Nguyen Huy Tang offered incense at the Vietnam – Cambodia Friendship Monument in Phnom Penh on December 17, on the occasion of the 77th anniversary of Vietnam People's Army (December 22) and the 32nd anniversary of All-People Defence Festival (December 22).
In the morning the same day, a delegation of the Royal Cambodian Army led by Secretary of State of the Defence Ministry Gen. Chieng Am laid a wreath at the Vietnam Friendship Monument.
Earlier on December 9, the Royal Cambodian Army, the United Front for National Salvation and authorities of Svay Rieng province held a ceremony to start construction of the Vietnam – Cambodia Friendship Monument in the province.
On the occasion, the Vietnamese Consulate Generals in Preah Sihanouk and Battambang provinces also organised ceremonies to commemorate Vietnamese fallen martyrs.
Vocational training sector catches up with digital transformation trend
The reform of vocational training in association with digital transformation and information technology application has been defined as an important solution to provide high quality human resources for the labour market and optimise opportunities brought by the Fourth Industrial Revolution, according to insiders.
One of the major contents of digital transformation in vocational training is conducting training activities in a digital environment, which helps improve the efficiency of management and expand training methods as well as people's access to vocational training through the renovation of contents and measures of teaching, learning, examining and evaluating.
According to the Vocational Training Sub-Committee under the National Council for Education and Human Resources Development, so far, many vocational training facilities across the country have begun to apply IT and digital training equipment and documents into teaching activities, while many have digitalised their teaching documents, and some others have collaborated with organisations outside to put into use digital libraries.
National statistical development strategy approved
Deputy Prime Minister Le Van Thanh has recently signed a decision approving the National Statistical Development Strategy for the 2021-2030 period, with a vision to 2045.
The strategy focuses on modernizing the statistics sector in the direction of innovation, rapid and solid development with proper organizational structure; providing and popularizing statistical information in line with international standards and practices; and forming a quality national concentrated statistical information system.
Under the strategy, priority will be given to developing a national statistical information system serving management and administration requirements of all sectors, thus meeting the maximum demand for statistical information and step by step providing micro-statistical data.
Attention will also paid to promoting communication work, diversifying communication forms in order to raise public awareness of the role and importance of statistics.
Tennis star Nam sets sights on defending SEA Games title after ITF victories
The achievement of three international wins within two months is promising for tennis player Lý Hoàng Nam, who is hoping to defend his title at the coming Southeast Asian (SEA) Games.
The Vietnamese won two titles at the International Tennis Federation's M15 Cancun events in Mexico two weeks ago. Earlier, he was champion at the M15 Sharm El Sheikh in Egypt in October.
To date, Nam has earned five single ITFs' titles in his career, which has pushed him to 576th position in the world. It is not his highest ranking but a jump of nearly 400 places was remarkable after nearly two years without international competition because of the COVID-19 pandemic.
HCM City bans vehicles from Thu Thiem Tunnel for construction audit
HCM City's Thủ Thiêm Tunnel between District 1 and Thủ Đức City will be closed on the nights of December 19 and 20 for a construction audit and maintenance.
According to the Centre for Urban Transport Management of HCM City, the work, aimed at ensuring safety, will be carried out between 11pm and 4am on the two days.
People traveling from Thủ Đức City to District 1 have to travel on Mai Chí Thọ, Nguyễn Cơ Thạch, Thủ Thiêm Bridge, Nguyễn Hữu Cảnh, Tôn Đức Thắng to reach Võ Văn Kiệt or take Lê Duẩn and Nam Kỳ Khởi Nghĩa to reach it.
In the opposite direction, they can go from Võ Văn Kiệt through Trần Hưng Đạo, Nguyễn Thái Học, Lý Tự Trọng, Nguyễn Hữu Cảnh, and Thủ Thiêm Bridge to Mai Chí Thọ or through Calmette Bridge to District 4 and Hoàng Diệu, Nguyễn Tất Thành and Tôn Đức Thắng to reach Nguyễn Hữu Cảnh and Thủ Thiêm Bridge.
Districts in Hanoi ban in-person dining as cases rise
The People's Committee of Hà Nội's Hai Bà Trưng District has ordered the temporary halt to on-site dining at restaurants, outdoor exercise, and in-person study, from 12pm of December 19.
The move was made after the district's pandemic risk level was raised to Level 3 – high risk. Hai Bà Trưng is the second district of Hà Nội to apply stricter social distancing measures after Đống Đa.
Meanwhile, authorities in Hoàn Kiếm District have also ordered a temporary halt to on-site food and drink services in several wards, in light of the pandemic developments around the city.
According to the leader of Hoàn Kiếm District People's Committee, only food and drink takeaway services will be allowed in Cửa Đông, Đồng Xuân, Hàng Bạc, Hàng Đào and Hàng Gai wards from mid-day December 19.
Mother language training course for overseas Vietnamese teachers wraps up
A virtual Vietnamese language training course for Vietnamese teachers in Europe and North America concluded at a ceremony held by the Commission for Overseas Vietnamese Affairs (COVA) under the Ministry of Foreign Affairs in Hanoi on December 19.
The course formed part of a Vietnamese language training programme for Vietnamese teachers abroad, co-organised by the COVA and the Ministry of Education and Training from October 9 to December 17.
Apart from the course for Vietnamese teachers in Europe and North America, there was another for those in Asia and Australia.
The programme featured two seminars where delegates shared views on measures to remove difficulties to improve the quality of Vietnamese language teaching abroad.
Hoi An to hold many activities to mark New Year
Hoi An City in the central province of Quang Nam will conduct many activities to welcome the coming New Year.
In early November Hoi An launched a lantern-making competition. This was among the activities of the Hoi An Lantern Festival scheduled to take place from December 24 to February 15. The festival will feature artistic arrangements of lanterns, and lantern decorations on streets and at tourist destinations to honour the town's traditional craft.
Art performances will be held at the opening ceremony of Hoi An Lantern Festival slated at 7 pm on December 24.
Between December 24 and January 2, traditional handicraft and recycled product stalls will be displayed on Nguyen Phuc Chu Street. Activities to mark Christmas and the New Year will be held at Tan Thanh fishing village. A painting and calligraphy exhibition will also be held in the city.
On the evening of December 31, the Hoi An Gala Dinner – New Year's Eve 2022 will be organised.
At Ong Voi Temple on the morning of January 1, 2022, the city will hold a ceremony to welcome the first delegation of visitors.
Following a hiatus due to the Covid-19 pandemic, the Hoi An Land of Memories show will reopen to tourists at weekends starting from December 18, with performances featuring more than 20 cultural mini-shows.
High surf pummels shoreline along Binh Dinh, Phu Yen
Through Sunday morning and afternoon, powerful storm Rai bringing rains, hurricane-force wind and big waves of three to five meters has crashed on the shoreline of Binh Dinh and Phu Yen provinces.
According to the Binh Dinh Province Steering Committee for Disaster Prevention and Control and Search and Rescue, at Sunday noon, the system was about 200 kilometers far from Binh Dinh and Phu Yen coasts with a gusty wind of up to level 17.
From last night through Sunday noon, more big waves, thundery rains and high tide battered the area of coastal villages, causing capsizing and damaging fish farming cages.
It is forecast that the storm will continue to trigger torrential rainfall of up to over 150 mm along with the risk of hazardous conditions such as flash flood, landslides and flooding in low-lying and riverside areas.
HCMC announces procedures for handling of Covid-19 affected students
The Department of Training and Education of HCMC on December 17 has announced procedures for handling of students who are infected with Covid-19 (also called F0) and those had close contact with Covid-19 patient (also known as F1) after they returned to school on December 13.
Under the guidance, after students are found infected with the virus at school, all F1 cases have to be tested for Covid-19. The in-person learning will be allowed to be continued if they receive negative Covid-19 tests.
If students have been found to carry the virus at home, all students who are F1 cases must go to school for Covid-19 test.
The Department of Training and Education noted that each class has separate breaktimes and separate areas. School staff members who are at risk of coronavirus infection need to get tested for the virus regularly.
Latest regulations for air passengers entering Viet Nam, applicable from next month
People entering Viet Nam from January 1, 2022 shall be required to self-isolate at place of residence for three days if they meet certain condition specified by the Ministry of Health.
The above policy is applicable to those who are fully vaccinated or have recovered from COVID-19, and have proof of negative COVID-19 PCR test results. These people shall be required not to leave their place of residence during the self-isolation period.
Vietnamese nationals or Vietnamese residing abroad and their spouses and children who are partially vaccinated or unvaccinated shall be required to isolate themselves at home or places of residence for seven days. They could receive free-of-charge COVID-19 vaccines during the isolation period upon their request.
Entrants shall be required to install and use the app PC-COVID to declare and monitor their health as currently regulated. For those who enter Viet Nam for diplomatic and official purposes, they are encouraged to use this app.
In case of experiencing symptoms of fever, cough, breathing difficulty, and sore throat, they should immediately report to local health authorities for help.
Laos to reopen borders to tourists from Viet Nam
Laos plans to reopen borders to tourists from 17 countries, including Viet Nam, starting from January next year.
Other countries include China, Cambodia, Thailand, Malaysia, Singapore, the Republic of Korea, Japan, France, Germany, the Netherlands, Spain, Italy, the United States, Canada and Australia.
This is part of the Lao Government's phased plan on resumption of international tourism adopted Friday, with the first phase to be implemented from January 1 to March 31.
Foreign tourists shall be required to book combo tours to green zones through a travel company licensed by the Lao Government, have proof of COVID-19 vaccination and negative test result.
Laos reported additional 1,702 new COVID-19 cases over the last 24 hours, taking the national caseload to 96,256, including 266 fatalities.
Source: VNA/VOV/VNS/SGGP/SGT/VGP
High school student dies after receiving COVID-19 vaccine shot