Vietnam, FAO sign new Cooperation Program Framework
Viet Nam and the UN Food and Agriculture Organization (FAO) inked a Cooperation Program Framework for 2022-2026 period, which reflects their strong commitment in boosting sustainable rural and agriculture development in the country.
The agreement to this effect was signed by Minister of Agriculture and Rural Development Le Minh Hoan and FAO Representative to Viet Nam Rémi Nono Womdim in Ha Noi on December 16.
The UNDP will coordinate with Viet Nam in greening dragon fruit production and shrimp chains in the Mekong Delta province of Bac Lieu, which not only helps improve livelihood for local people but also reduces greenhouse gas emissions via using smart tools, said UNDP Resident Representative in Vietnam Caitlin Wiesen.
AFF Cup 2020: Thanh Chung named as Most Energetic Player
Vietnamese midfielder Nguyen Thanh Chung has been selected as the Most Energetic Player for his outstanding performance in the match against Indonesia played on December 15 at the ongoing AFF Cup 2020 in Singapore.
According to the organising board of the AFF Cup 2020, Thanh Chung was constantly involved in the action and made the most passes on the pitch.
The Hanoi FC player has been rated as one of the top attacking midfielders in Vietnam. In the V.League 1, he was usually chosen as a striker by former head coach Chu Dinh Nghiem. However, at the AFF Cup 2020 Thanh Chung has played in three matches, making 148 accurate passes in 148 minutes, with an accuracy rate of 84.6%.
Major bridges in Quang Ninh completed at year-end
The construction of three major bridges in the coastal province of Quang Ninh has been completed, facilitating tourism and economic development .
They are the Vân Tiên Bridge which connects the two Vân Đồn and Tiên Yên districts, the Ka Long 2 Bridge which connects the east and west side of Móng Cái City, and the Cửa Lục 1 Bridge in Hạ Long City.
Vân Tiên is the longest bridge in the province and the biggest among 32 bridges on the Vân Đồn-Móng Cái Expressway. It was completed after 11 months of construction. Ka Long 2 is the last bridge on this expressway. It was finished on December 1. Cửa Lục 1 was completed after 20 months of construction at the cost of more than VNĐ2 trillion (US$76.7 million), which was taken from the province's budget.
Provinces tighten control along border after Cambodia records first Omicron variant case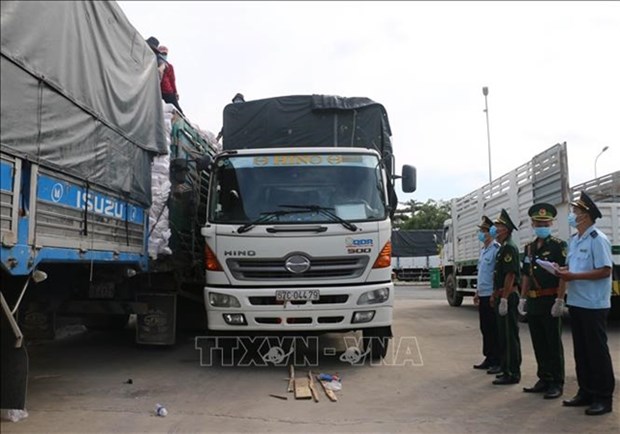 Customs officers in An Giang province have increased inspections of import and export activities and transport of goods at the border. (Photo: VNA)
Colonel Doan Van An, who is Political Commissar of the Border Guard Command in Long An Province, said that the province is tightening pandemic control along its 133km-long border with Cambodia.
Pham Thien Nghia, Chairman of the People's Committee of Dong Thap province, said local forces have increased patrols along the 50km-long border with Cambodia.
Le Van Phuoc, Vice Chairman of the People's Committee of An Giang province, said pandemic control and prevention measures have been strengthened at the border. Local border guards in collaboration with the police and military forces are providing stricter control and management at border areas, roads, trails and openings.
Ha Van Phuc, Director of Kien Giang province's Department of Health, said the province has tightened control and the tracing of people at entry sites to prevent the spread of the coronavirus across the border.
Coastal localities told to urgently deploy measures to prepare for typhoon Rai
All coastal localities and ministries have been told to urgently deploy measures to prepare for the arrival of typhoon Rai, which is currently in the East Sea with wind speeds of 150-165km per hour near the eye of the storm.
The National Steering Committee for Natural Disaster Prevention and Control directed localities and ministries to prepare for the typhoon amid the COVID-19 pandemic in its official dispatch issued on December 16.
Data from the National Centre for Hydro-meteorological Forecasting predicts that the typhoon will enter the East Sea on December 18. By 7am on December 18, the typhoon will be about 270km south-east of Song Tu Tay Island, belonging to Truong Sa (Spratly) Archipelago, with wind speeds near the eye reaching 135-150km per hour. It was moving west-northwest at around 25-30km per hour, the centre said.
2021 Vietnam-Japan Environment Week launched
The second Vietnam-Japan Environment Week was kicked off on December 16 aimed at creating opportunities for enterprises of Vietnam and Japan to exchange activities related to the environment and how to respond to climate change.
The event, held virtually, was co-hosted by the Ministry of Natural Resources and Environment and the Japanese Ministry of Environment.
On the occasion, the two sides witnessed a breaking ground ceremony to mark the beginning of the construction of a waste incineration plant project in the northern province of Bac Ninh province.
Vietnam supports enhanced cooperation between UNSC, AUPSC
Ambassador Pham Hai Anh, Chargé d'Affaires a.i. of Vietnam to the United Nations (UN), has affirmed Vietnam's backing for efforts to boost effective cooperation between the UN Security Council (UNSC) and the African Union Peace and Security Council (AUPSC), with the focus placed on addressing such issues as terrorism, climate change, bombs and mines, and women, peace and security.
Addressing an annual joint meeting between the UNSC and AUPSC on December 16, Anh emphasised the need to promote their participation in and cooperation with sub-regional organisations in Africa in relevant issues during UNSC discussions and field trips.
He also appreciated the roles and contributions of African countries as members of the UNSC and supported their continued leading roles in promoting collaboration between the UNSC and AUPSC.
HCM City commends religious dignitaries, followers joining in COVID-19 fight
A ceremony was held in Ho Chi Minh City on December 16 to honour religious dignitaries and followers who made contributions to the city's COVID-19 fight.
To Thi Bich Chau, Chairwoman of the Vietnam Fatherland Front Committee of HCM City, highly valued efforts of religious followers who volunteered to offer support and take care of COVID-19 patients at local hospitals. She believed that with the solidarity and the spirit of 'the haves helping the have-nots', HCM City will surmount difficulties and resume all activities in the time to come.
From July 22 to October 21, in response to a call of local authorities, 679 religious dignitaries and followers voluntarily worked at nine COVID-19 treatment hospitals in HCM City.
Book on President Ho Chi Minh's national salvation journey published
A nearly 1,000-page book has been published featuring the journey seeking ways for national salvation of President Ho Chi Minh, known in those days as Nguyen Tat Thanh, said Dr. Vu Manh Ha, Director of the Ho Chi Minh Museum, on December 16.
The Ho Chi Minh Museum, the Truth National Political Publishing House, the Management Board of the Ho Chi Minh Mausoleum and the HCM City Department of Culture and Sports coordinated in the compilation and publishing.
With four main parts, the book comprises 110 speeches that were presented by experts and scholars from Hanoi, HCM City and many other cities and provinces at a symposium on the late President's journey.
Vietnamese scientist in Australia honoured with science-technology prize
Dr. Nguyen Trong Hieu, born in 1988, a senior lecturer in the solar cell major at the Australia National University (ANU), has been honoured with a science-technology prize in the field of new material technology presented by the Ho Chi Minh Communist Youth Union Central Committee and the Vietnamese Ministry of Science and Technology.
Early this year, the Australia Renewable Energy Agency granted 1 million AUD (750,000 USD) for the project on new-generation solar cell development conducted by Hieu's research team.
Since 2016, his team has received a total of 6.4 million USD in sponsorship for their research./.
Health Ministry, localities must be held accountable for vaccine rollout: PM
Prime Minister Pham Minh Chinh on December 16 emphasised the responsibility of the Ministry of Health and localities in the COVID-19 vaccine rollout.
If there is a shortage of vaccines, the Ministry of Health must bear the responsibility, while leaders of localities must be held accountable for achieving vaccination targets, said PM Chinh, who is also head of the National Steering Committee for COVID-19 Prevention and Control, at an online meeting with representatives from 63 cities and provinces.
He reiterated the target of completing the inoculation of the second dose for people who are 18 years and older by December 31, 2021, and for those aged from 12 to 18 years by the end of January 2022.
Regarding the inoculation for children above five years old, PM Chinh said it needs more consultancy from competent agencies.
Vietnamese, Russian parties beef up cooperation
Vice Chairman of the Communist Party of the Russian Federation (KPRF) Leonid Kalashnikov has met with Politburo member and permanent member of the Communist Party of Vietnam (CPV) Central Committee's Secretariat Vo Van Thuong as part of the Russian official's visit to Vietnam.
Kalashnikov and his entourage also paid courtesy visits to Tran Tuan Anh, Politburo member and Chairman of the CPV Central Committee's Economic Commission; Dinh Tien Dung, Politburo member and Secretary of the Hanoi Party Committee; and Vice Chairman of the National Assembly Nguyen Khac Dinh, who is also President of the Vietnam-Russia Friendship Parliamentarians Group.
He held talks with Le Hoai Trung, member of the CPV Central Committee and Chairman of the CPV Central Committee's Commission for External Relations, and held working sessions with a number of Vietnamese competent agencies.
Vietnamese, Lao Parties hold eighth theoretical workshop via videoconference
The eighth theoretical workshop between the Communist Party of Vietnam (CPV) and the Lao People's Revolutionary Party (LPRP) took place via videoconference on December 16.
The CPV delegation to the workshop was led by Chairman of the Party Central Committee's Theoretical Council and President of the Ho Chi Minh National Academy of Politics (HCMA) Nguyen Xuan Thang; while the LPRP delegation was headed by Chairman of the LPRP Central Committee's Theoretical Council and head of the Party Central Committee's Commission for Propaganda and Training Khamphanh Pheuyavong.
Vietnamese and Lao scientists discussed new theoretical and practical issues introduced by the two Parties' documents on the building and rectification of the Parties and the political systems; development of the socialist-oriented market economy, culture, national defence, security and external affairs, and matters of mutual concern. The Parties' Theoretical Councils inked a cooperation agreement for the 2022-26 at the event.
Vietnam reports 15,270 new cases of COVID-19 on Dec. 16
The three localities with the highest numbers of transmissions were the southernmost province of Ca Mau with 1,339, Ho Chi Minh City with 1,175, and Tay Ninh province with 932.
The new infections bring Vietnam's COVID-19 tally since the beginning of the pandemic to 1,493,237, including 1,487,788 in the fourth wave starting late April. The capital city of Hanoi recorded 423 new cases. Three of the new infections were imported, with 9,888 cases detected in the community.
Health authorities also announced 241 COVID-19 related deaths, raising the nation's death toll since the pandemic started last year to 28,857.
A total of 1,033 patients recovered on December 16, pushing the total number of recoveries to 1,064,461. Over 59 million people have been fully vaccinated in the country so far.
Party chief chairs third meeting of Central Military Commission
The Central Military Commission in the 2020-2025 tenure convened its third meeting in Hanoi on December 16 under the chair of Party General Secretary Nguyen Phu Trong, who is also Secretary of the Commission.
The meeting looked into a report on military and national defence affairs in 2021, and put forth leadership orientations to implement military, national defence and Party building tasks in 2022.
For orientations to fulfill tasks in 2022, the Commission determined to focus its leadership and instructions on the implementation of the Resolutions adopted at the 11th Congress of the Army's Party Organisation and the 13th National Party Congress, along with 16 key tasks set for the 2020-2025 term.
Vietnam stresses need to address root causes of instability in Central Africa
Ambassador Pham Hai Anh, Chargé d'Affaires a.i. of Vietnam to the United Nations (UN), has called for efforts to fully address the root causes of instability for long-term peace and stability in Central Africa while attending the UN Security Council's periodical meeting on the region's situation and operations of the UN Regional Office for Central Africa (UNOCA) on December 15.
Anh noted the enormous security and socio-economic challenges faced by the region in the course of pursuing long-term peace and stability. He expressed concern about persistent insecurity due to the activities of armed groups and terrorists, particularly in the Lake Chad Basin, maritime insecurity in the Gulf of Guinea, the reported expansion of Islamic State West Africa Province and unceasing violence in the north-west and south-west of Cameroon.
Vingroup chairman among Asia's top philanthropists
Pham Nhat Vuong, chairman of Vietnam's largest private company Vingroup, has joined Forbes Asia's Heroes of Philanthropy list that highlights 15 altruists in Asia-Pacific who are committed to causes ranging from pandemic relief to climate change and education.
Starting last year, the founder and chairman of Vietnam's biggest conglomerate Vingroup has given over 320 million USD to Vietnam's pandemic relief. His Kind Heart Foundation has 30 programs to help the needy that range from scholarships to disaster relief.
Among the listees is tech entrepreneur Mike Cannon-Brookes, cofounder and co-CEO of software company Atlassian and siblings Ronnie and Gerald Chan, chairman of Hang Lung Group and cofounder of Morningside Group, respectively.
Lai Chau to kick off 3rd Mong Ethnic Culture Festival on December 24
The third Mong Ethnic Culture Festival is scheduled for December 24-26 in the northwestern mountainous province of Lai Chau.
Themed "Preserving and promoting the cultural identity of Mong ethnic minority group – equality, solidarity and development", the festival is expected to see the participation of artisans, actors, artists, and athletes from 12 Mong ethnic group-inhabited provinces of Lai Chau, Lao Cai, Ha Giang, Yen Bai, Tuyen Quang, Cao Bang, Bac Kan, Lang Son, Dien Bien, Dak Lak, Thanh Hoa, and Hoa Binh.
The opening ceremony will take place at the Nhan Dan (People) square in Lai Chau city and be broadcast live on Vietnam Television channel and the television and radio channels of Lai Chau and a number of localities.
Founding anniversary of Vietnam People's Army marked in Venezuela
The embassy and the military attaché agency of Vietnam in Venezuela in conjunction with the Venezuelan Ministry of Defence hosted a meeting on December 14 to mark the 77th founding anniversary of the Vietnam People's Army (December 22, 1944).
Speaking at the ceremony, Vietnamese Defence Attaché in Venezuela Colonel Vu The Trung reviewed President Ho Chi Minh's Directive on the establishment of the Vietnam Propaganda Liberation Army Team on December 22, 1944 in Cao Bang province – the first major unit of the revolutionary armed forces and predecessor of the Vietnam People's Army.
He also recalled glorious victories and brilliant milestones in the struggle for independence and national reunification, including the historic Dien Bien Phu victory in 1954 and the Ho Chi Minh Campaign in 1975.
Vietnam, Colombia share experience in COVID-19 pandemic control
The Vietnamese Embassy in Venezuela and Colombia held a webinar on sharing experience in controlling the COVID-19 pandemic and measures for the economic recovery of Vietnam and Colombia on December 15.
Addressing the event, Vietnamese Chargé d'Affaires Van Cong Thang affirmed that the relationship between Vietnam and Colombia has achieved many achievements in politics, diplomacy, culture and society after 42 years of establishing diplomatic relations.
Given the complicated developments of the COVID-19 pandemic, Vietnam is ready to exchange experience with Colombia in response to pandemic control as well as post-pandemic economic recovery measures, he said.
Vietnam calls for full implementation of South Sudan's Revitalised Peace Agreement
Chargé d'Affaires of Vietnam to the United Nations Ambassador Pham Hai Anh called upon sides involved to fully implement South Sudan's Revitalised Peace Agreement toward elections planned for 2023.
At the UN Security Council (UNSC)'s briefing on South Sudan on December 15, speaking on behalf of Ambassador Dang Dinh Quy, Permanent Representative of Vietnam to the UN and Chair of the UNSC's 2206 South Sudan Sanctions Committee, Anh provided an overview of the committee's 2021 activities.
He reported that the committee has met in‑person three times for informal consultations, and has also met thrice in closed video teleconferences, while organising a field trip to South Sudan to inspect the implementation of the Revitalised Peace Agreement.
2021 National Taekwondo Championships begins in Thua Thien-Hue
More than 250 martial artists gathering in the central province of Thua Thien-Hue for the 2021 National Taekwondo Championships that was kicked off on December 16 evening.
Martial artists attend the opening ceremony in Thua Thien – Hue on December 16 evening.
The tournament is expected to witness fierce competitions as it has attracted fighters from Hanoi, Ho Chi Minh City, Da Nang, An Giang and the army that are strong Taekwondo centres in Vietnam.
Best fighters will be selected for international Taekwondo competitions, including the upcoming 31st Southeast Asian games (SEA Games) which will be hosted by Vietnam. The tournament is scheduled to last till December 20.
Quang Ninh allows people from low-risk areas
People from medium-risk areas can enter Quảng Ninh Province after declaring their health conditions and travel history.
At the Bạch Đằng Bridge COVID-19 checkpoint in Quảng Yên Town, people from Level 2 areas (yellow zone, medium risk) of other cities and provinces were allowed to enter Quảng Ninh without quarantine.
Procedures to enter the province had been simplified. Visitors are no longer required to have a 'stamp of approval' from the authorities to pass the checkpoint.
They only need to have their personal QR codes scanned, which shows their health conditions, and have their travel history checked by the local authorities.
Typhoon Rai entering East Sea, making U-turn
Super typhoon Rai is forecast to make a U-turn when it moves close to central Vietnam.
At 07am on December 17, Rai was sweeping across the central coast of the Philippines, packing winds of 185kph near its eye.
The typhoon is forecast to move west and north-west and lose its strength a bit in the coming hours before entering the East Sea in the evening.
Rai is set to sustain winds of 150kph on its path towards Vietnam's central coast in the next 48 hours and suddenly change its direction toward north and north-west.
The typhoon is likely to go northward, which is an abnormality in its path compared to other storms that hit Vietnam in previous years, Tran Quang Nang, an official of the National Centre for Hydro-Meteorological Forecasting.
In an urgent telegram released on December 16 evening, Prime Minister Pham Minh Chinh requested localities from Quang Ninh to Ca Mau to closely monitor the development of the typhoon and draw up response plans.
Hanoi to treat F0 cases at home to relieve hospital pressure
Hanoi is preparing medical groups to take care of COVID-19 patients at home while applying technology to supervise them for better management.
The average number of COVID-19 cases in the capital city increased to about 750 infections per day this week, compared to about 460 per day last week. The number is forecast to continue increasing.
Managing and supervising F0 cases with slight symptoms at home was being rolled out in 30 districts and towns in Hanoi. Different hospitals in Hanoi reported that they had experienced overcrowding due to rising patient numbers. About 80 per cent of patients with slight symptoms or no symptoms are being treated at mobile medical stations or at home, also putting pressure on the grassroots healthcare system.
Andrology unit opens at Cho Ray Hospital
Cho Ray Hospital in HCM City, the largest healthcare facility in the south, has opened an andrology unit under the Urology Department to handle all problems related to male genital emergencies, and male reproductive and sexual health.
The examination room began receiving patients on Tuesday (December 14), handling all male problems related to sexual and erectile dysfunction and offering treatment for sexually transmitted diseases, genital tumors, and genital reconstruction surgeries.
The unit plans to adopt state-of-the-art techniques in treatment of male infertility, urinary incontinence, and testicular implants. The unit will perform gender-reassignment surgery when the surgical procedures are approved in Vietnam.
HCM City's SGO48 girl band breaks up
The country's 28-member girl band, SGO48 (Sài Gòn 48), a Vietnamese version of the popular Japanese girl band AKB48, has broken up three years after its debut.
The group's performance in HCM City scheduled on December 22 will be their last event, the group's managing company YAG Entertainment said.
SGO48 made its debut in HCM City in 2018. The band is the seventh overseas version of AKB48 in Japan, following the Jakarta-based JKT48, Bangkok's BNK48, Taipei's TPE48, Manila's MNL48 and Mumbai-based MUM48.
SGO48 includes 28 members who received training in vocals, dance and performance skills from music producers, composers and singers invited by YAG Entertainment in co-operation with its partner Yeah1 Group.
Exhibition recalls historic revolution against colonists
An exhibition featuring the Vietnamese people's revolutionary war against French invaders in 1946 to gain independence for the then young Democratic Republic of Việt Nam has opened at the National Museum of Vietnamese History in downtown Hà Nội.
The event, titled 'Việt Bắc – the Capital of Forest Wind', aims to celebrate the National Revolutionary Day on December 19, 1946, when President Hồ Chí Minh launched his call for all people to join in the war against French colonists.
Some 200 images, documents and objects are on display at the exhibition showcasing three remarkable topics. The first topic at the exhibition is Sacrifice for the Nation – Hà Nội Joins the National Revolution.
The exhibition will run at the museum, 25 Tông Đản Street, till the end of May next year. The show is also available at the museum's website: baotanglichsu.vn and fanpage: facebook.com/BTLSQG.VNMH.
Fulbright Vietnamese student program academic year 2023-2024 announced
The US Embassy in Vietnam has announced the Fulbright Vietnamese Student Scholarship Program. This scholarship will cover fees related to tuition, round-trip airfare to the United States, a monthly stipend, and health insurance. Successful candidates will pursue a Master's degree program that begins in the academic year 2023-2024.
To participate in the competition, applicants must apply online at: https://apply.iie.org/ffsp2023/. A complete online application package includes an application form, three letters of reference, diplomas and transcripts (including notarized English translations), TOEFL/IELTS/PTE score reports, and a curriculum vitae. The deadline of application submission is 5:00 p.m, April 15, 2022.
Kazakh movie screened in Vietnam
The Kazakh Film Days in Vietnam 2021 will take place at Le Do cinema (Da Nang) from December 17 to 19, 2021.
The audience will have an opportunity to enjoy the movie 'The Legend of Tomiris', produced in 2019. With a length of 156 minutes, the film tells the story of Queen Tomiris of the Massagatae tribe. Under the queen's command, the Massagetae tribe defeated the Persian king Cyrus the Great – who was known as undefeated.
Next is the movie 'The Old Man', produced in 2012 and inspired by the story "Old Man and the Sea" by writer Ernest Hemingway. Finally, the film 'Kiz Gibek' was produced in 1969. This is a film in the genre of lyrical, folk poetry – epic – legend of Kazakhstan. Movie tickets are distributed free of charge at Le Do cinema.
Over 321,000 AstraZeneca doses donated by UK arrive in Vietnam
More than 320,000 doses of the AstraZeneca vaccine presented by the United Kingdom (UK) arrived at the Noi Bai International Airport in Hanoi on December 15, according to the UK Embassy in Vietnam.
This vaccine batch is part of the UK Government's bilateral support for Vietnam, following the donation of more than 415,000 doses in August. Most of the Covid-19 vaccines presented by the UK to Vietnam are AstraZeneca.
The UK Government had earlier committed to contributing at least 100 million Covid-19 vaccine doses to the world to reduce the vaccine inequality. The vaccines have mainly been presented to developing and low-income nations.
Paintings, photos auctioned to raise funds for children orphaned by Covid
The Association of Vietnamese Students and Professionals in the United States and Unite for Vietnam are putting up a number of photos and paintings on auction to raise funds for Vietnamese children orphaned by the Covid-19 pandemic.
An online auction of 19 artworks, which feature the Vietnamese people and landscapes, will run until December 18, 2021. Bidders can view information about the artworks, the artists and their starting bids on the website of Unite for Vietnam here. Besides, three paintings will be auctioned at an in-person Gala night with the theme, "Spreading Faith" in Dallas, Texas, on December 18.
The auctions are part of the American Hug program initiated by the Association of Vietnamese Students and Professionals in the United States. They are expected to raise around US$5,000, which will be sent to Unite for Vietnam to help orphans in Vietnam.
HCMC has over 173,000 people vulnerable to coronavirus in need of protection
The city has recorded 173,500 people at high risk from the disease, including 140,000 people with underlying diseases and the rest being adults aged over 65 years.
Currently, the city health sector is performing treatment for 11,574 Covid-19 patients, including 370 children under 16 years old, 505 patients being put on the ventilator and 15 severe patients undergoing ECMO intervention.
As of December 15, 1,065 patients have been hospitalized, 1,011 recovered cases have been discharged from hospitals and 65 deaths due to the disease.
The city has run out of 7,950,886 first shots of the Covid-19 vaccine, 6,897,284 second doses, 10,025 additional shots and 23,438 booster ones.
Source: VNA/SGGP/VOV/VNS/ND
PM orders solutions to reduce critical Covid cases, deaths