Vietnam-RoK reinforce co-operation in culture, sports and tourism
Vietnam and the Republic of Korea (RoK) on December 14 signed a cultural exchange programme to celebrate the 30th founding anniversary of bilateral diplomatic ties that will fall in 2022.
Signatories to the document were Minister of Culture, Sports and Tourism Nguyen Van Hung and his Korean counterpart Hwang Hee.
Under the document, the two sides will jointly organise cultural and tourism promotion events such as a Vietnam-RoK culture and food festival, Korean days in Vietnam, Vietnamese culture and tourism week in the RoK, and a Korean film week in Vietnam.
They will focus on co-operation in cultural heritage preservation, by doing research on intangible cultural heritages, and excavating and researching marine cultural heritages.
Vietnam earns seven medals at Asian Rowing Championship 2021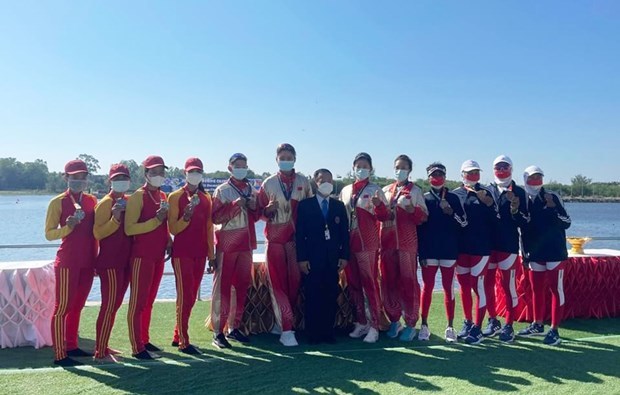 Vietnamese rowers at the competition pose for a group photo (Photo: Hanoimoi.com.vn)
Vietnamese rowers brought home seven medals, including two golds, at the recently-concluded Asian Rowing Championship 2021.
Dinh Thi Hao and Pham Thi Hue clinched a gold in the women's double sculls.
Nguyen Van Tuan, Dinh Nhu Nam, Nguyen Van Ha and Bui Van Hoan bagged the other gold medal in the men's lightweight coxless four.
Other rowers secured three silvers in the women's single sculls and two bronze medals in the men's quadruple sculls
The Vietnam team to the continental event, which took place in Thailand on December 8-14, comprised 11 rowers.
Thirty first Diplomatic Conference opens in Hanoi
The 31st Diplomatic Conference opened in Hanoi on December 15 in both online and in-person formats.
In his opening remarks, Minister of Foreign Affairs Bui Thanh Son said the conference takes place at a crucial time when the diplomatic sector and the nation are entering a new development period and striving to successfully implement the Resolution adopted at the 13th National Party Congress, the 2021-2030 socio-economic development strategy, and the 2021-2025 socio-economic development plan.
According to the minister, the sector has very heavy but glorious tasks in the time ahead. He stressed that the sector should carry forward its pioneering role in creating and maintaining the peaceful and stable environment, safeguarding the nation early and from afar, and mobilising external resources to serve socio-economic development and improve the country's position and prestige.
He called on the delegates to seek new ways to synchronously and effectively implement major tasks of the sector in order to turn external relations and diplomacy into a strong driving force for the country's rapid and sustainable development.
President presents decisions on conferring ambassador titles
President Nguyen Xuan Phuc presented decisions to confer the title of ambassadors to 26 senior officials of the Foreign Ministry, heads of Vietnamese representative agencies abroad and leaders of international organisations to which Vietnam is a member, at a ceremony in Hanoi on December 14.
Following the ceremony, he hosted a reception for delegates to the 31st Diplomatic Conference.
He asked ambassadors and heads of representative agencies to work closely with localities and businesses to popularise traditional products and services, continue improving the efficiency of vaccine diplomacy and facilitate safe travelling in adaptation with the pandemic. At the same time, he asked for promoting multilateral diplomacy in combination with bilateral diplomacy to best serve national interests.
He added that overseas Vietnamese affairs should also be stepped up in the spirit of the Politburo's Resolution No.36/2004 and the Politburo's Conclusion No.12 dated August 12, 2021, to demonstrate the Party and State's responsibility for overseas Vietnamese.
Three COVID-19 cases on flight from Vietnam to Hong Kong infected by Delta variant, not Omicron
Three passengers from Vietnam found to be infected by coronavirus after arriving in Hong Kong were infected with the Delta variant, not Omicron, the Health Ministry said on December 14.
On December 10, the national agency for IHR implementation was informed by its Hong Kong counterpart on three COVID-19 cases detected on flight CX764 from Ho Chi Minh City to Hong Kong on December 8.
The three cases, two Vietnamese citizens and a foreign national, were suspected of being infected with the new Omicron variant.
One day later, the Hong Kong side affirmed that the three patients were infected with the Delta variant. They are in stable conditions without any symptoms, and are receiving treatment in quarantine.
The national agency for IHR implementation will maintain close coordination with the WHO and agencies for IHR implementation of other countries to exchange information and keep updated on new variants of SARS-COV-2, in order to give timely advice to the Health Ministry in making instructions in responding to the pandemic.
Remains of missing-in-action US servicemen repatriated
Vietnam on December 14 handed over to the US two sets of remains believed to belong to US soldiers who died in the war in the Southeast Asian nation.
The remains were found by a Vietnam-US joint search team between July and December 2021, and were examined by Vietnamese forensic experts who concluded that they might be associated with US soldiers missing during the war in Vietnam and recommended that they should be taken to Hawaii for further verification.
The search for remains of US servicemen missing during the war in Vietnam is a joint humanitarian activity between the Vietnamese and US Governments. This is the 157th hand-over of remains since 1973.
Woman sentenced to nine years in jail for anti-State activities
The Hanoi People's Court sencented Pham Thi Doan Trang, 43, residing in the capital city's Dong Da district to nine years in prison for the charge of "conducting propaganda against the State of the Socialist Republic of Vietnam" in accordance with Article 88 of the 1999 Criminal Code.
According to indictment of the municipal People's Procuracy, from November 16, 2017 to December 5, 2018, Trang made, stored and distributed documents and articles with contents against the State. In her interviews to foreign media, she also distorted the State's policies and guidelines, defamed the people's administration and spread fabricated news, causing public concern.
The jury said her acts cause danger to society, and intentionally violate the socialist regime and the State as well as the strength of the people's administration.
Trang also failed to make sincere declarations during the investigations and committed the offence many times, the jury said.
Vietnam, RoK step up post, communications cooperation
Vietnamese Minister of Information and Communications Nguyen Manh Hung has signed memoranda of understanding on cooperation with the Republic of Korea's Ministry of Science and ICT (MSIT), and the Korean Communications Commission (KCC), within the framework of National Assembly Chairman Vuong Dinh Hue's ongoing visit from December 13-15.
Under the MoU signed between the Vietnamese Ministry of Information and Communications and the MSIT, the two sides will enhance cooperation in the field of postal service, including policy building, support for enterprises and training for capacity improvement.
According to the MoU with the KCC, the two sides will share information on policies, regulations and measures regarding social media management, help broadcasting agencies produce programmes and hold training courses. They also pledged to establish a joint working group next year to improve cooperation efficiency.
Vietnamese students win gold, silver medals at Int'l Olympiad of Metropolises
The delegation of Hanoi students ranked second at the 6th International Olympiad of Metropolises that took place in Moscow from December 6-13.
The municipal Department of Education and Training said the students brought home one gold and six silver medals. This is the third time Vietnam has sent a team to the Olympiad.
The eight students, from the Hanoi– Amsterdam High School, competed in the subjects of mathematics, physics, chemistry and informatics.
The Olympiad of Metropolises is an international team competition, which is held in Moscow every year at the initiative of the Mayor of Russia's capital city. Its participants are 14-18 year old students, who live in the biggest metropolises of the world. The first Olympiad took place in 2016, drawing the participation of 173 students from 22 cities.
HCM City gathers overseas Vietnamese's ideas on sustainable development
Leaders of Ho Chi Minh City held a meeting in both online and offline forms with overseas Vietnamese (OV) across the world on December 14 to gather their ideas to promote the city's comprehensive and sustainable development after COVID-19.
At the meeting, 130 delegates from 21 countries and territories shared their views on how to promote the city's fast and sustainable economic development, improve the investment environment and growth quality, and encourage innovative startup.
They also contributed ideas on measures to enhance its human resources quality and promote a modern culture with strong national identity.
On the occasion, the city People's Committee presented the HCM City insignia and certificates of merit to seven OVs who have made contributions to the city's construction and development.
Vietnam, RoK sign agreement on social insurance
Minister of Labour, Invalids and Social Affairs of Vietnam Dao Ngoc Dung and Minister of Health and Welfare of the Republic of Korea (RoK) Kwon Deok-cheol on December 14 inked an agreement on social insurance between the two governments.
The signing ceremony was witnessed by Chairman of the Vietnamese National Assembly Vuong Dinh Hue, who is on an official visit to the RoK.
This is Vietnam's first comprehensive bilateral agreement on social securities. The countries began negotiation from 2015 and reached consensus on numerous major contents.
Under the pact, insurance scheme will be introduced to cover Vietnamese labourers working in the RoK and vice versa.
More rare wild animals rescued
Cuc Phuong National Park and Save Vietnam's Wildlife jointly rescued seven rare wild animals from five localities between December 9-12.
The animals include three big-headed turtles handed over by Dien Bien Phu Province's police, one sunda pangolin rescued by by Kon Tum Province's Chu Mom Ray National Park, one monkey transferred by a resident in Hung Yen Province and a molurus python handed over by the forest management board in Ninh Binh Province's Tam Diep City.
The animals are all on Vietnam's list of endangered rare animals which need to be protected.
Among the seven, the sunda pangolin had an injured tongue and belly. The other animals were in good health.
Vietnam, Wallonia-Brussels approve 27 projects for 2022-2024
As many as 27 projects within the framework of the 2022-2024 bilateral cooperation programme were approved by the Permanent Inter-Committee between the Vietnamese Government and the French Community of Belgium in Wallonia Region.
The projects focus on high-quality personnel training in health care, education-training, French language development, law, culture industry, application research, agriculture and logistics.
During the period, the Wallonia-Brussels side will fund 328 working trips and provide 188 scholarships for Vietnam.
As many as 805 Vietnamese students and postgraduates received scholarships for studies in Belgium while 1,998 experts from both sides joined in exchanges. The bilateral cooperation focused on health care, environment, new technology, tertiary and vocational training, scientific research, culture and French language.
Australia donates peacekeeper training equipment to Vietnam
A ceremony to hand over peacekeeper training equipment donated by the Australian Department of Defence to the Vietnam Department of Peacekeeping Operations was held in Hanoi on December 14.
The equipment include a set of interpretation devices with 100 headsets, 15 cardioverter defibrillators and 20 sets of handy talkies.
The equipment will be used for international seminars and conference held by the department as well as for training staff members for level-2 field hospital No. 4, the engineering corps No.1 and its other units, contributing to improving Vietnamese peacekeepers' capacity.
Binh Phuoc to set up new Covid field hospital as cases surge
The southern province of Binh Phuoc has passed a plan to establish one more Covid-19 field hospital with 964 beds as new infections and hospitalizations have surged.
The facility, called Field Hospital K72, will be located in Tan Phu Ward of Dong Xoai City. Of the 964 beds, 180 will be arranged for critically ill patients, 672 beds for moderately and seriously ill patients, and 112 units for patients who are waiting to be discharged from hospital.
In the first phase, 450 healthcare workers will be dispatched to the field hospital. After that, the hospital's director will work with the provincial Health Department to send more medical workers to the hospital based on the demand for treatment.
Former HCMC vice chairman faces jail term of 7-8 years
The HCMC People's Procuracy has proposed sentencing former HCMC vice chairman Tran Vinh Tuyen to seven to eight years behind bars for his alleged violations in the Saigon Agriculture Incorporated (Sagri) case.
Tuyen was charged with violating regulations on the use and management of State assets, causing losses and wastefulness.
According to the procuracy, Tuyen should have known that a 3.75-hectare residential project in Phuoc Long B Ward of Thu Duc City was to be appraised before being transferred to a private firm, and the transfer was to be conducted through a competitive bidding process. However, he signed a decision approving the transfer of the project to a private firm without meeting these requirements, paving the way for former Sagri general director Le Tan Hung and his accomplices to illegally transfer the project, causing losses of VND672 billion.
Celebration of General Vo Nguyen Giap's 110th birthday slated for December 22
A ceremony to mark the 110th birthday of late General Vo Nguyen Giap will be held on December 22, coinciding with the 77th founding anniversary of the Vietnamese People's Army, in the central province of Quang Binh.
Before the ceremony, flower and incense offering will be held at General Vo Nguyen Giap's memorial house in Le Thuy district's Loc Thuy commune, the General's grave in Quang Trach district's Quang Dong commune, Ba Doc War Martyr Cemetery in Bo Trach district, and the temple dedicated to President Ho Chi Minh and heroic martyrs in Dong Hoi city.
The ceremony will be broadcast live on Vietnam Television's VTV1 channel, the national radio The Voice of Vietnam (VOV), the Viet Nam National Defence television channel, People's Police Television and television stations nationwide.
Lao Cai: herbal medicines help to boost tourism
Herbal medicines in the northern mountainous province of Lao Cai have helped to attract more tourists to the locality.
There are about 850 species of medicinal plants in Lao Cai, with rare species found in such districts as Sa Pa, Bac Ha and Bat Xat.
The total area of medicinal plants in the province is expected to reach 3,500ha at the end of this year, of which 140ha with 11 species have met GACP-WHO standards.
Tours to local fields of medicinal plants have attracted crowds of holidaymakers, helping to spur economic development and poverty reduction in ethnic minority-inhabited areas.
HCMC to continue to perform Covid-19 relief package by end of 2021
There are 1.5 million people with difficulties in Ho Chi Minh City who have not received the third phase of financial support from the city. For this reason, the Municipal Department of Labor, Invalid and Social Affairs has just proposed the HCMC People's Committee to allow the agency to continue to carry out the Covid-19 relief package implementation by December 31.
The subjects will be supported in this period, including freelancers who lost their jobs due to Covid-19 following the HCMC's support policy in the first and second phase; poor and near-poor households, workers with difficulties who have been approved on the list but have not received the relief package in the second phase; needy people hugely affected by the pandemic who have been approved on the list but have not received the financial support in the third phase.
According to a report of the HCMC Department of Labor, Invalids and Social Affairs, nearly 8.5 million people were supported with more than VND9,865 billion (US$431 million) in three phases.
HCMC pays heed to protection of people at risk from Covid-19
Ho Chi Minh City has made changes in its epidemic prevention strategy by paying heeds to protection of people at risk from Covid-19.
High-risk groups including older people, people with health conditions, and pregnant women are high on the southern largest city's list of priorities.
Besides the elderly, people with underlying diseases, people with opportunistic diseases are also at high risk of contracting Covid-19. Approximately, 250 other HIV/AIDS patients have just received their Covid-19 booster doses at the Go Vap District Health Center.
Many activities such as managing the health of people in risk groups, deploying screening tests to detect people infected with Covid-19, and promoting vaccination against Covid-19 for at-risk groups have been implemented.
Health Ministry warns of self-test without health status declaration
The Ministry of Health warned of inhabitants' self-test for SARS-CoV-2 without a declaration of their health status which will hinder the fight against Covid-19.
In its document to health departments in cities and provinces yesterday, the Ministry of Health asked to increase testing because many people didn't report their health status to local health authorities after self-testing positive for Covid-19.
Departments of health in cities and provinces were urged to cooperate with related agencies to increase information of testing results and consultation to dwellers. Moreover, health authorities should announce their hotlines to receive reports of people's positive test results. Health care workers will guide people on how to prevent transmission to curb self-medication at home.
Mekong Delta pupils to go back to school at beginning of 2022
Pupils in the Mekong Delta provinces of Ca Mau, Bac Lieu, Soc Trang, An Giang and Kien Giang will go back to their school for the second semester of the school year 2021, beginning the first days of 2022.
Kien Giang Province yesterday approved the proposal of the education industry for bringing pupils back to school from the beginning of 2022.
Director of the An Giang Province Education and Training Department Tran Thi Ngoc Diem said that the province will perform in-person learning for pupils in grades 1,2,6,9,10 who are living in low and moderate risk areas.
Meanwhile, An Giang Province will continue online learning on the internet, through television for pupils being in high, very high-risk areas.
On Monday, schooled children in Thua Thien-Hue Province returned to their schools after prolonged period of online learning.
HCMC proposes giving Covid-19 rapid test kit for schools
The local Department of Education and Training has proposed distributing the Covid-19 rapid test kits for schools in the context that students have come directly to school starting from December 13.
The department also proposed the municipal People's Committee to provide Covid-19 rapid test kits for educational institutions for screening tests of close contacts when an infection is detected in schools.
Before, middle schools and high schools in the city have restored Covid-19 rapid test kits in preparation for the return of ninth and twelve grade students in person from December 13. However, some schools have more test kits than other facilities due to budget constraints.
In the long term, more students of grades 6, 7, 8 10, and 11 will go to schools in person, schools will need more quick test kits. Schools are facing difficulties because students don't go to schools from the beginning of the 2021-2022 school year until now, which resulted in schools' financial shortages.
39 football players nominated on Vietnamese Golden Ball Awards 2021
The Vietnamese Golden Ball Awards 2021 comprises three categories including Golden Ball for Men, Golden Ball for Women and Futsal Golden Ball.
There are 39 nominated players, including 19 ones for Golden Ball for Men, ten for Golden Ball for Women and ten for Futsal Golden Ball.
The deadline to receive the votes will be January 3, 2022 following the stamp of the post office. The gala of Vietnamese Golden Ball Awards 2021 shall be organized in mid-February 2022.
Hanoi, Ho Chi Minh City among top 100 city destinations: Euromonitor
Hanoi and Ho Chi Minh City, Vietnam's two largest cities, are listed on the top 100 world's city destinations compiled by Euromonitor International, a British market research company.
Hanoi held the 94th position while the southern metropolis of Vietnam was ranked 90th in the final list.
The British company conducted research on over 110 cities across 86 markets which was built around six key pillars including Economic and Business Performance, Tourism Performance, Tourism Policy and Attractiveness, Tourism Infrastructure, Health and Safety, and Sustainability.
Hanoi and HCMC were ranked the top destinations in terms of Economic and Business Performance, Tourism Performance as well as Health and Safety. The two cities scored lower than other Asian cities in the list in terms of Tourism Policy and Attractiveness, Tourism Infrastructure, and Sustainability.
Vietnam to establish cultural center in RoK
National Assembly Chairman Vuong Dinh Hue has affirmed that a Vietnamese cultural center will be established in the Republic of Korea (RoK).
During a reception for Chairman of the Korea-Vietnam Friendship Association Choi Young-joo in Seoul on Tuesday, Chairman Hue also proposed organizing a Vietnam day in the RoK and a Korean cultural day in Vietnam next year as the two countries celebrate their 30th anniversary of diplomatic ties.
The same day, Mr. Hue received representatives of the Ly clan whose ancestors resettled in Korea from Vietnam nearly 1,000 years ago.
Additional 15,220 COVID-19 infections reported in Vietnam on Dec. 14
A total of 15,220 new cases of COVID-19 were reported in Vietnam on December 14, according to the Ministry of Health.
Of the new infections 9,351 were detected in the community, and 17 were imported.
New cases were reported in 62 provinces and cities across the country, with the capital city of Hanoi registering 837 transmissions. The southernmost province of Ca Mau logged the highest number of infections at 1,011, followed by Ho Chi Minh City with 991 and Tay Ninh with 931.
There were a further 252 fatalities related to COVID-19 announced on December 14. There are currently 7,779 COVID-19 patients in serious condition in hospital, with 19 on life support.
Vietnam attends Asia-Pacific Parliamentary Forum's 29th annual meeting
National Assembly (NA) Chairman Vuong Dinh Hue led a delegation of the Vietnamese legislature to attend the 29th Annual Meeting of the Asia-Pacific Parliamentary Forum (APPF-29) virtually hosted by the National Assembly of the Republic of Korea (RoK) on December 14.
During the event, the top Vietnamese legislator delivered two important speeches at the first and second plenary sessions on political and security issues, and digital economic development in the region.
He proposed six cooperation contents, focusing on strengthening parliamentary action and monitoring the implementation of policies of APPF member governments in maintaining peace, stability and security in the region and the world, promoting multilateral cooperation to prevent risks of conflict, fostering dialogue and building trust, refraining from unilateral actions and complying with international law.
Vietnam calls for equitable vaccine access, mutual support for economic recovery
Minister Counsellor Nguyen Phuong Tra, Deputy Permanent Representative of Vietnam to the United Nations (UN), has said that inequity in vaccination against COVID-19, particularly in areas of conflict, may pose a threat to peacebuilding efforts and development achievements in the recent past.
She made the remark during UN Security Council consultations held on December 13 on the implementation of Resolution 2532 and Resolution 2565, which demanded a cessation of hostilities in all situations on the UNSC's agenda to combat the COVID-19 pandemic and a humanitarian pause to facilitate the delivery of COVID-19 vaccines in areas of armed conflict, respectively.
Tra emphasised that it is necessary to ensure that all people are inoculated against COVID-19 and able to access testing and treatment, calling on countries to offer financial assistance and vaccine supply for the COVAX Facility.
Hanoi university dormitories used for Covid-19 cases
Hanoi has used the dormitories of two universities as facilities for Covid-19 treatment amid the city's rising Covid-19 infections.
One facility with 600 beds will be located at dormitories at Water Resources University in Dong Da District. It will serve Covid-19 patients who are asymptomatic or suffering only mild symptoms. Eleven medical staff have been sent to set up the facility. However, the site needs around an additional 30 people to ensure security and logistics.
Meanwhile, Hai Ba Trung District has decided to use dormitories at Hanoi University of Civil Engineering for the treatment of Covid-19 cases with none or mild symptoms. The facility will have 250 beds. Medical staff will be assigned to be on duty around-the-clock to support patients.
HCM City to hold Tet flower street
HCM City has decided to organise its 19th Nguyen Hue Flower Street to mark the 2022 Tet Lunar New Year Holiday. The event is scheduled to take place from January 29 to February 4 or the 27th of the lunar month of December to the fourth of the lunar new year.
The setup of the Nguyen Hue Flower Street will be carried out between January 13-29. The city will suspend the operation of the foundation on the street between January 13 and February 5.
This year, the event will include some activities to share sympathy with Covid-19 victims and display images to show the community's gratitude for frontline forces in the Covid-19 fight.
Around 26 food stalls will be arranged at the flower street along with flower arranging and vegetables and fruit peeling contests. Music performances will also be held on the street.
Vietnam confident with match against Indonesia tonight
A recent victory against Malaysia has brought positive signs and widened the door for the Vietnam men's national football team to close the semifinal of the 2021 AFF Suzuki Cup as well as created confidence for Vietnamese football players ahead of the upcoming match against Indonesia at 7:30 p.m. tonight.
In advance of the match, Coach Park Hang-Seo hoped that Indonesia will play a counter-attacking tactic with his football team instead of a defensive tactic.
Coach Park Hang-Seo also said that the counter-attack tactic of Indonesia would be good for Vietnam. In addition, he felt comfortable when the Indonesian press showed the weakness of the Vietnam national team in the two-side corridors.
22 art troupes participate in HCMC's 5th Southern Amateur Music Festival
Around 22 art troupes from cultural centers of 21 districts and Thu Duc City will participate in the 5th Hoa Sen Vang (Golden lotus) Don Ca Tai Tu Nam Bo (southern amateur music) Festival.
The art troupes can send video clips of their performances that will be filmed at a local historical site to the organization board. Six best performances will be chosen for broadcasting on HCMC Television's channel, The Voice of HCMC People (VOH), and Today TV.
Unique architecture vestiges uncovered at Ho Dynasty Citadel's centre in 2020-21
In the 2020-2021 period, the Institute of Archaeology and the Ho Citadel Heritage Conservation Centre have dug six excavation holes with a total area of 25,000sq.m.
The excavation has revealed four clusters of vestiges dating from the Tran Dynasty (1226-1400) and Ho Dynasty (1400-1407), and three architectural clusters of the Later Le Dynasty (1428–1788). The found vestiges are thought to belong to the main hall of the Ho Dynasty Citadel, the oldest main hall in Vietnamese ancient capitals discovered so far.
Built in 1397 under the Ho Dynasty as the capital of Dai Ngu (then name of Vietnam), the citadel is unique for its outstanding construction technique which used large blocks of stone, weighing from 10 tonnes to 26 tonnes each, carefully shaped, interlocked and elevated to an altitude of about 10 meters.
Vietnam calls for dialogue towards comprehensive political solution in Yemen
Vietnam called on all parties concerned in Yemen to resume dialogue towards a comprehensive and long-term political solution for the country, during a debate of the United Nations Security Council (UNSC) on the crisis in the Middle Eastern country on December 14.
Addressing the debate, Minister Counsellor Nguyen Phuong Tra, Deputy Permanent Representative of Vietnam to the UN, urged stakeholders to stop all military activities, resume dialogue, and cooperate with the Special Envoy of the UN Secretary‑General for Yemen to discuss a comprehensive political solution for the country.
The Vietnamese diplomat urged all parties concerned to respect international humanitarian law and implement the UNSC's Resolution 2573, which includes the protection of civil infrastructure works and the promotion of the implementation of the Stockholm Agreement and Riyadh Agreement.
Musical play helps preserve Ede ethnic minority people's epic
The Department of Culture, Sports and Tourism of the Central Highlands province of Dak Lak in collaboration with Song Thuong Garden Co., Ltd. held a press conference on December 14 to introduce a musical play titled "Khat vong Dam San" (Dam San's aspiration).
Dak Lak is known for its epics about the social development history of the Central Highlands region, including the Great Epic of Sir Dam San, which was recognised as a national intangible culture heritage in 2014.
The five-chapter play project ""Khat vong Dam San" proposed by the Song Thuong Garden Co., Ltd., was approved by the provincial People's Committee on April 14, 2021. Its author and general director is musician Nguyen Cuong.
The project aims to build a great work in Vietnamese music, contributing to efforts to restore and preserve the Ede ethnic culture in the Central Highlands.
Germany donates over 2.5 million Moderna doses to Vietnam