Tropical depression and two storms to enter East Sea this week
A tropical low-pressure system along with two storms to the east of the Philippines are likely to enter the East Sea from April 7 to April 8, according to information given by the Standing Office of the National Steering Committee for Natural Disaster Prevention and Control.
This represents an unseasonal weather pattern due to the tropical depression and storms potentially appearing earlier than the typical annual rule, said forecasters.
Forecasters said up to 10 to 12 storms and tropical depressions are forecast to enter the East Sea this year, with four to six of the total directly affecting Vietnam.
Vietnam in need of international support for bomb, mine clearance
To speed up the settlement of bomb and mine consequences, Vietnam needs stronger cooperation and support from international partners, thus ensuring that no more people are killed or injured due to the post-war bombs, mines and unexploded ordnances (UXO), according to the Vietnam Mine Action Centre (VNMAC).
Decades after the end of war, Vietnam still suffers from the deadly threat from millions of tonnes of bombs, mines and UXO left by war, which have killed more than 40,000 and caused disabilities to over 60,000 others. At present, over 17 percent of the country's total natural land area is still polluted with bombs, mines and UXO.
In more than 10 years from 2010 to 2020, nearly 500,000 hectares of areas were cleared from bombs and mines under the National Mine Action Programme in the 2010-2020 period and mission orientation for 2021-2025 (Programme 504).
More than 5,000 victims of bombs and mines have received support in various forms worth over 50 billion VND (2.18 million USD). Meanwhile, hundreds of thousands of people in bomb and mine polluted areas have been educated with measures to prevent accidents related to bombs and mines.
Many projects in the field have been implemented with assistance from the governments of the US, Japan, the Republic of Korea, the UK, Norway, Germany, Australia and Russia as well as international organisations such as UNDP, UNICEF and many other international donors.
However, despite the efforts, Vietnam has completed just nearly 70 percent of the target in bomb and mine clearance, while the ratio of polluted land area in the central and Central Highlands localities such as Quang Tri, Quang Binh, Thua Thien-Hue, Quang Nam, Kon Tum and Gia Lai remains high.
Vietnam aims to eliminate accident caused by post-war bombs, mines and UXO in any corner of the country by 2025.
Central, Central Highlands regions requested to brace for more downpours
The Standing Office of the National Steering Committee for Natural Disaster Prevention and Control has asked authorities in the Central and Central Highlands to get prepared to respond to heavy rain, whirlwind, flash floods and landslides as well as tropical depressions, storms which may occur earlier than normal.
The central region has recorded heavy downpours with rainfall of 200 – 500mm, even over 750mm in some places, which is abnormal in the dry season and has led to heavy losses in lives, property, and agricultural production, the Office noted in a document sent to the People's Committees of provinces and cities from Thua Thien-Hue to Khanh Hoa provinces.
According to the National Centre for Hydro-meteorological Forecasting, the area from Thua Thien-Hue to Khanh Hoa province, and the Central Highlands region will experience more heavy rains from April 3 to 6. Flood is likely to occur on rivers in the area and there is a high risk of flash floods and landslides in mountainous and low-lying areas.
Health check-ups arranged for hundreds of Vietnamese origin in Cambodia
Doctors at the Cho Ray-Phnom Penh Hospital recently provided medical examination for about 700 people of the Vietnamese origin and Khmer people in Cambodia's Kandal province.
The activity was held with support from the Embassy of Vietnam and the Khmer-Vietnam Association in Cambodia.
Medicines valued at about 5,000 USD sponsored by the hospital were handed over to the patients free of charge, together with aid packages comprising rice and cash raised by the Vietnamese Embassy.
Hanoi recruits volunteers for 31st SEA Games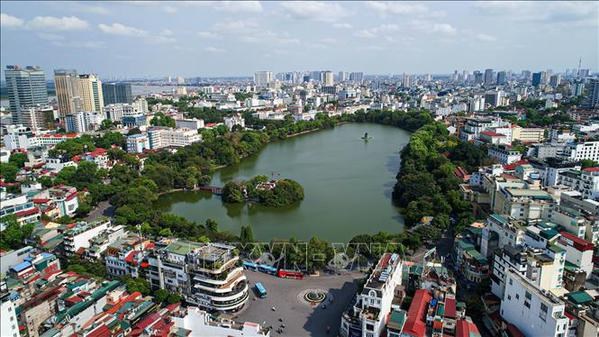 A bird's-eye view of Hoan Kiem Lake in Hanoi. (Photo: VNA)
The Hanoi Committee of the Ho Chi Minh Communist Youth Union will recruit 2,500 – 3,000 young volunteers to support the 31st Southeast Asian Games (SEA Games), slated for May 12 – 23.
Registration is open through April 10.
The 31st SEA Games, themed "For a stronger South East Asia", is scheduled to run in Hanoi and 11 neighbouring localities. It will feature 40 sports with 526 events and expect to attract around 10,000 participants. The biennial event was initially slated for late 2021 but delayed due to the pandemic's impact.
Vietnam plays active part at Human Rights Council's 49th session
Vietnam actively contributed opinions at the 49th regular session of the UN Human Rights Council (HRC) that took place both in person and via videoconference from February 28 to April 1.
In his pre-recorded speech at the high-level segment on March 2, Minister of Foreign Affairs Bui Thanh Son affirmed that Vietnam wishes to contribute to the world's common efforts to promote and protect human rights through its candidature for the HRC membership for the 2023 – 2025 tenure.
Head coach announces Vietnam's roster for AFF Futsal Championship 2022
Head coach of the national men's futsal team Pham Minh Giang on April 3 revealed the 14-man squad for the ASEAN Football Federation (AFF) Futsal Championship 2022, according to the Vietnam Football Federation.
Vietnam are to play Myanmar at 11am on April 4 in their first match in Group B. The top two teams in Groups A and B will progress to the semi-finals.
During the tourney, activities of the Vietnamese team will be held in a closed routine in line with COVID-19 prevention measures of the hosts Thailand.
The regional tournament, running until April 10, will also serve as the qualification for the AFC Futsal Asian Cup 2022, with the top three teams representing ASEAN in the Finals in Kuwait this September.
Vietnamese community in France urged to be more unity
Government chief orders drastic changes to deal with future challenges
PM Chinh chaired a regular cabinet meeting on April 4 which re-evaluated the socio-economic performance during the first quarter of the year and the wider global situation.
Internationally, the PM attributed global political instabilities to the ongoing conflict between Russia and Ukraine, coupled with fiercer competition among major nations and the price of input materials and inflation in many countries increasing amid a scarcity of raw materials and growing gasoline prices. Domestically, the pandemic situation has remained complicated, particularly with the appearance of new virus strains, however, the pandemic has been brought under control along with the reopening of the economy, tourism, and local schools.
Furthermore, the increase in the global price of petroleum and inflation in many countries has put additional pressure on the Vietnamese economy, production, and domestic business, PM Chinh emphasised.
He underlined the necessity of carefully analysing advantages and disadvantages, especially pinpointing subjective causes in which cabinet members can contribute opinions and devise solutions aimed at dealing with these issues moving forward.
During the course of the meeting, Minister of Planning and Investment Nguyen Chi Dung reported on the socio-economic situation in March and the first quarter of the year and the implementation of the Government's Resolution No.01. This is in addition to the programme on socio-economic recovery and development, as well as providing additional assessment of the results of the implementation of the socio-economic development plan for the year ahead.
Furthermore, Finance Minister Ho Duc Phoc presented a report on additional assessment of the implementation of the State budget 2021 and the state budget estimate for this year.
JICA surveys digital transformation in Hanoi's public transport system
The Hanoi People's Committee has assigned the Hanoi Department of Transport and other relevant agencies to work alongside the Japan International Cooperation Agency (JICA) in surveying digital transformation in the capital's public transport system.
The purpose of the survey is to collect and analyze information related to development strategies of public transport and digital transformation schemes.
This is in addition to providing the necessary assistance in order to accelerate the implementation of the support project regarding developing an inter-connected electronic ticket system on means of public transport in the city.
Furthermore, it also aims to study proper technologies which can be applied in the field of public transport in the capital, thereby mapping out a roadmap and terms of reference for JICA's support programmes moving forward.
According to the JICA's plan, the survey will be carried out until August 31.
Norway joins efforts in mine clearance in Vietnam
Mine action efforts do not merely mean clearing lands and saving lives, they would ultimately contribute significantly to the sustainable development goals (SDGs), Norwegian Ambassador to Vietnam Grete Løchen said in an interview granted to local reporters.
Vietnam to join regional operation against drug, wildlife trafficking next month
The General Department of Vietnam Customs will participate in the Operation Mekong Dragon IV, a joint regional operation against drug and wildlife trafficking, from April 15 to September 15 this year, the department has announced.
Under the Operation Mekong Dragon IV, local customs units are requested to accelerate collection of information regarding the drug and wildlife trafficking situation across Vietnam and the methods and tactics that traffickers use. The information will be used for risk analysis and warnings to improve the effectiveness of customs inspection and supervision.
Initiated by Vietnam and China, the Operation Mekong Dragon was launched in September 2018, and has gone through three main and one expanded phases, drawing the participation of 20 customs authorities and law enforcement agencies in Asia Pacific. Over 1,200 drug and wildlife trafficking cases have been reported to the Customs Enforcement Network Communication Platform (CENcomm).
The first phase of the operation brought together six countries of the Greater Mekong Subregion, namely Vietnam, China, Laos, Thailand, Cambodia and Myanmar. The participation in the second phase was expanded to nine, namely Australia, Bangladesh, Brunei, Hong Kong (China), India, Mongolia, Nepal, New Zealand and Singapore.
Ending the first phase in February 2019, 164 cases were discovered with nearly 2,230kg of drugs seized.
During the second phase, which lasted in 2020, 284 drug and wildlife smuggling cases were brought to light, with close to 2,000kg of drugs and nearly 2 million drug pills; 2,000kg of wildlife animals and more than 1,500 wildlife products; and some 150 tonnes and 1,000 cu.m of rare woods seized.
'Wanderlust' photo exhibition opens in HCM City
A photo exhibition running with the theme of 'Wanderlust' is currently displaying pieces from German photographer Thomas Hoepker who won the Leica Hall of Fame Award at Deutsches Haus in Ho Chi Minh City.
Hoepker was born in 1936 in Munich and initially began taking pictures when he was 16. Since then has worked as a photojournalist, a cameraman for German television, and made several documentary films.
For decades he used his Leica M camera to capture the world famous photos, most notably documenting the destruction of the World Trade Center on September 11, 2001.
The event has been jointly organized by the Consulate General of the Federal Republic of Germany in Ho Chi Minh City, the Goethe Institute, and Deutsches Haus Ho Chi Minh City.
The exhibition opens to the public from 9 a.m. to 5 p.m. every day and will last through to April 19.
Phu Quoc resort among world's top 14 most beautiful jungle hotels
Mango Bay Resort in Phu Quoc island in the southern province of Kien Giang has been named among the leading 14 most beautiful jungle hotels worldwide as selected by American magazine Travel+Leisure.
According to the publication, the beachside bungalow oasis of Mango Bay Resort was built by making use of sustainable materials, including local woods and rammed earth.
"Dedication to energy, water, and nature conservation is found at every corner, from composting to low-water toilets in the (open-air) bathrooms to beds cooled by a low-energy alternative to traditional AC," Travel+Leisure stressed.
Mango Bay is situated approximately 15 minutes north of Phu Quoc airport and lies along Ong Lang beach in Cua Duong commune. Covering a total of 20 hectares of indigenous natural forest and garden with 40 bungalows, the resort offers eco-friendly accommodation, including a one-kilometre stretch of deserted white sand beach which is surrounded by a protected forest along the Gulf of Thailand.
VN aims to reduce occupational fatalities by 4 per cent
Viet Nam has set an annual target to reduce the rate of fatal occupational accidents by 4 per cent.
This is one of the key goals of the National Programme on Occupational Safety and Health for 2021-2025.
Việt Nam will also focus on increasing the number of workers receiving occupational disease examinations by 5 per cent and increasing the establishments with monitored working environments by 5 per cent.
The Government requires the Ministry of Labour, Invalids and Social Affairs to coordinate with other agencies to review, amend and supplement the contents of policies and laws related to occupation safety; apply information technology to management, build a national database on occupational safety; and deploy an appropriate management system for 150 enterprises with high risk of occupational hazards.
Some 6,504 occupational accidents were reported nationwide in 2021. A total of 749 were fatal accidents, killing 786 people.
HCM City, Hà Nội, Hải Dương, Thanh Hóa, Bình Dương, Đồng Nai, Quảng Ninh, Thái Nguyên were the localities with the highest number of deaths from occupational accidents in 2021.
Sprinter Chinh enters Thong Nhat Speed Cup in final preparation for SEA Games
HCM City Short-distance running queen Lê Tú Chinh is competing in the Thống Nhất Speed Cup athletics tournament in HCM City this weekend, as her preparations for a next month's SEA Games enter the final stage.
The Thống Nhất Speed Cup will take place on April 7-9 and will feature many teams across the country. Senior athletes will compete in 27 categories ranging from running to throwing and jumping, while junior athletes will compete in 15 categories.
Chinh said she will focus on competing in her two favourite events, the 100m and 200m. At the 2019 SEA Games in the Philippines, she won silver in the 200m and gold in the 100m.
At the games, which will be held in Việt Nam, Chinh's opponent is naturalised American athlete Kristina Knott of the Philippines, who won the 200m gold medal in the 30th Games. Knott has been named as part of the Filipino sports delegation to compete in Hà Nội.
To prepare for the Speed Cup this year, Chinh has trained very hard with heavy supplementary exercises.
Traditional reformed opera doyen's biography released as audiobook
The biography of People's Artist Kim Cương, a cải lương (reformed drama) doyen with 65 years' experience in the art genre, has released an audiobook of her biography.
Sống Cho Người, Sống Cho Mình (Live for People, Live for Myself), written and recorded by Cương in co-operation with her friends, was released in HCM City last week.
Apart from featuring the artist's life and career from a personal perspective, the audiobook also outlines development of traditional theatre between the 1950s and 1990s
The 16-hour audiobook includes three chapters featuring Cương narrating memories of famous cải lương artistes including late People's Artist Phùng Há, her teacher, and late actress Bảy Nam, her mother, who were pioneers and played an important role in developing the art.
Fans can learn about Cương and her art by visiting the https://kynukimcuong.vn website.
North-South Expressway project faces soil shortage
The North-South Expressway projects for 2017-20 are standing at risks of shortage of 6.53 million cu.m of soil for the roadbed, according to the Ministry of Transport.
The Ministry of Transport and the management boards of projects have been coordinating with relevant ministries, branches and localities to solve the problem.
Specifically, the component project of Mai Sơn – National Highway 45 in Ninh Bình Province lacks 0.7 million cu.m of soil.
The Cam Lộ – La Sơn component project lacks 0.27 million cu.m of soil, mainly in two packages, XL5 and XL6, in Thừa Thiên-Huế Province.
For the component project of Nha Trang – Cam Lâm in Khánh Hoà Province, the amount of soil needed is 0.8 million cu.m.
For the amount of soil shortage in the component project of Vĩnh Hảo-Phan Thiết in Bình Thuận Province, the contractors would be allowed to exploit soil in four mines with a total reserve of 1.7 million cu.m.
The total demand for earth filling materials at the North-South Expressway Project 2017-2020 was estimated at 72 million cu.m per day, in which the volume of soil material utilised from the excavation is about 18.5 million cu.m, and the amount taken from land mines is about 53.5 million cu.m.
Tips collection in Phu Quoc island sparks public concern
Tipping is not a part of Vietnamese culture, but it is no longer strange to many Vietnamese as tourism develops.
Recently, Phú Quốc Professional Association of Tour Guides in Kiên Giang Province sent a notice to its members, which says that tour guides who are members of the association can collect tips from travellers to Phú Quốc from May 15.
The gratuity is VNĐ25,000 (over US$1) per traveller per day for Vietnamese tourists, $2 per for Asian travellers and $4 for other foreign visitors.
Tipping is not compulsory in Việt Nam and only happens at high-end venues.
In some cases, travel companies may have their own rules about tipping. Tipping tour guides entirely depends on tourists.
The regulation in the notice has caused some controversy.
Man gives up beloved motorbike collection to help people during pandemic
To establish a zero-đồng cafeteria for disadvantaged people during the pandemic, 34-year-old Nguyễn Hoàng Giang did not hesitate to sell his gold and beloved antique motorbike collection and turn his garage business into a 'field kitchen'.
The idea came to him when his wife went into labour during social distancing.
Taking her to the hospital, he saw how patients and their relatives were struggling as all the nearby canteens and food stalls were closed due to the lockdown.
Giang said: "At first, I was only making 20 to 30 meals per day, but then the demand rose, and many more people needed help, so I increased the number to 500 to 700 per day."
These charity meals were made at his car repairing garage. Hundreds of meals were delivered to needy workers and students across Cần Thơ City each day.
He spent VNĐ5 million to 7 million each day to prepare 500 to 700 meals. When he received food donations, his costs were reduced from VNĐ2 million to 4 million.
Giang also bought farm produce to give to poor people, alongside numerous grocery donations he delivered to people stuck in quarantine zones.
Human skeleton found in Ninh Thuan forest
According to police in Thuan Nam District, the skeleton was found on the morning of April 2 by a local man who was looking for his missing goat in a coastal protection forest in Phuoc Diem Commune.
"The skeleton was found on Bo De Mountain in the forest," the police said. "It was identified as a man. A backpack, a cap, a pair of slippers all of black colour, and a knife, a backup phone charger, and some clothing were found beside."
Thuan An Police has issued a document to call for help from the public to identify the victim. Anyone who has information relating to the victim can call the police at telephone number 02593.750.100.
FIFA and AFC highly praise Vietnam's recent football achievements
Officials of FIFA and AFC have spoken highly of the football achievements that Vietnam has recorded during recent meetings with Tran Quoc Tuan, acting president of the Vietnam Football Federation (VFF).
Tuan was in Doha, Qatar to attend the 72nd FIFA Congress and talked with FIFA President Gianni Infantino and AFC President Salman Bin Ibrahim Al-Khalifa on the sidelines of the congress on April 2.
Leaders of the world and Asia's football governing bodies congratulated Vietnam on its notable results, especially the women's team's qualification for the 2023 FIFA Women's World Cup.
They also spoke highly of Vietnam's 1-1 draw with Japan in the third round of the 2022 FIFA World Cup qualifier, as Vietnam is the only representative of Southeast Asia to reach this stage.
Vietnam retain Top 100 place in latest FIFA rankings
HBSO announces concert of Mozart and Beethoven
The HBSO has announced an evening of Mozart and Beethoven on April 9 in the Saigon Opera House.
The HBSO symphony orchestra will be conducted by Meritorious Artist Tran Voung Thach, the organization's music director.
The concert will begin with the overture to Mozart's opera Don Giovanni.
HBSO is delighted to welcome two very distinguished soloists for this performance, violinist Bui Cong Duy and viola player Pham Vu Thien Bao.
The concert begins at 8 p.m. Ticket prices range from VND400,000 to VND750,000.
2,500 athletes participate in running race through Cuc Phuong forest
Cuc Phuong National Park in collaboration with New Race Joint Stock Company yesterday hosted a running race "Cuc Phuong Jungle Paths, 2022" with the theme "Green race for conservation and sustainable development".
The race attracted nearly 2,500 local and foreign athletes, including 20 runners from 13 countries and territories such as France, Belgium, Taiwan (China), China, the United States, the Republic of Korea, India, Australia, Philippines, Germany, the United Kingdom, Japan and Malaysia.
There are four long-distance running events of ten kilometers, 25 kilometers, 42 kilometers and 70 kilometers through hilly terrain, limestone mountains, under tropical rain combined with Sup rowing on the Buoi River.
Apart from the awards for the first, second and third runner up, the organizers will award prizes and medals to the oldest athlete and all athletes who completed their distance, respectively.
The organizing board desired to develop the running race as an impressive and annual eco-tourism product to spread the message of conservation and sustainable development, to deserve the award of Asia's Leading National Park in 2019, 2020 and 2021 voted by the World Travel Awards.
12th-grader exam registration to be integrated into National Population Database
The Ministry of Education and Training (MoET) has asked all localities to verify and update all necessary personal and academic information of their twelfth graders in this school year before submitting it to MoET. All data of around 900,000 students will be then integrated into the National Population Database.
In order to carry out the Government's project 'Developing an Application on Population Database, Identity, and Electronic Authentication to Serve the National Digital Transformation Process from 2022-2025, with a Vision to 2030', MoET has already integrated the data and identities of 1.2 million out of 1.4 million teachers, officials, and managers in the education and training sector.
MoET has also added academic information for over 160,000 citizens.
The task of collecting, updating, and standardizing student identity data is right on schedule. It is expected that the information of all 900,000 twelfth graders in the nation will be timely updated and integrated into the National Population Database for this year's university admission time.
A similar task for learners from kindergarten level to the 11th grade has been assigned to the Information Technology Department and the Police Department for Administrative Management of Social Order (under the Ministry of Public Security). They will develop a common procedure to collect, update and verify identity data.
Prof. Ngo Bao Chau returns to city for conversation with students
Professor Ngo Bao Chau, a Vietnamese mathematician who was awarded the Fields Medal in 2010 had a conversation on the role of mathematics, challenges and studying mathematics in the current context with students of the Vietnam National University – Ho Chi Minh City (VNUHCM) on April 1.
The talk opened up and answered many concerns of students of the faculty of mathematics and computer science as well as gave them useful advice in deep learning mathematics and other subjects.
The development of current technology made finding information easier than before. People can find some useful information among thousands of recommendations to support their learning and research, the professor said.
Professor Ngo Bao Chau said that he was stressed and wanted to give up the project of fundamental lemma in the third year. People who conduct in-depth projects in the country still see many difficulties. However they should not stop trying if they want to be successful.
Ngo Bao Chau, who holds both Vietnamese and French passports, was awarded the 2010 Fields Medal with three others for proving once and for all the Robert Langlands' Fundamental Lemma at the 26th International Congress of Mathematicians in India last August.
Source: VNA/VIR/SGT/VNS/VOV/Dtinews/SGGP
WBA Asia champion Toan named as world top 10 boxer