WBA Asia champion Toan named as world top 10 boxer
Le Huu Toan has become the first Vietnamese boxer named in the world top 10 of the World Boxing Association (WBA).The WBA recently listed Toan in the 10th place. He is behind boxers from Thailand, Mexico, Puerto Rico, Japan, the Philippines and South Africa.Toan advances to be among the world's best after winning the WBA Asia's minimum (48kg) weight belt early this March. He beat Thailand's Kitidech Hirunsuk after 12 rounds in Ho Chi Minh City.On March 29, he successfully defended his title at the National Boxing Clubs Championship in Tien Giang province.It is his third year winning it in a row, after almost four years of practising boxing.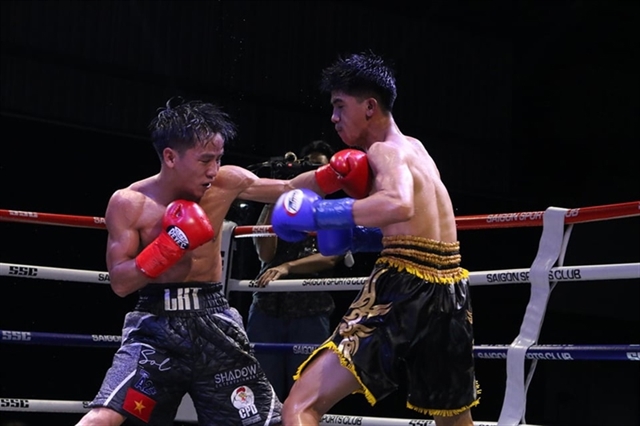 Le Huu Toan (right) at the WBA Asia minimum weight belt match in HCM City on March 21. Toàn is the first Vietnamese boxer named in the WBA's top 10. Photo thethaovietnamplus.vn
Indian men's football team hopes for friendly match with ​Vietnam​: AIFFThe Indian men's national football team hopes to hold a friendly match with the Vietnamese team in late May, according to the All India Football Federation (AIFF).The two teams have not played a friendly match before.AIFF said the match can provide a chance for India to prepare for the qualifiers of Asian Cup 2023.India is currently placed the 106th in the FIFA World Rankings, 10 spots lower than Vietnam.COVID-19: New cases on April 3 continue to decreaseThe number of new COVID-19 cases continued to drop with 50,730 cases recorded in the past 24 hours from 4pm April 2 to 4pm April 3, including 3 imported cases, down 14,886 from the previous day, according to the Ministry of Health.Hanoi continued to report the highest number of infections on the day with 6,304 cases.The national tally reached 9,818,328.A total 74,608 patients were given the all-clear during the day, raising the number of recoveries to 7,785,145.An additional 37 deaths were recorded in the past 24 hours, taking the total fatalities to 42,600.The country had injected 206,525,077 doses of COVID-19 vaccines.Festival held in response to blood donation dayA blood donation festival was held in Thanh Tri district, Hanoi, on April 3 in celebration of the All People's Voluntary Blood Donation Day (April 7).Dao Ngoc Trieu, Chairman of the Vietnam Red Cross Society chapter in Hanoi and Standing Vice Chairman of the city's steering committee for blood donation promotion, said this is an occasion to call for authorities and people's support for the blood donation movement, and also to disseminate the significance of the deed and raise public awareness of health protection.The festival attracted more than 500 participants and looked to receive over 200 blood units.Despite lingering impacts of the COVID-19 pandemic, the city saw 43,131 blood units donated in the first quarter of 2022, with pandemic safety ensured.State President, experts discuss summary report on issues in building law-governed stateState President Nguyen Xuan Phuc had a meeting with the compilation group, experts, and scientists on April 2 to look into a report summarising opinions for a project on making a strategy for the building and completion of the law-governed socialist state of Vietnam by 2030, with a vision to 2045.The summary report, which will serve as a basis for making the first draft of the strategy, covers the fundamental theoretical issues on the building and completion of a law-governed socialist state, the Ho Chi Minh ideology, the Party and State's viewpoints, along with the formation, facts, principles, targets, reforms, breakthroughs, orientations, tasks, and solutions for the state building and completion from now to 2030, with a vision to 2045.Russian illustrator of book about two Vietnamese elephants commemoratedAn exhibition has been held in Moscow to mark the centenary of Russian illustrator Vladimir Gavrilovich Shevchenko (March 12, 1922 – 2022), who illustrated a children's book about two Vietnamese elephants named Xung and Cung.Shevchenko had illustrated about 100 books during his six-decade career. One of his most popular works was the illustration of Mikhail Y. Lermontov's renowned poem "Borodino" in the 1970s.Some 1 million copies of the book "Xung and Cung" had been released in Russia. It was based on the true story of the two elephants sent as a gift from President Ho Chi Minh and the Government of Vietnam to the people of the Russian city of Leningrad, now Saint Petersburg, in 1954. They travelled from Vietnam, through China and Siberia, to Leningrad Zoo for nearly a year and a half.The book has been translated into Vietnamese and released in Vietnam by Kim Dong Publishing House.Con Dao Island to become world-class marine tourist siteCon Dao Island, off the coast of southern Ba Ria-Vung Tau province, is set to become a world-class site for marine, cultural, historic and spiritual tourism, according to a revised plan for Con Dao development by 2045 newly approved by Deputy Prime Minister Le Van Thanh.The plan has been revised in an effort to better boost tourism in the island, protect and promote its historic relics and preserve the ecosystem of Con Dao National Park.The island's population is expected to reach a maximum of 15,000 by 2030 and 25,000 by 2045.The 16-island archipelago of Con Dao is located 180km from Vung Tau city, and about 230km southeast of Ho Chi Minh City. It has a land area of nearly 6,000ha and a water surface of 14,000ha.Preparations completed for Vietnam's first military engineer unit to a UN peacekeeping missionNearly 2,000 tonnes of equipment and supplies of Vietnam's Military Engineer Unit No. 1, which is about to join the UN Interim Security Force for Abyei (UNISFA), are being delivered to Hai Phong Port so as to be transported the mission by sea.This is the biggest shipment prepared for a Vietnamese unit to take part in UN peacekeeping operations.Talking to the Vietnam News Agency, Colonel Mac Duc Trong, Chief Commander of the Vietnamese force at UNISFA and head of Military Engineer Unit No. 1, said it has taken the country a very long preparation, from personnel to equipment, so as to be selected and invited by the UN to participate in the peacekeeping force in Abyei, a border area between Sudan and South Sudan.Preparations for the unit have been basically completed. The UN on March 30 sent a vessel to Hai Phong Port to receive the equipment and supplies, which are being delivered to this port from March 30 to April 4 and then will be sent to the mission.The equipment includes 147 vehicles and machines. Meanwhile, the military engineer unit consists of 184 members, and its advance team is scheduled to depart in late April to receive the equipment at a Sudanese port and UNISFA. The majority of the unit is expected to arrive in Abyei on May 10.Hanoi to translate UNESCO Creative Cities Network initiatives into realityHanoi plans to take various actions from now until 2025 to implement the UNESCO Creative Cities Network (UCCN) initiatives to raise public awareness of the capital's commitments to the network.Municipal authorities will introduce three initiatives locally and three others internationally.The local initiatives will include building the Hanoi creative design centre, developing and supporting creative spaces in Hanoi, and producing a TV show for creative talents. The creative design centre, to be located at the Hanoi Museum, aims to nurture talented creative designers, support potential creative projects, and promote international cooperation in the field.The municipal Department of Culture and Sports will be tasked to organise a number of training and capacity building courses for young designers, and assist community projects and encourage the participation of women, children and vulnerable groups in creative design projects.The city will also host the Hanoi creative design festival and a UCCN forum in Southeast Asia, and develop a network for young creative designers as part of the international initiatives.2022 Hanoi travel expo to take place this monthThe 2022 Hanoi travel expo will take place at Ly Thai To Monument and the surrounding streets in downtown Hanoi from May 13 – 15, aiming to attract domestic and foreign visitors to the capital city and revive its pandemic-hit tourism.The expo will feature numerous pavilions, including those for other cities and provinces nationwide to showcase their destinations and specialties, several for foreign travel agencies to boost outbound tourism, and others for introducing tours, holiday packages, hotel and flight deals to visitors. There is also a space for promoting Hanoi's craft villages and cuisine.A series of sideline events, such as music shows, cooking demonstrations and gameshows, will be held at the expo's main area at Ly Thai To Monument in the very heart of the city.During the expo, the organiser will arrange fact-finding trips to tourism firms from across the country to visit a number of popular destinations in Hanoi.PM orders quick response to abnormal downpours, floods in central regionPrime Minister Pham Minh Chinh has demanded authorities in the central region focus on addressing consequences of recent abnormal downpours and floods amid the dry season.The Government leader has sent an official dispatch on the issue to the People's Committees of Thua Thien-Hue, Quang Nam, Quang Ngai, Binh Dinh, Phu Yen, and Khanh Hoa provinces, Da Nang city, the National Steering Committee for Natural Disaster Prevention and Control, the National Committee for Disaster Response, Search, and Rescue, and some relevant ministries.According to the dispatch, the central region has recorded heavy downpours with rainfall of 200 – 500mm, even over 750mm in some places, which is abnormal in the dry season and has led to heavy losses in lives, property, and agricultural production, especially in Binh Dinh and Phu Yen.Con Dao National Park attracts eco-tourism projectsThe management authority of the Con Dao National Park on the island of Con Dao in the southern province of Ba Ria-Vung Tau has agreed to lease more than 70 hectares of land to the Saigon Pearl Investment Co., Ltd for the development of an eco-tourism project.Under the deal signed last week, there will be a genetic resource conservation centre for endangered plants, corals and turtles, and a laboratory for brown squirrel protection programme inside the eco-tourist site.The Saigon Pearl Investment will not trade off the national park's environmental values and untouched beauty for economic benefits, Chairman Tran Viet Khoa said, adding that to protect the forest and marine ecosystems and wetlands is to protect tourism resources and to sustain the business.Its tourism products will be created based on the natural ecosystem around Ong Cau Beach while the pristine natural ecosystem here will be preserved as part of the efforts to develop Con Dao as a national tourist site, Khoa added.Myriad activities underway to promote Vietnamese ethnic groups' cultureA series of activities marking Vietnamese Ethnic Groups' Culture Day are taking place at the Vietnam National Village for Ethnic Culture and Tourism in Hanoi's suburban Son Tay township from April 1 to May 3.According to the Ministry of Culture, Sports, and Tourism, a highlight will be a traditional market from the northern province of Son La, scheduled for the upcoming National Reunification Day (April 30) and May Day (May 1) holidays.It will feature ten stalls of Son La introducing local farm produce and food and 20 others displaying specialties from other northern localities – Dien Bien, Ha Giang, Hoa Binh, and Thai Nguyen provinces, and Hanoi's Ba Vi district, along with two tourism stalls.Additional 449 billion VND allocated for SEA Games 31 organisationDeputy Prime Minister Le Minh Khai signed a decision on April 1, approving the addition of 449 billion VND (19.66 million USD) to the organisation budget of the 31st Southeast Asian Games (SEA Games 31).The sum is sourced from the central budget's spending on physical training and sports for 2022.Of the fund, 378.3 billion VND will be provided to four ministries and central agencies; and 70.7 billion VND to Hanoi city and 11 provinces and centrally-run cities.Da Nang to host Routes Asia 2022The Asian route development forum 2020 (Routes Asia 2022) will take place in the central city of Da Nang on June 4-9 with programmes and activities connecting the air transport industry and flight networks in the Asia-Pacific region, the city People's Committee announced at a press conference held on April 2.Accordingly, the event, the 16th of this kind, will be co-hosted by Informa Routes company of the UK, Da Nang municipal People's Committee and Duy Anh Trading JSC – IPP Travel Retail. It is expected to attract over 500 delegates from airlines in Asia, Europe, the Middle East and North America; representatives from airports, airport operators, air service providers and international travel agencies around the world.Vietnam joins WIPO Performances and Phonograms TreatyVietnam's accession to the WIPO Performances and Phonograms Treaty (WPPT) and implementation of the pact is expected to encourage the development of the local cultural industry, Ambassador Le Thi Tuyet Mai, Permanent Representative of Vietnam to the UN, WTO and other international organisations in Geneva said.In her statement at a ceremony on April 1 to hand over Vietnam's signed treaty document to Director General of the World Intellectual Property Organization (WIPO) Daren Tang in the Swiss city, the ambassador said the treaty will especially promote the cinema and performing activities in contribution to Vietnam's socio-economic growth.The WPPT deals with the rights of performers and producers of phonograms, particularly in the digital environment.On the sidelines of the event, Ambassador Mai had a meeting with Tang and two WIPO deputy directors general Sylvie Forbin and Hasan Kleib to discuss the implementation of cooperation contents agreed between Vietnam and WIPO during the working visit of President Nguyen Xuan Phuc to the organisation in November 2021. The WIPO leaders pledged to work closely with Vietnamese competent agencies to quickly and successfully conduct the contents.Frost covers Fansipan peak in mid-springFrost appeared on the Fansipan peak early April 2 as temperature dropped below zero degree C despite the fact that it is already mid-spring now.A thick layer of frost was seen on trees and flowers, creating a spectacular sight, attracting many visitors.
This is the second time the Fansipan peak has been covered by frost in the 2021 winter.Temperature is forecast to remain low on early April 3, and frost is likely to remain on the mountain.Can Tho to host exhibition on traditional musical instruments of Vietnamese ethnic groupsAn exhibition of traditional musical instruments of Vietnamese ethnic groups will take place both online and offline at the Can Tho Museum in the Mekong Delta city of Can Tho from April 7-11, according to the Ministry of Culture, Sports and Tourism.The event will be jointly organised by the Museum of Cultures of Vietnam's Ethnic Groups and the Vietnam Arts and Culture Exhibition Centre as part of the third National "Don Ca Tai Tu" Festival – Can Tho 2022.On display will be 100 musical instruments, relevant documents and the images of artisans performing them.The exhibition aims to introduce richness, diversity and uniqueness of musical instruments of ethnic groups across the nation.Phu Tho plans fireworks display to commemorate Hung KingsHigh-altitude fireworks will be set off in the northern province of Phu Tho on April 9 night ( the 9th day of the third lunar month) as part of the Hung Kings Temple Festival 2022.According to Chairman of the provincial People's Committee Bui Van Quang, the 15-minute fireworks show will be preceded by an art performance programme.This year, the festival themed "Linh thieng nguon coi, Dat to Hung Vuong" (Hung Kings Land – Sacred Root), will mark 10 years since UNESCO recognised the worshiping rituals of the Hung Kings in Phu Tho as part of the world's intangible cultural heritage.Vietnam offers rice aid to help Philippines address typhoon aftermathOn behalf of the Prime Minister, Assistant to the Minister of Foreign Affairs Nguyen Minh Hang on April 1 symbolically presented 200 tonnes of rice worth nearly 100,000 USD as a gift from the Vietnamese Government and people to the Philippines to help address Typhoon Rai's aftermath.She stressed that the Vietnamese Government and people always stand side by side with their Philippine counterparts in the spirit of cooperation, friendship, and mutual support.The rice aid demonstrates Vietnam's attention to the storm victims as well as its wish to unceasingly solidify the strategic partnership between the two countries.Two Nguyen Dynasty artifacts donated to Thua Thien-Hue provinceChairman of the People's Committee of the central province of Thua Thien-Hue Nguyen Van Phuong on April 1 issued dispatch 3088/UBND-VH approving the reception of two artifacts of the Nguyen Dynasty donated by a company.The Sunshine Group Joint Stock Company bought the two artifacts – a mandarin hat and a dress – at an auction in Spain and donate to the province, home to the complex of royal palaces of the Nguyen Dynasty.The provincial leader highly valued the meaningful gesture of the company, and assigned relevant agencies to work with the Sunshine company to complete legal procedures on the donation of the artifacts.The two artifacts are scheduled to arrive in Vietnam in early April. The mandarin hat was made by around the end of the 19th century or early 20th century, while the silk dress dates back to the 19th century.They will be preserved and displayed at the Hue Museum of Royal Fine Arts, according to director of the Centre for Conservation of Hue Monuments Hoang Viet Trung.Cambodia to send women's football team to SEA Games for first timeThe National Olympic Committee of Cambodia (NOCC) announced on March 31 that it will send a women's football team to the 31st Southeast Asian Games (SEA Games 31) in Vietnam.This will mark the first time for the Cambodian women's football team to join the biggest sport event in the region.Cambodia has been fielding its men's football team in SEA Games, but not a women's team, though such team has been in existence for several years.The Southeast Asian nation also has a regular Women's League, where the best female players in the country play.There are currently eight teams in the Women's League, including Boeung Ket FC, Phnom Penh Crown FC, Preah Khan Reach Svay Rieng FC and NagaWorld FC. The top players from these clubs are expected to form a national team for SEA Games 31.Reading Culture Ambassador Contest 2022 launchedThe Reading Culture Ambassador Contest 2022 was launched in at the December 19 book street in Hanoi on April 1, part of the activities celebrating the Vietnam Book and Reading Culture Day this year.Pham Quoc Hung, head of the Library Department under the Ministry of Culture, Sports and Tourism, said the contest draws the participation of nearly 1 million students each year, becoming a forum kindling a love for reading among the young generation.The contest, themed "Aspiration for National Development", aimed to foster contestants' thinking skills and creativity. They are encouraged to create their works via paintings, poems, short stories and stage plays, among others.An online contest to introduce books was launched last year amid complicated developments of COVID-19, which received about 3,000 entries from 67,000 contestants in just two months. The entries gained a large amount of views even after the contest and served as reviews on thousands of books.Vietnamese, Australian firms cooperate in training public health workersHealth Careers International (HCI) Group of Australia on March 31 signed cooperation agreements with strategic partners in Vietnam on promoting the training of public health workers.Chief Operations Officer at the HCI said the two sides will join hands in training public community health workers whose bachelors' degrees will be accepted in any country around the world.According to the Ministry of Health, Vietnam is facing a shortage of human resources serving public health activities while the demand is increasing.Vietnam expected to rank in Pot 2 for 2023 AFC Asian Cup drawVietnam are one of 13 teams qualifying for final round of the 2023 AFC Asian Cup and likely to rank in the number 2 seed group (Pot 2).In accordance with the latest FIFA rankings, Vietnam may be placed in Pot 2 together with the United Arab Emirates (UAE), defending champions Qatar, Syria, Iraq and Oman.However, Vietnam still face a risk of falling to Pot 3 as they hold the lowest ranking among the Pot 2 teams and may be taken over by Uzbekistan, Jordan, Kyrgyzstan or Bahrain, which have higher positions than Vietnam in the FIFA rankings, if one of them advance to the final round.The tournament is scheduled to take place in China in June next year with the participation of 24 squads.The teams will be divided into six groups. The top two squads from each group and four best third-placed teams will secure berths at the Round of 16.VN rings home five Asian jujitsu goldsViệt Nam ended the Asian Jujitsu Championship with five golds and fifth place in the medal tally.Vietnamese athletes also grabbed three silvers and eight bronzes from the sixth tournament that concluded on April 1 at the National Stadium in Manama, Bahrain.On the last day of the competition on Thursday, world champion Phùng Thị Huệ snatched her third title in the women's Full contact 45kg class. On Wednesday, her first gold was in the Newaza (ground fighting technique), and the second was in the Combat (ground fighting technique) a day later.Earlier, Dương Thị Thanh Minh pocketed her second title in the women's Full contact 52kg pool. She also won the Newaza event on Wednesday.Silver medals on Thursday went to Đào Thị Như Quỳnh, women's 48kg and Đặng Thị Huyền, women's 57kg, all in full contact discipline.Two bronzes on the last day went to the women and mixed pairs in the Duo Classic events.Vietnamese director wins top French art honourThe Knight of the Order of Arts and Letters has been conferred on film director Đặng Nhật Minh for his contributions to enhancing cultural understanding between Việt Nam and France.He received his award during a ceremony at the French Embassy in Việt Nam on March 31.At the event, director Đặng Nhật Minh thanked the French Ministry of Culture, French Embassy in Việt Nam, Việt Nam Union of Literature and Arts, Việt Nam Cinema Association and colleagues who helped him complete the film projects.Đặng Nhật Minh is one of the few Vietnamese directors with global renown. The self-taught filmmaker made highly acclaimed films such as Bao Giờ Cho Đến Tháng Mười (When the Tenth Month Comes) and Đừng Đốt (Don't Burn).Ministry asks social media platforms to pull videos of teenager death in Hà NộiThe Ministry of Information and Communications said it requested domestic and cross-border social media platforms to scan for and remove all video clips and images related to the death of a student in Hà Nội.Local press previously has reported on the death of a 10th-grader from Hà Nội-Amsterdam School for the Gifted, who fell from his apartment on the 28th floor of a condo in Hà Đông District early Friday morning, at around 3:30am.By late night, a seven-minute video reportedly of the incident (which appears to have been extracted from a security camera inside the apartment) showing the boy at the desk on his notebooks before stepping off from the balcony, along with a photograph of the 'suicide notes' he left for his family explaining the reasoning for ending his life, were shared all over Facebook, YouTube, and some news outlets as well.Other than the outpouring of sympathies, there was also a lot of posts and comments excoriating the victim's family and blaming them for the death of the student.The ministry has also asked the press to not dwell too deep into the incident, causing further pain to the family.The information ministry representative said a website for children protection and emergency responses has been set up at vn-cop.vn recently.The police is also searching for the 'leaker' of the video and the notes without the family or the authorities' permissions, but have had no success so far.UNICEF Vietnam calls for reopening of all schoolsUNICEF Việt Nam has called on the country to reopen schools for all age groups "without prerequisites".They says there are serious concerns of "learning loss and increasing risks of rising inequality for too many children" with the COVID-19 pandemic entering the third year.In a public statement by UNICEF Representative to Việt Nam Rana Flowers, she cited a global report released late March by UNESCO, UNICEF and World Bank, entitled "Where are we on education recovery" which stressed the urgent and critical need to address the colossal loss to children's learning worldwide.With a combined 2 trillion hours of in-person school lost due to school closures since March 2020, students in more than four in five countries have fallen behind in their learning, according to the report.Woman arrested in Hà Nội's fatal fire incidentA woman who allegedly caused a fire, killing one and injuring five others, was arrested by Nam Từ Liêm District Police on Friday.Trần Thị Thanh Hải, 29, from Minh Thuận Commune, Vụ Bản District, the northern province of Nam Định, is suspected of causing the fire on Thursday night in Phú Đô Ward, Nam Từ Liêm District, in Hà Nội.Initial investigation showed that at the end of 2019, Hải fell in love with Chẩu Việt Hoàng, 28, from Thương Lâm Commune, Lâm Bình District, the northern province of Tuyên Quang.In January this year, Hải became pregnant by Hoàng, but Hoàng's family would not agree to a marriage, which led to arguments.Two months later Hoàng moved in with his cousin Hoàng Công Việt in Phú Đô Ward to avoid meeting Hải.Hải became angry with Việt as she thought he prevented the relationship from continuing.At about 3 pm on Thursday, Hải bought petrol and put it in a 1.5-litre water bottle. She went to Việt's boarding house to meet Hoàng but the door was locked, so she left.At 6 pm she returned with the petrol and set fire to Việt's motorbike.Police investigation showed that the fire occurred in a 20-metre parking ground of the house. The boarding house has a total area of about 170 square metres with six floors and 20 rooms.The fire destroyed nine motorbikes and partially damaged several others.The fire killed one person, N.T.M.A, 25, from Tản Lĩnh Commune, Ba Vì District in Hà Nội and injured five others, including four children.Source: VNA/VIR/SGT/VNS/VOV/Dtinews/SGGP
Hanoi to hold 31-day countdown to SEA Games 31