Although the health crisis is becoming more complicated, Vietnam is still forecast to take the lead in economic growth in the region in 2022
on the back of corporate confidence rising from difficulties, with the country remaining an attractive investment location.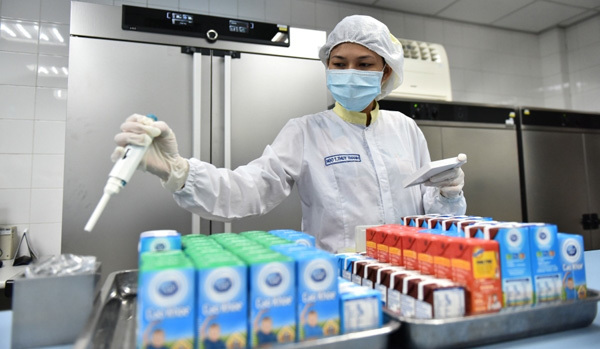 Growing confidence of enterprises is a big propellant for Vietnam's economic growth.
Over the past few months, Nguyen Thi Thanh and another 1,300 workers at Japanese-backed FCC Vietnam Co., Ltd. based in Hanoi have been rolling in their work at full speed.
"The company is bouncing back strongly from difficulties caused by the COVID-19 pandemic, with many orders having been landed from the US – one of the company's key export markets," Thanh said.
Last November, this company imported a number of state-of-the art lathes in a scheme to amplify production. FCC may will continue importing more lathes this year when the company is expecting more opportunities in investment and business activities.
FCC Vietnam has three major workshops manufacturing automobile clutches, and other spare parts to supply for Suzuki, Yamaha, and Honda, and for the US market as well.
Last month the Japan External Trade Organization (JETRO) has announced a survey report with the participation of 4,600 Japanese businesses operating in close to 20 Asia-Pacific markets, including 700 firms in Vietnam.
According to the survey, the ongoing COVID-19 pandemic has failed to prevent Japanese investors from pouring money into Vietnam. The percentage of Japanese enterprises wishing to swell investments in Vietnam was 10 points higher than that of other Southeast Asian nations.
Profit last year was estimated to be more than 54%, up 4.7 points from 2020. Especially, over 55% of Japanese firms desired to increase production and business activities in Vietnam within the next 1-2 years, while the respective rates in Indonesia, Malaysia, and Thailand were 45.3, 43.2, and 40.4%.
According to the Vietnamese Ministry of Planning and Investment, Japan has invested in 19 industries and fields in Vietnam, largely in the processing and manufacturing industry, for more than 4,800 valid projects registered at 64.13 billion USD.
Bouncing back
According to global analysts FocusEconomics, after the economy rebounded sharply in the fourth quarter of 2021, with growth once again underpinned by strong output from the manufacturing sector, momentum is likely to carry over into 2022. Industrial production growth remained robust in January amid improving manufacturing output.
"The economy is estimated to grow at the fastest rate in the region this year (see box below), following 2021's relatively weak expansion. Higher growth in consumer and capital spending, combined with a robust external sector, should boost activity in 2022," FocusEconomics said in a March report on ASEAN sent to Nhan Dan Online.
"Our panellists expect GDP to expand 7.2% in 2022, and 7% in 2023."
According to the General Statistics Office (GSO) last year, Vietnam's added value for industrial production grew 4.82% year-on-year, up from the year-on-year expansion of 3.36% in 2020. In which, that of the manufacturing and processing sector rose 6.37% year-on-year, higher than the year-on-year expansion of 5.82% in the same period last year. The electricity production and distribution rose 5.24% year-on-year, also higher than the year-on-year ascension of 3.92% in 2020.
In the first two months of this year, due to the traditional Tet festival delaying all production activities, Vietnam's index for industrial production (IIP) is estimated to go up by 5.4% over the corresponding period last year when the IIP increased 6.8% year-on-year. In which, the IIP of the manufacturing and processing sector ascended 6.1% year-on-year, lower than the year-on-year rise of 9.4% in the same period last year.
"Looking ahead, industrial production is projected to accelerate in 2022 as the pandemic abates and associated restrictions are eased. Moreover, the underlying strength of Vietnam's industrial sector remains intact: Vietnam is an attractive low-cost base for manufacturing firms, including those looking to relocate from China due to the US-China trade tensions," FocusEconomics said. "Our panelists estimate that industrial output will grow 10.5% in 2022, which is up 2.1 percentage points from last month's forecast, and expand 8.3% in 2023."
Turning to this year, it is expected that there will be a continuation of strong activity growth in Q1 of 2022. In early January the government adopted more than 15 billion USD in stimulus measures aimed at supporting the economic recovery, including tax breaks, cheaper loans and increased infrastructure spending.
Dhiraj Nim and Khoon Goh, economists at ANZ, are also optimistic, stating, "Overall, our forecast for 2022 GDP growth is at 8%, higher than the market consensus. There is a large degree of uncertainty surrounding our growth forecast. Achieving it is dependent on the strong growth momentum at the end of 2021 carrying over into early 2022, and the absence of further tightening in restrictions as the country moves to an endemic strategy for dealing with COVID-19."
Can Van Luc, a member of the National Advisory Council for Financial and Monetary Policies, said that in the first two months, the Vietnamese economy has continued regaining its recovery momentum, with a growth rate for the first quarter of 2022 forecast to grow 5-5.5% year-on-year, which remains relatively positive amid the lingering COVID-19 pandemic and big hikes of oil prices.
"However, Vietnam remains a good investment destination for foreign investors," Luc said.
An attractive investment location
On March 8, the US-ASEAN Business Council (USABC) and representatives from as many as 50 US companies operating in Vietnam had an offline working session with the Vietnamese Ministry of Planning and Investment.
Regional Managing Director of the USABC Michael Michalak, who used to serve as a US Ambassador to Vietnam during 2007-2011, affirmed that Vietnam will continue being an attractive destination for US investors in the future.
He said that US companies highly appreciated the Vietnamese government's big efforts in reforming administrative procedures and improving the investment climate. They are committed to swelling their operations in the country.
According to the MPI, as of February 20, 2022, US investors registered 10.33 billion USD in Vietnam for nearly 1,150 valid projects, making the US the 11th largest foreign investor in the Southeast Asian nation.
In another case, according to the latest Business Climate Index (BCI) from the European Chamber of Commerce in Vietnam (EuroCham), European enterprises ended 2021 more positive and optimistic about Vietnam's trade and investment climate.
The BCI, carried out over more than 1,200 European companies in Vietnam, hit the highest point following the fourth coronavirus wave, with positive sentiment hitting 61 points. That means a soar of 42 points since the third quarter of last year.
"The BCI remains below its pre-pandemic peak. However, it is clear evidence that confidence is returning to the market," EuroCham said.
Some 58% of European business leaders are now anticipating economic stabilisation and growth in the first quarter one of 2022, up by eight points in optimism. About 43% of respondents planned to increase their investment in the first quarter of this year.
For worker Nguyen Thi Thanh at FCC Vietnam Co., Ltd, she said that though she does not understand so much about international reports and their forecasts on the Vietnamese economy's outlook for this year, she believe in her continued work at the company which is offering good salaries and allowances.
"My husband is also working at a foreign company in Hanoi producing electronics products exported to Japan and Europe. At present, he is partaking in a vocational training so that he can begin working at a new production chain which will be imported from the Republic of Korea in May," Thanh said.
Source: Nhan Dan
Vietnam's economy is forecast to grow beyond expectation in 2022 as domestic demand rebounds and foreign direct investment (FDI) inflows remains stable.
In 2022, Vietnam is forecast to record growth at a significantly higher rate, partly thanks to the high vaccination rate that helped the country recovered most of its economic activity since late 2021.