Designer Hoàng Minh Hà closes International Fashion Week Spring-Summer 2022 with his new collection called "Infinity". Photo courtesy of Multimedia JSC
HCM CITY— Vietnamese designers have impressed fashionistas with the use of natural and recycled materials in their latest collections, hopefully setting an environmentally friendly trend.
The collections were presented at the Aquafina Vietnam International Fashion Week Spring-Summer 2022.
Designers Lý Giám Tiền, Hoàng Minh Hà, Võ Công Khanh, Adrian Anh Tuấn, Nguyễn Tiến Truyển and Tiny Ink presented elegant works in fabrics made of lotus stems and leaves, coffee grounds, peppermint, oyster shells, coconut fibre and recycled plastic.
The use of recycled materials reflected the need for and desirability of sustainability in the fashion industry, and called on the community to join together in protecting the environment and the future, the designers said.
Khanh used "green materials" made of oyster shells, coffee ground, lotus fibre and recycled plastic to create dozens of ready-to-wear designs for men and women in his new collection "H2O".
Tiền, winner of the first season of the fashion reality show Project Runway Vietnam, used recycled fabric for his "The Future Women" collection that comprised elegant and modern evening gowns.
Hà, who closed the event, brought a collection called "Infinity", telling the story of women "crossing the border to reach out to happiness".
Lê Thị Quỳnh Trang, founder and chairwoman of Vietnam International Fashion Week, said: "The AVIFW 22 highlighted the #ReFashion theme. So the stage was designed as a fashion boulevard set in a green background to mark a comeback and a fresh breath in Việt Nam's fashion (industry)."
The AVIFW 2022, held in HCM City from May 25-29, attracted the participation of 18 Vietnamese and international designers and brands. Among the prominent names were Hoàng Hải and Lê Long Dũng; and brands Zimmermann from Australia and Camicissima from Italy.
The catwalk featured winners from Vietnamese beauty pageants over several years, top models and child models including Thanh Hằng, Võ Hoàng Yến, Anh Thư, Miss Grand International 2021 Thùy Tiên, and Miss Việt Nam 2020 Đỗ Thị Hà. — VNS
Model Thanh Hằng in a Lý Giám Tiền creation from the collection titled 'The Future Women'.' Photo courtesy of Multimedia JSC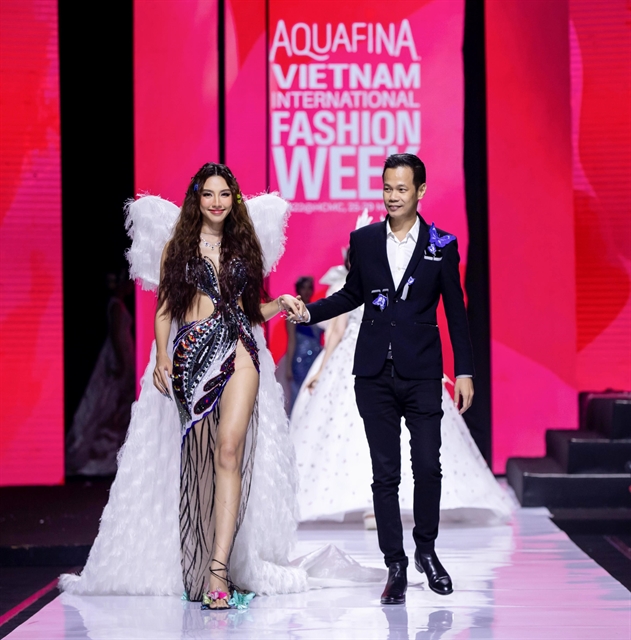 Miss Grand International 2021 Thùy Tiên in a creation from Hoàng Hải's 'Bướm Hoang' (Wild Butterfly) collection. Photo courtesy of Multimedia JSC
Model Anh Thư in a design from Tiny Ink's 'Ngọc Quý Trong Đá' (Hidden Gem) collection. Photo courtesy of Multimedia JSC
Model Lan Khuê shows off 'Summer Resort 22' collection from Australian fashion brand Zimmermann. Photo courtesy of Multimedia JSC
VIFW president Lê Thị Quỳnh Trang with Datuk Kenn Yam, founding member and honorary chairman of Council of ASEAN Fashion Designers, at the AVIFW 2022 held in HCM City on May 25-29. Photo courtesy of Multimedia JSC