Vietnam will reduce the excise tax and registration fee placed on electric cars, with these two preferential policies anticipated to become a lever in which the local electric vehicle market, which is in its infancy, can quickly develop in 2022.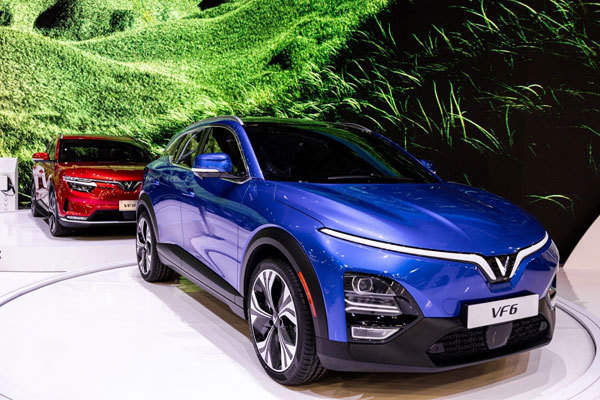 The electric vehicle market has great potential for strong development in Vietnam though it is in its infancy.
New preferential policies for electric vehicle manufacturing
Under a Decree recently issued by the Government, battery-powered electric cars are to be exempt from the registration fee for three years, starting from March 1. The fee shall be paid at a rate equal to 50% of the fee for petrol and diesel fueled cars with the same number of seats over the next two years.
The National Assembly also recently agreed to reduce the excise tax placed on electric cars in an attempt to encourage greater investment in developing battery powered electric cars, thereby contributing to reducing environmental pollution from vehicle emissions.
Specifically, battery-powered electric cars with nine seats or fewer and those with 10 to 15 seats will be subject to corresponding tax rates of 3% and 2% from March 1, and 11% and 7% from March 1, 2027.
Similarly, electric cars with 16 to under 24 seats will have a tax rate of 1% from March 1, 2027, and 4% from Match, 2027. For vehicles that are designed to carry both passengers and cargo, the tax rate will be 2% from March 1 before climbing to 7% from March 1, 2027.
The Government previously introduced a number of tax reduction preferences for assembling components and producing electric cars, although these policies were not viewed as attractive to manufacturers. The two preferential policies to take effect at the same time are anticipated to bring about a range of benefits to the newly-developed local electric vehicle market.
It will also serve to help the domestic market catch up with the general trend of the auto industry, especially when the various battery-powered electric car industries of Vietnam and other ASEAN countries have almost identical starting points.
In order to be able to develop the electric vehicle market, introducing incentives for users and manufacturers remains an important condition. However, experts say these policies are still only considered as measures in which to promote the market over the short term.
Experts therefore suggest that the Government focus more on developing infrastructure for electric cars, such as establishing car charging stations or supporting the construction of battery factories to reduce vehicle costs.
New models on the horizon
The domestic market is set to welcome the launch of a number of new electric car models from VinFast, Kia, and Mercedes-Benz in 2022.
VinFast has implemented a plan to commercially market its VF 8 and VF 9 models, formerly named VF e35 and VF e36, this year following its successful launch of the model VF e34. The VF 8 will change hands at between VND1.057 and 1.237 billion, while the VF 9 will cost between VND1.443 – 1.572 billion.
Meanwhile, Thaco, the local assembler and distributor of Kia vehicles, will debut its Kia EV6 electric crossover from the second quarter of 2022, with specific pricing and configurations yet to be announced.
In November, 2021, Mercedes-Benz introduced EQS, a large electric sedan, stating that it would sell this model in the Vietnamese market. The model has appeared in the firm's product catalog in Vietnam with the 450+ and 580 4MATIC versions.
Along with EQS, the official website of Mercedes-Benz Vietnam has also published information about EQB, an all-electric 7-seater SUV. However, the list of versions and configurations has yet to be made public.
Source: VOV
Domestic e-vehicles will consume about 71.87 billion kWh by 2050 when the whole population will use 100 per cent e-bikes and 70 per cent e-automobiles, according to experts.