Prime Minister Pham Minh Chinh reaffirmed Vietnam does not take side while he was addressing the 31st diplomatic conference on Wednesday.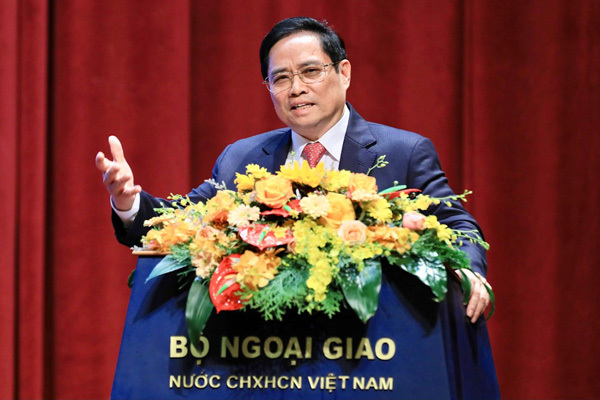 Prime Minister Pham Minh Chinh addresses the 31st diplomatic conference, Hanoi, December 15, 2021. Photo: VGP
The Government chief went on to emphasize that Vietnam chooses peace, friendship, cooperation and development.
Prime Minister Pham Minh Chinh tasked the sector to actively contribute to institutional building, human resource development, green technology and green finance development, effective implementation of the free trade agreements, COVID-19 prevention and control, and socio-economic recovery.
Speaking at the event, Minister of Foreign Affairs Bui Thanh Son said the conference takes place at a crucial time when the diplomatic sector and the nation are entering a new development period and striving to successfully implement the Resolution adopted at the 13th National Party Congress.
Pointing to the rapid, complex developments in the world and domestic situations, notably the COVID-19 pandemic, Bui said the diplomatic sector has made concerted efforts to overcome difficulties and challenges to synchronously carry out major tasks on foreign relations.
The sector has gained important results, particularly maintaining a peaceful and stable environment, significantly contributing to protecting national independence, sovereignty, unity and territorial integrity, expanding and deepening relations between Vietnam and many partners, and maximizing external resources to serve socio-economic development.
It has continued to promote the image of Vietnam as a nation of independence and self-reliance with a rich culture, which is resolved to pursue reforms and make active and responsible contributions to major international issues and forums, Son said, highlighting Vietnam's fulfillment of its duties as Chair of the ASEAN in 2020 and a non-permanent member of the United Nations Security Council in the 2020-2021 term, helping to raise the country's position in the international arena.
Source: VGP
Prime Minister Pham Minh Chinh pointed out basic orientations on three pillars of political, economic and cultural diplomacy while addressing the 31st National Diplomacy Conference in Hanoi on Wednesday.