Disbursed social investment capital in 2021 sees lowest increase
The total social investment capital disbursed in 2021 was estimated at nearly 2,892 trillion VND (126.5 billion USD), up 3.2 percent annually, reported the General Statistics Office (GSO).
A GSO leader said it has been the lowest increase over the past years, but the result was positive amid the complicated developments of COVID-19 pandemic at home and abroad.
Of which, the capital of the State and FDI sectors decreased 2.9 percent and 1.1 percent respectively while that of the non-State sector increased 7.2 percent.|
According to the Ministry of Finance, as of December 31, 2021, disbursement of public investment capital reached 77.3 percent of the target assigned by the Prime Minister compared to 82.66 percent from the same period last year. Of which, 83.66 percent was domestic and 26.77 percent was foreign capital.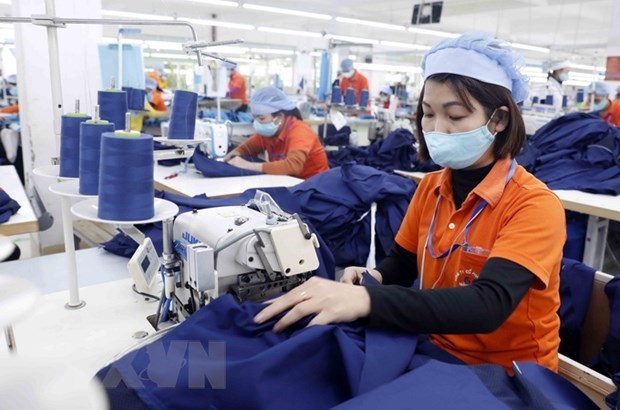 Illustrative image (Photo: VNA)
Vietnam Trade Office works to boost exports to North Europe
The Vietnam Trade Office in Sweden and North Europe plans to take European food importers to Vietnam to buy goods this year while popularising more Vietnamese products in the area.
Priority will still be given to online trade promotion activities apart from holding weeks of Vietnamese goods and expos.
As Vietnam and Latvia will mark their 30th anniversary of bilateral diplomatic ties this year, the office will launch major activities in the European country, including holding the Vietnam – Latvia business forum in collaboration with the Ministry of Economics of Latvia.
It will also conduct a scientific study on measures boosting Vietnamese exports to North Europe in the context of the implementation of the EU-Vietnam Free Trade Agreement (EVFTA).
Statistics showed that Vietnam's export to North Europe, including Sweden, Denmark, Norway, Iceland and Latvia, reached 1.86 billion USD in 2020. The figure hit 1.74 billion USD in ten months of 2021, up 0.04 percent annually. In recent years, Vietnamese rice has become a major currency earner from these markets.
Over the past two years, the office has published 14 e-books about each Northern European market and several outstanding Vietnamese goods such as farm produce, coffee, organic food, plastics and plastic products, and footwear.
Agriculture sector affirms role in economic development
As a challenging 2021 comes to the end, the agricultural sector has overcome a host of difficulties posed by Covid-19 and surpassed many of its targets a month early, strengthening its role as a strong pillar of the country's economy.
Overcoming the challenges from Covid-19, the agricultural sector posted better-than-expected results, ensuring abundant food supplies amid the tough time.
In particular, agricultural exports surpassed the target a month earlier than expected.
Productivity, production, and exports all surpassed targets, but there were certain shortcomings to be overcome in coping with the pandemic.
Agriculture has thoroughly carried out instructions and guidance from the government in implementing the dual goals of preventing and controlling the Covid-19 pandemic and promoting socio-economic development.
EVFTA Domestic Advisory Group has three more members
Three more members have been added to a Domestic Advisory Group (DAG) established under the EU-Vietnam Free Trade Agreement (EVFTA), pushing the total number of its official members to six.
Accordingly, the three new members consist of the Vietnam Association of Seafood Exporters and Producers (VASEP), the Vietnam Fisheries Society (VINAFIS), and the Education for Nature Vietnam (ENV). The initial members of the group are the Vietnam Chamber of Commerce and Industry (VCCI), the Institute for Workers and Trade Unions (IWTU) under the Vietnam General Confederation of Labour and the Centre for Sustainable Rural Development (SRD).
Set up under Article 13.15 of Chapter 13 on Trade and Sustainable Development in the EVFTA, the DAG operates as a forum and has neither legal status nor its own stamp and bank account. It will operate in a self financing mechanism.
It has the function and task of collecting and presenting viewpoints, making recommendations, advice and feedback relating to the implementation of the chapter on trade and sustainable development in the EVFTA. Those viewpoints and recommendations will be submitted to the EVFTA's Committee on Trade and Sustainable Development.
Tet gift hampers become more affordable with local products
With people forced to tighten their purse strings due to the impacts of the COVID-19 pandemic, Tet gift hamper sellers have switched to predominantly local products to ensure prices remain affordable.
Thanks to this, sales have prospered in recent days and are expected to remain strong during the lead-up to Tet (traditional Lunar New Year), experts said.
Hampers sold at supermarkets and other places include items typically used during Tet such as confectionery, cooking oil, soft drinks, instant coffee, wine, and Tet jams.
Their prices range from 200,000 VND to several millions VND.
Retailers are also offering free packaging for customised hampers.
Shops in traditional markets like Tan Dinh, Thi Nghe and Ba Chieu are also displaying various kinds of hampers.
Shopping websites are also flooded with hampers these days, but experts said, as always, when buying online, buyers should be careful.
Farm co-operatives and organic agricultural producers are offering many gift hampers this year.
Flexibility, adaptability key to success amid COVID-19: Minister
The agricultural sector has overcome difficulties given the COVID-19 impacts to meet its 2021 targets, Minister of Agriculture and Rural Development Le Minh Hoan said.
According to the minister, in the third quarter, complicated developments of the pandemic in southern localities and in big industrial and agricultural hubs of the nation caused serious production and distribution disruptions, while difficulties were seen in many export markets of Vietnam.
He attributed the year-end sound outcomes to the flexibility of the involved management systems from central to local level, business communities, associations, and farmers in connecting goods and enterprises and pushing for a rapid recovery during last months of the year.
Vietnam looks to welcome more golf travellers post-pandemic
Awarded with the World's and Asia's Best Golf Destination, Vietnam has competitive edges to gain a stronger foothold in the golf tourism market post-COVID-19.
There are about 60 million golf players worldwide, and Vietnam is completely capable of conquering this segment.
The Vietnam National Administration of Tourism said anticipating a growing golf tourism trend ways before the COVID-19 broke out, Vietnamese developers have invested heavily in building golf courses across the country.
Golf courses must get prepared to welcome back foreign tourists when international travel resumes. Besides, it is crucial to apply technology for greater exchanges among golf clubs and better connection among golf courses and local authorities must help improve linkages among tour operators to boost golf tourism.
Regional Comprehensive Economic Partnership officially takes effect
The Regional Comprehensive Economic Partnership (RCEP) , the world's largest trade pact, officially came into effect on January 1.
The pact will provide a boost to trade and business ties between Singapore and the RCEP parties, said Singaporean Minister for Trade and Industry Gan Kim Yong in a press release published on December 31.
Signed in November 2020, RCEP brings together 10 ASEAN member states, along with China, Japan, the Republic of Korea, Australia and New Zealand, covering 30 percent of the global gross domestic product (GDP) worth 26.2 trillion USD.
RCEP will form a market with 2.2 billion consumers, and become the largest free trade area in the world in terms of population. It will eliminate tariffs on as much as 92 percent of goods traded between its signatories eventually, expand market access for investment, harmonise rules and regulations, and strengthen the supply chains within the massive free trade zone.
RCEP is designed to cut costs and time for businesses to export goods to any of the signatories to the agreement without having to meet separate requirements of each country.
Vietnam suggests China restore customs clearance at border gates
Officials of Vietnam and China on December 31 discussed urgent measures to handle goods congestion in the areas bordering China's Guangxi.
The cargo congestion was debated during the online talks between the Asia – Africa Market Department under the Vietnamese Ministry of Industry and Trade (MoIT), authorities of the northern border provinces of Lang Son, Quang Ninh and Cao Bang, and Guangxi's Department of Commerce.
The MoIT said COVID-19 prevention and control measures currently imposed by Guangxi like suspending the operations of border gates or the import of certain fruits have disrupted the supply chain, adversely impacted the bilateral trade and caused great losses to businesses and people of both sides.
It suggested restoring customs clearance at the border gates and increasing the time for customs clearance.
The ministry also urged Guangxi to provide updates on the operations of border gates in Guangxi, while coordinating to review and complete goods delivery process in line with pandemic prevention and control regulations.
Vietjet welcomes first international flight in 2022
The first international flight operated by new-generation airline Vietjet this year departed from Tokyo (Japan) and arrived at Noi Bai International Airport in Hanoi on January 1.
The airline has resumed the Hanoi-Tokyo route from January 1 with one flight per week, with the frequency expected to be increased in the time ahead.
It has also announced the flight schedules between Hanoi/Ho Chi Minh City and Taipei (Taiwan, China), Singapore, Thailand and the Republic of Korea (RoK), which are set for early this year.
The airline is offering free COVID-19 PCR tests for passengers departing from Hanoi and HCM City.
Vietsovpetro's profits see 73.2 percent higher than target in 2021
Vietnam-Russia oil and gas joint venture Vietsovpetro has exceeded the production and financial targets for 2021 with profits for both sides was 282.5 million, or 73.2 percent higher than the set plan.
Bondarenko Viacheslav Aleksandrovich, First Deputy General Director of Vietsovpetro, said in 2021 the joint venture finished construction of six oil wells and increase its output by 8.8 percent compared to the yearly plan.
Regarding oil and gas exploitation, the company's total oil production reached the target 19 days earlier while natural gas production was also completed its target one month ahead of the schedule.
Ending 2021, Vietsovpetro's oil output exceeded 3.16 million tonnes and natural gas output reached 82.3 million cu.m, surpassing the yearly targets by 5.5 percent and 7.4 percent, respectively.
Its oil and gas sales hit over 1.68 billion USD while profits totaled 282.5 million USD, 49 percent and 73.2 percent, respectively, higher than the set targets.
Vietnam Airlines offers tickets to more countries, territories
Vietnam Airlines has offered tickets for regular flights to the Republic of Korea (RoK), Singapore, Thailand, Laos and Taiwan (China).
Earlier, the national flag carrier put up for sale tickets to the US, Japan and Cambodia.
It is awaiting approval from competent agencies to reopen flights to Europe and Australia this month, towards completely restoring international routes in early 2022.
The airline is scheduled resume the Hanoi-Seoul (the RoK) route from January 6, the Hanoi/Ho Chi Minh City-Singapore routes from January 12, the HCM City-Bangkok (Thailand) route from January 8, the Hanoi-Vientiane (Laos) route from January 9, and the Hanoi-Taipei (China) route from January 11.
Flight frequency would be increased based on the latest situation to meet the travelling demand which is forecast to rise before and after the upcoming Lunar New Year (Tet) holiday.
Vietnam Airlines has asked passengers to keep updated with information about COVID-19 vaccine passports, testing and vaccination, among others.
Ministry of Construction works to avoid property bubble
The Ministry of Construction (MoC) has requested the People's Committees of provinces and centrally-run cities to strengthen the management of the domestic real estate market, controlling the risks of a property market bubble.
Many organisations, individuals and businesses have violated regulations relating to the property market, according to the ministry. Data on the real estate market is incomplete and lacks transparency. Some enterprises are conducting real estate business, though they do have legally have the license to do so.
In some localities, there have been illegal real estate transactions, including the sale of plots on agricultural or non-agricultural land. This has affected the socio-economic development of the real estate market.
There are some cases of land auctions with the winning prices being many times higher than the offering price, causing negative impacts on the housing and real estate market, the ministry said.
Therefore, MoC has proposed the people's committees of the provinces and centrally-run cities focus on reviewing and inspecting land auctions.
Localities also need to review their real estate markets and the potential risk of "bubbles" or other unusual developments. They must forecast the future of the real estate market and implement tasks and solutions to promote stable and healthy developments of the real estate market.
HCM City, Da Nang, Thua Thien-Hue welcome first tourists in 2022
National flag carrier Vietnam Airlines on January 1 coordinated with authorities of Ho Chi Minh City, Da Nang city and Thua Thien – Hue province to hold ceremonies to welcome the first tourists to the localities.
The airline said the first visitors to HCM City and Thua Thien-Hue departed from Hanoi, while those to Da Nang boarded a flight from HCM City.
The events were parts of a cooperation programme between Vietnam Airlines and the municipal and provincial People's Committees.
Member carriers of Vietnam Airlines Group are planning to resume 10 more domestic air routes from January 2022, raising the number of such routes to nearly 50.
The routes are scheduled to resume from January 16, with three to four flights per week each.
The carriers will also increase the flight frequency on many routes to an average of about 300 one-way flights per day in total.
Disbursed public investment in 2021 hits 77.3 percent: MoF
The public investment disbursed in 2021 has reached 77.3 percent of the target set by the Prime Minister, lower than the rate of 82.66 percent recorded last year, according to the Ministry of Finance (MoF).
Of the sum, the disbursed domestic capital is equivalent to 83.66 percent of the target for this type of funding while foreign capital 26.77 percent.
By the end of December, seven ministries and 20 localities have posted a disbursement rate of over 80 percent, including the provinces of Ba Ria – Vung Tau (95.7 percent), Hai Duong (91.6 percent), and Long An (91.4 percent).
Noting several causes of the modest disbursement, the MoF pointed to the slow assignment of public investment plans for new projects, problems in site clearance, the complex COVID-19 situation, the surge in prices of construction materials, the lack of drastic moves by some ministries and localities, as well as the low-quality preparations and limited capacity of some project managers, supervisors, and contractors.
CAAV allows resuming the operation of Boeing 737 Max aircraft in Vietnam
The Civil Aviation Authority of Vietnam (CAAV) has lifted a ban on the Boeing 737 Max three years after two crashes, one in Indonesia in 2018 and the other in Ethiopia in 2019, which killed a total of 346 people.
According to a CAAV representative, the decision to allow the Boeing 737 Max back to service in Vietnam takes effect from December 31, 2021.
The decision was made on the ground of Boeing's safety measures based on the results of the investigation into the two crashes, assessment of aviation authorities around the world, and the safety index of the Boeing 737 Max after being licensed to operate again as well as the evaluation of the Aviation Safety Risk Assessment Council of the CAAV.
According to the CAAV, after the conclusion of the investigation, the manufacturer of Boeing has repaired a flight control system blamed for the two crashes that led to the ban, updated operating manuals and increased pilot training.
Further cut on environmental protection tax on jet fuel approved
The environmental protection tax on jet fuel will be down further to 1,500 VND (0.066 USD) per litre, starting from January 1, 2022, according to a resolution adopted by the National Assembly's Standing Committee during its sixth sitting on December 31.
Under the new resolution, the new tax rate will be half of that outlined in Resolution No.579 issued by the NA Standing Committee in 2018 on environment protection taxes. The reduced tax rate will be applicable until December 31, 2022 and will be back to the normal rate of 3,000 VND per litre from January 1, 2023.
The move aims to provide extra help to the COVID-19-stricken aviation industry. The sector is forecast to go through another tough year because of lingering impacts of the pandemic, slowing down the recovery of the aviation market domestically and internationally.
US allows import of Vietnam's pomelos
Vietnam's pomelo has received green light from the US side to officially enter the US market in 60 days, according to Deputy Minister of Agriculture and Rural Development Tran Thanh Nam.
He also said that the US authorities will also consider opening the door for Vietnamese coconuts.
Nam suggested that businesses wishing to export the fruit to the US should work with the plant quarantine units of Vietnam to complete necessary documents to soon export pomelos to the US.
According to the Department of Crop Production under the Ministry of Agriculture and Rural Development, the country has 105,400 hectares under pomelo trees, with a total output of nearly 950,000 tonnes.
From now until the first quarter of 2022, Vietnam will harvest about 140,000 tonnes of pomelos.
PM praises VCCI's contributions to national achievements
As an organisation gathering and representing the business community, entrepreneurs, employers and trade associations, the Vietnam Chamber of Commerce and Industry (VCCI) has performed its tasks well, making important contributions to the common achievements of the country, said Prime Minister Pham Minh Chinh at the VCCI's 12th national congress in Hanoi on December 31.
The Government leader said that the Party and State highly value the efforts of the business community and entrepreneurs in adapting to COVID-19 situation to maintain production and income for labourers, while supporting each other to overcome challenges.
The Government understands and shares the difficulties and challenges facing enterprises, and is working hard to support them during the recovery process, he said.
The PM asked the VCCI to further improve its operational efficiency, engage more in building policies on important areas of the economy, and foster linkage among enterprises.
Vietnam Airlines JSC eyes comprehensive restructuring to weather COVID-19 crisis
The Vietnam Airlines JSC has drafted a set of seven solutions for comprehensive restructuring, which are waiting for approval from authorities, after another year struggling with COVID-19 impacts, according to Chairman Dang Ngoc Hoa.
The State-owned corporation, which owns national flag carrier Vietnam Airlines, low-cost Pacific Airlines and the Vietnam Air Services Company (VASCO), received refinancing loans worth 4 trillion VND (175.63 million USD) at zero interest rate from the State Bank of Vietnam in the third quarter of 2021. The company later completed offering of 800 million shares to existing shareholders.
Despite these moves, more still needs to be done to get it through the COVID-19 crisis. In the first nine months of 2021, the company saw its revenue nosediving 42 percent to over 18.73 trillion VND, according to the Vietnam Airlines JSC's financial statement. Gross loss reached nearly 11.83 trillion VND, compared to some 8.07 trillion VND during the same period last year.
Ending the third quarter, its equity plunged 75.5 percent from the beginning of the year to just over 1.47 trillion VND. This year, consolidated profit after tax amounted to minus 14.52 trillion VND.
US not to launch probe into Vietnam's corrosion-resistant steel
The US Department of Commerce (DOC) has decided not to initiate an investigation into the alleged circumvention of anti-dumping duties by Vietnam's corrosion-resistant steel products (CORE) made from cold rolled steel (CRS) and hot rolled steel (HRS) imported from Japan.
In an announcement issued on December 20, the DOC stated that the plaintiff had failed to provide an adequate basis for the initiation of a minor-alteration circumvention inquiry for both of these orders, according to the Trade Remedies Authority of Vietnam (TRAV).
The department has found that CORE is not included in the same tariff classification as HRS and CRS.
The DOC said this will be the final decision on the allegation and it will not consider any following comments or requests regarding this conclusion.
The TRAV called on domestic firms to comply with regulations in production and origin certificates so as to ensure their rights and interests and avoid anti-dumping investigations in the future.
The authority and relevant agencies will keep a close watch and update on the case.
200 businesses to be honoured with Vietnam Gold Star Award 2021
200 best businesses selected from 31 sectors will be honoured with the Vietnam Gold Star Award 2021, according to Nguyen Doan Thang, general secretary of the Vietnam Young Entrepreneurs Association.
From December 6-20, the central committee of the Vietnam Young Entrepreneurs Association established 41 working groups to carry out on-site evaluation at enterprises as a basis for selecting qualified enterprises for the award.
The Award, which is organised by the Ho Chi Minh Communist Youth Union Central Committee, the Vietnam Youth Federation Central Committee and the Vietnam Young Entrepreneurs Association, honours the enterprises that have achieved good business performance and sustainable development and undertaken good social responsibility.
Nghe An grants investment licence to 200-mln-USD electronic component project
Ju Teng International Holdings Ltd has been granted an investment certificate for its electronic component and automobile accessories project worth 200 million USD at Hoang Mai Industrial Park in the central province of Nghe An.
The project is expected to be commenced in March 2022 and come into operation in October 2023.
The plant will manufacture electronic components, plastic products, spare parts and auxiliary parts for automobiles.
HCM City's economy hits sharpest decline on record
Ho Chi Minh City's economy shrank by 6.78 percent in 2021, the sharpest yearly decline on record, according to the municipal Statistics Office, as stringent COVID-19 restrictions took their toll.
The consumer price index in December increased by 1.24 percent compared to the same period last year, taking prices up 2.36 percent year-on-year in 2021.
The office said all sectors had seen a decline, with agro-forestry-fishery shrinking by 13.68 percent, industry and construction by 12.96 percent and services by 5.5.
The index of industrial production plummeted by 14.3 percent.
Manufacturing shrank by 14.7 percent and electricity production and distribution by 4.9 percent.
The surge in tax collections was attributed to growth in the real estate, finance and banking and securities sectors and the impact of Decree 52/2020/ND-CP on the extension of deadlines for tax payment in April.
Vietnam – US trade value hits record high of US$100 billion in 2021
Despite the negative impact of the COVID-19 pandemic in 2021, Vietnam and the United States have enjoyed positive growth in their trade exchanges, with bilateral trade value hitting a record high of US$100 billion.
Minister Councilor Bui Huy Son of the Vietnamese Embassy in the US in charge of the Vietnamese Trade Office there said Vietnam's exports to the US achieved a growth rate of over 24%, while US exports to Vietnam also grew by nearly 14%.
Vietnam mainly exports to the US electronics and compponents, garments, footwear, and farm produce, including seafood, while it imports from the market raw materials for production, such as cotton, timber, pharmaceuticals and temperate fruits, said Son. economies engaging in the global supply chain.
Mekong Delta develops OCOP products
The Mekong Delta's 12 provinces and Cần Thơ City have developed more OCOP products under the country's "one commune – one product" (OCOP) programme, creating brand names for speciality products and promoting their sales.
Under the programme begun three years ago, OCOP products are commercial products and services, including food, beverages, handicrafts and rural tourism services.
OCOP products are classified under a five-star system.
In Cần Thơ, the city's People's Committee recognised 21 OCOP products in 2021. Cà Mau Province recognised 18 OCOP products in 2021.
The delta has many OCOP products with high quality, but their sales still face difficulties because of the lack of linkages among OCOP product producers and sellers, and the lack of promotion activities for the OCOP products.
To help OCOP producers promote the sale of their products, local authorities in the delta have supported them to design packages and labels for OCOP products.
China remains largest consumer of Vietnamese farm produce
The Ministry of Agriculture and Rural Development (MARD) reported that in the first 11 months 2021, the total import-export turnover of agro-forestry-fishery products between the two countries reached more than $11.3 billion, a 19.5 per cent increase on the same period last year. Of this figure, exports stood at $8.47 billion, up 14.5 per cent over the same period last year.
The General Department of Customs's statistics showed that export turnover of key products in the first 11 months of 2021 rose against the same period last year. Rice export turnover increased 14.6 per cent to $494.7million, cashews were up 24.8 per cent to $563.1 million, coffee rose 40.7 per cent to $113.7 million and rubber climbed to 26.3 per cent to $1.96 billion.
It also saw a decrease in export turnover of seafood with $862.8 million, down 21.6 per cent and rattan, sedge, carpet products down 23.1 per cent to $7.8 million.
Source: VNA/VOV/VNS/SGT/SGGP
Hanoi's GRDP up 6.69 percent in Q4