Hai Phong leads in FDI attraction in 2021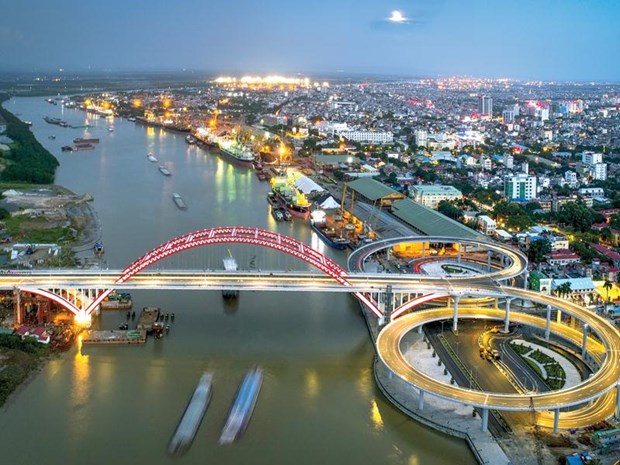 A view of Hai Phong city (Photo: congthuong.vn)
The northern port city of Hai Phong topped localities across the country in foreign direct investment (FDI) attraction in 2021, drawing over 5.14 billion USD, up nearly 3.4 times over that in the same period last year.
Of the total, 327.45 million USD was invested in 29 new projects, nearly 2.63 billion USD poured into 52 underway projects, and nearly 2.2 billion USD in share purchase and capital contribution deals.
By the end of 2021, local industrial parks (IP) and economic zones (EZ) lured 420 FDI projects worth over 19.13 billion USD.
Le Trung Kien, head of the Hai Phong Economic Zone Authority (HEZA), said that in 2022, Hai Phong expects 2.5-3 billion USD of FDI in local IPs and EZs. Right in January, the HEZA welcomed a 35-million USD project from a Chinese investor.
Samsung Vietnam's 2021 revenue exceeds 74.2 billion USD
Despite difficulties due to COVID-19, Samsung Vietnam earned 74.2 billion USD in revenue last year, up 14 percent annually.
The company's export value, meanwhile, hit 65.5 billion USD, up 16 percent on year, according to its 2021 business report released on January 19.
Also in 2021, over 4 million Samsung foldable phones were sold worldwide, 4 times that the volume recorded in 2020. Currently, more than 50 percent of Samsung phone products are produced in Vietnam. Smart mobile phones manufactured at Samsung factories in the nation are being exported to 128 countries and territories around the world.
By the end of 2021, Samsung Vietnam's total accumulated investment capital hit 18 billion USD, 102 percent higher than the approved investment capital in 2020.
Coca-Cola invests 136-million-USD factory in Long An
The Long An Economic Zone management board has granted an investment licence to Coca-Cola Beverages Vietnam Co., Ltd to implement a soft drink plant project in in the southern province of Long An.
The project has total investment capital of more than 3.1 trillion VND (over 136 million USD). It will be located in the Phu An Thanh industrial park in Ben Luc district.
This is one of the big investment projects that the provincial authorities has licensed in early 2022.
Last year, Long An ranked second nationwide in attracting foreign direct investment (FDI) with more than 3.84 billion USD.
Reference exchange rate down 19 VND
The State Bank of Vietnam set the daily reference exchange rate for the US dollar at 23,100 VND/USD on January 20, down 20 VND from the previous day.
With the current trading band of +/-3 percent, the ceiling rate applicable to commercial banks during the day is 23,793 VND/USD and the floor rate 22,407 VND/USD.
National Startup Festival returns in 2022
The National Startup Festival 2022 took place in Hanoi on January 19, gathering policymakers; startup accelerators, mentors and advisers; investors; business leaders and representatives of international organisations.
The 19th edition of the annual event was hosted by the Business Forum Magazine under the Vietnam Chamber of Commerce and Industry (VCCI).
In 2021, Vietnam ranked 44th out of 132 countries and economies in the Global Innovation Index (GII) and 59th out of 100 countries in startup ecosystem. The country also came third in the list of the most active startup ecosystem in Southeast Asia after Indonesia and Singapore.
Almost all traditional markets in HCM City reopen
Only 22 out of HCM City's 233 markets that were closed as a safeguard measure against COVID-19 were yet to reopen as of Jan 17.
According to the city Department of Industry and Trade, the three wholesale markets are also open.
On Jan 18 two more traditional markets, Tan Kieng 1 and Cu xa Ngan Hang in District 7, will open.
According to the Market Management Board, many of the markets' tenants had switched to selling online during the period they were closed amid the pandemic restrictions, and continue to do so now.
FDI inflow into Mekong Delta forecast to see bright prospects
The Mekong Delta region, which covers 13 cities and provinces, has many advantages for attracting investment, especially foreign direct investment (FDI), thanks to its huge potential for agricultural production and renewable energy development.
Last year the region attracted a total foreign investment of more than US$5.64 billion with the largest amount coming to the energy sector, according to the Foreign Investment Agency.
Nguyen Phuong Lam, director of the Viet Nam Chamber of Commerce and Industry's branch in Can Tho, outlined eight reasons that investors should invest in the Mekong Delta: favourable business and investment environment, a rich material area, an abundant and low-cost labour force, attractive local consumption, and sufficient clean land for investors.
Low rental cost and a huge room for many new investment fields such as hi-tech agriculture, ICT, logistics, wind power, solar power, tourism real estate, and high-tech engineering projects to cope with climate change were also included.
BW Industrial Development JSC announces acquisition in DEEP C Industrial Zones in Quang Ninh
BW Industrial Development JSC (BW) recently acquired approximately 74,000 square metres of prime land in the Bac Tien Phong Industrial Zone in Quang Ninh, developed by DEEP C Industrial Zones.
This acquisition marks BW's first footprint in Quang Ninh Province and its third collaboration with DEEP C Industrial Zones, expanding its presence across key industrial markets in northern Viet Nam.
The ready-built factory asset is located in the Bac Tien Phong Industrial Zone, Quang Yen Coastal Economic Zone in the dynamic Quang Ninh market, an emerging economic powerhouse and a key destination for investments in the north.
Situated along the Hai Phong-Ha Long-China border expressway, the site is a 15-minute drive to the Hai Phong Seaport Clusters and 4-hours to the Mong Cai International Border Gate.
Wood, furniture exports to US expected to hit 10 billion USD
Export revenue of wood and furniture to the US market is predicted to reach 10 billion USD in 2022 thanks to the development trend from 2021.
According to the General Department of Vietnam Customs, the export of the products to the US surged 22.4 percent in 2021 to 8.8 billion USD, nearly 88 percent of which came from wooden furniture.
Industry insiders attributed the results to efforts of businesses in maintaining production and effective support from the Government amid difficulties caused by the COVID-19, holding that this expansion trend will continue in 2022.
However, they pointed out that the sector will still face many challenges, including trade remedies and the shortage of containers as well as high logistics cost.
On average, the cost for each container to be transported to the US is 20,000-30,000 USD, four times that in previous years.
FPT Software signs strategic cooperation with Japan's True Data
Trandata Technology Engineering JSC (TDT) of FPT Software signed a strategic cooperation agreement with True Data of Japan to develop data technology on January 19.
Under the agreement, the two sides will jointly promote business expansion and develop technology solutions by studying Vietnamese consumer consumption behaviour for Japanese products and forecasting the Vietnamese retail market.
True Data will spend a large strategic investment in Trandata to expand its data business, focusing on Big Data technology in the Vietnamese market.
Based on Artificial Intelligence (AI) technology and FPT Software's technological qualification, the two sides will build a retail data platform, and provide data solutions for the retail industry.
Much room remains for Vietnam to boost exports to Hungary
Trade between Vietnam and Hungary has grown continually over the past years, and it is believed that there remains much room for the Southeast Asian country to fuel exports to this European nation.
Thanks to the EU – Vietnam Free Trade Agreement (EVFTA) that took effect on August 1, 2020, bilateral trade topped 1 billion USD for the first time in 2020 to hit 1.297 billion USD, surging 73.88 percent from the previous year. The turnover included 925 million USD in Vietnam's exports, shooting up 126.69 percent, according to the European -American Market Department at the Ministry of Industry and Trade.
Due to the COVID-19 pandemic's impact, bilateral trade dropped 15.2 percent to slightly over 1 billion USD in 2021. Vietnam exported 570 million USD worth of goods to Hungary and imported 529 million USD in return, respectively declining 38.4 percent and rising 42.4 percent.
Steel industry expects rosy outlook for 2022
Many insiders believe that 2022 will be a promising year for the steel industry when the pandemic is brought under control and construction demand rebounds strongly.
Last year's crude steel output is estimated at 23 million tonnes, up 16 percent from 2020. Meanwhile, 33 million tonnes of finished steel products was manufactured and 29 million tonnes sold, respectively rising 19 percent and 16 percent, according to the Vietnam Steel Association (VSA).
Positive export results were recorded in 2021 when more than 14 million tonnes of finished and semi-finished steel products were shipped abroad, bringing home over 12.7 billion USD. However, domestic sales fell 11 percent year on year as a result of the coronavirus resurgence's impact.
Vietnam's steel market is forecast to have a better outlook in 2022 when the Government issued directions on stabilising and developing production and business activities flexibly adapted to the pandemic.
The VSA noted the Government's Resolution No. 01/NQ-CP, released on January 9, 2022, that details measures for socio-economic recovery and development will support the industry to grow more strongly this year.
First recycled plastic cards launched in Vietnam
HSBC Bank Vietnam has rolled out Vietnam's first card made from recycled Polyvinyl chloride (rPVC) plastic as part of a programme launched by the HSBC Group to introduce sustainable cards across all its global locations.
The move underpins the bank's strategy to reduce its carbon emissions and achieve net zero in its operations and supply chain by 2030 or sooner. Its ambition is eliminating single-use PVC plastic by the end of 2026, in favour of rPVC.
The first rPVC cards will be issued to customers who requires new or replacement cards. To preserve the life of their existing cards for as long as possible, recycled plastic cards will be issued as their old cards naturally expire.
HCM City issues four-year socio-economic recovery, development plan
Ho Chi Minh City has issued a socio-economic recovery and development programme in the 2022-2025 period, with recovery stage from now to the end of 2022 and development period from 2023-2025.
In the recovery period, the city will deal with consequences left by COVID-19, speeding up socio-economic recovery in parallel with safe, flexible adaptation to and effective control of the pandemic.
Along with settling the disruption of supply chains, the city will prioritise giving resources to sectors and economic motivations, while striving to complete the public investment disbursement plan for 2022 and effectively implement support packages.
In the development stage, the city will continue to focus on pandemic control and coping with bottlenecks for fast and sustainable development. It will concentrate on optimising its strengths as an economic, financial, trade, logistics, tourism and renovation centre.
Hanoi's export revenue set to increase by 5 percent
Hanoi expects to raise its export revenue by 5 percent this year, the municipal Department of Industry and Trade has said.
Tran Phuong Lan, acting director of the department, said her agency will enhance trade promotion, thereby effectively implementing the city's plan on international integration in 2021-2025.
Apart from the plan, Hanoi will also work to materialise the Comprehensive and Progressive Agreement for Trans-Pacific Partnership (CPTPP) and the Vietnam-EU Free Trade Agreement (EVFTA).
Hanoi will also strive to better implement monetary policies, connect labour demand and supply, and attract investments in infrastructure and services to boost production and export.
It will step up coordination with ministries, agencies, embassies and commercial affairs offices of Vietnam and foreign countries, cities and provinces in trade promotion, while supporting businesses to access markets, loans and technologies.
Central bank focuses on improving credit quality
Governor of the State Bank of Vietnam (SBV) Nguyen Thi Hong has issued Directive No.01/CT-NHNN on organising the implementation of the key tasks of the banking sector, with a focus on improving credit quality and tightly controlling loans to potentially risky industries.
Accordingly, the Governor has required banks to take necessary measures for controlling credit size and growth, focusing loans on production and priority fields in accordance with the Government's policy to support economic recovery and development, while strictly controlling loans for potentially risky areas such as real estate, the stock market, Build-Operate-Transfer (BOT) and Build-Transfer (BT) transport projects.
Banks must accelerate the implementation of measures to control and limit any newly arising bad debts and maintain the bad debt ratio below 3 percent, the Governor said, adding the SBV's authorities would strengthen the inspection and supervision of banks' operations, especially in the areas with high potential risks.
Seminar seeks ways to boost export of dragon fruits to India
Deputy head of the MoIT's Department of Asian-African Markets Do Quoc Hung said diversifying markets for Vietnamese farm produce and dragon fruits in particular will help avoid reliance on certain markets.
Hung underlined the potential of the Indian market, which has a population of nearly 1.4 billion people whose daily diet includes a lot of fruits.
According to the MoIT, dragon fruits continued to be a key currency earner last year with a revenue of over 1.04 billion USD, or 29.4 percent of the total fruit and vegetable export value. China was the biggest consumer of Vietnamese dragon fruits with a turnover of 925.7 million USD last year, or 88.7 percent of the total. The US and India came second and third with 30.2 million USD and 13.55 million USD, respectively.
The three provinces of Binh Thuan, Long An and Tien Giang together account for 93.6 percent of the country's total cultivation area and 95.5 percent of output of dragon fruit.
Thailand holds largest share of Vietnamese car imports in 2021
Despite the complicated development of the COVID-19 pandemic greatly impacting the domestic auto market, the number of completely built-up (CBU) units exported into Vietnam remained high, 1.5 times higher than the figure seen in 2020.
Most notably, December 2021, saw the country import 15,196 cars worth US$432.65 million. The number of imported cars reached a total of 160,035 units, costing US$3.66 billion for the entirety of 2021, a rise of 52.1% in volume and 55.7% in value compared to 2020.
Thailand, Indonesia, and China represent the top three suppliers of those products in the Vietnamese market with 147,906 cars, accounting for 92.4% of the total amount of imported cars.
The country imported 80,903 cars from Thailand valued at US$1.5 billion, making up half of its total car imports.
Promoting Vietnamese tourism at ASEAN Tourism Forum 2022
A number of Vietnamese famous destinations and a tourism programme aimed at welcoming international tourists were introduced at the ASEAN Tourism Forum (ATF) 2022 which opened on January 18 in Sihanoukville, Cambodia.
The same day Viet held a working session with Liz Ortiguera, chief executive officer of the Pacific Asia Travel Association (PATA), briefing the CEO on the Vietnamese tourism programme to receive foreign tourists in some localities.
This year's forum is running with the theme of "a Community of Peace and Shared Future" between January 16 and January 22. The function features a series of major events, such as the 25th ASEAN Tourism Ministers' Meeting, the Tourism Ministers Meetings between ASEAN and partner countries, including China, the Republic of Korea, Japan, India, and Russia, the International Travel Expo TRAVEX, and the ASEAN Tourism Awards Ceremony.
The Vietnamese pavilion at TRAVEX 2022 has the theme of "Live Fully in Vietnam", attracting the participation of numerous popular tourist destinations, tour operators, luxurious hotels, and resorts nationwide.
China to increase imports of Vietnamese cassava in 2022
China is anticipated to import additional Vietnamese cassava over the coming year due to favourable geographical conditions, according to the Ministry of Industry and Trade.
Statistics compiled by the General Department of Vietnam Customs indicate that the nation exported 1.84 million tonnes of cassava starch worth US$865.5 million during the past11 months of last year, a fall of 0.8% in volume but a rise of 16.8% in value against last year's same period.
Of the figure, exports to China accounted for 95.8% of the country's total cassava starch exports, with 1.76 million tonnes worth US$826.68 million, representing an annual rise of 1.3% in volume and 19.3% in value.
Vietnamese market in fifth place for shrimp exports to US in 2021
According to the data detailed by Vietnam Customs, the US currently represents the largest import market for Vietnamese shrimp, accounting for 28% of the proportion.
Furthermore, the country's shrimp exports to the demanding market throughout the entirety of 2021 is estimated to have reached a figure of US$1.05 billion, up 21% compared to 2020.
Vietnamese shrimp exports to the US recorded positive growth in every months of 2021, enjoying the best growth rate among the nation's top major shrimp import markets.
According to the Vietnam Association of Seafood Exporters and Producers (VASEP), US shrimp imports in 2021 hit a record high, despite facing numerous hurdles due to the COVID-19 pandemic.
Banks prohibited from paying dividends in cash in 2022
Vietnam's commercial banks will be barred from paying cash dividends to shareholders to reduce interest rates.
Additionally, in the preceding year 2021, the State Bank of Vietnam (SBV) instructed banks to refrain from paying cash dividends in order to spend resources on lowering interest rates for individuals and companies. Thus, banks will be prohibited from paying cash dividends to shareholders for the second consecutive year in 2022.
In 2021, just three state-owned banks paid cash dividends, namely Vietcombank, VietinBank, and BIDV.
HCMC proposes higher budget retention rate to fuel growth
The HCMC government has proposed the National Assembly (NA) revise up its budget retention rate in the 2023-2026 period to address its huge capital needs for infrastructure development and economic growth.
The proposal was included in the city's socioeconomic recovery and development program in the 2022-2025 period with two phases, the local media reported.
The city wants the retention rate at 23%-25%. If not, it should be kept unchanged at 21%.
In November last year, the NA approved the HCMC budget retention rate increase from 18% to 21% for 2022, compared to the 23% proposed by the city.
In 2021, the city's budget revenue reached over VND381.5 trillion, exceeding the target, including VND263.8 trillion from domestic production and business activities and VND117.6 trillion from import-export activities. This year, the city has been assigned to collect over VND386.5 trillion, or nearly a quarter of the country's estimated revenue.
Vietnam, U.S. jointly launch project to improve competitiveness of SGBs
The U.S. Agency for International Development (USAID) and Vietnam's Ministry of Planning and Investment yesterday, January 18, launched a new project to develop the competitiveness of small and growing businesses (SGBs) in Vietnam.
The five-year project, with a total budget of US$36 million, was first announced during U.S. Vice President Kamala Harris' visit to Vietnam in August last year. The project will be implemented in cooperation with the ministry's Agency for Enterprise Development.
According to USAID, SGBs are key contributors to Vietnam's economic growth, accounting for 40% of GDP and 60% of total employment in 2018.
Steering Committee set up to resolve cargo trucks stranded at northern border gates
The Ministry of Industry and Trade has established a Steering Committee on resolving cargo truck congestion at the northern border gates with China.
Minister of Industry and Trade Nguyen Hong Dien is the head of the committee while Deputy Minister of Industry and Trade Tran Quoc Khanh and a leader of the Ministry of Agriculture and Rural Development are deputy heads.
Members of the Committee include leaders from the Ministry of Health, Ministry of Finance, Ministry of Foreign Affairs and Chairmen of People's Committees of Northern provinces of Quang Ninh, Lang Son, Cao Bang and Lao Cai.
The Committee is tasked for taking measures to handle stuck trucks carrying commodities and farm products at the northern border gates.
Source: VNA/VOV/SGT/VIR/VNS/VGP/SGGP
Vietnam targets ecological, sustainable agriculture