Fruit exports to China cleared earlier than expected
Viet Nam's fruit container trucks have been allowed custom clearance through China earlier than expected despite China's original plan to cease custom clearance for a week for the Lunar New Year holiday.
A Viet Nam Fruit and Vegetable Association spokesperson said on January 5 that this was "good news for Viet Nam's fruit and vegetable export [for the start of the 2022 Lunar New Year.]"
In January China had announced that it would stop customs clearance of goods at the bordering Lang Son Province for the holiday from January 31 to February 6.
However, two of three of the province's border gates to China resumed custom clearance on February 3, with 115 containers exporting fruit cleared that day.
China is Viet Nam's largest buyer of fruits and vegetables, accounting for 53.7 per cent of Viet Nam's export in 2021. However, exports to the country have been falling over the last two years. The country has been enforcing stricter regulations on agricultural produce imports in recent years.
First locally-made tablets roll off production line in Da Nang
The first locally-made Xelex tablets have rolled off the production lines of the Trung Nam Electronic Manufacturing Services in Da Nang's IT Park, just two months after an agreement for the production of 100,000 tablets between Trung Nam Group and Xelex Corporation was signed.
The introduction of the made-in-Da Nang tablets, which will provide for online education programmes of school students, will spark the operation of electronic production lines from five factories at the IT Park in February and promises an estimated revenue of 5 trillion VND (217 million USD) for Da Nang in 2022.
Deputy General Director of Trung Nam Group Nguyen Ngoc Thao said at the ceremony introducing the first tablets on February 7 that the group will put into operation the first two plants with 20 surface-mount technology (SMT) lines, creating 2,000 jobs in March, while three other plants will be reserved to attract investment in electronics and telecommunications..
He added the first phase construction on the 20ha Data centre and R&D Zone, in partnership with Singapore's Infracrowd Capital, will begin to complete the framework of Da Nang IT Park.
Number of HCMC-based firms resuming operations skyrockets 500%
HCMC has seen signs of strong economic recovery at the beginning of 2022, with the number of firms resuming operations in January rocketing by nearly 500% month-on-month.
January saw 4,850 enterprises restart business, soaring by 36.3% year-on-year, according to the municipal government.
In addition, in January, over 3,190 companies in HCMC were established, up 24.6% year-on-year, while the city saw a mere 382 firms complete procedures for disbandment, down 7.7% year-on-year and 27.2% month-on-month.
Many enterprises made positive moves in January. For example, the Saigon Hi-Tech Park reported a production value of over US$1.65 billion and export value of more than US$1.5 billion, both up 5% year-on-year.
Besides, a brighter picture of HCMC after the Covid pandemic was brought under control also showed that the city's January agro-forestry-fishery production value inched up 1.5% year-on-year.
The city's total retail sales of goods and services in January amounted to VND73 trillion, up 5.1% month-on-month, while tourism revenue reached over VND7 trillion, up 6.4% month-on-month.
HCMC's budget revenue enjoyed a year-on-year increase of 19.4% in January, amounting to VND47.8 trillion.
In February, the city will adopt various solutions to "safely and flexibly adapt to and effectively control Covid-19, continue to improve the quality of urban governance and investment environment and support enterprises."
Quang Ninh, Dak Lak see positive signs in tourism recovery
The northern province of Quang Ninh welcomed over 300,000 visitors to its tourist sites in the six-day Lunar New Year (Tet) holiday from January 31 to February 5, earning around 400 billion VND (17.6 million USD).
The provincial Department of Tourism has set a target of serving over 9.5 million visitors, including over 1.4 million foreigners, and earning about 19 trillion VND from tourism services in 2022.
In the first half of this year, Quang Ninh will reduce 50 percent of entrance fees to its famous local destinations such as Ha Long Bay, Yen Tu relic site, and Quang Ninh Museum.
Also seeing a positive signal, the Central Highlands province of Dak Lak served over 143,000 visitors, including 260 foreigners, and earned 8.46 billion VND during Tet, respective year-on-year rises of 51.5 percent and 43.6 percent.
Reference exchange rate up 9 VND
The State Bank of Vietnam set the daily reference exchange rate for the US dollar at 23,090 VND/USD on February 8, up 9 VND from the previous day.
With the current trading band of +/-3 percent, the ceiling rate applicable for commercial banks during the day is 23,782 VND/USD and the floor rate 22,397 VND/USD.
The opening-hour rates at commercial banks stayed stable.
At 8:25am, Vietcombank listed the buying rate at 22,500 VND/USD and the selling rate 22,810 VND/USD, unchanged from February 7.
BIDV also kept its both rates unchanged at 22,530 VND/USD (buying) and 22,810 VND/USD (selling).
Vietnam Airlines Group adds nearly 200 flights after Tet holiday
The Vietnam Airlines Group has planned to arrange nearly 200 more flights from February 7 to 10 so as to meet passengers' rising demand for travel to the southern region following the end of the Tet (Lunar New Year) holiday, with approval of the Civil Aviation Authority of Vietnam (CAAV).
The flights will be on 14 busiest domestic routes, particularly between HCM City and Hanoi, Da Nang and Hai Phong, among others.
Passengers can purchase air tickets at websites, mobile apps and ticket offices nationwide of member carriers of Vietnam Airlines Group, comprising Vietnam Airlines, Pacific Airlines, and VASCO.
They are advised to make health declarations on PC-COVID app before reaching the airport to save time.
It is the latest flight adjustment during this year's Tet by Vietnam Airlines Group. In late December 2021, the group announced to increase flight frequency on many routes, with a daily average of 300 flights per leg.
The number of seats was also raised by 120 percent to serve the Lunar New Year peak, which falls in late January and early February.
Hoa Phat group to export 35,000 tonnes of HRC to Europe
Steel maker Hoa Phat Group announced that its subsidiary Hoa Phat Dung Quat Steel Joint Stock Company has signed a contract to export the first batch of 35,000 tonnes of hot rolled coil (HRC) steel to Italy.
The first order of the year to Europe opens up a large consumption market for the Hoa Phat Group's products.
According to Tran Ngoc An, deputy head of the company's sales department, the shipment is expected to be delivered between February 15 and 20.
Hoa Phat's annual steel production capacity reaches about 14 million tonnes, including 8.6 million tonnes of HRC when the complex becomes operational.
FDI enterprises in Binh Duong resume production after long Tet holiday
Workers are returning to factories in the southern province of Binh Duong as firms gather pace to bring production back to normal after the nine-day Tet (Lunar New Year) festival, the country's biggest and longest holiday.
President of VSIP's trade union Dang Thi Kim Chi said 315 enterprises at VSIPs have resumed operations after the New Year holiday, many of which had capacity reaching nearly 100 percent. It marked the start of a better year for local companies with the virus kept at bay, she said.
The industrial province is now classified as a "green" or low-risk zone in terms of COVID-19 infection.
This year, Binh Duong expects to achieve a Gross Regional Domestic Product (GRDP) growth of 8 – 8.3 percent. The Industrial Production Index is projected to expand 8.9 percent compared to 2021. It also aims to raise total social investment by 10 percent year-on-year to make it account for 33.3 percent of the GRDP. FDI flows into the province is hoped to exceed 1.8 billion USD.
Bright prospects ahead for farm exports to EU in 2022
Vietnamese export of key agricultural products such as coffee, cashew nuts, rubber, fruit and vegetables, and rice to the EU market is set to enjoy strong growth in 2022, according to industry experts.
The Ministry of Industry and Trade forecasts that coffee, cashew nuts, rubber, fruit and vegetables, pepper, rice, and tea will all continue to be major contributors to the total export turnover of agricultural products to this market and will grow strongly in the year ahead.
As the number one product, coffee will continue to take advantage of the 0% tax rate under the Vietnam – EU Free Trade Agreement (EVFTA) as it increases its market share as part of the EU's total import of US$10 billion annually.
Moreover, investors in the bloc are also in the process of considering moving their processing plants to the nation to take advantage of cheap raw materials and labour, thereby creating a driving force to bolster pepper exports to the EU.
With rice, according to the Vietnam Food Association (VFA), local rice exports to the EU market this year are forecast to reach at least 60,000 tonnes because the quality of Vietnamese rice has changed in the eyes of the EU importers.
With Vietnamese rice already having a number of traditional customers in Germany, the Netherlands, Italy, and Poland, local rice exports to the bloc in the year ahead are anticipated to maintain their strong growth.
Viet Nam salt industry must adapt: official
The country is home to 72 salt production and processing units, including production and business households, cooperatives and enterprises. However, most are small scale with insufficient capital and production capacity.
According to a report by MARD, Viet Nam's salt production area in 2021 reached 11,393ha, lower than the 11,926ha, 12,494ha and 13,074ha seen in 2020, 2019 and 2018, respectively.
The decreasing area of salt production was attributed to low income from salt production so salt farmers gradually converted inefficient production areas to aquaculture or switched to other occupations, resulting in several salt production areas being abandoned.
Last year, the country's salt output hit nearly 915,000 tonnes, far lower than the record of more than 1.33 million tonnes seen in 2020.
Viet Nam will study and pilot combining salt production and tourism to promote the sustainable development of the industry, according to the Government's recently-approved salt industry development project for 2021-30.
Viet Nam will combine salt production with tourism at several villages, including Thuy Hai (Thai Binh Province), Bach Long (Nam Dinh), Ho Do, Ky Ha-Ky Anh (Ha Tinh), Sa Huynh (Quang Ngai), Hon Khoi (Khanh Hoa) and Can Gio (HCM City).
VN-Index inches closer to 1,500 points after Tet holidays
The market inched higher on Monday as risk appetite improved after the Lunar New Year holiday.
On the Ho Chi Minh Stock Exchange (HoSE), the VN-Index climbed 18.7 points, or 1.26 per cent, to 1,497.66 points, heading toward the 1,500 point-level.
The benchmark's rally was mainly driven by gains in large-cap stocks across sectors on bullish sentiment. The VN30-Index, tracking 30 biggest stocks on HoSE, rose 9.01 points, or 0.59 per cent, to 1,541.25 points.
Of the VN30 basket, 23 stocks increased with one hitting the biggest intraday gain of 7 per cent, while five slid and two stayed unchanged.
On the Ha Noi Stock Exchange (HNX), the HNX-Index also edged up 2.6 points, or 0.62 per cent, to 419.22 points.
During the session, 54.9 million shares were traded on the northern bourse, worth VND1.5 trillion.
Foreign investors continued to flock to the market after they net bought a total of VND332.57 billion. Of which, they net bought a value of VND304.54 billion on HoSE, and a value of VND28.03 billion on HNX.
More than 100 Hanoi-HCM City flights added
The Civil Aviation Authority of Vietnam (CAAV) has asked local airlines to increase flights on Hanoi – HCM City route, especially during night time to serve a large number of passengers.
According to CAAV, the number of passengers departing from Noi Bai Airport on the peak day of Lunar New Year or Tet holiday 2022 doubled that of Tet 2021 with over 29,000 passengers on 383 flights.
On February 6, Noi Bai Airport served a total of 372 flights with 56,000 passengers. CAAV has asked local airlines to add more than 100 flights between February 6-12, mainly on the Hanoi-HCM City route to serve the high demand.
Earlier, local airlines planned to conduct over 13,400 flights during the Tet holiday between January 23 to February 16 which was an increase of 109% against last Tet holiday.
Industry trio signs MoU to boost clean energy in Vietnam
PetroVietnam Power Corporation (PV Power), IB Global, and IDG Capital Vietnam signed an MoU on January 28 to boost clean energy development amid an ever-increasing demand.
The three parties wish to form a strategic partnership between PV Power and IDG's Vietnam Clean Energy Fund, with IB Global acting as a strategic advisor to the fund. IDG will close the fundraising by the end of 2022. The IDG Vietnam Clean Energy Fund is scheduled to raise $300 million equity capital and $1 billion total capital for Vietnam's clean and green energy sector in the next three years.
Petrolimex reports over VND2.8t of net profit in 2021
The Vietnam National Petroleum Group (Petrolimex/PLX) announced that its consolidated net profit in 2021 reached VND2.83 trillion, up three times year-on-year.
In the last quarter of last year, the parent company reported VND455 billion of profit after tax, declining 67% versus the year-ago figure. Its volume of petroleum sold in the period was equal to 90% of the previous year's period due to the impact of the Covid-19 pandemic. The pandemic also slashed the Group's earnings from non-petroleum business activities.
Vietnam jumps 28 places in COVID-19 Recovery Index
Vietnam jumped 28 places to the 90th in the January edition of Nikkei's COVID-19 Recovery Index, thanks to a world-leading vaccination rate and signs of its tourism industry reopening.
Having adopted a strategy of living with COVID-19, Vietnam relaxed entry regulations on foreign nationals at the end of last month.
The Ministry of Culture, Sports and Tourism has also proposed that, from March 31, Vietnam fully open up to international tourism, with inbound and outbound tourists welcomed at all international border gates./.
Property investors will face heavy fine for illegal mobilization
According to the Government's Decree 16/2022/ND-CP stipulating penalties for administrative violations in construction including the level of fines for violations of regulations on real estate business.
The Decree stipulates that investors of real estate projects who raise capital in contravention of regulations will be fined up to VND1 billion.
The Decree also stipulates a fine of between VND100 million-VND120 million (US$4,424 – US$5,309) for one of the following acts real estate business without establishing enterprises or cooperatives according to regulations, failing to disclose or incompletely or improperly disclose the contents of real estate projects or housing construction investment projects according to regulations, the real estate business contract is not made in writing or the real estate business contract is not complete with the main contents as prescribed or in contravention of the law, failing to provide information on construction investment progress or the use of advance payments upon request.
Investors will face a financial penalty ranging from VND100 to VND120 million not allowing the purchaser, the lessee to inspect the actual construction progress and quality of the work as prescribed or collect fees related to real estate transfer in contravention of regulations.
A fine of between VND 120-160 million shall be imposed on an investor or owner of a house or an apartment building who fails to comply with the regulation. They sign a contract for sale and purchase or lease-purchase of a house or construction work without attaching the right to use the land with such houses or constructions or intentionally notifying the buyer of restrictions on ownership of houses and constructions.
UNDP announces new country program worth US$121M for Vietnam
The next five-year program focuses largely on sustainable economic transformation, climate resilience, and better governance.
UNDP Executive Board has approved the new country program document (CPD) worth US$121 million for Vietnam for the 2022-2026 period.
The CPD aims to support the government in accelerating the achievement of the UN Sustainable Development Goals (SDGs), guided by the UNDP Strategic Plan's three outcomes, including Shared prosperity through sustainable economic transformation; Climate change, disaster resilience and environmental sustainability; and Governance and access to justice.
In this context and based on the Independent Country Program Evaluation (ICPE) for the 2017-2021 period, UNDP will provide thought leadership on issues core to the achievement of the SDGs, Paris Agreement and human development.
It's based on a jointly developed theory of change underpinning the United Nations Sustainable Development Cooperation Framework (UNSDCF), which contributes to Vietnam's Socio-Economic Development Strategy (2021-2030) and Socio-Economic Development Plan (2021-2025).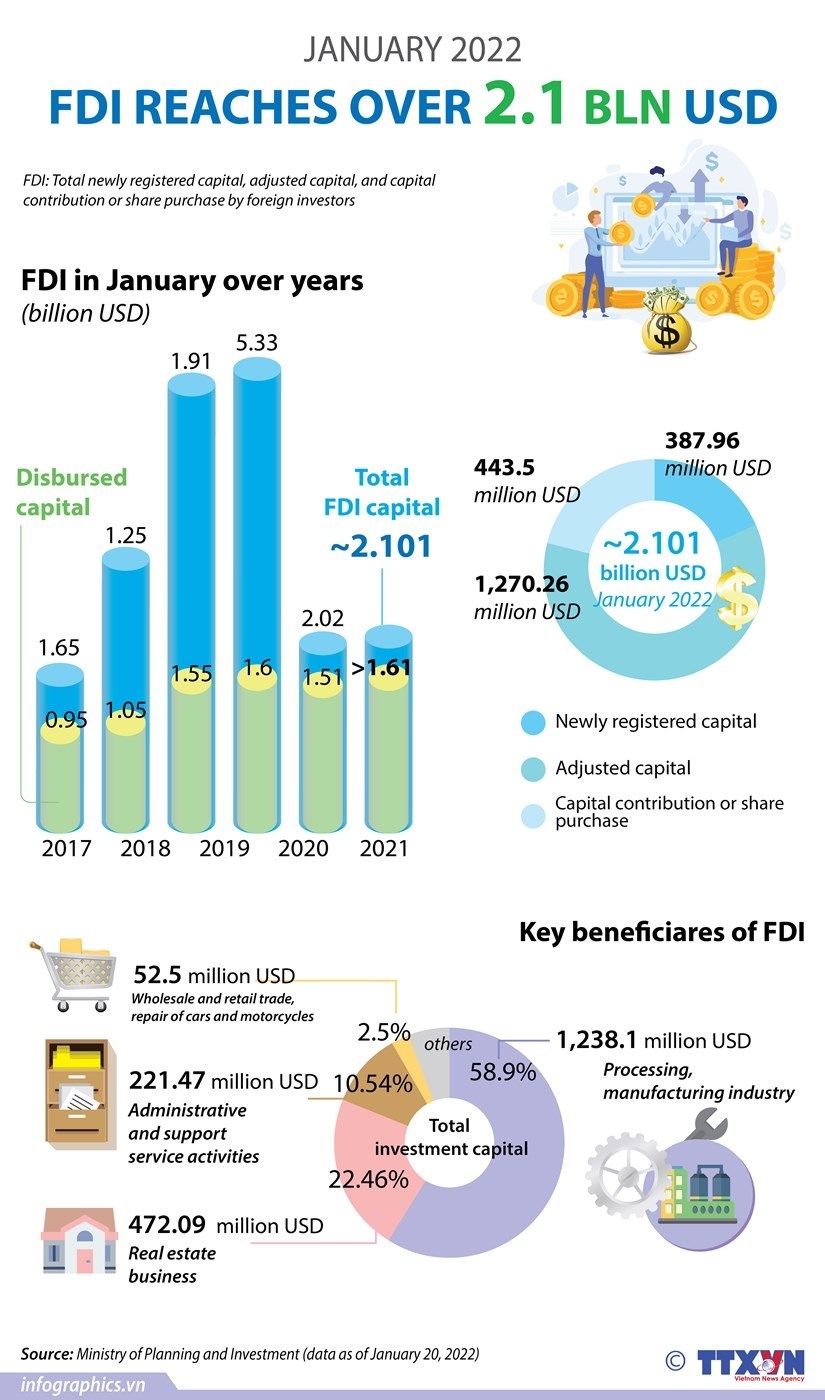 Source: VNA/VNN/VOV/SGT/SGGP/VIR/VNS/Hanoitimes
President Phuc attends groundbreaking ceremony for new route linking highways