Almost all manufacturing, trading activities in HCMC resume
HCMC has seen almost all manufacturing enterprises resume after the Covid pandemic and operate at over 95% capacity.
Many firms in hi-tech parks in the city have resumed at full capacity, Nguyen Thai Hung, deputy head of the Planning, Finance and General Division under the HCMC Department of Industry and Trade, told a press briefing on February 11.
Besides, many retail chains have restarted operations. Up to date, 213 of 233 traditional markets have reopened their doors, while 3,047 of 3,101 groceries, shopping malls and supermarkets have resumed.
Despite the plunge in retail sales of consumer goods and services in 2021 due to the pandemic, January this year saw the retail sales hit VND73.5 trillion, up 5.1% month-on-month.
In addition, HCMC's import-export activities also made positive moves in January. HCMC exported US$3.75 billion worth of goods in January, up 6.5% year-on-year, while its import value rose by 5.9%.
The city's index of industrial production (IIP) has rebounded since October last year after its sharp drop for long time due to the Covid pandemic. HCMC reported an IIP growth rate of 13.5% in December in 2021.
In January, the city had over 3,190 newly-established firms, up 24.6% year-on-year, while seeing 4,850 firms return to the HCMC market, up 36.3% against the year-ago period. The number of firms leaving the market fell by 7.7%.
Petrol prices rise past VND25,000 a litre, highest since 2014
Retail petrol prices increased by nearly VND1,000 per litre from 3pm on Friday, following the latest adjustment by the Ministry of Industry and Trade and the Ministry of Finance.
This is the third consecutive increase of petrol prices in 2022 and the fourth in a row.
Accordingly, the retail price of RON95 bio-fuel rose by VND962 to a maximum of VND25,322 (US$1.12) per litre, the highest since August 2014, while that of E5RON92 rose VND976 to no more than VND24,571 per litre.
Meanwhile, the prices of diesel 0.05S and kerosene went up by VND962 and VND958 per litre, respectively.
Vinfast hosts Roadshow for promotion of electric vehicles in US
VinFast – the global electric vehicle (EV) maker from Vietnam – has announced it is hosting the VinFast California Roadshow until March 6, aiming to promote its electric SUV models VF 8 and VF 9 in the US market.
Following the reveal of VinFast's full lineup of EVs at the Consumer Electronics Show (CES 2022) last month, VinFast is bringing its new all-electric sport utility vehicles directly to Californians.
The VinFast California Roadshow will kick-off with a private event and VF 8 vehicle display on February 11 and 12 at Penthouse 56, this week's headquarters for the Los Angeles Rams as part of their big game celebrations.
The tour will run concurrently in Los Angeles at the Westfield Century City from February 11 – 13, and will continue to three more cities in Northern and Southern California, then concluding on March 6 at the Ferry Building in San Francisco.
The tour will be held in the most populous areas in Californian cities, directly providing specifications and images of VinFast's EV models to potential customers and the locals.
Vietnam's exports to Canada rise for third consecutive year, hitting 5.3 billion USD in 2021
Vietnam exported 5.3 billion USD worth of goods to Canada in 2021, up 21 percent year-on-year despite facing challenges caused by the prolonged pandemic, according to the Vietnamese Trade Office in Canada.
This marked the third consecutive year that Vietnam has recorded positive export growth to the market since 2019 after both countries officially became members of the Comprehensive and Progressive Agreement for Trans-Pacific Partnership (CPTPP).
Among the major exports were handsets and components with 820 million USD; computers and parts with 408 million USD, and machinery and components with 345 million USD.
Though Vietnam is now Canada's largest trading partner in Southeast Asia, there remains room for Vietnamese businesses to penetrate the market in the future as Vietnam's market share accounts for a modest 1.7 percent of Canada's import value.
Vietnam to develop sustainable, responsible fishery
Vietnam is striving to sustainably develop its fishery and promote responsible practices while protecting and restoring aquatic resources and preserving biodiversity, according to a draft national plan on protecting and exploiting aquatic resources from 2021 – 2030, with a vision towards 2050.
Under the plan, the country will not only effectively exploit but also protect and recover aquatic resources and preserve biodiversity by 2030, according to the Ministry of Agriculture and Rural Development.
Over the next decade, Vietnam will promote the sustainable development of the sector and responsible practices to meet international standards. The industry will be restructured with more suitable production models, improving product quality, and good practices for environment protection and adaption to climate change.
By 2050, Vietnam eyes to become a nation a the sustainable and modern fishery sector that approaches those of regional and global peers. It also targets to effectively protect and expand the biodiversity and improve livelihood and living standard of coastal residents, contributing to ensuring social welfare and safeguarding the national independence and sovereignty.
Global CEOs optimistic about Vietnamese GDP growth of up to 6.5%
Experts from the UK-based audit service supplier PricewaterhouseCoopers (PwC) anticipate that Vietnamese GDP will return to a growth rate of between 6% and 6.5%, largely due to the strong return of foreign direct investment (FDI) flows into the local market.
Domestically, the policy of "Living safely with COVID-19" has created a rapid vaccination campaign, thereby allowing the country to resume business operations by the end of 2021.
According to Nguyen Luong Hien, deputy general director of the Partner leading Deals/Strategy Services in PwC Vietnam, the Regional Comprehensive Economic Partnership (RCEP) which came into effect from January 1, will serve to further promote trade promotion. This will therefore create greater momentum for the post-pandemic economic recovery by forming a stable and long-term export market for both the country and neighbouring Southeast Asian nations.
The PwC survey indicates that while they are optimistic signs ahead for global economic growth, CEOs are well aware of the potential threats that could impact businesses over the next 12 months.
Viet Nam gains strong growth in veg, fruit exports in January
Viet Nam achieved a high growth rate of fruit and vegetable exports in the first month of 2022, according to the Viet Nam Fruit and Vegetable Association (Vnfruit).
The fruit and vegetable export value in January reached US$301 million, a sharp increase compared to $260 million in the same period of 2021.
Enterprises maintained their export activities during the Lunar New Year so a volume of vegetables and fruits was still exported normally to the US, EU and Australia, contributing to the impressive export revenue in January.
The EU market is forecast to be a promising market in 2022. Now, the EU market imports a volume of vegetables and fruits worth about $100 billion each year. Therefore, with the advantages from the Europe-Viet Nam Free Trade Agreement (EVFTA), Viet Nam's fruit and vegetable exports to this market will continue to grow strongly.
In 2022, Viet Nam's fruit and vegetable export turnover to the EU is expected to increase by 10-15 per cent on year, reaching about $200 million.
Pangasius exports exceed expectations
Pangasius (tra fish) exports topped 1.61 billion USD last year, an 8.4 percent rise from 2020, according to the Vietnam Association of Seafood Exporters and Producers (VASEP).
Exports rose quite sharply thanks to a surge in shipments to markets such as Brazil (48.6 percent increase), Colombia (68.5 percent), Russia (72.8 percent), and Egypt (51.7 percent).
VASEP said exports were up also thanks to the US increasing buying amid an increasing COVID-19 vaccination rate and reopening of restaurants.
Exports to the US in fact doubled from 2020 to 370.6 million USD.
The fact that the US imposes zero import tariffs on Vietnam's two leading pangasius exporters, Vinh Hoan Company and Nam Viet Company, has been a big factor in exports to that market increasing consistently.
Meanwhile, exports to China were down 12.6 percent to 450 million USD, or 27.8 percent of total exports.
Exports to the EU declined for a fourth straight year, falling 17 percent to 106.2 million USD.
VASEP said the pandemic had a major impact on pangasius trade with many countries including France, Italy and Germany.
It forecast exports of the fish reach 1.7 billion USD this year.
India lifts anti-dumping duty on certain steel products from Vietnam
India has decided to rescind the anti-dumping duty on flat rolled products of steel plated or coated with alloy of aluminum or zinc originating in or exported from Vietnam, the Republic of Korea (RoK) and China, according to the Trade Remedies Authority of Vietnam under the Ministry of Industry and Trade.
The Notification No. 7/2022-Customs (ADD) was issued by the Indian Ministry of Finance on February 1.
The ministry last June imposed the anti-dumping duty on imports of certain types of steel products from these countries.
Accordingly, the anti-dumping tax rates applied to Vietnamese enterprises are as follows: Dong A Steel Co. Ltd, 23.63 USD/MT; Hoa Sen Group, 46.87 USD/MT; Tay Nam Steel Manufacturing & Trading Co. Ltd, 48.96 USD/MT; Nam Kim Steel JSC, 81.3 USD/MT; and other manufacturers, 173.1 USD/MT.
According to the Trade Remedies Authority of Vietnam, the country annually exports about 170,000 tonnes of steel plated or coated with alloy of aluminum or zinc, worth over 140 million USD, to India.
Viet Nam's banking sector named among fastest growing in the world
With an overall brand value growth of 49 per cent, Viet Nam's banking sector is one of the fastest growing in the world, according to Brand Finance's latest report on the most valuable and strongest banking brands globally.
Brand Finance's list of the 500 banks with the largest brand value globally in 2022 released recently has the presence of 11 Vietnamese banks, including two new faces compared to 2021: HD Bank and SHB. The nine banks that continue to be in the rankings are Vietcombank, BIDV, VietinBank, VPBank, Agribank, Techcombank, MBBank, ACB and Sacombank.
According to the report, all Vietnamese brands in the Brand Finance Banking 500 2022 ranking have experienced growth or added to the country's total as new entrants.
It has been a very fruitful year for Vietnamese banks, which have observed continuous growth in their balance sheets and income statements, with both deposits and loans issued growing. This has been bolstered by the nation's recovery from the pandemic, which was well-managed by the government, resulting in strong economic growth, the report stated.
Among the brands, MBBank is one of the fastest-growing in the Brand Finance Banking 500 2022 ranking, up by a staggering 113 per cent to US$642 million. The brand has continued to innovate, particularly in the digital space by partnering with leading tech company, Software AG, to provide high speed online services for its customers.
Similarly, Techcombank (up 80 per cent to $945 million) has invested heavily in cloud infrastructure as part of its strategy to nurture long-term relationships with clients.
In addition, the strong growth in the Vietnamese banking sector has brought two new entrants to the top 500 this year, namely HD Bank (up 53 per cent to $248 million) and SHB (up 63 per cent to $211 million).
According to the report, the world's top 500 banking brands have turned the tide on brand value contraction for the first time in three years, observing a 9 per cent year-on-year brand value growth to reach an all-time high of $1.38 trillion.
Businesses urged to seize upon fresh opportunities from foreign capital
There are positive signs ahead for Vietnamese small and medium-sized enterprises (SMEs), particularly as several foreign organisations have actively injected their money into local businesses showing a resilient recovery this year.
This comes as, Validus, TTC Group, and Do Ventures established a joint venture in January, aimed at expanding access to credit for local SMEs via a digital marketplace lending platform.
Nikhilesh Goel, co-founder and CEO of Validus, revealed that SMEs are capable of increasing their resilience as they have enough cash flow to support business operations whilst kick-starting new projects moving into the post-pandemic period.
Furthermore, the Asian Development Bank (ADB) signed a US$25 million loan with Tien Phong Commercial Joint Stock Bank (TPB) in January to expand access to finance for women-owned and led small and medium-sized enterprises (WSMEs) based domestically.
Similarly, the US Agency for International Development (USAID) and Vietnam's Ministry of Planning and Investment (MPI) have recently launched a US$36 million project which primarily focuses on developing the competitiveness of the nation's small and growing businesses. The five-year project was first unveiled during US Vice President Kamala Harris' visit to the country in 2021.
Shuyin Tang, co-founder and CEO of Beacon Fund, shared that SMEs represent the key driver for the Vietnamese economy, adding that SMEs must quickly adapt to the digitisation trend by applying digital tools in an effort to increase customer experience, thereby enhancing their financial management.
Nikhilesh Goel, CEO of Validus, emphasised that the capital flow from international organisations will not only help SMEs to build their capacity, but also prepare all resources for them to bounce back moving into the post-pandemic period.
Ca Na seaport complex Phase 1 to be finished in Q1
Ca Na seaport complex Phase 1 with a capacity of 100,000 DWT will be operational in the first quarter in central Ninh Thuan Province, announced its investor Trungnam Group.
The Ca Na Seaport Complex Phase 1 has a cargo throughput capacity of approximately 3.7 million tonnes per year. Beginning on August 25, 2020, the VND6.5 trillion (US$282.6 million) project included all wharves, rafts, yards, warehouses, auxiliary works, services, technical infrastructure centres and traffic work.
The investor said it was rushing to complete the last legal procedures to bring phase 1 into operation in the early second quarter. Considering the completion of Phase 1 as an essential basis for the future creation of a logistics – industry – mineral – energy urban region on a scale of up to billions of USD, Trungnam Group asked the provincial officials to support it on various issues and problems that may arise during the implementation process.
According to the investor, the most significant challenge the project faces now was a lack of supplies for levelling and construction materials in the area.
Construction phase 1 needed 1.5 million cu.m of sand and nearly 10 million cu.m of stone, so the group requested the province to remove obstacles and expedite legal procedures on planning and construction materials.
Hanoi releases tourism recovery roadmap for 2022 – 2023
Hanoi will focus on serving domestic visitors with COVID-19 preventive rules remaining in place during the first stage of its tourism recovery roadmap from 2022 – 2023, recently released by the municipal People's Committee.
According to the roadmap, the first stage runs throughout the first half of 2022. During the stage, the scale of all tourism activities must be decided based on the level of COVID-19 risk in certain areas. The city is viewing the domestic market as the main driver of growth and recovery.
All restrictions are expected to be lifted in the second phase in the third quarter of the year. Hanoi will welcome back foreign tourists in accordance with the government's border reopening roadmap. The city plans to pay heed to major markets with relatively high vaccine coverage and effective virus control, once foreign tourists are allowed to re-enter Vietnam.
The local tourism department is requested to build uniform guidelines and regulations on tourism activities and implement measures to boost the sustainable development of the industry in Hanoi.
Bac Giang Province sets new policies on foreign direct investment
Bac Giang Province has changed its policies on foreign direct investment (FDI) until 2025.
The new policies aim to encourage high-tech projects using locally-produced components and materials, undertaking to transfer technology and employing local workers.
They are also expected to promote FDI in key industries including electronic components, computers, and electric appliances.
Electronic projects are aimed to cluster around industrial zones in Viet Yen, Tan Yen, Hiep Hoa, Yen Dung District and Bac Giang City. Apparel industries are expected to centre around Son Dong, Luc Ngan, Luc Nam and Yen The District.
These industries will shift their focus from production to model design and distribution to add more value to products.
Capital demand remains high after Lunar New Year holiday
The State Bank of Vietnam (SBV) has to continually inject money to support the liquidity of the banking system as the capital demand and interest rates on the interbank market have remained high though the Tet (Lunar New Year) holiday has ended.
It was different from previous years when the SBV didn't need to inject money to support the liquidity of commercial banks or even had to withdraw money from the banking system when the capital demand was low after Tet.
Specifically, in three consecutive trading sessions of this week, the SBV injected nearly 13.93 trillion VND into the market through the open market operation (OMO) channel. At the session on February 9 alone, seven banks borrowed nearly 7.94 trillion VND from the SBV's channel.
Due to the poor liquidity, the interbank interest rate has remained high at above 2 percent per year since the beginning of this week. The rate is even higher than that before Tet. Data from the SBV showed the overnight interbank interest rate jumped to 2.59 percent on February 8, even higher than the 2.53 percent two-week rate.
Vinatex's net profit rises sharply last year
Vietnam National Textile and Garment Group (Vinatex)'s post-tax profit in the last quarter of 2021 was nearly VND500 billion (US$22.03 million), tripling the figure recorded in the same period of the previous year.
The group reported net revenue of over VND16.09 trillion last year, up nearly 16 per cent year-on-year, and net profit of VND857 billion, representing a 2.6-fold rise.
The marked results in the fourth quarter are attributable to the acceleration of production after disruptions due to the COVID-19 pandemic, and material stockpiling since mid-2021 in anticipation of soaring prices, a representative from the group explained.
The group's net revenue from sales and services in the last three months of 2021 reached over VND4.98 trillion, a year-on-year increase of 39 per cent.
Its turnover from financial activities also jumped by 44 per cent to VND94.7 billion.
Last year, Vinatex completed 93 per cent of its pre-tax revenue target, and its pre-tax profit also doubled the set target, reaching VND1.46 trillion.
Firms pulling out of land auction deals hurts market and consumers
The Ministry of Construction has called for a comprehensive review and potential overhaul of the current land auction regulations. The ministry said there must be stricter requirements, both legal and financial, for firms to partake in land auctions in the future.
A recent report from the ministry said there have been many incidents in which significantly higher winning bids in an area have resulted in a much higher local property price and the surrounding areas. They have contributed to higher cost of housing and higher barrier to entry for developers of affordable housing projects, making it more difficult for low-income households to afford homes.
There have been reports of much higher asking prices for properties in the new urban area Thu Thiem in HCM City, likely a result of last December's record-breaking winning bid by property developer Tan Hoang Minh.
Earlier in January, Tan Hoang Minh said it will not go ahead with its purchase of a 10,060sq.m land lot in Thu Thiem at VND2.45 billion (US$108,000) per square metre, the highest price for a land auction in Viet Nam.
Following Tan Hoang Minh, Binh Minh Investment and Commercial trading LLC has pulled out of a bid they won for Lot 3-9 at over VND1 billion per square metre in Thu Thiem. Binh Minh won the bid in the same auction session as Tan Hoang Minh won Lot 3-12.
Binh Minh and Tan Hoang Minh were two among a total of four winners at the auction held on December 10, 2021. The damage done to the country's property market has been profound, according to industry experts and policymakers.
In response to the debacle, Prime Minister Pham Minh Chinh has ordered the ministry to work with local governments to carry out an overhaul of current land auction activities. The ministry has been told to conduct investigations into cases in which the winning bids were reported to be significantly higher than starting price or average price in the region.
An initial review of land-auction activities did not raise too many red flags with a majority of localities across the country reporting bid-winning deals within acceptable price ranges. For example, the average winning bids compared to the asking price were 53 per cent higher in Can Tho, 24 per cent in Dong Thap, 50 per cent in Dak Nong, 34.4 per cent in Tuyen Quang, 17 per cent in Phu Yen and just 20 per cent in Lai Chau. In addition, no irregularities were detected in said localities.
There have been instances in which firms deliberately pulled out of land deals, willing to give up on deposits after successfully setting a higher price range for properties in a region. Oftentimes, the same firms hold numerous properties in the same region and benefit tremendously from the higher price, allowing them to absorb the loss of deposits.
In some cases, bid winners said they could not come up with profitable solutions to develop the land due to the enormous cost. Meanwhile, abnormally high bidding price was said to help incite social unrest and grievance from the population who had to relocate to clear the land.
The ministry has requested assistance from the Ministry of Public Security and the Ministry of Finance to help conduct reviews into cases with irregularities to prevent land speculation, abuses and exploitations of the financial system.
MindX Technology School wins top place at A-star AI Bootcamp
MindX Technology School has surpassed 100 registered startups to top the first season of A-star Bootcamp in promoting local artificial intelligence (AI) development.
Introducing an AI application that helps bring its graduate students to the job market faster, the firm won first prize in the camp which was founded by Dr Lương Minh Thắng from Google Brain, Dr Vũ Minh Thức, Founder and CEO at OhmniLabs and Kambria, and Văn Đinh Hồng Vũ, Founder and CEO of Elsa Speak and a global network of Vietnamese entrepreneurs and AI experts.
Co-organised by the New Turing Institute and VietAI in June last year, the programme selects five to seven startups for an intensive training bootcamp each year, helping them integrate AI into their existing business models to reach 10 to 100 times transformation in their value, and have a long-term positive impact.
Others in the top five were Hoozing in real estate, Digipay in finance, Vuihoc in education, and Jingo in the knowledge-sharing platform.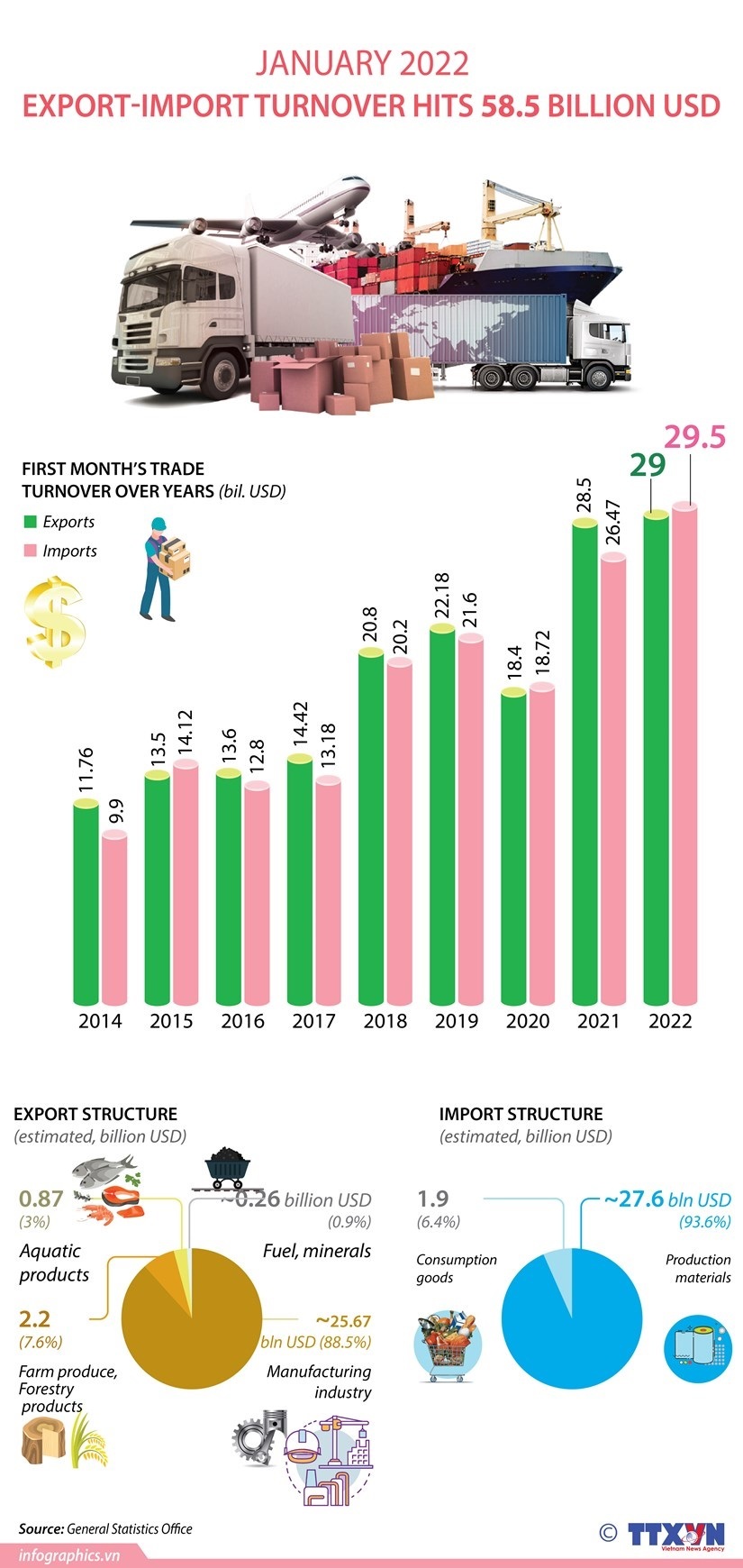 Source: VNA/VOV/VNS/SGT/VNN
Vietnam's pangasius exports exceed expectations