Iron and steel exports exceed US$10 billion for first time
Vietnamese iron and steel exports during the opening 11 months of the year enjoyed impressive growth with an export value exceeding US$10 billion.
Construction steel output stood at 3.5 million tonnes, up 15%, of which the export of finished construction steel alone reached 914,000 tonnes, marking a rise of 90%. In addition, the output of hot rolled coil hit more than 2.3 million tonnes.
For the first time, steel has been listed among products raking in more than US$10 billion each from exports. It is also the commodity that has boasted the highest growth rate of up to 129.8% compared to the same period from last year.
Vietnamese iron and steel products are mainly exported to markets such as ASEAN, China, the EU, and the United States. Although iron and steel exports to the Asian market tend to be in decline, their sales are growing strongly in both the EU and US markets.
Farmers market opens in Ha Noi
Farmers from all over the country have brought their products to a farmers market, taking place from December 17-19 in Ha Noi.
The market, a promotional event for Vietnamese agricultural products organised by the Ministry of Agriculture and Rural Development, aims to connect farmers with consumers in the capital city and surrounding provinces.
The ministry also hopes to spread a message of the importance of food safety, promote organic products, and for the event to be an opportunity for farmers to learn good practices.
The market is located at 489 Hoang Quoc Viet, Cau Giay District.
Footwear exports likely to grow 5 percent in 2021
Data from the World Footwear Yearbook shows that Vietnam exported 1.23 billion pairs of footwear in 2020, a 4.4-fold increase against 2011. It also marked the first time the country's global market share had exceeded 10 percent.
Between 2016 – 2020, Vietnam's footwear exports picked up 6.4 percent annually on average, with its revenue edging up from 10.3 percent in 2016 to 13.6 percent of the world's total in 2020.
Various world-famous brands, including Nike, Adidas, Reebok, and Puma, have selected Vietnam as a destination for outsourcing and setting production bases.
According to Lefaso, Vietnam became the world's biggest exporter of textile-capped shoes in 2020, accounting for 26.3 percent of total global shipments which has been on the rise this year.
Smuggled, counterfeit products crowd out genuine businesses
Smuggled and counterfeit products are running rampant as popular shopping seasons are drawing near, according to Vu Kim Hanh, chairman of the high-quality Vietnamese Product Business Association.
In the first 11 months of this year, Vietnamese customs authorities have unveiled 13,413 cases of customs violations. Nearly VND2,554.7 billion (US$110.86 million) worth of illegal products has been seized, adding around VND270.42 billion to the State budget.
A total of 29 cases have been brought to court, and 155 sent to relevant agencies to be prosecuted.
At the same time, National Steering Committee 389 also introduced Plan No.119/KH-BCD398 on the prevention of smuggling, counterfeiting and trade fraud prior to, in and after the Lunar New Year of 2022 to keep a tight rein on the situation.
Workshop discusses boost to Viet Nam-New Zealand trade
Viet Nam will need to take advantage of new value chains in Southeast Asia and New Zealand to boost exports to the latter and achieve the bilateral trade target of US$2 billion in 2024, a workshop heard in HCM on Friday.
New Zealand is Viet Nam's 31st largest trading partner and Viet Nam is New Zealand's 14th largest, he said. Their trade was worth $1.31 billion in 2020.
Viet Nam's major exports are phones and components (worth $166 million this year), computers, electronic products and components ($71 million) and footwear ($40 million). It imported mostly milk and dairy products ($273 million) as of October.
Green credit – an important financial source of economy
Permanent Vice Governor of the State Bank of Vietnam (SBV) Dao Minh Tu has stated that green credit is an important financial source of the economy.
According to the SBV's Credit Department for Economic Sectors, the total green outstanding debts surged from over 71 trillion VND (3 billion USD) in late 2015 to over 340 trillion VND in late 2020. As of the late October, the whole economy's credit had reached nearly 9.99 quadrillion VND, resulting in a hike in green credit, mostly in the field of green agriculture and renewable energy.
Despite the COVID-19 pandemic this year, foreign direct capital still poured into green projects. Recently, Proparco – the Development Finance Institution of France – provided a 50 million USD loan for HDBank to serve green projects while the International Finance Corporation (IFC) offered 100 million USD loan to the Orient Commercial Bank (OCB) in a bid to help the private sector contribute more to green and sustainable development in Vietnam.
SBV Governor Nguyen Thi Hong said the SBV will continue perfecting the legal framework with specific standards on green credit and list of sectors in green field, thus making it easier for credit organisations to evaluate and monitor projects in need of green credit./.
Hanoi forms new tourism products in new normal
The capital city has developed a series of tourism products based on its historical and cultural values in line with the current flexible and safe adaptation to the COVID-19 pandemic.
Among these is a walking tour programme introducing visitors prominent French architectural buildings in Hanoi, including the Vietnam National Museum of History, Hanoi Opera House, State Guest House, and Sofitel Metropole hotel. Taking place every Saturdays and Sundays, each tour lasts for one hour and 30 minutes.
Meanwhile, a one-day cycling tour around popular streets in the capital's Hoan Kiem Lake and West Lake areas, among others, aims to give tourists insights into the local life and cultural values.
Banks' return on earning assets declines
According to statistics from VNDirect Securities Company (VNDirect), the ratio of listed State-owned banks dropped by 55 basis points in the first three quarters of this year to 5.8 per cent against 6.4 per cent in 2020. The rate for listed private joint-stock banks declined by 47 basis points to 8.3 per cent from 8.7 per cent in 2020.
The State Bank of Viet Nam (SBV) reported banks had cut lending interest rates of more than VND12.2 trillion (US$539 million) to support customers affected by the pandemic.
To promote the rate cut, the SBV has applied an interest rate subsidy package worth VND3 trillion, which means that banks will lend about VND100 trillion at rates of 3-4 per cent per year for firms which have been severely affected by the pandemic.
Vietnamese, Indian groups cooperate in technology application
Vietnam's SOVICO and India's HCL Technologies Limited have signed an agreement on sharing and developing business opportunities with a focus on information technology.
The agreement covers various areas, including aviation, banking, insurance, retail sales, as well as fields of shared concern such as resources and asset management solutions, Internet of Thing (IoT), blockchain and data.
The signing took place within the framework of the ongoing official visit to India by Chairman of the National Assembly Vuong Dinh Hue.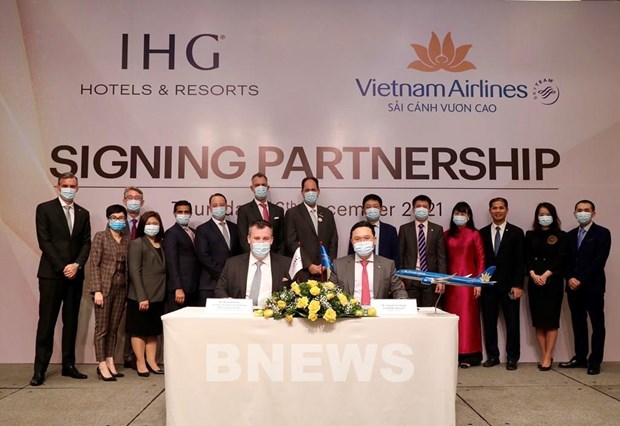 At the signing ceremony. (Photo: Vietnam Airlines)
Vietnam Airlines signs cooperation deal with IHG Hotels & Resorts
Vietnam Airlines has reached a cooperation agreement with IHG Hotels & Resorts, a British multinational hospitality company. Under the pact, the airline's Golden Lotus members will enjoy benefits at IHG-managed hotels and resorts until December 2022.
US supports Vietnam to enhance aviation weather forecasting capacity
The US Trade and Development Agency (USTDA) signed an assistance agreement on December 16 to support the Vietnam Air Traffic Management Corporation (VATM) in enhancing its aviation weather forecasting capacity.
Under the agreement, the USTDA will provide 1.06 million USD in non-refundable aid to the VATM while the US company IM Systems Group, which is the contractor of technical assistance, will provide an additional 294,000 USD.
Following the signing of the agreement, the VATM will work IM Systems Group on a contract to present to the USTDA for approval, which then will be implemented for a period of 21 months.
Conference connects tourism safely between Hanoi and other localities
A conference was held in Hanoi on December 17 to connect tourism between Hanoi and other localities under the theme "Establishing safe tourism corridor in Hanoi and localities".
Within the framework of the conference, a signing ceremony of cooperation in safe tourism development took place between the state management agencies in charge of tourism in the new normal state of 12 provinces and cities: Hanoi, Hai Phong, Quang Ninh, Ninh Binh, Thanh Hoa, Nghe An, Hoa Binh, Son La, Dien Bien, Lai Chau, Lao Cai, and Ha Giang.
Economic recovery, development programme to last at least two years
Deputy Minister of Planning and Investment Tran Quoc Phuong said the programme suggests five groups of measures covering health care, social welfare; support for businesses, cooperatives and households; public investment stimulation and administrative reform, based on international experience and lessons, especially those during 2009-2011 economic slowdown.
According to him, fiscal and monetary tools will be mostly used in combination with other tools such as non-State and corporate funding, the involvement of the private sector in projects under public-private partnership model.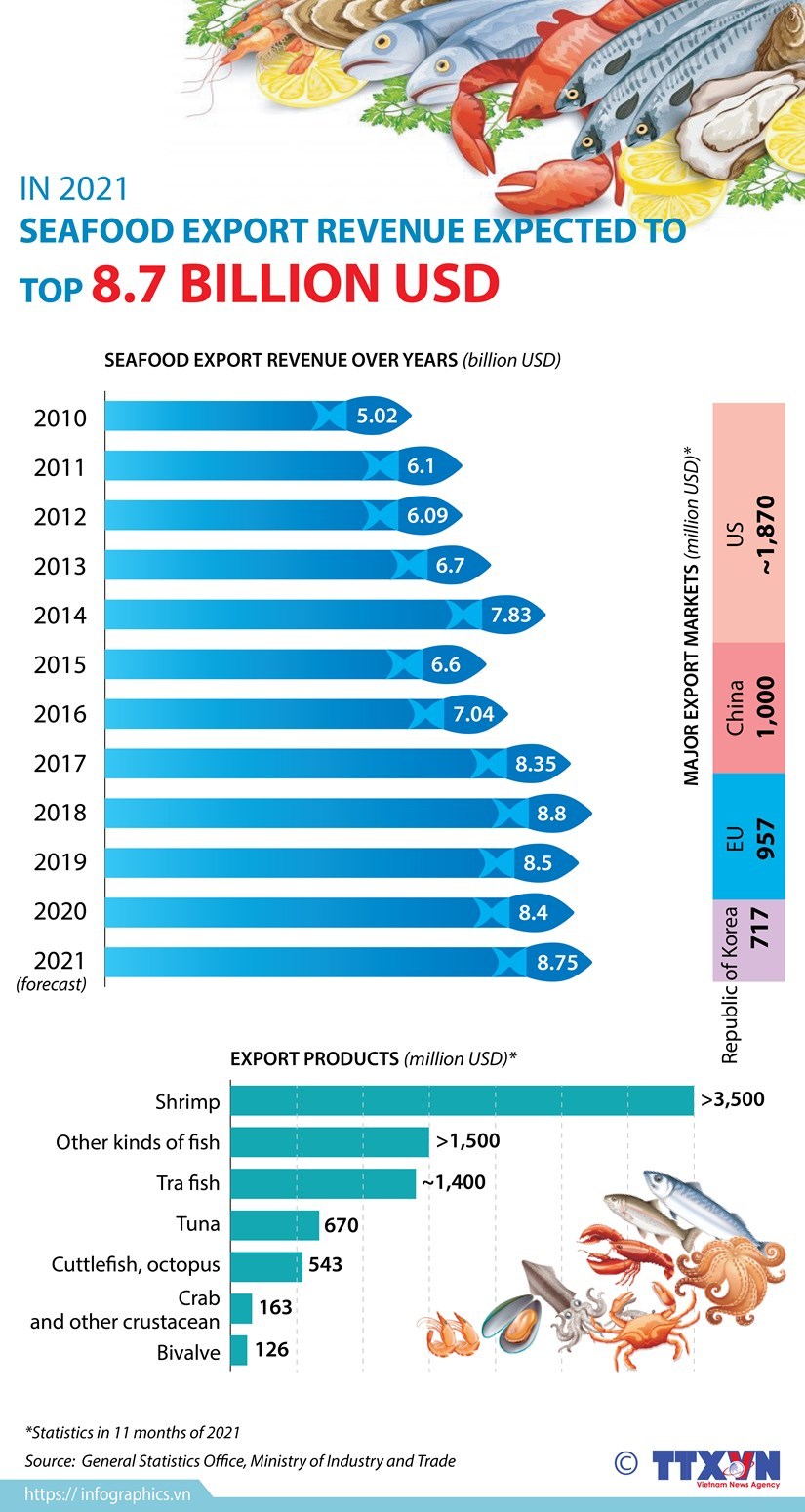 Vietnam Airlines signs cooperation deal with IHG Hotels
Vietnam ranks fifth among aquatic product exporters of Japan
Vietnam was the fifth largest supplier of aquatic products for Japan in the first 10 months of this year, data from the Japan Customs show.
Between January and October, Vietnam shipped 111,100 tonnes of aquatic products worth 94.94 billion JPY (840 million USD) to Japan, up 1.1 percent in volume but down 2 percent in value year on year.
The Foreign Trade Agency under the Vietnamese Ministry of Industry and Trade said the market share of Vietnam's aquatic products in the Northeast Asian country increased slightly to 7.3 percent in the 10 months, from 7.2 percent in the same period of 2020.
Meanwhile, Japan's demand for aquatic imports often peaks in December and January, when this country marks the New Year festival.
Polypropylene plant, LPG storage cavern put into operation in Ba Ria-Vung Tau
Hyosung Vina Chemicals Co., Ltd., a chemicals company invested by the Republic of Korea (RoK), on December 17 put into operation a polypropylene (PP) plant and a liquefied petroleum gas (LPG) storage cavern at the Cai Mep Industrial Park in the south-central province of Ba Ria-Vung Tau.
Choi Young Gyo, General Director of Hyosung Vina, said the underground LPG storage cavern is the largest of its kind in Southeast Asia with a total capacity of 240,000 tonnes.
Once fully operational, the complex will churn out 650,000 tonnes of PP each year, of which, 300,000 will be supplied to the Vietnamese market, helping to raise competitiveness of the domestic production sector, the company said.
Bamboo Airways launches Vietnam-Australia direct air route
Bamboo Airways on December 17 morning (Vietnam time) launched its direct air route linking Vietnam with Australia during an inaugural ceremony held in Melbourne international airport of Australia.
Commercial flights will be officially operated on the direct route starting early 2022, connecting two Vietnam's major cities of Hanoi and Ho Chi Minh City with Australia's busiest airports of Sydney and Melbourne.
Timber industry achieves export surplus of US$12.6 billion this year
The timber industry has exceeded its US$14 billion export value target set earlier for this year by earning US$15.6 billion, a year on year increase of 18%, and attaining an export surplus of US$12.6 billion, up 18.4% compared to last year.
The export of wood and forest products maintained high growth in a number of traditional markets, such as China at 23.7%, the United States at 21.4%, the European Union at 14.4%, Japan at 6.7% and the Republic of Korea at 5.7%.
VinFast to launch 3 new electric car models at Las Vegas Auto Show
Vietnamese automaker VinFast announced that will introduce five models covering most market segments at the CES 2022 Consumer Electronics Show, taking place at the Las Vegas Convention and Exhibition Center in Neveda state, the United States. CES 2022, the world's leading technology exhibition will take place from January 5 to 8 next year.
Shares end week on a positive note
On the Ho Chi Minh Stock Exchange (HoSE), the market benchmark VN-Index rose 0.22 per cent to end at 1,479.79 points. The index had risen 0.08 per cent to end Thursday at 1,476.61 points. The market's breadth was neutral with 217 gainers and 227 losers.
Liquidity increased compared to the previous session with 1.1 million shares traded on the southern bourse, worth nearly VND34.5 trillion (US$1.5 billion).
The VN30-Index, tracking the 30 biggest stocks on HoSE, gained 0.22 per cent, to end at 1,513.56 points. Fifteen out of 30 stocks in the VN30 basket posted gains, while 13 decreased.
On the Ha Noi Stock Exchange (HNX), the HNX-Index lost 0.18 per cent to end Friday at 456.20 points.The index had gained 0.73 per cent, to end Thursday at 457.03 points.
During the session, investors poured over VND3.8 trillion into the market, equivalent to a trading volume of 140.2 million shares.
Source: VNA/VNS/VOV/SGT/VIR/SGGP
HCM City needs 30,000 more workers to meet Tet business orders