Vietnam needs to standardise real estate brokerage
Vietnam's real estate market needs stricter regulations to standardise real estate brokers for the domestic property market to operate transparently.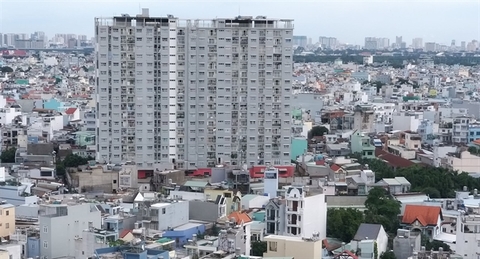 Viet Nam has about 300,000 people working as real estate brokers. — Photo baotainguyenmoitruong.vn
Nguyen Huong, vice chairwoman of the Viet Nam Real Estate Brokers Association, said the number of real estate brokers in Viet Nam had increased rapidly in recent years, but the quality had not improved.
The problem is the quality. Although the Ministry of Construction has regulations relating to real estate brokerage practice certificates, it still has not paid attention, she said.
According to Huong, unprofessional real estate brokers significantly affect investors, customers and professional real estate brokers. Therefore, it is necessary to have solutions and appropriate sanctions to standardise the real estate brokers.
Nguyen Van Dinh, chairman of the Viet Nam Real Estate Brokers Association, has pointed out that at present, land fever has hit some localities making the real estate market unhealthy, which was partly contributed to by unprofessional real estate brokers.
Pham Lam, vice chairman of the Viet Nam Real Estate Brokers Association, has said that according to the association's statistics, Viet Nam has about 300,000 people working as real estate brokers. Every year, over 100,000 real estate transactions are conducted in both primary and secondary markets.
"This shows that the brokers play an extremely important role in promoting transactions," Lam said.
Therefore, the State management agency must manage this workforce to control the real estate market, said Lam. This would avoid the situation of unprofessional real estate brokers destabilising the market.
Nguyen Manh Khoi, deputy director of the Department of Housing and Real Estate Market Management, has also admitted the brokers' important role in the real estate market, so to promote their role, the broker must be properly trained to have real estate brokerage practising certificates.
Khoi also said that the domestic real estate market still lacked information, so there was a situation of property prices being pushed up by brokers.
According to Nguyen Manh Ha, vice chairman of the Viet Nam Real Estate Association, there is currently chaos in information in the real estate market, such as real estate for sale in the wrong location with the incorrect prices to attract customers.
PV Drilling jackup rig to operate in Vietsovpetro's five wells
PetroVietnam Drilling and Well Services Corporation (PV Drilling) will provide jackup rig PV Drilling II for Vietsovpetro, the Vietnam-Russia oil and gas joint venture, to expand its operation in five offshore oil wells in Block 09-1.
PV Drilling has provided jackup rigs for Vietsovpetro, Spanish energy and petrochemical company Repsol, Eni Vietnam B.V. – a unit of Italian energy group Eni, GBRS in Algeria and BSP in Brunei. Its contract of supplying rig TAD – PV Drilling V for BSP spans up to 10 years.
After completing its mission for Vietsovpetro, PV Drilling II will be sent to Indonesia for exploration in Natuna in the third quarter of this year.
The Zero LTI rig has been in use since September 2009. It is capable of drilling to the depth of up to over 9.14km.
Veggie, fruit exports changing markets
Vegetable and fruit exports plunged 9.6 percent year-on-year to 508 million USD in the first two months of 2022 due to a sharp decrease in shipments to China, according to the General Department of Vietnam Customs.
Shipments to China, the Vietnam's largest vegetable and fruit importers for years, fell nearly 26 percent year-on-year to worth 261 million USD in January-February as a result of the neighbouring country's stricter rules on imported food, causing severe backlogs at shared borders in the north.
However, Vietnamese vegetables and fruits enjoyed strong growth in other major markets, such as the US (79 percent), the Republic of Korea (32 percent), Japan (12 percent), Australia (45.7 percent), and the Netherlands (51.5 percent).
Many Vietnamese exporters are turning their eyes to EU markets where their products are entitled to the zero-percent tax rate from the EU-Vietnam Free Trade Agreement (EVFTA) and the markets are seeing increasing demand for tropical vegetables and fruits.
Vietnam seeking coal supply from South Africa
Minister of Industry and Trade Nguyen Hong Dien met with South African Ambassador Mpetjane Kgaogelo Lekgoro on April 2, saying that Vietnam is now in urgent need of diversifying coal supply sources as it is promoting post-pandemic economic recovery.
Highly valuing South Africa's coal mining and export capacity, the minister proposed the ambassador help connect potential South African partners in the coal and mineral sector with major enterprises of Vietnam such as the Vietnam National Coal – Mineral Industries Group and the Vietnam Electricity Group so that coal can be delivered to the Southeast Asian country right in April and May.
Coal mined in South Africa has high quality and suits the technologies used at power plants and manufacturing industries of Vietnam, according to him.
He expressed his hope that the two sides will consider and soon ink a memorandum of understanding on cooperation in the mineral sector, adding that this memorandum will create a framework for boosting not only the partnership in this industry but also bilateral trade.
Central city set for aviation forum
Representatives of 71 airlines and 820 participants have registered to join the 16th annual Routes Asia Development Forum 2022 on June 4-9, according to Thomas Atkinson of Informa Routes, the event organiser.
He said the forum would mark the restart of air services and tourism after closure due to the pandemic, and Da Nang was selected as the event host for its logistics, conference venue and tourism experiences.
The annual event will offer airlines, airports and tourism authorities a platform to boost cooperative relationships, set up new routes and expand aviation networks, driving international tourism and aviation activities while connecting Da Nang with regional and global air transport networks.
Gov't issues action plan to develop Khanh Hoa province by 2030
The Government has issued an action plan to implement the Politburo's Resolution dated January 28, 2022, on developing coastal central Khanh Hoa province by 2030 with a vision to 2045.
Among the targets for 2025, this resolution aims at local per capita gross regional domestic product (GRDP) of 104 million VND (over 4,500 USD), an urbanisation rate of 65 percent, non-agricultural workers accounting for 77.97 percent of the local workforce, and a rate of trained workers at 85 percent.
The respective targets for 2030 are 189 million VND, 70 percent, 81.91 percent, and 90 percent.
Measures sought to promote golf tourism
A workshop seeking ways to further promote golf tourism development in Vietnam was held on April 1 in the framework of the Vietnam International Travel Mart (VITM) 2022.
According to deputy general director of the Vietnam National Administration of Tourism (VNAT) Nguyen Le Phuc, many experts said that Vietnam has great potential and opportunities to become a golf paradise of Asia, but the country has few golf tourism products and the number of international visitors taking golf tours remains small.
He said the tourism sector has a policy to fully tap advantages in order to develop sustainably golf tourism.
Participants proposed measures to develop golf tourism more effectively in the coming time, expressing their belief that this will be a breakthrough in the development of tourism products.
According to the Vietnam Golf Tourism Association (VIGTA), Vietnam served 3 million golf visitors in 2019, including 1.5 million foreigners, earning about 4.5 trillion VND (over 197 million USD) in revenue. In the first quarter of 2020, the number of visitors and revenue still increased by about 10 percent year-on-year .
Golf tourists to Vietnam are mainly from the Republic of Korea, Japan, and a number of Southeast Asian nations.
Statistics show that more than 50,000 Vietnamese and 20,000 foreigners living in Vietnam play golf. The total number of golfers in the country is expected to rise to 300,000 by 2025.
Vietnam int'l aviation expo 2022 to return in September
The Vietnam International Aviation Expo 2022 (VIAE 2022) will be held on September 15-17 in Hanoi after being delayed for more than two years due to the COVID-19 pandemic, heard a press conference in Ho Chi Minh City on April 2.
With the theme "A sustainable growth for a brighter future", VIAE 2022 is expected to enhance exchange and sharing of development opportunities and new initiatives among experts and business leaders; leading domestic and foreign airlines, and manufacturers.
Topics on post-COVID-19 aviation development, stimulating flying demand, operating standards at airports, requirements for next-generation aircraft, standards of aerospace equipment suppliers, aviation ecosystem design, and aviation personnel demand in the next 20 years, will be put on the table.
The expo will showcase advanced aviation technologies and equipment, and modern airplane models used in the supply, production, operation and maintenance chain of the aviation industry.
Night-time products hoped to bring new opportunities for tourism development
An estimated 18 million international tourists visited Vietnam in 2019, but their spending in the country remained low, which is a challenge to the tourism sector. Night-time services and products could be the key answer to the issue.
According to the Vietnam National Administration of Tourism (VNAT), night tourism products and services are quite bustling in a number of cities and tourist hubs like Hanoi, Ho Chi Minh City, Da Nang, Hoi An, Sapa, and Hue. They take place in the forms of walking streets, shopping malls, night food, night markets, bars, cafes, cinemas, discos, and other art and entertainment events on and off the street.
These activities keep tourists to stay longer and stimulate consumer demand, which in turn will attract more investors to pour their capital in entertainment and shopping facilities. Meanwhile, travel agencies will have plans to offer longer tours, and longer stays mean more money spent.
In July 2020, the Prime Minister approved a project on the development of nigh economy serving the promotion of domestic consumption and tourism. It focuses on developing cultural services, entertainment, dining, shopping, and tourism activities taking place from 6pm to 6am the next day.
Specifically, by 2025, Vietnam will form a system of night tourism products in large urban tourist centres like Hanoi, Quang Ninh, Hai Phong, Thua Thien-Hue, Da Nang, Hoi An, Nha Trang, Da Lat, Can Tho, Phu Quoc, and Ho Chi Minh City. As a result, the average spending of visitors are expected to increase by 5-6 percent; while the average length of their stay will be half a day longer.
Currently, many localities in the central region have embarked on building and developing night tourism products to better meet the needs of holiday makers.
Quang Binh is building its evening sightseeing tour by electric cars and a night market street in Dong Hoi city as well as night leisure services at the Phong Nha –Ke Bang area. Thua Thien-Hue province's Hue city, meanwhile, is ready to launch a night walking street around its imperial citadel area. Quang Nam province, which considers night tourism services a path toward the realisation of sustainable tourism development goals, focuses on activities in the local Hoi An ancient town, and at the Vinpearl Nam Hoi An complex, Hoi An Impression Theme Park, and Hoi An Lune Centre.
Vietnam's financial strategy aims at sustainable development
Vietnam's strategic financial objectives in the 2021-30 period aim to reach a balance between achieving sustainable finance and major socio-economic developmental goals.
The government has set an objective to collect 16-17 percent of the country's GDP to strengthen the State's budget from 2026-30, with 85-87 percent from domestic revenue sources.
According to Government Decree 368/QD-TTg approved by Deputy Prime Minister Le Minh Khai on March 21, top priorities for the State's budget include a comprehensive reform of budget management by central governmental agencies, increased local government autonomy and the development of a transparent and sustainable financial market.
The government said it prioritises long-term development projects, sustainable financing while strengthening national reserves, social security and investing in human capital. Meanwhile, government spending is to be reduced to 60 percent, from the current level of 62-63 percent, by the end of 2030.
State budget deficit, public debt and financial security lie at the core of future reforms. The decree laid out a road map to ensure the country will be able to meet all financial obligations in the 2021-25 period with a goal to reduce the portion of public debt from 3.7 percent GDP in the period to 3 percent by the end of 2030.
The government said it is committed to limiting the debt ceiling to 60 percent of GDP, with government debt not higher than 50 percent, foreign debt not higher than 50 percent in the 2021-2025 period. The stock market's capitalisation by 2025 is to reach 100 percent of GDP with a goal to increase to 120 percent of GDP by the end of 2030.
Meanwhile, the insurance market has been earmarked for an annual 15 percent growth rate from now until 2025 to account for 3-3.3 percent of GDP and a 10 percent annual growth rate from 2025-30.
State-owned enterprises (SoEs) are to go through a restructuring process to improve business and financial performance by 2025. SoEs with strong business performance may receive additional investment to bolster the State's ability to support key industries. On the other hand, governmental offices and agencies are to have their budget slashed by 10 percent on average by the end of 2025, and 15 percent by the end of 2030.
Other key objectives include measures to modernise the country's customs and tax procedures and to establish a digital treasury by 2030.
Made-in-Vietnam biodegradable materials to be sold in North America
Biodegradable plastic materials meeting strict international standards produced by An Phat Holdings (APH) of Vietnam will be distributed throughout North America in the coming time.
AFC Ecoplastics, a new member of An Phat Holdings (APH) based in Texas, the US, will cooperate with Nexeo Plastics – a global thermoplastics resin distributor – to sell the bioplastics in Canada, Mexico and the US.
These bio-compounds meet ASTM D6400 – the standard specification for solid material biodegradation (by composting). They are ideal options for producing cutlery, straws, and bottle caps.
Breeding aquatic animals released to help recover fisheries resources
Many localities nationwide released breeding fish, shrimp, and other aquatic species on April 1 to help restore fisheries resources and also to mark the 63rd traditional day of Vietnam's fisheries sector (April 1, 1959 – 2022).
At Tran De Port in the Mekong Delta province of Soc Trang, the Directorate of Fisheries under the Ministry of Agriculture and Rural Development, the Vietnam Buddhist Sangha chapter in Soc Trang, and local authorities released over 4.3 million breeding aquatic animals, including 4 million shrimps and 300,000 crabs, into the sea.
Also in the southern region, 40,000 breeding fish of different species were released into rivers of Can Tho city; nearly 5,000 fish, 700,000 black tiger shrimps, and 100kg of catfish and tilapia into some rivers and lakes in Ba Ria – Vung Tau province; and more than 130,000 shrimps and fish into the Dong Nai River in Dong Nai province.
In the northern region, the Department of Agriculture and Rural Development of Nam Dinh province introduced 1 million breeding individuals of some aquatic species to the Red River.
HCM City credit growth rebounds in Q1
Ho Chi Minh City's credit growth has rebounded, growing by 3.65 percent as of the end of March, up 13.1 percent year-on-year, according to the State Bank of Vietnam's HCM City branch.
Ho Chi Minh City's credit growth has rebounded, growing by 3.65 percent as of the end of March, up 13.1 percent year-on-year, according to the State Bank of Vietnam's HCM City branch.
Nguyen Duc Lenh, deputy director of the branch, said credit growth had rebounded as the pandemic had been put under control and the economy returned to normal.
He added that credit growth was expected to give extra leverage to post-pandemic economic recovery.
The banking sector would continue to offer credit support programmes to help firms restore production based on the guidelines and regulations of the Government and the central bank.
The measures include debt restructuring, interest rate exemption and reduction.
Commercial banks in the city have provided 1,851,864 customers with credit support programmes worth 3.2 quadrillion VND (139.1 billion USD), according to Lenh.
HCM City enjoys impressive growth in import-export turnover
Despite suffering the negative impact of the COVID-19 pandemic and the Russia-Ukraine conflict which affects international trade, import and export activities of Ho Chi Minh city still achieved impressive growth in the first quarter of this year.
Statistics from the municipal Statistics Department showed that the city's foreign trade was valued at nearly 17.4 billion USD between January and March, up 18.4 percent year on year.
The city's export value hit nearly 11.9 billion USD in the period, an increase of 3.5 percent compared to the same period last year.
Of the figure, the FDI sector accounted for the highest proportion of more than 6.5 billion USD, followed by the non-State and State sectors with more than 3.2 billion USD and 564.4 million USD, respectively.
During the three-month period, China was the biggest buyer of HCM city's enterprises with over 2.5 billion USD in revenue. It was followed by the United States and Japan with 1.6 billion USD and 701.8 billion USD, respectively.
Hanoi lures 513 million USD in foreign investment in Q1
Hanoi attracted more than 513 million USD in foreign investment in the first quarter of this year, according to the municipal Statistics Office.
During the reviewed period, the capital city lured 62 new projects with combined investment of 24.9 million USD, while 28 operational projects registered to increase their capital by 122.8 million USD.
The number of newly-established enterprises in the capital city stood at 5,965 with accumulative registered capital amounting to 63.5 trillion VND (2.78 billion USD), up 2 percent and 4 percent, respectively, as compared with the same period last year.
Hanoi earned almost 3.6 billion USD from exports in the three months, representing a year-on-year rise of 6.1 percent, of which over 1.93 billion USD came from the domestic sector, up 7.9 percent; and the remainder was from the FDI sector, up 4 percent.
The total retail sales of goods and services reached 161.5 trillion VND, a rise of 9.1 percent from the corresponding time last year.
The capital city's gross regional domestic product (GRDP) also grew by 5.83 percent year on year, much higher than the figures recorded in many other cities and provinces, the office said, noting that Hanoi's industrial production also expanded by 5.3 percent year-on-year.
ENV proposes development of renewable power in northern region
Vietnam Electricity (EVN) has proposed to the Government and relevant ministries and sectors a number of measures to ensure power supply, especially in the northern region, including the issuance of mechanisms to develop renewable energy in the region.
Under the proposal, by 2025, the region expects to have an additional 5,500 MW of renewable energy, including 4,000 MW of wind power and about 1,500 MW of solar power.
Along with some mechanisms to encourage the development of rooftop solar power for self-supply, EVN suggested the Government permit to the group to invest in offshore wind power in the northern region to increase power supplies for the region and ensure national security.
The proposals are expected to ease difficulties in power supply in the northern region, especially in summer, and help Vietnam implement its commitment delivered at the United Nations Climate Change Conference of the Parties (COP26).
Aquatic exports enjoy 25 percent growth last month
The export of aquatic products recorded strong growth last month although the Russia-Ukraine crisis has disrupted shipments to the two European countries since late February and caused spikes in shipping costs and input expenses, according to the Vietnam Association of Seafood Exporters and Producers (VASEP).
In March, Vietnam exported 920 million USD worth of aquatic products, a year-on-year increase of 25 percent, VASEP reported. However, the rate reflected a slowdown after the sector posted spectacular growth of 44 percent in January and 62 percent in February.
Total shipments reached 2.4 billion USD in the first quarter of 2022, up 40 percent against the same period last year.
By the end of the first quarter, Vietnam shipped some 878 million USD worth of seafood abroad, of which 234 million USD came from tuna, up 55 percent; and 156 million USD from squid and octopus, up 35 percent. The largest growth was seen in the shipments to the US (42 percent), China (77 percent), and the EU (37 percent).
Vietnam's aquatic exports are expected to pick up 25 percent to 934 million USD in April.
National Credit Rating Improvement Project by 2030 adopted
Deputy Prime Minister Le Minh Khai on March 31 signed a decision approving the National Credit Rating Improvement Project by 2030.
The project aims to turn Vietnam into a developing country with modern industry and high middle income; improve Vietnam's position and prestige in the international arena; and create favourable conditions to raise the national credit rating to the investment grade by 2030, thus helping to reduce capital mobilisation costs and national credit risks.
The specific goal is to achieve a credit rating of Baa3 (for Moody's) or BBB- (for S&P and Fitch) and above by 2030. The average growth rate of gross domestic product (GDP) for the whole period is about 7 percent a year, GDP per capita at the current price by 2030 reached about 7,500 USD, and total social investment averages 33-35 percent of GDP.
It also sets a target of controlling the State budget overspending approved by the National Assembly in the annual state budget estimates and the 5-year national financial plan, striving to ensure that the overspending is equal to around 3 percent of GDP, public debt does not exceed 60 percent of GDP, and Government debt does not surpass 50 percent of GDP.
PVEP exceeds numerous set targets in Q1
The PetroVietnam Exploration Production Corporation (PVEP) has fulfilled its yearly profit target for 2022 by the end of the first quarter of the year, earning an estimated 5,892 billion VND (nearly 258 million USD) in pre-tax profit, up 117 percent year-on-year and surpassing the yearly plan by 2 percent.
The corporation pumped 950,000 tonnes of oil equivalent in the period, exceeding the quarter's plan by 16 percent. The volume included 620,000 tonnes of oil and condensate and 324 million cu.m of gas, 5 percent and 48 percent, respectively, higher than the quarterly plan.
Thanks to high oil prices in the world market and rising oil output, PVEP's revenue in the first quarter topped 11.23 trillion VND (491.7 million USD), 70 percent higher than the plan and up 66 percent from the same period last year. The company contributed more than 4.17 trillion VND to the State budget.
Vietjet reports profit in 2021 despite impacts from COVID-19
Vietjet Aviation Joint Stock Company (HoSE: VJC) has released its financial statements for the fourth quarter of 2021, reporting a consolidated after-tax profit of 100 billion VND (approx. 4.4 million USD) which saw an increase of 46 percent from the previous year.
Though the aviation industry continued to suffer setbacks due to the COVID-19 pandemic in 2021, it has showed signs of recovery since late last year thanks to the nationwide vaccination campaign and the strict implementation of disease prevention regulations to guarantee safe operations and protect the health of the passengers and flight crew.
As of December 31, 2021, Vietjet's assets totaled nearly 51.78 trillion VND (approx. 2.27 billion USD). Its debt-to-equity ratio stayed at 0.91 while the liquidity ratio was at 1.63 – all were considered good indicators in the aviation industry.
In 2021, Vietjet has operated nearly 42,000 flights across its network with more than 5.4 million passengers onboard. The airline has reported revenue of 2.95 trillion VND (approx. 130 million USD) in cargo transport, achieving fast growth with cargo revenue in particular rocketing by over 200 percent year on year.
Petrol prices down by over 1,000 VND per litres from April 1
Retail petrol prices fell by more than 1,000 VND per litre from 0:00 on April 1 following the latest adjustment by the Ministry of Industry and Trade and the Ministry of Finance.
Accordingly, the retail price of RON95 bio-fuel dropped by 1,039 VND to a maximum of 28,153 VND (1.23 USD) per litre, while that of E5RON92 was adjusted down by 1,021 VND to no more than 27,309 VND per litre.
Meanwhile, the prices of diesel 0.05S went up 1,447 VND per litre to 25,080 VND, and that of kerosene also increased by 1,519 VND per litre.
This is the second decline following seven consecutive hikes of petrol prices in 2022, with total increases amounting to over 6,500 VND per litre.
MICE Vietnam Tourism Club debuts
Vietnam boasts great potential for becoming a MICE tourism hub re in the region and the world, said Vu The Binh, chairman of Vietnam Tourism Association, at the launching ceremony of the Vietnam MICE Vietnam Tourism Club (VMC).
Binh noted that the inception of VMC is anticipated to open up an array of bright prospects for the local tourism industry moving forward, adding that the club is required to make thorough preparations in order to lead and promote MICE tourism (meetings, incentives, conferencing and exhibitions) model as an important part of tourism in Vietnam.
This year, the VMC plans to organise "Cat Ba Island Marathon 2022 – Run for Green, Run for Tourism", co-operate with Da Nang to develop products on MICE tourism, and work alongside major hotels in localities such as Quang Ninh and Hai Phong that possess great potential for MICE tourism to develop the model.
Source: VNA/VIR/SGT/VNS/VOV/Dtinews/SGGP
New economic policy takes effect on April 1