As many as 299,800 cars were domestically manufactured and assembled in Vietnam in 2021, a 9.1 percent increase compared with 2020, according to the General Statistics Office (GSO).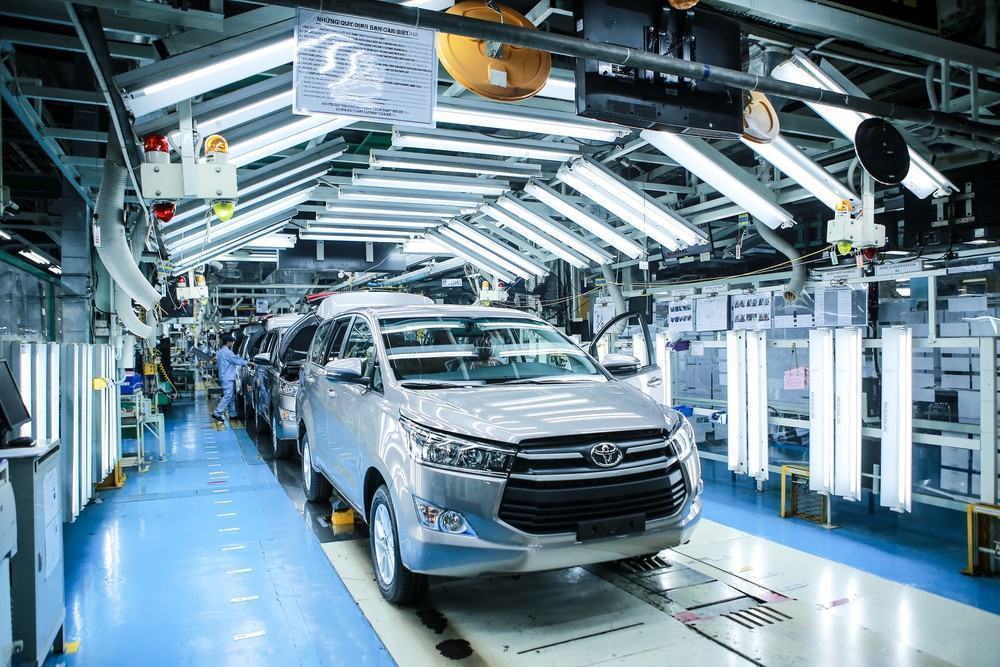 However, compared to 2016 when the total output was 283,300 and car imports were taxed 30%, the 2021 figure indicates that the auto industry is at a standstill.
According to the Vietnam Automobile Manufacturers' Association (VAMA), 304,149 cars of different kinds were sold in 2021. With the figure, Vietnam ranks fourth in ASEAN, after Indonesia, Thailand and Malaysia in terms of market size.
The auto industry has made little headway over the last five years, despite the presence of the newcomer VinFast and the production expansion of Truong Hai, Ford and TC Motor.
Meanwhile, imports have been increasing rapidly. According to VAMA, in 2021, its member companies sold 168,357 domestically assembled cars, a decrease of 10 percent, and 135,792 imported cars, up by 24 percent over the year before.
As such, the number of domestically made cars that were sold, including Vietnamese brands TC Motor and VinFast, is still two times higher than imports, but the difference is getting smaller.
It was estimated that 160,000 cars were imported to Vietnam in 2021, higher than the 105,000 in 2020 and 140,301 of 2019 before the Covid-19 outbreak.
Pham Van Dung, CEO of Ford Vietnam, said the economy is recovering and the automobile market is expected to have 500,000 products in 2022.
However, the expansion of the market does not mean Vietnam's automobile industry will benefit.
Though locally assembled cars have had an advantage over imports as they have enjoyed a 50 percent vehicle registration tax reduction, this preferential tax will end in May 2022.
Currently, eight out of 10 best-selling models in 2021 were domestically assembled, but sales dropped. Toyota Vios, which had led the market for many years with 27,000-30,000 cars sold a year, saw a sharp decrease to 19,931 in 2021. More than 22,000 Hyundai Accent cars were sold in 2020, but the figure fell to 20,000 in 2021.
As for VinFast, 24,000 VinFast Fadils were sold in 2021, but the manufacturer does not plan to produce the model in 2022.
The most important pillar of the automobile industry is the A- and B-class car segments. Sales in the segments have fallen, signaling a decline in the local auto industry.
Weak industry
The pandemic has affected the industry but it has not been not the only factor. Vietnam's automobile industry is weak because the country is opening the market more widely to imports. The figure of 299,800 cars manufactured and assembled domestically is just equal to half of the annual total capacity of automobile plants in Vietnam.
Meanwhile, to develop the automobile industry, the market needs to be larger and at least 50,000 products of each model need to be made each year. Experts also say that policies are not encouraging enough for auto manufacturers.
One policy in 2020 beneficial. The government's decision to cut the vehicle registration tax by 50 percent from June 28 to December 30, 2020 on domestically assembled cars boosted sales. The tax cut allowed more people to buy cars and manufacturers to increase output, and the state increased its tax collections by VND11 trillion.
The auto industry makes great contributions to GDP in many countries: 3.25 percent of the US GDP, 5 percent in China, 4 percent in Germany and 12 percent in Thailand. The industry helps create jobs and often attracts special attention and treatment by governments.
The National Assembly's package to support socio-economic recovery and development includes a VAT reduction of 2% on some products, including automobiles. This will help lower car prices.
According to FTI (the Federation of Thai Industries), more than 1.6 million cars were made in the country in 2021, of which 900,000 were exported. The figures were 1 million and 200,000 in Indonesia.
Thailand, Indonesia and China are the three biggest exporters of cars to Vietnam. Of these, Thailand exported 80,000, Indonesia 50,000 and China 20,000 in 2021.
Thailand says it is striving to raise automobile output to 1.8 million by 2022, including 1 million for export. Indonesia said it would raise output to 1.2-1.3 million, including 900,000 cars for domestic consumption.
The Ministry of Investment and Trade has predicted that demand in Vietnam will reach 800,000 cars by 2025.
Tran Thuy
The regulations on defining a localization ratio for automobile products are out of date, according to experts.
The Ministry of Finance (MoF) has proposed rescheduling excise tax payments for local automobile manufactures and assemblers.