PM Pham Minh Chinh expressed sincere thanks to international partners and friends for having accompanied and offered practical and timely support and assistance for Vietnam in its fight against the COVID-19 pandemic over the past two years.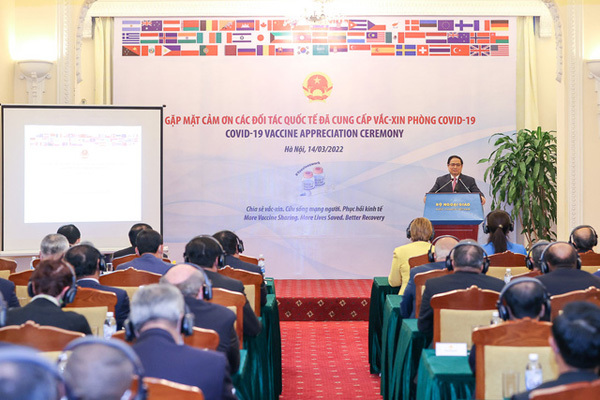 Prime Minister Pham Minh Chinh addresses the COVID-19 vaccine appreciation ceremony, Hanoi, March 14, 2022. Photo: VGP
Addressing the COVID-19 vaccine appreciation ceremony on Monday, Pham stated: "You have been accompanying us, supporting us during the pandemic. This event is to recognize the international solidarity, which we highly appreciate."
Vietnam has obtained around 220 million COVID-19 vaccine doses, half of which delivered to the Southeast Asian country through the COVAX facility, according to the Prime Minister.
Thanks to high vaccination coverage rate, Vietnam switched way from zero-COVID policy to safe and flexible adaptation to the pandemic and gradual recovery of economic activities from October last year.
The country is stepping up administration of booster doses to people aged 18 and above, the second shots to children in the age group of 12-17, preparing for inoculating children aged 5-11, Pham said.
Vietnam is also mulling over the fourth shot and the use of vaccine for kids under five years of age, the Prime Minister added.
As challenges still remain ahead, Pham called for continued international cooperation and solidarity in the fight against the pandemic, including enhanced support for bilateral and multilateral initiatives to promote fair access to vaccines, medicines and equipment.
He took the occasion to announce that Vietnam will continue contributions to the COVAX facility and stand ready to share experience in the fight against the pandemic with other countries.
In his video message, Director-General of the World Health Organization Tedros Adhanom Ghebreyesus said: "I congratulate Vietnam for reaching 90% adult vaccine coverage, one of the highest vaccination rates in the world. This is a remarkable testament to the government leadership and the commitment and solidarity of Vietnam's people".
Source: VGP
Vietnam's great efforts in vaccine diplomacy helped obtain commitments for over 100 million vaccine doses in 2021, which allowed it to launch its biggest ever vaccination campaign.
The foreign investors' positive sentiment towards the business environment in Vietnam is largely thanks to the country's high vaccination rate.