Vietnam has become one of the six countries with highest COVID-19 vaccination coverage in the world, Standing Deputy PM Pham Binh Minh told a teleconference between the Government and localities on January 5.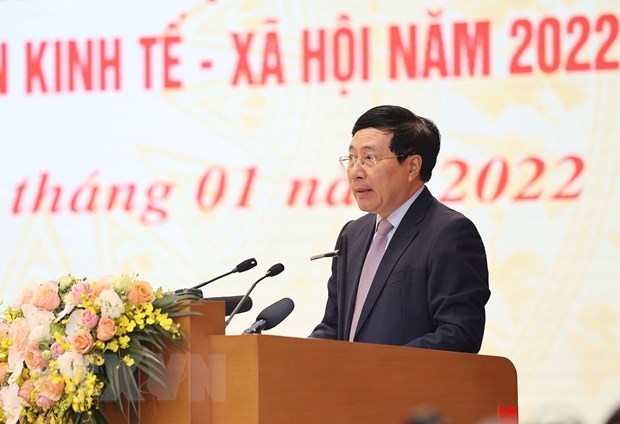 Standing Deputy Prime Minister Pham Binh Minh speaks at the event (Photo: VNA)
The Deputy PM said the Government has constantly adjusted pandemic prevention and control measures in accordance with reality, while developing and promoting the vaccine diplomacy policy along with carrying out the largest ever free vaccination drive, which has brought about the remarkable achievement.
He reported that 99.6 percent of the 18-year-old and over-18 population have received at least one shot of vaccine and 90.9 of them have been fully inoculated. The ratios among children from 12 to 17 are 85.6 percent and 57 percent. Work is underway to purchase vaccine for children from 5 to 11 years old.
Deputy PM Minh said this year, the Government will make the best use of every opportunity for national socio-economic development in every sector and locality, and maintain drivers of growth for a long term. He required ministries, agencies and localities to prioritise resources for the effective implementation of the COVID-19 prevention and control programme and the socio-economic recovery and development programme.
He underlined key tasks for 2022, which are restoring and boosting production, trade and exports; stepping up disbursement of public investment capital; pooling resources in public-private partnership for infrastructure development, especially strategic infrastructure; maintaining macro-economic stability and improving the economy's resilience; accelerating economic restructuring while developing e-commerce and digital economy.
Last year, Vietnam's gross domestic product expanded by 2.58 percent. Revenue of the State budget surpassed 1.56 quadrillion VND (67.8 billion USD), or 16.4 percent higher than estimate. With a record 668.5 billion USD in export-import value, Vietnam's trade surplus was estimated at 4 billion USD, making it one of the 20 countries with the biggest trade scale in the world.
The country saw a 9.2 percent rise in FDI inflows, demonstrating foreign investors' confidence in Vietnam's investment and business environment, Minh said.
At the same time, the Deputy PM called attention to existing problems, including potential macro-economic risks, rising inflation pressure and bad debts, exports' reliance on the FDI sector and several markets, falling domestic purchasing power, and disruption in several manufacturing and supply chains.
According to him, equitisation of State-owned enterprises fails to meet schedule while the service sector, especially tourism, lodging and transportation, still meets difficulties. The handling of weak banks and less-efficient enterprises and projects remains ineffective and the disbursement of ODA and concessional loans is slow.
The Government has submitted to the extraordinary session of the 15th National Assembly fiscal and monetary policies to support the implementation of the programmes on COVID-19 prevention and control and on socio-economic recovery and development, Deputy PM Minh said.
Source: VNA