Vietnam aims to have no accidents caused by mines and explosives across the country by 2025, Prime Minister Pham Minh Chinh said yesterday.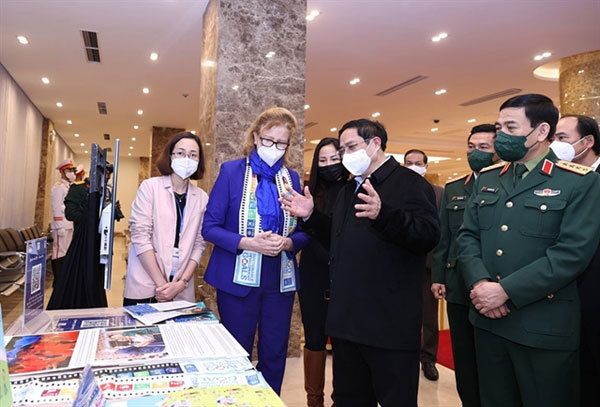 UNDP Resident Representative in Vietnam Caitlin Wiesen (second, from left) presented to Prime Minister Pham Minh Chinh the mine action results of UNDP-KOICA-VNMAC partnership, which has greatly contributed to building more resilient and safer communities with sustainable livelihoods for people in Quang Binh and Binh Dinh provinces. — VNA/VNS Photo
The Prime Minister was attending the Review of the National Mine Action Programme in the 2010-2020 period and mission orientation for 2021-2025 (Programme 504).
Speaking at the event, PM Chinh said that more than anyone else, the Party, State and people of Vietnam deeply understood the heavy consequences of wars.
The consequences were even seen during peacetime, causing damage to people and the environment as toxic chemicals, bombs and mines killed people and destroyed natural habitats.
"Mines and explosives left over from the war in Vietnam are a daily threat to people, remaining a problem for the country, causing many difficulties in production and life and hindering socio-economic development," he said.
Although decades have passed since the war, hundreds of thousands of tons of bombs are still left behind, including in cities and the countryside, fields and rivers. According to incomplete statistics, since 1975, more than 40,000 people in Vietnam have been killed and 60,000 injured due to landmines left over from the war. On average, each year, unexploded ordnance left over from war claims the lives of more than 1,000 people and leaves more than 1,300 people injured.
Aiming to foster stable and sustainable development, providing a safe environment for domestic and foreign investors, as well as people, and creating a driving force for the country's socio-economic development, on April 21, 2010, the Prime Minister approved the Programme.
According to the National Steering Committee on the National Action Programme for Overcoming the Impact of Post-War Bombs and Mines, before Programme 504 was launched, a total of 6.1 million hectares, accounting for 18.82 per cent of the country's land area, was contaminated with mines and unexploded ordnance.
In the 2010-2020 period, about 485,000 hectares across the country were surveyed and cleared of bombs, mines and explosives, or nearly 50,000 ha of land each year, marking an increase of 35 per cent compared to the previous period, with a budget of VND12.614 trillion.
Of the budget, VND10.417 trillion is from domestic sources while VND2.197 trillion (US$95.5 million) was from foreign aid. The area contaminated with landmines has decreased to 5.6 million hectares of land, equivalent to 17.71 per cent of the country's area.
Support from other countries, including the Governments of the United States, Japan, Korea, Australia and Norway and international organisations like MAG, NPA, Golden West, SODI and Peace Tree have made brought practical impacts on people's lives and important contributions to the work.
More than 5,000 landmine victims and other affected people have received medical assistance, vocational training, job creation, livestock and plants for economic development, worth more than VND50 billion. Hundreds of thousands of people, especially children and those in heavily contaminated areas, have access to mine accident prevention methods, Chính said.
Notably, the number of landmine and mine accidents in Vietnam decreased significantly. Many localities now see no such accidents. These positive results brought about safety for people and made an important contribution to socio-economic development, ensuring national defence and security, Chinh said.
"It is necessary to determine that overcoming the consequences of post-war bombs, mines and toxic chemicals is an urgent task that shows deep humanity and contributes to implementing the goals of protecting people's lives, health and safety, cleaning the environment and ensuring sustainable socio-economic development," Chinh said.
He asked for a comprehensive assessment on the danger of landmines and mines to clearly set out tasks for the future.
It was also necessary to continue to review and perfect the relevant system of regimes, policies and legal corridors.
The National Mine Action Center and the system of agencies must improve their capacity to better deal with post-war bombs and landmines and tackle consequences in the localities.
"At this important and deeply humane conference, I affirm that Vietnam will continue to be active in overcoming the consequences of landmines and mines. Vietnam is a reliable partner, as well as an active and responsible member of the international community in dealing with the issue," he said.
Chinh called for continued support from governments, ambassadors, international organisations, and donors.
"Let's build trust together, to maintain peace, strengthen friendly relations, co-operate for mutual development, bring safety and happiness to all people. We try to take action to prevent wars and armed conflicts so that the peoples of the world no longer have to bear the painful consequences of wars and conflicts," the PM said.
Vietnam plans to focus on perfecting the system of mine remedial agencies and the legal corridor for mine remediation during the 2021-2025 period.
The country would also promote international co-operation activities, advocacy work and support policies to overcome the consequences of landmines.
It would also step up research, improve the national mine data system, increase communication and education on mine accident prevention and support for victims.
Source: Vietnam News
Vietnam is one of the countries suffering from heavy consequences of post-war bombs, mines and unexploded ordnances (UXO). The country has implemented measures to clear bombs, mines and explosives.