Thái women perform xòe dance during a festival. — VNA/VNS Photo Ngọc Hà
HÀ NỘI — Việt Nam's xòe Thái folk dance was added to the list of Intangible Cultural Heritages of Humanity by the United Nations' cultural agency UNESCO. The recognition was granted during its 16th session which took place on Wednesday in Paris, France.
To seek UNESCO recognition, since 2019, the Ministry of Culture, Sports and Tourism collaborated with four northern mountainous provinces of Yên Bái, Lai Châu, Sơn La and Điện Biên, which are home to the dance, to compile and complete the dossier of "The Art of Xòe Dance of the Thái People in Việt Nam".
According to Deputy Minister of Culture, Sports and Tourism Hoàng Đạo Cương, cultural authorities also organised a series of activities aiming to protect and promote the value of the heritage such as identifying, researching, documenting and developing measures to protect the dance within the community.
"Artisans practicing the heritage were granted the national honorary title by the Vietnamese President for their contribution to the dance's preservation," he said.
Speaking after xòe dance was recognised as an intangible cultural heritage of humanity by UNESCO, the representative of the heritage owners, Secretary of Yên Bái Provincial Party Committee, Đỗ Đức Duy, committed to implementing necessary measures to protect the values of the art of xòe dance of the Thái community.
Xòe is a form of dancing with movements that symbolise human activities. The dance is often presented in rituals, cultural activities, life and work, such as weddings, village festivals and community events.
There are three main types of xòe – ritual, circle and presentational.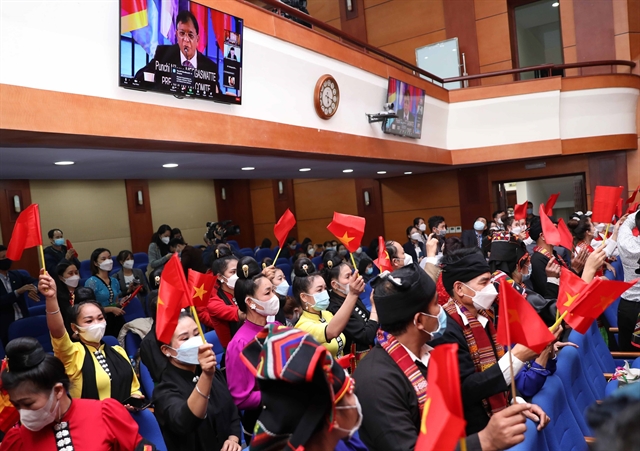 Thái ethnic people celebrate after the art of xòe dance of Thái people in Việt Nam was recognised as an Intangible Cultural Heritage of Humanity by UNESCO. — VNA/VNS Photo Thanh Tùng
The ritual and presentational xòe dances are named after props used during certain performances. For example, there is xòe khăn (dance with scarfs), xòe nón (dance with conical hats), xòe quạt (dance with fans), xòe sạp (dance with bamboo poles), xòe nhạc (dance with music), xòe gậy (dance with sticks), and xòe hoa (dance with flowers).
The most popular form is circle xòe, wherein dancers form a circle and perform in harmony. The basic movements include raising and opening the hands, then lowering them and clasping the hands of the adjacent person. The dancers follow rhythmic footsteps, slightly arching the chest and leaning backwards. Although simple, the dance movements symbolise wishes for community health and harmony.
Xòe dance is accompanied by various musical instruments, including tính tẩu (gourd lutes), kèn loa (a kind of ethnic trumpet), drums, gongs, cymbals and reed flutes. The instrumental music blends with the vocals and the jingling sound of the silver jewellery accessories wearing around the waists of the female dancers.
Inherited from generation to generation within families, dance troupes, and schools, xòe dance has become a symbol of hospitality, as well as an important cultural identity for the Thái ethnic people in northwestern Việt Nam.
The UNESCO recognition is to elevate the status of the dance to national and international levels, thus promoting Vietnamese traditional art and cultural diversity. — VNS