Football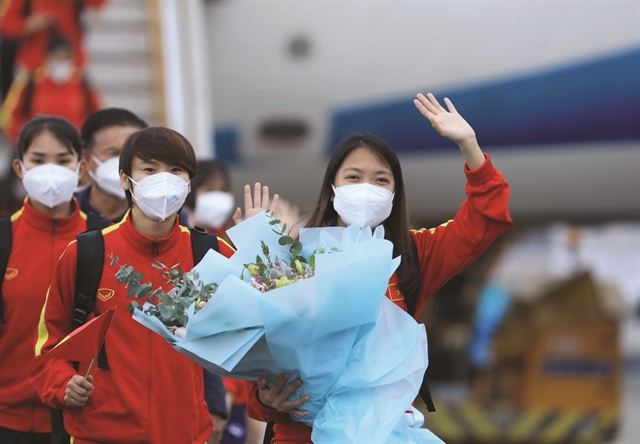 Captain Cù Thị Huỳnh Như waves fans welcoming the Vietnamese national women's football team at the Nội Bài Airport yesterday. VNA/VNS Photo Tuấn Anh
HÀ NỘI — The national women's football team were warmly welcomed home as heroes yesterday after they won an official berth at the FIFA Women's World Cup in 2023.
The 23-strong team and coaches landed at the Nội Bài International Airport in a Bamboo Airways five-hour charter flight from Mumbai to Hà Nội.
The team were celebrated by officials of the Việt Nam Football Federation and many supporters.
They took quick COVID tests at the airport and received lucky money from Deputy Minister of Culture, Sports and Tourism Hoàng Đạo Cương and Deputy Director of the Việt Nam Sport Administration Trần Đức Phấn.
National head coach Mai Đức Chung played a key part in Việt Nam's World Cup campaign. Photos courtesy of VFF
"My teammates and I are really moved to see people's love for us. I did not expect to receive so much love. Your support and encouragement are strong pushes for us to overcome difficulties and earn success," said captain Cù Thị Huỳnh Như.
Như wished a happy, healthy and successful new year to fans before joining the team to move to the VFF's headquarters in Mỹ Đình in preparation for a meeting with Prime Minister Phạm Minh Chính.
PM Chính praised and congratulated the amazing result of the team who overcame the COVID-19 challenge and other difficulties to complete their task.
He presented merit certificates to 29 players and officials of the team.
After Việt Nam beat Chinese Taipei in the playoff match to take their World Cup slot on February 6, PM Chính promised to give VNĐ4 billion from social funds as a bonus for the women.
On Wednesday, President Nguyễn Xuân Phúc signed decisions to present Labour Orders to the team and individuals who will compete at the World Cup for the first time in history next summer.
Defender Chương Thị Kiều is happy to be home with welcome flowers from the Việt Nam Football Federation.
Việt Nam finished fifth at the 2022 Women's Asian Cup and successfully joined five other teams as Asian representatives at the world's biggest football competition.
The national team and head coach Mai Đức Chung will receive the first-class Labour Order.
Captain Huỳnh Như, defender Chương Thị Kiều and midfielder Nguyễn Thị Tuyết Dung will receive the second-class Labour Order.
Four third-class Labour Orders will be given to goalkeeper Trần Thị Kim Thanh, forward Phạm Hải Yến and midfielders Thái Thị Thảo and Nguyễn Thị Bích Thùy.
The VFF will hold a celebration ceremony today before players are released home to celebrate a belated Lunar New Year holiday with their families.
They have been away for more than two months practising and competing.
The members of Việt Nam team pose for photos. They were welcomed home as national heroes.
The HCM City People's Committee will organise a welcome ceremony for the players.
National champions HCM City FC contributed eight players for the national team. Most of them are key members such as goalie Thanh, striker Như, midfielder Thùy and defender Kiều.
They also sent two coaches to assist the head coach in the campaign.
Players and coaches will be carried on a double-decker bus from Tân Sơn Nhất Airport to the committee's office.
They will meet with city's leaders and get awards for their amazing achievement. VNS