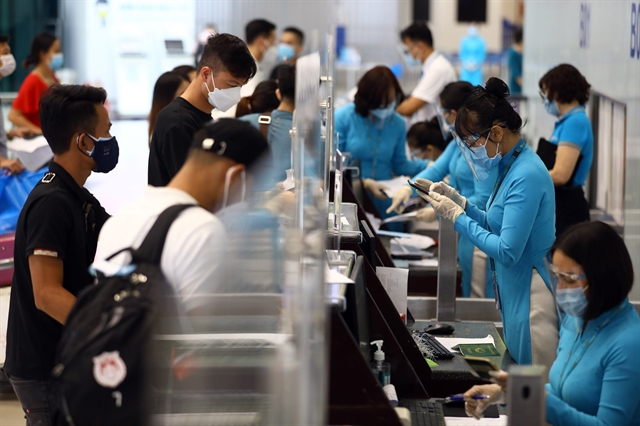 People wait for check-in at Nội Bài International Airport in Hà Nội after two years of flight suspension due to the COVID-19 pandemic. — VNA/VNS Photo Thanh Vũ
HÀ NỘI — Việt Nam has seen a consistent decrease in the number of new daily COVID-19 infections, with 23,184 detected on Monday.
Monday's new transmissions decreased by 5,126 cases compared to the Sunday's figure, bringing the total cases in the country to 10,250,160 since the start of the pandemic.
Hà Nội continues to top the daily numbers with 2,011 transmissions. By Monday, the whole city had nearly 148,844 cases of COVID-19 being treated and monitored, a decrease of nearly 900 cases compared to the previous day.
Thanh Hóa Province's Department of Health registered an additional 28,740 cases on the National System of COVID-19 Case Management.
The number of cases requiring treatment at hospital was only 630. The rest were under home treatment.
The remaining infections were found in Nghệ An (1,470), Yên Bái (1,271), Phú Thọ (1,187), Bắc Giang (1,053), Lào Cai (969), Quảng Ninh (911), Tuyên Quang (873), Thái Bình (812), Vĩnh Phúc (765), Đắk Lắk (707), Bắc Kạn (690), Hà Giang (664), Thái Nguyên (629), HCM City (584), Quảng Bình (504), Gia Lai (484), Cao Bằng (478), Hải Dương (387), Lâm Đồng (375), Lạng Sơn (373), Quảng Trị (358), Sơn La (320), Hà Tĩnh (306), Hưng Yên (301), Hà Nam (290), Bình Định (259), Lai Châu (257), Quảng Nam (241), Bắc Ninh (237), Nam Định (230), Ninh Bình (224), Thanh Hóa (219), Bình Phước (214), Cà Mau (195), Hòa Bình (193), Vĩnh Long (189), Phú Yên (181), Tây Ninh (179), Đà Nẵng (171), Điện Biên (164), Đắk Nông (141), Bến Tre (136), Quảng Ngãi (117), Bình Dương (117), Thừa Thiên-Huế (106), Bà Rịa-Vũng Tàu (101), Hải Phòng (93), Kiên Giang (72), Bình Thuận (51), Trà Vinh (49), Long An (48), Khánh Hòa (42), An Giang (40), Bạc Liêu (37), Ninh Thuận (24), Kon Tum (23), Cần Thơ (23), Đồng Nai (17), Đồng Tháp (14) and Hậu Giang (5).
A total of 1,235 COVID-19 patients are in serious or critical condition, with the majority requiring oxygen masks, 170 requiring invasive ventilation and two on life support.
Việt Nam reported an additional 17 COVID-19 deaths on Monday, raising the nation's death toll since the pandemic started last year to 42,830, accounting for 0.4 per cent of the death toll.
22,400 COVID-19 patients have made a full recovery. The total number of recovered patients in Việt Nam has now reached 8,554,923.
The Ministry of Health announced on Monday that more than 208.56 million COVID-19 vaccine doses have been administered in Việt Nam. — VNS