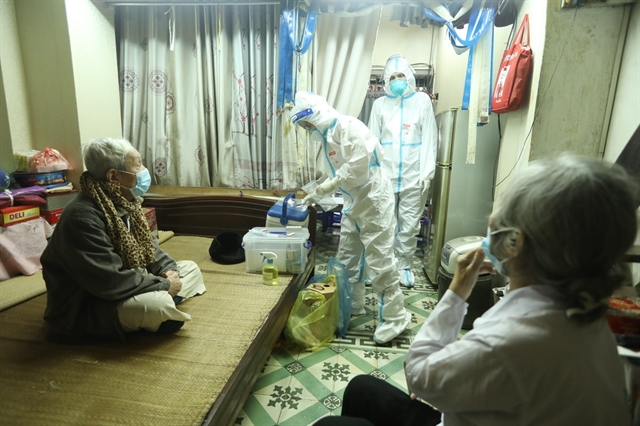 Medical workers provide in-home vaccinations for the elderly in Cửa Đông ward, Hoàn Kiếm district, Hà Nội. — VNA/VNS Photo Minh Quyết
HÀ NỘI — Việt Nam logged an additional 15,684 COVID-19 infections on Sunday, the Ministry of Health reported.
The new cases include 41 imported and the rest locally transmitted.
Of the local new infections reported in 61 cities and provinces nationwide, nearly 11,200 cases were detected in the community.
The capital city of Hà Nội had the highest number of infections, with 2,982 cases. It was followed by the central city of Đà Nẵng and the southern province of Khánh Hòa, with 888 and 680 infections, respectively.
Other infections were detected in Bình Phước (661), Bình Định (599), Bến Tre (556), Tây Ninh (446), Bắc Ninh (442), Hưng Yên (405), Cà Mau (395), Thanh Hóa (384), Quảng Ngãi (375), Hải Dương (346), Vĩnh Long (340), Trà Vinh (295), TP. Hồ Chí Minh (289), Quảng Ninh (286), Vĩnh Phúc (271), Thừa Thiên Huế (257), Quảng Nam (255), Bà Rịa – Vũng Tàu (245), Bắc Giang (235), Lâm Đồng (235), Nam Định (230), Lạng Sơn (221), Hòa Bình (207), Thái Bình (175), Nghệ An (173), Đắk Nông (157), Bạc Liêu (150), Gia Lai (137), Phú Yên (133), Hà Giang (125), Tuyên Quang (124), Sơn La (117), Đồng Tháp (115), Thái Nguyên (112), Hậu Giang (107), Bình Thuận (107), Kiên Giang (103), Lào Cai (96), Phú Thọ (90), Tiền Giang (86), An Giang (82), Ninh Bình (82), Quảng Bình (77), Quảng Trị (74), Cần Thơ (73), Đồng Nai (68), Hà Nam (66), Bình Dương (61), Hà Tĩnh (61), Long An (58), Điện Biên (55), Lai Châu (49), Sóc Trăng (43), Yên Bái (42), Ninh Thuận (39), Kon Tum (38), Cao Bằng (35) and Bắc Kạn (8 ).
The new infections brought the country's total caseload to 2,023,546, ranking 28th among 224 countries and territories across the world. Among the cases, 68 are Omicron infections, all imported and quarantined after arrival.
Also on Sunday, up to 9,326 patients were given the all-clear, lifting the total number of recoveries to 1,727,290.
Currently 650 COVID-19 patients across the country are requiring invasive ventilators and 20 are on life support.
Meanwhile, 129 new fatalities were reported on Sunday, raising the death toll to 35,609 equivalent to 1.8 per cent of the total infections.
Saturday and Sunday death figures (139 and 129) are the lowest daily number the country's seen since late November last year.
In the last seven days, Việt Nam saw on average 184 deaths relating to COVID-19 daily.
As of the end of Saturday, over 168 million doses of COVID-19 vaccine have been administered in the country of roughly 100 million people population.
152.43 million doses have been given to adults (aged 18 years and older), including 4.66 million additional doses and 10.27 million booster doses.
First-dose, second-dose, and third-dose coverages in this age group hit 100 per cent, 94 per cent, and 14.7 per cent, respectively.
39 out of 63 localities in the country reported adult vaccination coverage over 90 per cent, 21 localities reported 80-90 per cent coverage, while the three mountainous provinces – Nghệ An, Hà Giang, and Sơn La – reported coverage at about 76 per cent.
14.5 million doses have been given to children aged 12-17 years, including 6.4 million second doses. — VNS