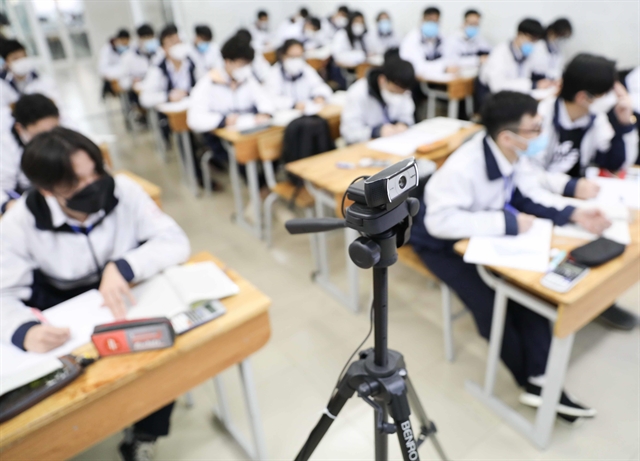 Students in Phúc Lợi Secondary School in Hà Nội's Long Biên District begin studying in-person on Tuesday. — VNA/VNS Photo
HÀ NỘI — Việt Nam confirmed 21,909 coronavirus cases on Tuesday, the most it has ever recorded in a single daily update, as well as 97 deaths related to the virus.
The total number of transmissions since the pandemic started now stands at 2,304,095. Only eight of the new cases were imported, and the remaining domestic.
A total of 14,982 of the new infections were detected in the community.
The capital city of Hà Nội topped the list with 2,903 transmissions and 19 deaths.
The daily case-count in central Nghệ An Province jumped to 1,717, followed by northern Hải Dương Province with 1,245 cases.
The remaining infections were detected in Thanh Hóa (998), Hòa Bình (944), Bắc Ninh (897), Vĩnh Phúc (891), Nam Định (886), Đà Nẵng (854), Hải Phòng (830), Phú Thọ (769), Thái Nguyên (649), Bình Định (571), Bắc Giang (498), Thái Bình (398), Quảng Nam (364), Lâm Đồng (352), Quảng Ninh (336), Ninh Bình (332), Đắk Lắk (313), Hà Tĩnh (299), Tuyên Quang (265), Thừa Thiên Huế (252), Quảng Bình (242), Hưng Yên (240), Cà Mau (227), Quảng Trị (225), Gia Lai (220), Kon Tum (207), Hà Nam (189), Khánh Hòa (183), Lào Cai (183), Bình Phước (181), Quảng Ngãi (177), Sơn La (175), Lạng Sơn (166), Bà Rịa – Vũng Tàu (161), Yên Bái (158), Đắk Nông (146), Phú Yên (137), Hồ Chí Minh City (116), Hà Giang (107), Cao Bằng (105), Lai Châu (99), Vĩnh Long (88), Bình Thuận (72), Bến Tre (70), Tây Ninh (67), Kiên Giang (59), Trà Vinh (57), Bạc Liêu (52), Bắc Kạn (39), Đồng Tháp (34), Sóc Trăng (30), Cần Thơ (28), Điện Biên (21), Bình Dương (19), Tiền Giang (17), Ninh Thuận (9), Long An (9), An Giang (9), Hậu Giang (9) and Đồng Nai (5).
In Hà Nội, 51,224 COVID-19 patients are currently under treatment. Many recovered patients came to the post-COVID clinic at Đức Giang General Hospital after Tết for a check-up. No serious symptoms have been reported so far.
No more cases of the Omicron variant were reported on Tuesday, keeping the national total at 192.
2,263 patients nationwide were reported as in critical condition, with 336 requiring invasive ventilation and 16 on life support.
A further 4,397 patients were given the all-clear on Tuesday, taking the total number of recoveries to 2,126,777.
There are currently only 11 out of 63 provinces and cities with a full vaccination rate under 90 per cent: Thanh Hoá, Phú Thọ, Vĩnh Phúc, Hoà Bình, Cao Bằng, Sơn La, Điện Biên, Phú Yên, Tây Ninh, Trà Vinh and Bình Dương.
The number of vaccines for children between 12-17 years old reached 16,316,260 doses, including 8,455,708 first doses and 7,860,552 second doses.
More than 183 million doses of the COVID-19 vaccine have been administered in the country so far, with more than 74 million people receiving the full two doses and over 29 million people injected with booster shots. — VNS