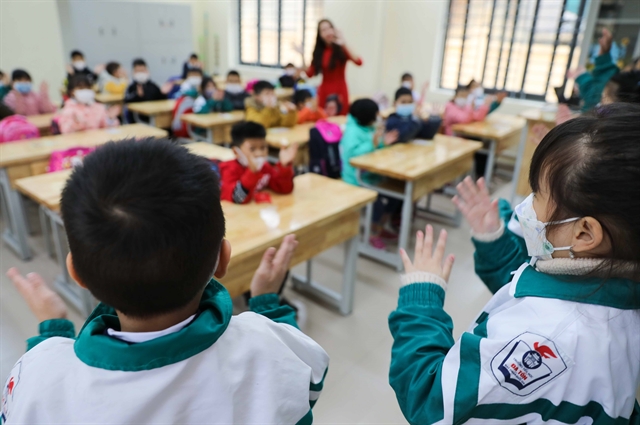 First graders of Đa Tốn Primary School in Hà Nội start their first day at school on Thursday after a long period of online learning due to COVID-19. — VNA/VNS Photo
HÀ NỘI — Việt Nam reported another record daily tally of COVID-19 infections on Thursday, with new cases hitting 26,032 against 23,953 a day earlier.
The new record brings the total caseload in Việt Nam to 2,430,683 infections.
Out of the new transmissions, 8,264 were community cases and nine were imported infections that were quarantined on arrival.
Hà Nội still topped the list of new infections with 2,887, followed by the central province of Nghệ An with 1,749, and five northern localities of Hải Phòng (1,366), Hải Dương (1,329), Nam Định (1,189), Bắc Ninh (1,079) and Hòa Bình (1,073).
The remaining infections were found in Thanh Hóa (996), Đà Nẵng (939), Bắc Giang (876), Vĩnh Phúc (847), Bình Định (744), Thái Nguyên (735), Ninh Bình (715), Phú Thọ (628), Quảng Nam (490), Thái Bình (485), Quảng Bình (468), Lạng Sơn (467), Kon Tum (437), Quảng Ninh (424), Phú Yên (372), Lâm Đồng (365), Sơn La (358), Quảng Trị (350), Lào Cai (330), Bình Phước (305), Tuyên Quang (304), Đắk Nông (298), Đắk Lắk (287), Hưng Yên (261), Thừa Thiên Huế (246), Khánh Hòa (244), Hồ Chí Minh City (241), Hà Nam (223), Yên Bái (197), Quảng Ngãi (196), Bà Rịa – Vũng Tàu (187), Cà Mau (171), Cao Bằng (146), Điện Biên (141), Hà Giang (128), Lai Châu (89), Bắc Kạn (85), Bạc Liêu (82), Bình Thuận (80), Vĩnh Long (69), Bến Tre (63), Long An (39), Bình Dương (36), Hà Tĩnh (33), Trà Vinh (30), Hậu Giang (26), Tây Ninh (22), Đồng Tháp (20), Cần Thơ (19), Đồng Nai (18), Kiên Giang (17), An Giang (10), Ninh Thuận (9) and Tiền Giang (3).
According to the Ministry of Health, the average number of daily COVID-19 cases hit a record 18,077 over the past seven days.
No new cases of Omicron were found on Thursday, keeping the infections at 192 nationwide.
A further 74 deaths were announced, taking the death total to 38,688, accounting for 1.6 per cent of total infections.
9,992 recoveries were reported in the last 24 hours, taking the total number given the all-clear to 2,206,594.
There are currently 2,699 people being treated for COVID in intensive care units, with 17 on life support.
More than 184 million vaccine doses have been administered in the country to date, with just over 74.4 million people having received two doses and 30.4 million having a booster shot. — VNS