A program that helps hundreds of young Vietnamese become postgraduates at prestigious schools in the US has been successful because of assistance from former doctoral students and scholarships granted abroad.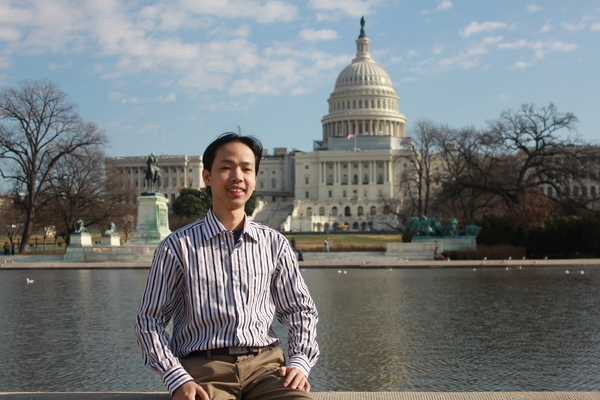 Nguyen Tien Cuong, the founder of VEF 2.0 Program, said the program is so successful because of the connection among Vietnamese students who studied or are now studying in the US. In different ways, they try to make contributions to the country's development. Cuong talks about the program in the following interview:
The 'two-no' program
For many Vietnamese postgraduates who went to the US 20 years ago, VEF (Vietnam Education Foundation) was a priceless time in their life. Is that the reason why your program is called VEF2.0?
After 14 years of operation, VEF helped nearly 600 Vietnamese citizens pursue postgraduate studies (mostly for doctorates) and nearly 60 citizens pursue postdoc studies at leading schools in the US.
VEF ended its mission in Vietnam after 14 years of operation in 2016 and it closed in the US in 2018. At that time, VEF alumni, doctoral students and scholars and I were concerned about how to continue to help young Vietnamese obtain opportunities for graduate studies in the US.
And that was why VEF 2.0 was established. This both means the next version of VEF, and means a 'two-no program' – no government scholarships and no binding commitments, i.e., a program implemented entirely on a voluntary basis, self-sustaining by the network's members.
At the establishment, we hoped that we could help bring 5-6 people to the US each year. However, the figures are higher – 22 people in 2021 and 30 in 2022. We have helped more than 100 people gain graduate study (more than 95 percent at the doctoral level) at prestigious universities in the US, including MIT, Stanford University, Cornell University, University of California at Berkeley and Georgia Tech.
What is the difference then?
It is the large and prestigious network built under the previous VEF program (2003-2016). Universities in the US are familiar with the strict selection process carried out by VEF, as well as the virtues and qualifications of Vietnamese students. Therefore, when we implemented VEF2.0, with improvements, we got support from the schools.
Rice University even waived application fees for all the candidates introduced by VEF 2.0, which shows high confidence in the quality of our selection process.
Another point that makes a difference is that candidates who pass the interview round of VEF 2.0 will be helped by at least one predecessor (who is or has studied in the same or close industry) in editing and completing their profile as well as answering their questions.
For example, there are some friends who have high capability and good CVs but did not succeed. With the support of VEF2.0, they finally successfully enrolled in the prestigious schools they wanted.
How does VEF 2.0 help Vietnamese from the preparation for application to the day of arriving in the US?
It is a very thorny path from the day of application to the day of fulfilling the doctoral study. Money doesn't have much significance because in general the schools in the US pay all expenses, and most students understand that they will be 'poor' or can only cover their basic needs during doctoral study.
Young people contact VEF 2.0 to seek help in the most important period of the application. The year before making the application is the time when they have many questions and many things to prepare. Most of them are confused with so much information on the internet. Besides, they may feel lonely.
VEF 2.0 can help with not just the letter of introduction, but also with encouragement and support from predecessors and connections with like-minded people.
Before young people begin their path, VEF 2.0 organizes an orientation period, called pre-departure orientation (PDO), which aims to prepare them with necessary knowledge, including academic knowledge and knowledge about life in the US.
When they come to the US, we also organize an annual conference for them to meet and exchange information with panel speakers on many different topics.
Studying abroad is no longer something unusual. However, there are worries that students won't return to Vietnam after they finish studying, and the brain drain remains a hot topic of discussion. What do you think about that?
Every year, we have many students who study abroad on scholarships that they have found themselves. They don't have any commitments and don't have to return to Vietnam after graduation, but I believe they want to make a contribution to the country's development.
VEF 2.0 is keeping the link between young people and the country. Through the VEF 2.0 network and personal relations, they give support to students at schools where they studied before, or the labs where they worked before. This support is really precious and is the beginning for more support in the future.
Lan Anh
Vietnam remains the sixth leading country of origin for all international higher education students in the US, with 21,631 students studying at American institutions in the academic year 2020-2021.