The words of Prime Minister Pham Minh Chinh may be what remains foremost after the annual Vietnam Business Forum (VBF).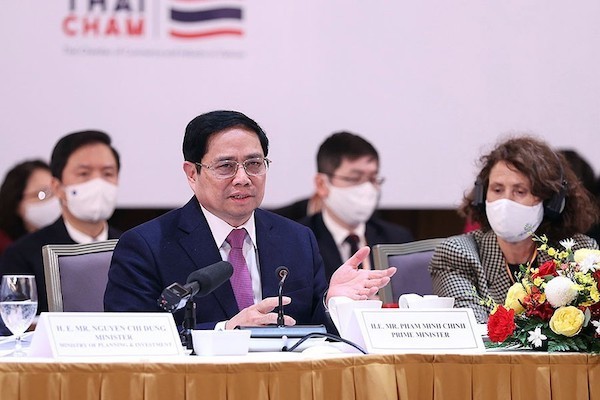 Prime Minister Pham Minh Chinh
"I feel touched when attending the conference and listening to opinions of enthusiasm and responsibility from people who understand that Vietnam has had achievements and also has faced difficulties," Prime Minister Chinh said in his opening speech at VBF on February 21, 2022.
Chinh noted the opinions which show a good understanding of Vietnam's typical characteristics of a developing economy which has gained certain achievements after 30 years of doi moi (renovation) but is still facing big challenges.
These words sent a message from the head of the Government to the state apparatus, state management agencies and local authorities about the proposals and problems raised by businesses at VBF 2021.
Listening to businesses
During three hours of the two major working sessions at VBF 2021, the Prime Minister listened to 12 reports and opinions from Vietnamese and foreign business associations, VBF's working groups, and a series of proposals.
In addition to the good news about the resumption of many businesses and the impressive import and export turnover in 2021, businesspeople also talked about the problems they are facing.
The problems lie in the enterprises' operation processes and are caused by inconsistency in the law and regulation observance, which, if not settled immediately, will not only affect operating businesses but also harm the investment and business environment.
Amcham expressed concern over the changes to local master plans and local guidelines which could cause delays and negatively impact investment project development plans.
The draft of the eighth national electricity development plan (Plan 8) is causing the companies that are developing the Hai Lang LNG power center in Quang Tri to feel insecure. Under the seventh national electricity development plan, the project is expected to be put into commercial operation in 2026-2027. However, the draft Plan 8 says the project would be put into commercial exploitation after 2040.
KorCham (the Korean Chamber of Commerce and. Industry) which represents South Korean businesses participating in the project, showed its desire to implement the project in accordance with the initial planning.
KorCham also reported tax and customs problems that South Korean businesses are facing. For example, the customs agency imposed a retroactive tax on imported products used to build workshops and offices for export processing enterprises, contractors and sub-contractors, while the Ministries of Finance (MOF) and the General Department of Taxation (GDT) previously said these products were exempted from tax.
In another case, businesses are taxed for transactions that were not taxed 10 years ago. The association, in a document to the Vietnam Business Forum 2021, pointed out that the unreasonable taxation may cause destabilization for foreign investors and become an obstacle to their further investments.
Domestic and foreign businesses have sent a request to ensure that policies on supporting businesses are implemented in reality. This issue has been mentioned many times over the last two years.
The Vietnam Chamber of Commerce and Industry (VCCI), which made 10 proposals, pointed out that the different interpretations of regulations by different localities, the difficulties for businesses to access support packages, complicated administrative procedures, and risks in inspection as problems for businesses.
Vietnam is running the 2022-2023 economic recovery and development program which requires cooperation among agencies and businesses in implementation. If not, businesses will find it difficult to return to the normal track and their path to recovery will bumpy, while the growth targets set for the tenure will be unattainable. And if so, Vietnam's ambitious goal of becoming a high-income economy by 2045 and fulfilling commitments on carbon emissions by 2050 will become very challenging.
Prime Minister Pham Minh Chinh, at the meeting with businesses, expressed Vietnam's thanks to the business community and international institutions in VBF.
"You guys have been with us and supported us to overcome difficulties. On this occasion, I would like to say thanks for the support of international institutions, international investors and foreign invested enterprises in Vietnam. We listen to each other and respect and support each other. And now, we continue to listen and give support on the basis of benefit harmonization," Chinh said.
Tran Hoang Anh
Prime Minister Pham Minh Chinh attended the high-level session of the annual Vietnam Business Forum (VBF) in Hanoi on February 21 under the theme "Restoring the economy & Developing supply chain in the new normal".
The Vietnam Business Forum (VBF) Environment Working Group proposed developing an emissions trading system (ETS) and a carbon credit market.