A Văn Yên farmer harvests cinnamon. VNA/VNS Photo
Yên Bái Province's Văn Yên District is known as Việt Nam's cinnamon capital, home to the country's largest cinnamon-growing area, covering up to 16,000ha.
Since ancient times, cinnamon has been planted by the Dao ethnic minority people in the district. Their tradition dictates that when the children reach the age of employment, their parents will teach them how to grow cinnamon.
The Dao people of Văn Yên have an ancient legacy of cinnamon cultivation. VNA/VNS Photo
The successful harvest of cinnamon brings joy to a Dao farmer. VNA/VNS Photo
In recent years, cinnamon has become an important crop with a high value in Văn Yên. It has evolved into a valuable raw resource for use in pharmaceutical, cosmetic, and craft sectors.
The district exports about 6,000 tonnes of dried cinnamon bark to the domestic and international markets. The annual output of cinnamon leaves is about 63,000 tonnes per year and about 300 tonnes per year of essential oil. The output of cinnamon wood is nearly 51,000cu.m per year.
Sơn Hà Spice & Flavorings Company in Văn Yên processes over 3,000 tonnes of cinnamon goods annually, exporting over 200 cinnamon based products and spices to EU nations and US. VNA/VNS Photo
Cinnamon can be peeled and collected starting at five years old. The older the trees, the higher the profit they can bring.
As the price of raw materials is very high, people here can earn a good income. For this reason, all communes of the district engage in cinnamon production. They provide materials for processing and auxiliary services for nearly 200 businesses, cooperatives and households in the area.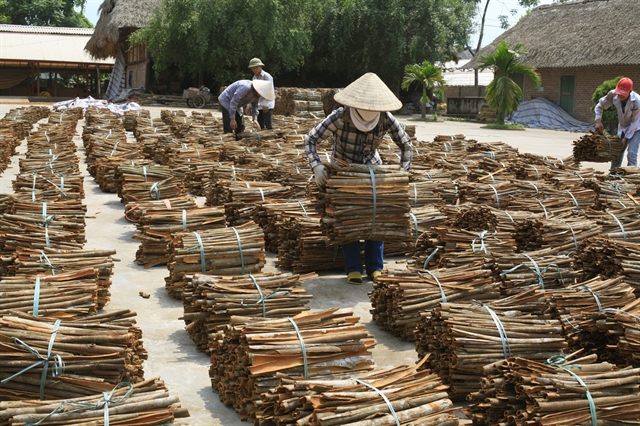 Cinnamon harvest season in the Văn Yên district. VNA/VNS Photo
Seeing its effectiveness, cinnamon is grown in 27 communes across the district. It has become the district's main crop and brings in over VNĐ700 billion (over US$30 billion) for local farmers per year. This promotes socio-economic development for the locality. VNS