There will be no inequality issues when universities start using international foreign language certificates such as IELTS or TOEFL as criteria for admission.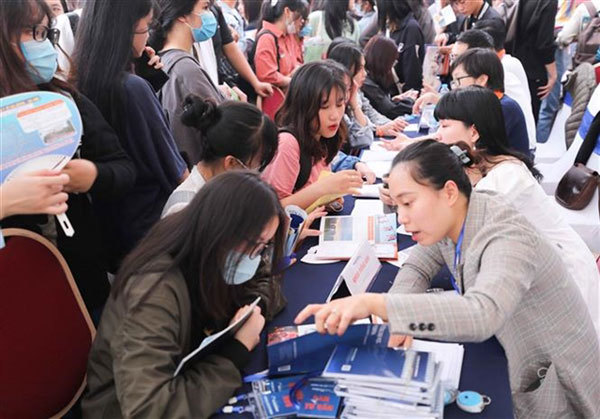 Students are given consultancy for university applications.
The Director of University Education Department under the Ministry of Education and Training Nguyen Thu Thuy reassured students and parents concerned about the enrollment plans for the academic year at several universities.
Universities will reduce the admission quota for the high school graduation exam scores but increase the quota by other methods such as competency assessment exams or international language certificates.
"Students and parents should not be too worried because the trend of enrollment will not change too much. The enrollment will be similar to previous years," said Thuy.
"Most universities used many methods for admission. Taking IELTS and TOEFL certificates as admission criteria was normal and reasonable for top education institutions, which have advanced study programmes taught entirely in English."
However, the number of admission criteria with international language certificates such as IELTS and TOEFL did not account for a large portion and were mainly for programmes taught entirely in English. Because, without good English ability, it was difficult for candidates to study well or keep up with the training programme, she said.
Currently, most universities still used the admission methods based on high school graduation exam scores and results of high school.
Therefore, if the candidates were capable and determined enough and had a strong spirit, they could completely pass the exam without losing any chances, the director said.
According to the Ministry of Education and Training, 92 per cent of universities use scores of high school graduation exams and 77 per cent of universities took three year-high school learning results as admission methods.
The statistics showed that 90 per cent of candidates were admitted to universities by one of the above-mentioned methods while the number of candidates entering universities by other methods was less than 10 per cent.
It could be said that the proportion of admission by other methods was not high compared to the overall, Thuy said.
According to the director, enrollment always adhered to the principle of taking from high to low according to professions, fields and methods of enrollment.
Importantly, the admission depended on the methods that candidates chose. Therefore, if a candidate did not pass by one method, she or he still had another chance to be admitted by other methods according to his or her ability.
In the past two years, some candidates had been preparing and taking IELTS and TOEFL exams for studying abroad but due to the impact of the COVID-19 pandemic, they had not been able to go abroad so they had used the IELTS and TOEFL results for applying to universities in Vietnam.
Therefore, the number of candidates could be slightly higher than in previous years.
"With the current trend of internationalisation of higher education and the requirement for training high-quality human resources for global citizens, that universities, especially top ones, using internationally standardised criteria widely recognised in the world was understandable and worthy of recognition," Thuy said.
"Thus, the Vietnamese higher education would gradually be comparable with other countries in the world and the region and continue to attract more foreign students."
Before the 2020 enrollment season, the Ministry of Education and Training recommended universities set enrollment methods and quotas to ensure stability and avoid causing disturbances affecting student study.
If there were major changes, universities needed to notify in advance to help candidates prepare for their applications.
Admission criteria should create favourable conditions, reduce pressure and ensure equality among candidates, among training institutions and regions.
Source: Vietnam News
Parents are willing to spend tens of millions of dong on English lessons that prepare their children for the IELTS test.
More Vietnamese students are registering for exam preparation classes for international certificates as more universities now require the certificates.