Online public services have been prepared and are ready for people to use, but necessary procedures pose difficulties for many citizens.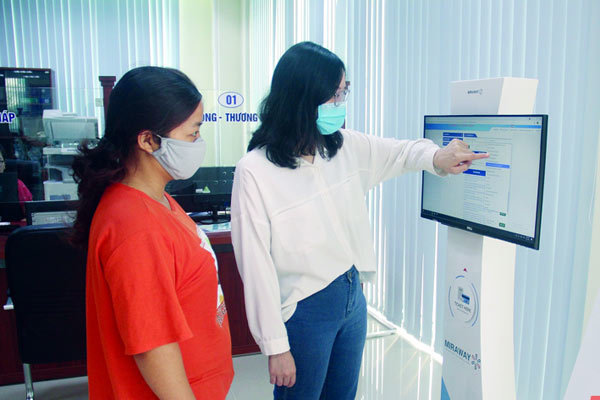 VietNamNet presents an article by Dr Dinh Duy Hoa, former Director of the Administrative Reform Department under the Ministry of Home Affairs, about the development of online public services in Vietnam.
Hoa was invited to conduct research on online public services in the three provinces Ha Giang, Gia Lai and Tra Vinh. He is an expert in the working group at the Ho Chi Minh National Academy of Politics and United Nations Development Programme (UNDP) in Vietnam.
All three provinces lack high socio-economic development levels, and have a high number of ethnic minority people.
The aim was to find out if there is any difference in people's capability of accessing and using online public services between provinces and other localities, and discover what the State needs to do to provide better online public services.
When working with the leaders of the three provinces, I could see their strong determination in developing online public services. Under instructions from the Government and Prime Minister, they have laid down specific policies and measures to increase the number and improve the quality of online public services provided to local people.
Meanwhile, the facilities, electronic information portal, public service portal and one-stop-shop system at the provincial, district and commune levels in all three provinces are relatively good.
Also, local officers have been trained well.
It seems that the provinces have favorable conditions to develop online public services and everything is ready for people to enjoy the 'cake' of online public services.
But this is not true.
Difficulties for people
From the perspective of state management agencies, there are some matters as follows:
First, in order to use online public services, people have to register an account and log in. For state agencies, this is a natural necessity, which allows them to see online public service users, and build a personal database for every individual using the service.
However, this turns out to be a difficulty. If they fail to register and log in to the accounts several times, they will decide to go directly to public authorities rather than use online services.
Second, people have to submit documents for online public services. In principle, the documents for online public services are the same as the ones for traditional public services. And that is a problem.
People have to take pictures of the documents and scan them. Also, they have to submit certified documents or use electronic copies. It is even difficult for ordinary people to do these works, let alone ethnic minority people with limited Vietnamese language, and shooting and scanning skills.
So, for many people, it would be more simple to meet public officers and prepare documents under the traditional way than using online public services.
Procedures not simple enough
Third, the difficulties show that state agencies, especially central agencies, have not made a lot of effort in simplifying administrative procedures for online public services.
Under Decree 87 on July 28, 2020 on the electronic civil status database, online civil status registration, after successfully logging in to accounts, people have to provide information on the electronic forms, and attach the copies of documents as required.
The decree also stipulates that for some types of civil status work (birth registration, marriage registration, guardianship, death registration, civil status correction… etc), people have to go to the registration agency to sign the civil status book. When people come to get results, they have to present and submit documents which are part of the civil status registration dossier.
This means that people using online public services for civil status registration not only have to submit documents online but also have to submit another set of printed documents to state agencies.
In other words, when using online public services, people have to submit documents twice.
So, it's understandable why people, if asked to choose online or traditional public services, they choose the latter.
From the perspective of people, the difficulties are:
1. To use online public services, people must have computers or smartphones with an internet connection. Many people don't have these things, including people in remote areas and ethnic minority people.
2. The requirement on documents to be submitted to state agencies is too complicated. In addition to online copies, people still have to submit printed documents.
3. People have the habit of meeting officers at commune level face to face. The one-stop-shop model at the authorities at the commune, district and provincial levels are working well, and satisfy people.
When people apply for land use right certification (red book), which are their major properties, they prefer to go directly to agencies for administrative procedures as they feel more secure.
4. In order to use online public services, people need to have some skills, including skills using the internet, accessing online public services and preparing documents. These are difficulties for ethnic minority people.
Dinh Duy Hoa
Business environment reform has been slowing down over the last two years. Some bad regulations that were removed because they hindered the development of enterprises have been revived.
The completion of the target of offering 100% of eligible public services online to the highest level 4 in 2021 is an important step to create momentum for a digital government in Vietnam.