As the total annual output of vegetables and fruits is 28 million tons, unofficial-quota exports and domestic consumption alone won't use up this amount.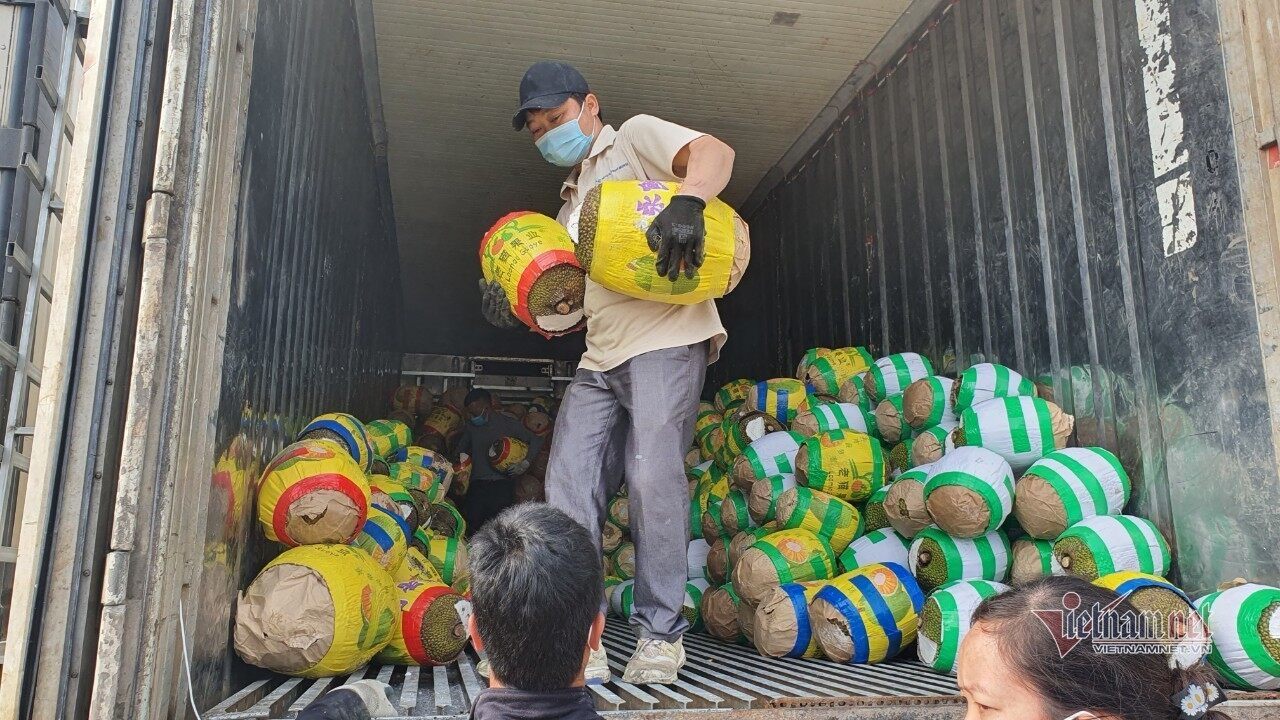 Nguyen Quoc Toan from the Ministry of Agriculture and Rural Development (MARD) said Vietnam can produce 28 million tons of vegetables and fruits a year, while the preliminary processing capacity is 30 percent.
Consuming this amount of farm produce is still a burning issue. The goods deadlock at border gates has not been settled fully. Thousands of trucks get stuck every time when China changes its import policy.
Establishing value chains, processing and exporting processed products through official channels is a radical solution.
Le Thanh Tung, Deputy Director of the Department of Crop Production, said Vietnam can produce 10 million tons of vegetables a year. Most of the vegetables in Q1 are harvested in January, which account for 60 percent.
If each person consumes 10 kilograms of vegetables a month, there would be 2.5 million tons in excess in Q1. The amount will be put into processing. Central Highlands has the biggest excess, about 900,000 tons.
Dragon fruit growing areas can produce 1.4 million tons a year, bananas 1 million tons, mangoes 800,000 and durian 600,000.
Dragon fruit, jackfruit, pomelo, banana and mango are fruits that saw sales pressure in the first three months of year. After dragon fruit, jackfruit growers may also need support.
To settle the problem of oversupply in harvesting season, Tung said it's necessary to predict output, make products traceable, and step up processing.
Tran Thanh Hai, Deputy Head of the Import-Export Department under the Ministry of Industry and Trade (MOIT), affirmed that Vietnam's exports to China by land, sea or railway must meet requirements on food safety, plant quarantine and traceability.
He said that in order to shift from exporting by road to sea, both farmers and enterprises need to change their ways of production and sales. It's also necessary to re-establish sale networks.
"Some enterprises have successfully exported products by sea. Meanwhile, other owners hesitate to change and still take risk by carrying goods by land," he said.
Revolution in processing, export needed
In order to sustainably develop vegetable and fruit value chains, and avoid an oversupply crisis, enterprises believe there is a need for a 'revolution' in farm produce processing and export. Problems exist in every link of the chain, especially in logistics and processing.
Toan believes that standardization is the only way to cope with current difficulties. There are six problems that need to be fixed.
First, changing the approach related to farm produce processing. This has relations with quality and traceability requirements. Each fruit needs to have a 'certificate of birth' which provides transparent and sufficient information.
Second, product quality management from origin plays an important role. If this can be done well, products stuck at border gates could be brought to processing plants.
Third, consuming farm produce through different ways and step by step establishing an ecosystem of farm produce consumption. Before each crop, associations, producers and logistics firms need to work together to figure out clear strategies based on digital platforms.
Fourth, MARD has built a strategy on processing development in 13 fields, including a program specifically designed for vegetables and fruits.
Fifth, closely connecting units in the value chain, from farmers to local authorities.
Sixth, branding. Only when Vietnam can build strong brands will farm produce develop sustainably and enjoy benefits from new-generation free trade agreements (FTAs).
Deputy Minister of MARD Tran Thanh Nam said that all links of the value chain from businesses to cooperatives need to work together to increase the value of products.
In addition to building export chains, connection chains are needed to bring produce to processing plants.
Tam An
Vice Chairwoman of HCMC People's Committee Phan Thi Thang promised to bring goods from the Mekong Delta into wholesale markets and distribution systems in HCMC to support farmers and cooperatives for connection of supply and demand.
The Ministry of Agriculture and Rural Development and the Ministry of Transport recently co-hosted a conference on promoting the export of agricultural products through maritime transport as a way of devising a proper mechanism for farm exports.