Students have ways to cheat on online exams but schools are using new methods to prevent and discover cheating.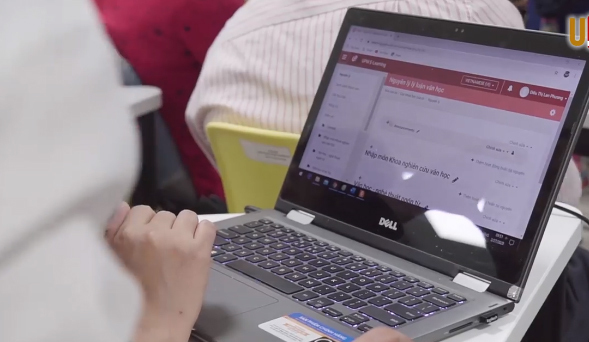 Because of Covid-19, students have had to study and take exams online and defend theses online. Cheating on online exams has caused headaches for schools.
Dozens of students from many schools were suspended or dispelled after their exam cheating was discovered. The students had other people take English, informatics and final exams for them.
It is easy to find people who provide this service on social networks. They advertise that they can help students write theses, attend all kinds of exams, and obtain high scores.
Pham Thai Son from HCM City Food Industry University said that teaching online is hard work and organizing exams online is even harder.
Son said cheating occurs during online exams, but schools have many methods to cope with the problem. Examiners supervise exams and students have their exam papers recognized if they are present throughout the exam time. If they discover cheating, they have the right to suspend students.
When the exam time finishes, proctor No 1 collects exam papers, while proctor No 2 is in charge of supervising students. When marking exam papers, if lecturers discover signs of cheating, they send the papers to a council for inspection.
As for essays and theses, his school gives 'open' questions, allowing students to use materials. But software can check and find if students plagiarize or crib from others. Students need to have their own ideas, he said.
"Lecturers understand the abilities of students during the teaching process. People have different ideas and if students copy from other people, they will be discovered," he said.
For multiple-choice tests, students cannot ask each other how to solve the questions because lecturers swap the questions and answers.
Nguyen Trung Nhan from HCM City Industry University said online exam cheating is a serious concern, so the school has changed the method of organizing exams.
For some subjects, students will be tested in the form of an essay with open-ended questions. Oral exams will be organized for subjects with a high cheating probability.
Meanwhile, students have to attend an exam on the school's systems with supervision via Zoom. Question results will be designed in a way so that they will be hidden after a time. As for theses, students not only have to submit theses but also report to lecturers.
"These measures help reduce cheating but won't eliminate cheating 100 percent. So lecturers need to assess students' abilities during their study, and not just consider exam results," Nhan said.
He said that cheating has not been found at his school. However, students play tricks when they find that exam questions too difficult for them. They report technical problems so that they can take a make-up exam.
To Van Phuong from Nha Trang University said that preventing exam cheating is a special concern when assessing students online and taking exams online.
The school asks lecturers to store student's videos, exam papers and theses on an E-learning system for post-exam checks, regardless of the form of exam. Lecturers are encouraged to organize oral exams online.
Students access Google Meet or Zoom Meeting, turn on cameras, have student card checked, and the students answering exam questions are recorded.
For essays, students have to take photos of the work and attach the files to the school's e-learning. Students need to access the school's e-learning system at a given time with their user names and passwords to read the exam questions and submit exam work.
The school requires all students to have two camera devices so they can be supervised by lecturers.
Phuong said students have been warned of sanctions if they commit cheating on exams. Students may be expelled from school if they violate regulations.
The HCM City University of Natural Sciences disciplined many students in the second semester of the 2020-2021 academic year, and 78 students were suspended from exams because of cheating.
Le Huyen
The quality of online exams is in doubt as there is no effective solution that can prevent cheating on exams.
Education experts warn that teachers will be sure of failure if they use in-person teaching methods for online teaching for first graders.