Millions of tons of farm produce have been put on sale in the domestic market as exports to China are stuck at the border. The prices have fallen dramatically.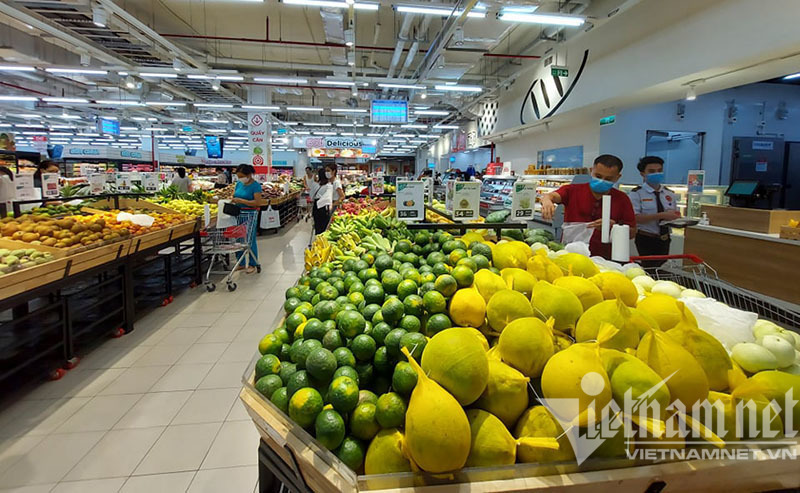 Thousands of trucks carrying goods are still at the border gates in Lang Son and Quang Ninh provinces, waiting for customs clearance as Vietnamese agencies try to negotiate with Chinese agencies on solutions to the deadlock.
However, many goods owners can't wait. They have decided to bargain away goods in Vietnam as the produce will spoil or get damaged.
Jackfruit is selling at only 7,000-10,000 per kilogram, mango VND6,000-8,000 and red flesh dragon fruit VND12,000-15,000.
Chinese is the second largest consumer of Vietnam's farm produce. The last months of the year are the peak sale season. The congestion at border gates has put a lot of pressure on the domestic market.
Le Thanh Hung from MARD said that fruit output in December alone is 700,000 tons, including 200,000 tons of dragon fruit. Fruit output is expected to reach 1.7 million in Q1 in 2022.
Tung said localities need to thoroughly consider distribution plans to avoid congestion. The solution for the immediate time is boosting sales in the domestic market.
Le Quoc Dien, Deputy Director of Dong Thap Department of Agriculture and Rural Development, said the province has 19,000 tons of fruits for December 2021, 22,000 tons for January 2022 and 35,000 tons for February. Also, the province has 3,000 tons of vegetables.
Dien called on businesses and distributors of farm produce to invest in Dong Thap.
Director of Tay Ninh Department of Agriculture and Rural Development Nguyen Van May said the province is offering to sell 500 tons of jackfruit, 3,000 tons of bananas, 300 tons of custard apple, and 80 tons of red flesh pomelo, which all meet VietGAP standards.
Leaders of Vinh Long Department of Agriculture and Rural Development offered 400 tons of pomelos, 8,000 tons of water melon, and 3,000 tons of vegetables and fruits. Also, the province can provide up to 4,000 tons of sweet potatoes.
Deputy Chair of the Association of Vietnam's Retailers (AVR) Nguyen Thai Dung said year end is the time to boost sales in the domestic market. He hopes retailers can connect businesses and cooperatives selling farm specialties and supermarkets.
Some retailers predict that the market will be gloomy this Tet because people tightened their purse strings during the pandemic. They will prioritize fresh food items and essentials. Retailers are ready to distribute farm produce meeting VietGAP standards, and organic and traceable produce.
Pham Van Duy from the Ministry of Agriculture and Rural Development (MARD) confirmed that farm produce supply this Tet is higher than the previous year, while demand is expected to increase by 15-20 percent during Tet.
Tam An
It's necessary to be daring and set a high goal of exporting $50 billion worth of farm produce in 2022 as agriculture is a pillar of the economy, said Prime Minister Pham Minh Chinh at a conference on December 29.
Pingxiang Customs has temporarily stopped the handling of imported dragon fruit from Vietnam