A total of 63 Vietnamese peacekeepers at the Vietnamese Level-2 field Hospital No. 3 (L2FH3) in South Sudan have been honoured with UN Peacekeeping medals.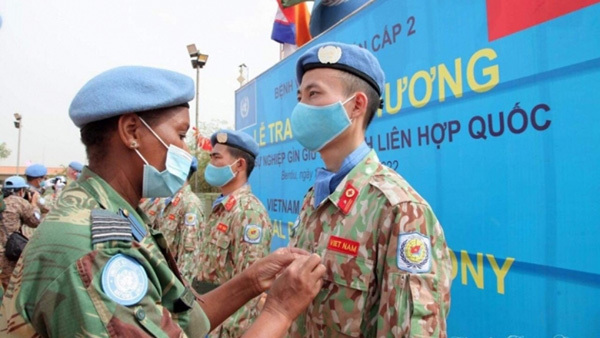 A UN representative presents the UN Peacekeeping medal to Vietnamese peacekeepers in South Sudan. (Photo: dangcongsan.vn)
Hiroko Hirahara, head of the UN Mission in South Sudan (UNMISS) at the Bentiu Field Office, and Sector Commander for UNMISS Brigadier Dhananjay Joshi, presented the medals to all members of the L2FH3 at a medal parade ceremony held in Bentiu, South Sudan, on March 15.
Addressing the ceremony, Lieut. Col. Dr. Trinh My Hoa, who is also director of the L2FH3, reviewed the various achievements of the field hospital after 12 months of operation.
Hoa said L2FH3 has received and treated over 1,400 patients, performed 16 surgeries and transported 15 patients for emergency treatment by airway to higher level hospitals. The hospital has successfully handled complex medical emergencies that require a high level of expertise.
In addition, the hospital has held professional training on pandemic prevention and control measures in the stationed area and offered anti-pandemic support to other units in the mission, including providing oxygen and treating all medical waste of level-one hospitals.
For her part, Hirahara highly appreciated the Vietnamese peacekeepers' achievements, as well as their professionalism and enthusiasm in providing health care to UN staff and locals upon request.
Giving thanks to the UNMISS and other relevant units for their support at the hospital over the past year, Commanding Officer of the Vietnamese Peacekeeping Force in South Sudan Lieut. Col. Pham Tan Phong expressed his team's honour at making contributions to solidarity and co-operation within the UN organisations.
Their efforts show that Vietnam is a responsible member of the UN, he stressed.
Source: VOV
Among the patients, three cases were diagnosed with chronic appendicitis – a rare condition.
Vietnamese peacekeepers at Vietnam's Level-2 field Hospital No. 2 (L2FH2) in South Sudan have been honoured with United Nations Peacekeeping medals in recognition of their outstanding contributions during a year-long mission in the country.