Besides financial and physical issues, the Covid pandemic has seriously affected people's mental health, with two of three Covid-impacted households in Vietnam reporting mental health problems, according to the United Nations Development Program.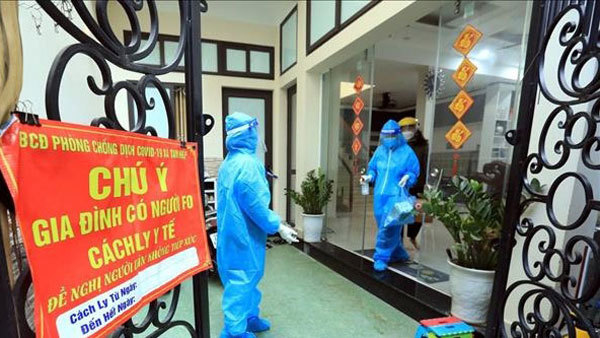 A household was put under quarantine after its family members were infected with Covid. Mental health has become an urgent issue among Covid-impacted households. – Photo: VNA
The UNDP's Rapid Assessment of the Covid Socio-Economic Impact on Vulnerable Households in Vietnam showed that mental health problems among Vietnamese households were wide-ranging, from being worried once a day (reported by 41% of respondents) to all day (29%) and having trouble falling asleep (10.8%).
Other problems included not being able to relax (7.3%), becoming easily annoyed or irritable (6.8%), and feeling depressed (6.5%).
Female household heads suffered a higher incidence of mental health problems (81.6%) than male household heads (62.8%).
The differences are pronounced for some indicators. For example, only 8.3% of male heads found it hard to sleep, while over 21% of female heads had trouble falling asleep. About one-fourth of male heads were worried throughout the day (26.3%) compared to 41.3% among female heads.
The survey found that mental health problems were disproportionately experienced by migrants living in small, overcrowded accommodation facilities.
Regarding the financial impact of the pandemic, four in five (79.4%) affected households said they have cut expenditures, with 43.4% reducing spending by less than 30% and 17.7% by more than 30%.
Most of the expenditure cuts were related to food, with 71% of affected households cutting food expenses.
The cut in food expenses and food shortages was reported by vulnerable households and those laid-off for months, especially migrants. A more severe situation was reported in households with small kids.
The second essential item for which spending was most commonly reduced was electricity usage (37.6% of affected households).
Including deferred payments, 39.6% of affected households relied on borrowing to minimize spending cuts. Most borrowers relied on friends as their most important source of loans.
Another third (31%) of affected households used their savings. Among these, more than half (55.5%) had to start using their savings since April 2021, when the fourth wave of the Covid outbreak began.
Many migrants have been leaving the big cities for their hometowns, with the main reasons including all savings had been exhausted, so no money was left for food and rent; the need to return home to recover from illnesses; cramped living spaces resulting in serious mental health problems; excessive worrying about household members, especially children, contracting Covid; and health-related issues such as pregnancy and high blood pressure.
However, many migrants could not travel back to their hometowns. Staying in small rented accommodation in cities, many faced mental health problems, food shortages, energy shortages, and the inability to access medical treatment in case of illness.
Many local authorities have called for rent reductions for vulnerable workers. However, in some cases, landlords could not afford rent reductions.
To support vulnerable populations, the UNDP suggested that the Vietnamese Government accelerate the reform of social assistance policies and programs to make them more inclusive and shock-responsive.
The country should also make the best use of digital technologies to combat the pandemic, improve coordination across central and local governments, and increase the training of laid-off and informal workers with digital skills.
The social assistance and social care program should give special attention to the emerging issues of hunger and homelessness, which have been on the rise in big cities due to the pandemic. The problem of mental health has also been rising and should be dealt with appropriately.
Source: SGT
Given the emergence of various COVID-19 variants globally, including Omicron, many experts believe that achieving the goal of herd immunity to eradicate the disease is difficult, and COVID-19 may be approaching the endemic disease stage.
As the capital city changes its pandemic risk levels, Hanoi business owners have been struggling with onsite dining regulations.