Trù Sơn is the only village in Nghệ An making earthen pots. — Photo danviet.vn
Thanh Nga
Though not sophisticated, finicky or elaborate like Bát Tràng or Phù Lãng potteries, the clay pot making village in Trù Sơn Commune, Đô Lương District, Nghệ An Province is as rustic as the name itself.
This is the only village in Nghệ An making earthen pots, so it is also called "earthen pot village".
At this time of year, people in the village are busy firing kilns to prepare goods for the Lunar New Year market.
Nguyễn Đình Thoan's family spent the cold winter afternoons arranging clay pots on the kiln. In addition to rice straw, his family uses pine leaves, sandalwood or cajuput leaves to burn the kiln. Each type of leaf will create a separate colour for the product.
This is an important stage of the process of making clay pots of Trù Sơn village. Everyone in the house is mobilised to keep the fire burning.
Although it is winter, Thoan's face is drenched with sweat and smeared with soot.
"It takes about five to six hours to fire the pots, so we usually start at noon and finish it by late afternoon. We not only put fuel in the furnace and keep burning it, we need to turn the pots many times, so this work is also quite hard and painstaking", Thoan told Việt Nam News.
Baked products are put in piles waiting to be sold. The cost of each pot depends on the size and distance of transportation. The cheapest one is sold at the average price of VNĐ10,000 to VNĐ20,000 per piece.
According to Thoan, the kiln is about 1m high and 2m wide. Depending on the size of each product, the furnace can fire from 250-600 products.
To make a pot, the stage of soil selection is very important. Clay is chosen in Nghi Văn Commune in Nghi Lộc District and Sơn Thành Commune in Yên Thành District.
The clay is then cut into small pieces and kneaded well. When the requirements are met, people put it on the turntable to shape the product. The shaping stages is done by the skilful hands of artisans.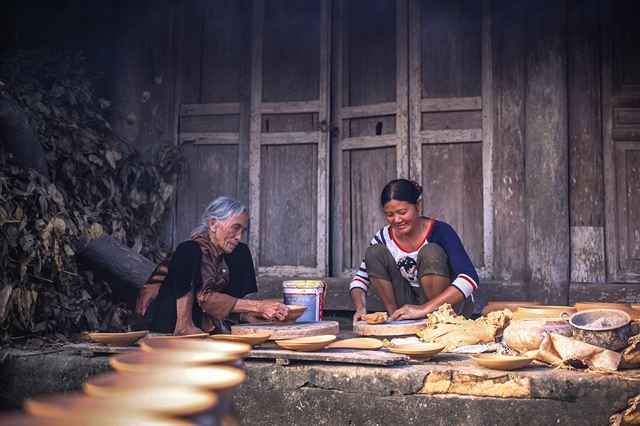 Trù Sơn pottery is made entirely by hand. — Photo danviet.vn
The products of Trù Sơn Village are also very diverse with pots for cooking water, rice, meat and fish, as well as for decoration or stewing traditional medicinal herbs.
Sixty-three-year-old craftsman Nguyễn Hữu Thanh said that his family makes about 800 pieces of pots every week. Each product costs VNĐ10,000. This number increases in the run-up to Tết, so his kiln must be fired continuously to meet demand.
Nguyễn Thị Thái's family in Hamlet 12 have a lot of customers in the northern provinces ordering clay pots. To have enough goods to supply the market, her family usually has five workers with a salary of around VNĐ4 million per person monthly.
Thái also buys clay pots from other villagers and sells them to retailers in Thái Nguyên, Hà Nội, Hà Nam and Quảng Bình. On average, each week, Thái's family supplies the market with more than 4,000 pieces, bringing in an income of around VNĐ10 million.
Nguyễn Thị Chung, living in Hamlet 12, said that she has been working as a potter since she was a child. Now she is nearly 60 years old but she is still attached to the craft. Previously, because there weren't many markets for products, her family could only bake around 300 pieces a month in one or two kilns. Now, many customers come to her house so each month her family bakes four or five kilns, and provides regular jobs for three workers.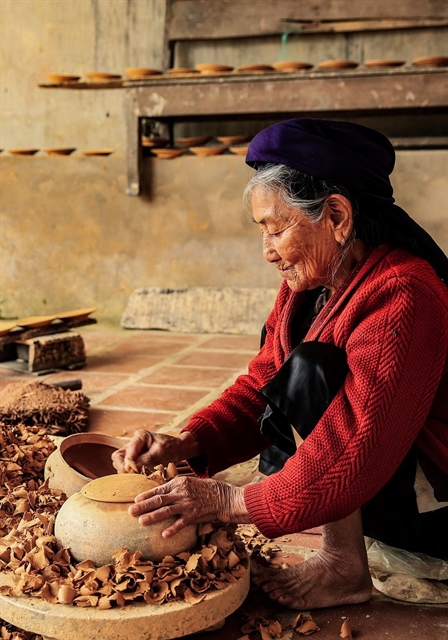 Trù Sơn people have been attached to the clay pottery for many generations. — Photo vncgarden.com
Traditional job
The craft of clay pottery in Trù Sơn Commune has existed for a long time and usually stays within families. In recent years, many restaurants, hotels and traditional fishing villages have developed, making traditional clay pots more popular. This has allowed the ancient craft in Trù Sơn to flourish again.
"Making clay pots is an ancient craft handed down from generation to generation. I am 54 years old but have more than 40 years of experience. Before I had to cycle to other provinces to sell my wares. But now, I only do wholesale at home," potter Thoan said with a smile.
According to the legend, when the village was founded, people's lives was extremely miserable. All year-round, they only stuck to a few plots of barren fields. Seeing this, a young princess came to teach people how to make clay pots to improve their lives.
Since then, the people of Trù Sơn Commune have engaged with and developed the craft to this day. Almost every person in Trù Sơn is taught pottery from childhood.
When walking around the village, visitors can see a reddish-brown colour with full-sized earthenware pots.
Currently, there are many villages making clay pots all over the country, but Trù Sơn is still considered as the place to keep the most basic features of ancient pottery.
The products are not fussy or complicated, but very simple and easy to use. Although the Trù Sơn clay pots are very light and thin, they have high hardness and durability. Moreover, when using this product to cook food or herbal medicines, the inherent flavour of the dish is preserved.
Although it is no longer as flourishing as before, the clay-pot making in Trù Sơn has not been lost. The local authorities and people always try to build and develop the craft to preserve the traditional features of the homeland.
Thanks to these efforts, there are still more than 60 households making pottery in the village today, crafting tens of thousands of products to supply the market every month.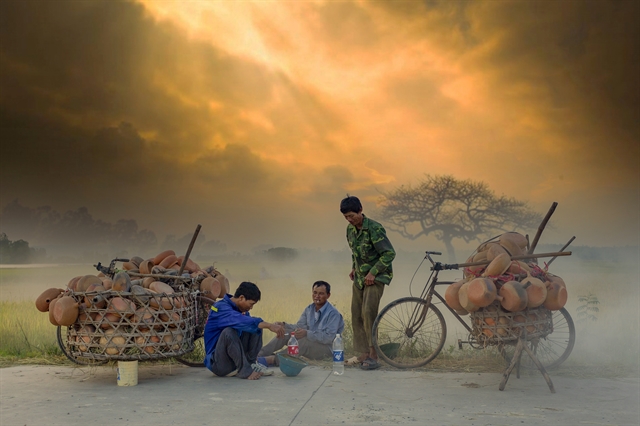 Sellers of clay pots rest by the side of the road. — Photo vannghenghean.vn
According to Nguyễn Thụy Chính, chairman of Trù Sơn People's Committee, in the past five years, the clay-pot trade has developed quite well because of higher demand of consumers.
"On average, a person has an income of VNĐ5-7 million per month. Besides making pots, they also work in agriculture, so many families have a better life than before," he said.
Chính added that the authorities will establish a cooperative to support local potters in the production and marketing. — VNS