Travel firms have proposed the restoration of the visa waiver policy applied before the pandemic, and a waiver expansion for additional countries.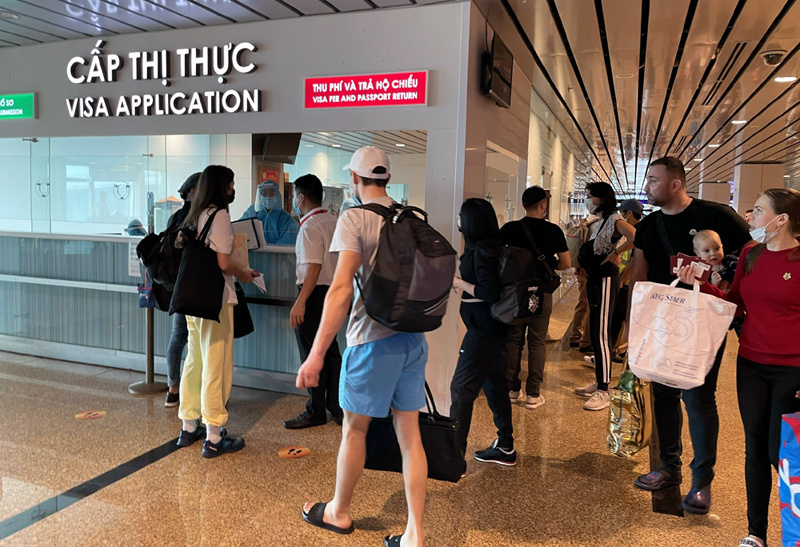 Hoang Nhan Chinh, secretariat director of the Tourism Advisory Board (TAB), said the Ministry of Culture, Sports and Tourism (MCST) has designed a plan on reopening tourism in a safe and effective way from March 15.
However, ministries have not reached a consensus on some issues. TAB has joined forces with the Private Economic Development Research Board (Board IV) to make suggestions to MCST Minister Nguyen Van Hung on solutions to improve the visa policy.
Citing reports from UNWTO (World Tourism Organization) and WTTC (World Travel & Tourism Council), TAB stressed that favorable policies on entry visas can help increase the number of international tourists by 5-25 percent a year. The policy on tourism visa exemption policy could cause travel demand to rise by 16.6 percent, and increase the number of direct workers in the tourism industry by 1.6-3.1 percent.
A survey by TAB on the impact of visa exemption for citizens of five Northern European countries found that the number of international tourists from the UK, France, Germany, Spain and Italy has increased by 20 percent.
If compared with other ASEAN countries, the entry visa exemption policy on Vietnam will help increase the number of foreign travelers.
Other ASEAN countries also use visa facilitation policies. Thailand, for example, waives visas for citizens from 64 countries and territories, Indonesia 70, and the Philippines 157. They offer a 30-day visa waiver to lure international tourists.
A recent survey of European countries found that it travel restrictions are removed, long-distance travel demand from the UK, French and Germany is more than 15 days in one destination.
The average spending of Western European travelers is $1,200-1,400 per head, which is much higher than that of travelers from nearby markets ($700-1,000).
Huynh Phan Phuong Hoang, Deputy CEO of Vietravel, said authorities need to restore the bilateral and unilateral visa exemption policy, because the policy is an important factor to attract foreign travelers to Vietnam.
Visa waiver for four more countries
The Government Office has sent a document to the Ministry of Foreign Affairs (MOFA) requesting to restore the visa waiver policy as applied before the Covid-19 outbreak.
Before the Covid-19 pandemic (January 2020), bilateral waivers were applied to 88 countries and unilateral waivers for 13 countries.
However, since most international tourists entering Vietnam hold ordinary passports, Vietnam's visa exemption policy only applies to 24 countries.
Of these, as of June 30, 2021, visa waiver expired for five Western European countries (the UK, Germany, Italy, France and Spain), key markets for Vietnam.
Under the proposal by MCST on applying the visa policy used before 2020, only 19 countries would enjoy the visa waiver immediately. But the five European countries mentioned above would still need a resolution on visa extension from the Government to have the same policy as before the pandemic.
Meanwhile, eight other countries will see the visa waiver expire on December 30, 2022, and they are also key markets for Vietnam (South Korea, Japan, Russia and some Northern European countries).
Before 2020, Vietnam granted e-visa to citizens from 80 countries and territories. However, among the countries with high numbers of travelers to Vietnam, some still cannot enjoy both the visa waiver and e-visa.
To improve competitiveness and create favorable conditions for foreign travelers, TAB has proposed an urgent extension of visa waiver for three years, to be done by March 15. Also, the board suggested extending their time in Vietnam to 30 days.
It also proposed an expansion of the visa exemption list for citizens of Australia, New Zealand, Canada and Switzerland; and extension of three years of visa exemption from January 1, 2023 for South Korea, Japan, Russia, Sweden, Denmark, Norway, Finland and Belarus.
In addition, Taiwan, Israel, South Africa, Turkey, Ukraine, Sri Lanka, Bangladesh, Pakistan and all European countries need to be added to the list of countries allowed to receive e-visas.
TAB has called for media campaigns to advertise Vietnam's tourism reopening and disseminate policies, including policies on visa waivers and e-visas.
Vietnam plans to receive 65 million tourists in 2022, including 5 million foreign arrivals and achieve a total tourism revenue of VND400 trillion.
Ngoc Ha
The Government Office has sent a document to the Ministry of Foreign Affairs (MOFA) requesting to restore the visa waiver policy as applied before the Covid-19 outbreak. Vietnam plans to fully reopen the tourism market from March 15.
The Ministry of Culture, Sports, and Tourism has proposed the Government resumes pre-pandemic waivers of visas for tourists from 24 countries when the country restarts international tourism.