A number of agencies have recently discovered multiple smuggling and drug trafficking cases that were handling large quantities.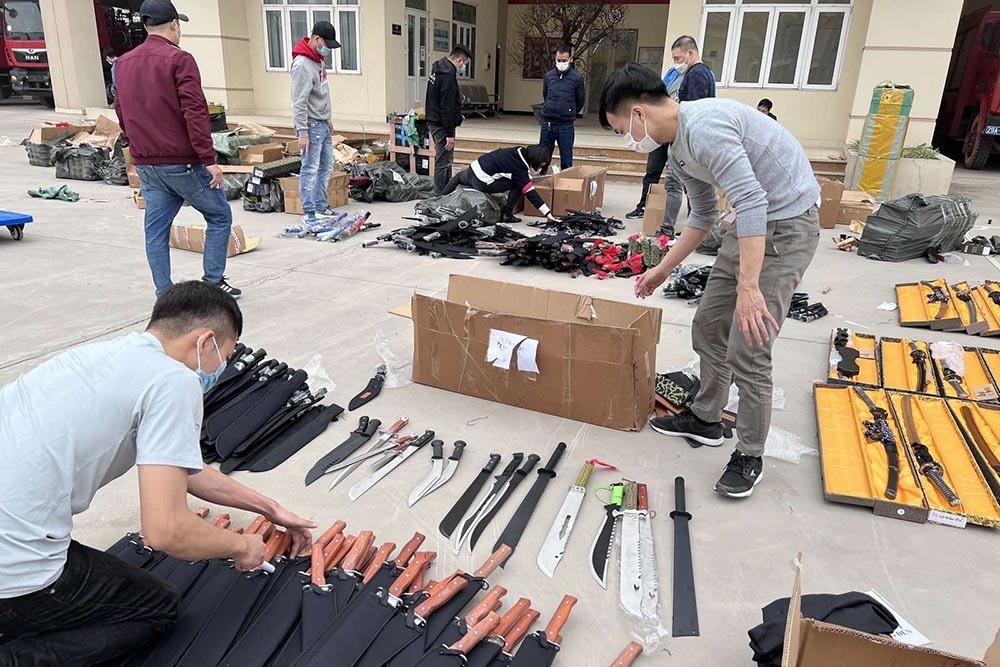 On January 17, A05 of the Ministry of Public Security joined with other forces and discovered a trafficking ring transporting and storing rudimentary weapons and support tools.
The ring was led by Nguyen Dang Ninh, born in 1987, and his wife Vu Kim Hoa, born in 1990, in Da Ton commune in Gia Lam district in Hanoi.
They had ordered weapons from Mong Cai border gate in Quang Ninh and Tan Thanh in Lang Son, and gathered the weapons in the apartment in Da Ton commune before carrying them away for sale.
They used social network accounts to post videos and live-streamed to advertise weapons. After taking orders from clients, they sent products through a fast delivery service or by coach.
The police seized nearly 3,000 rudimentary weapons and support tools, including knives, swords, electric batons and more.
This was a large-scale ring with interprovincial operation, supplying large quantities of weapons to many cities and provinces throughout the country.
On Jan 10, An Giang Police caught Nguyen Thanh Binh, 57, in Long Xuyen City and Trang Kien Tuong, 46, in Chau Doc City smuggling gold from Cambodia to Vietnam. Policemen seized three gold bullions, $170,000, and VND700 million.
On the evening of the same day, the police sent out an urgent search warrant for Phuoc Quang Gold Shop on Nguyen Trai street in Long Xuyen City, and two other places related to Binh and Cuong, and seized 15 kilograms of jewelry gold, more than $2.1 million and some foreign currencies, VND25 billion, documents and mobile phones.
On Jan 13, Cam Lo district Police in Quang Tri province discovered and seized 1,500 bottles of foreign wine with unclear origin. To escape the police's notice, the delivery was carried out at the dumping ground in Cam Tuyen commune.
On Jan 5, Da Nang Port's customs agency found suspicious signs in the consignment of a container from Nigeria at TienSa Port.
The goods owner declared that it was a cashew nut consignment. However, the police found 456 kilograms of ivory and 6.2 kilograms of pangolin scales. These are endangered wild animals listed in CITES.
In July 2021, Da Nang Customs Agency examined one container from South Africa to Tien Sa Port, and discovered 138 kilograms of rhino horns and more than 3.1 tons of animal bones.
The horns and animal bones were put in carton boxes, tightly wrapped with plastic rope, with different sizes, types and weights, packed separately in the container. The goods owner reported that the imports were timber.
Da Nang Vice Mayor Tran Phuoc Son said that smuggling has increased in the days before Tet. He asked agencies to tighten control at airports, post offices, seaports and coastal areas.
Ho Giap
Six tonnes of smuggled ivory tusks and pangolin scales have been discovered in a container at Tien Sa Port in the central city of Da Nang.
The Ministry of Industry and Trade has issued a decision to investigate the evasion of trade remedies for cane sugar products originating from…