The demand for workers is increasing in the tourism sector as Vietnam prepares for full tourism reopening from March 15. However, it's very difficult to recruit workers at this time.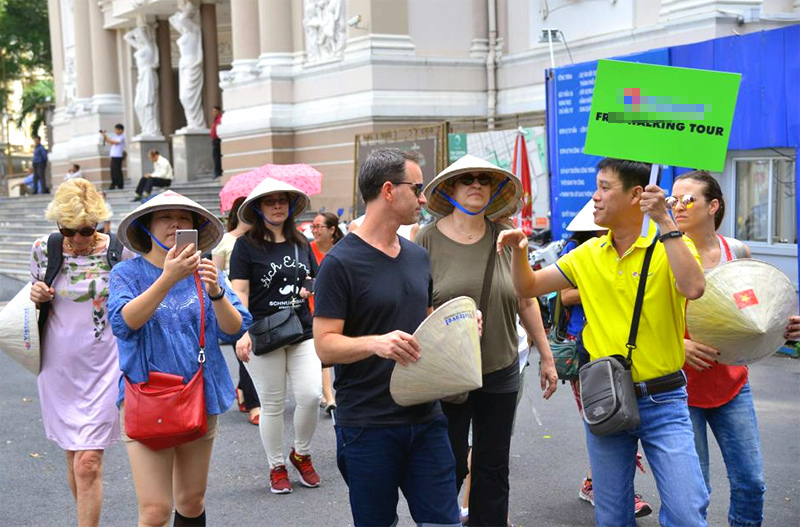 CEO doubles as employee
A director of a tourism company in Dong Da district, Hanoi, complained that he has interviewed 10 candidates, but could recruit only two. His company is now running with just four workers, including one CEO, deputy CEO, and two new officers.
"Omicron has made all the plans upset. 70-80 percent of workers have left for other business. But once bitten, twice shy. If another pandemic wave breaks out, all the efforts will be in vain," she said.
The CEO is now running his tourism company to protect the core business and selling goods online to earn her living. She has to sell products, operate tours and design tourism programs in person.
"Clients sometimes ask for advice on which hotels in Sa Pa are beautiful and have high-quality services and I could not give answer immediately as my brain was 'pending'," she said, adding that giving advice to clients was done by her workers.
It's quite common that CEOs receive lower pay and have to do the works like employees. She knows a sales director of a big tourism corporation who has had a pay cut of half to VND30-35 million. The tourism sector is recovering, but it has just restarted and it's now the low season, so the number of clients is not stable. As it's difficult to recruit workers now, CEOs have to take extra work.
Nguyen Vu Khac Huy, CEO of Vina Phu Quoc Travel, said the personnel demand is very high at tourism companies, hotels, logistics facilities and restaurants. In Phu Quoc (Kien Giang province) and Nha Trang (Khanh Hoa province), the hot destinations, workers are being recruited en masse. Workforce is the first factor that decides if the tourism sector can recover.
His company recruited 60 workers in a campaign in late December 2021, including 55 workers for the sales division and 5-10 for the operating division.
He said it's too difficult to recruit experienced workers at this moment. After two years, many workers have shifted to other jobs, while others still cannot return as they live in pandemic-hit areas. The company has mostly recruited new graduates.
Exotica Vietnam, which organizes inbound tours for travelers from West Europe and South America, is also seeking workers for many positions, from global sales director, tour operators to English, Italian and Portuguese speaking sales officers.

The demand for workers is increasing in the tourism sector as Vietnam prepares for full tourism reopening from March 15. However, it's very difficult to recruit workers at this time.
The company's CEO Bui Bang Giang finds it difficult to recruit workers. Experienced workers want to find good jobs with high salaries. However, the number of foreign travelers is predicted to be modest, just 30 percent of that in 2019.
High demand, low supply
The representative of a hotel in Hoi An ancient town of Quang Nam province said the hotel has 150 official workers. When the hotel expands its operation scale, the number of workers needed would be double, 250-300. Therefore, it needs to recruit more workers now.
Le Quoc Viet, CEO of Santa, the operator of hoteljob.vn, said the demand for workers in tourism sector has increased since early December 2021. A lot of big hotels and resorts have signed contracts on recruiting workers with the company to prepare to receive foreign travelers from March 15 and serve travelers on the April holiday.
A big resort in Cat Ba, for example, is recruiting hundreds of workers in different positions.
On the platform he is running, there are 138 ads on seeking managers, 480 pieces of ads on seeking sales and marketing officers, 600 receptionists and cashiers and 1,000 food and bar staff.
The localities with the highest demands for workers include HCM City (1,500 ad pieces), Hanoi (1,000), Phu Quoc (650), Ba Ria – Vung Tau (416) and Da Nang (436). The number of applications have reached 1,000 instead of 400-500 as seen before Tet.
However, despite higher number of applications, it's still very difficult to find reasonable candidates. If recruiting inexperienced workers, companies will have to retrain them. Meanwhile, experienced workers demand high pay.
Previously, workers could get VND20-30 million plus bonuses, but now companies can pay VND10 million only. Meanwhile, the tourism sector has just reopened and the number of foreign travelers remains modest.
Regarding salaries, Huy said the pay offered by travel firms will depend on the market. At this moment, workers should not be too demanding. Only when the market fully recovers and travel firms can receive high numbers of tourists will the income be better.
According to Viet, massive recruitment would be seen in March, 2022.
Meanwhile, Vu The Binh, Deputy Chair of the Vietnam Tourism Association (VTA), said that there was no need to be too worried about supply chain disruption and the lack of personnel.
He said the recovery of the tourism sector would be gradual, not explosive, so, localities and businesses would have time to develop their personnel.
Binh went on to say that the overloading on some Tet days is not enough to come to a conclusion that the tourism sector is seriously lacking workers. Many travel firms and hotels are operating at a moderate level. When they can see great potential from the reopening, they will reactivate their apparatuses.
General Director of the Vietnam National Administration of Tourism (VNAT) Nguyen Trung Khanh confirmed that over 2.5 million workers in the tourism sector have left because of the pandemic.
Ha Yen
The Ministry of Culture, Sports and Tourism has proposed to let foreign visitors test for COVID-19 using rapid antigen test kits and those who have negative testing results travel freely when they are in Vietnam.
The tourism industry now has a golden opportunity as the Government has agreed on reopening. However, it needs to prepare well or it will miss the opportunity.